First look: 2022 RedMoto Honda CRF RX Enduro model range
Honda's official Enduro arm in Europe, RedMoto Honda has announced the 2022 CRF off-road range with four freshies for the new season including heavily updated CRF250RX and CRF300RX models.
The RedMoto Honda range should be familiar to Enduro21 readers by now but if you don't know, they are the official partner of Honda Motor Europe. Not only do they distribute CRF (and all Honda motorcycles) in Italy but they also develop their own homologated Enduro range in tandem with their race team which competes in the EnduroGP World Championship.
RedMoto go further than just taking standard Honda models and homologating them though, they double the two-bike RX line-up to four with 250, 300, 400 and 450cc versions. All bikes are built in-house using the race team for all R&D including development of those unique 300 and 400cc model engines.
What's new for '22?
The new CRF250RX is the strongest it's ever been, Honda tell us. Inheriting the chassis of the '21 450 model, the baby CRF RX off-roaders are where the focus is for the Big Red this coming season.
Honda can be a little slower about making the upgrades than some manufacturers but when they come, they are meaningful: extensive cylinder head development "producing a considerable low-rpm torque boost" while improving engine reliability, more efficient radiators, a new nine plate clutch with a lighter lever feel, a stronger gearbox with revised ratios and the Showa suspension is re-valved for enhanced bump absorption…even handguards are a standard fit now.
For 2022 the changes to the 400 and 450 RX models are less dramatic after big updates last year – just suspension tweaks and ECU mapping changes for the big, red bikes.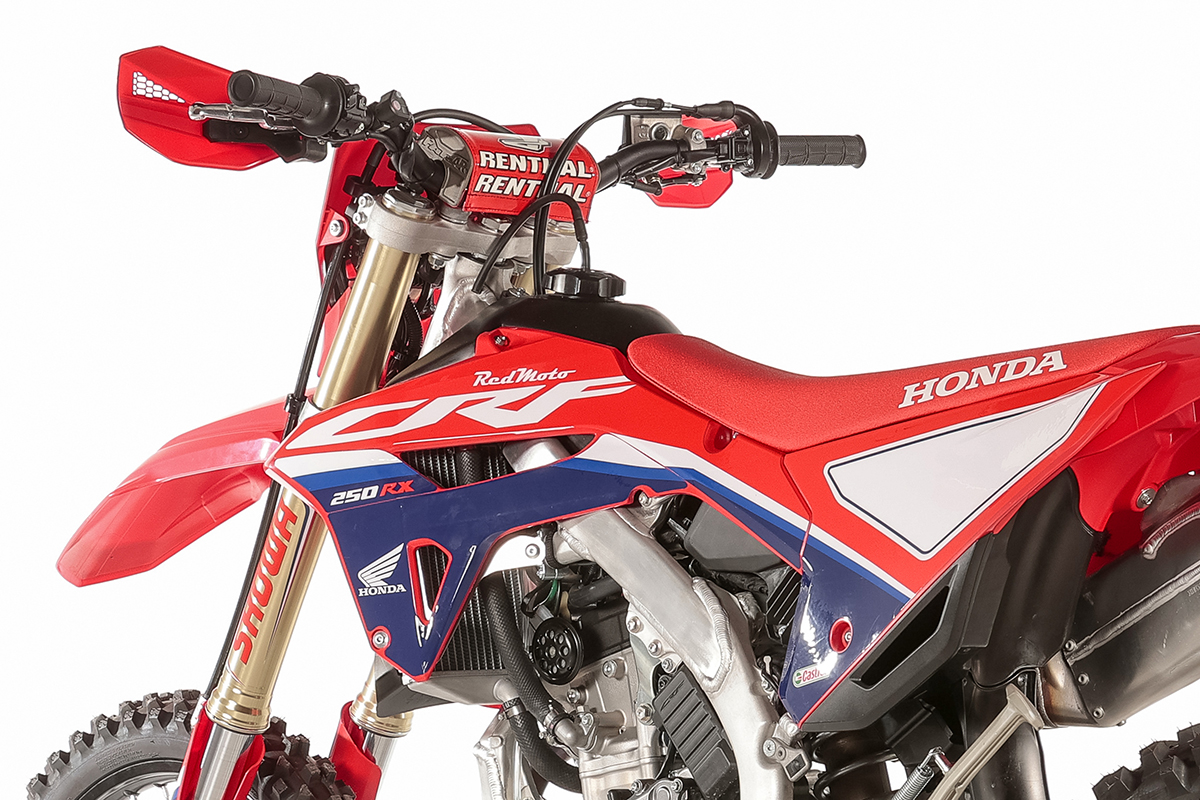 2022 RedMoto Honda CRF250RX and CRF300RX
A full three kilogrammes lighter overall, more low-down power, a new frame plus tighter chassis geometry, more ground clearance and the return of the single muffler – the CRF250RX and CRF300RX are where the focus is for 2022….
2022 CRF250RX highlights:
MXGP championship-winning frame from the 21YM CRF450R
Extensive cylinder head revisions and improved intake and exhaust changes (single muffler) improve low to mid rpm drive ("up to 15%") and increase top end power by 10%
Improved high-rpm cam timing accuracy and long-term reliability
ECU mapping, air/fuel mixture and ignition timing all revised and remapped specifically for the CRF250RX
Shallower angle fuel injector (60°)
Stronger, nine-plate clutch improves endurance with lighter lever feel
New gear ratios (to improve "roll-on snap") and a strengthened gearbox
New shift drum for smoother gear changes
More efficient radiator cooling
78% larger capacity airbox
New easier to access air filter
New lighter bodywork with fewer bolts for faster removal
Handguards as standard
New shorter, lighter and 10mm lower (at the rear) seat
3kg (6lbs) weight saving compared to previous model
Showa suspension has new valving to improve bump absorption, traction and control
The 49mm Showa front forks have 5mm extra travel and more rigid axle clamps
New spring rate and compression/rebound damping front and rear
New colours and graphics
Enduro21 covered Honda's MY22 model announcements earlier this summer – check our separate story for more details.
RedMoto's version on the 2022 CRF250RX (and 300) builds on the base models and all the updates. That includes a 7.3 litre fuel tank, Metzeler Six Days Extreme tyres as standard in 90/90-21 front and 140/80-18 rear sizes.
The full LED lighting system RedMoto install to all models matches the Honda CRF design with a sturdy rear mudguard which has integrated support for the registration plate holder, that also increases the resistance to the impacts they say. The red-blue graphic also mark it out from the standard Honda model too.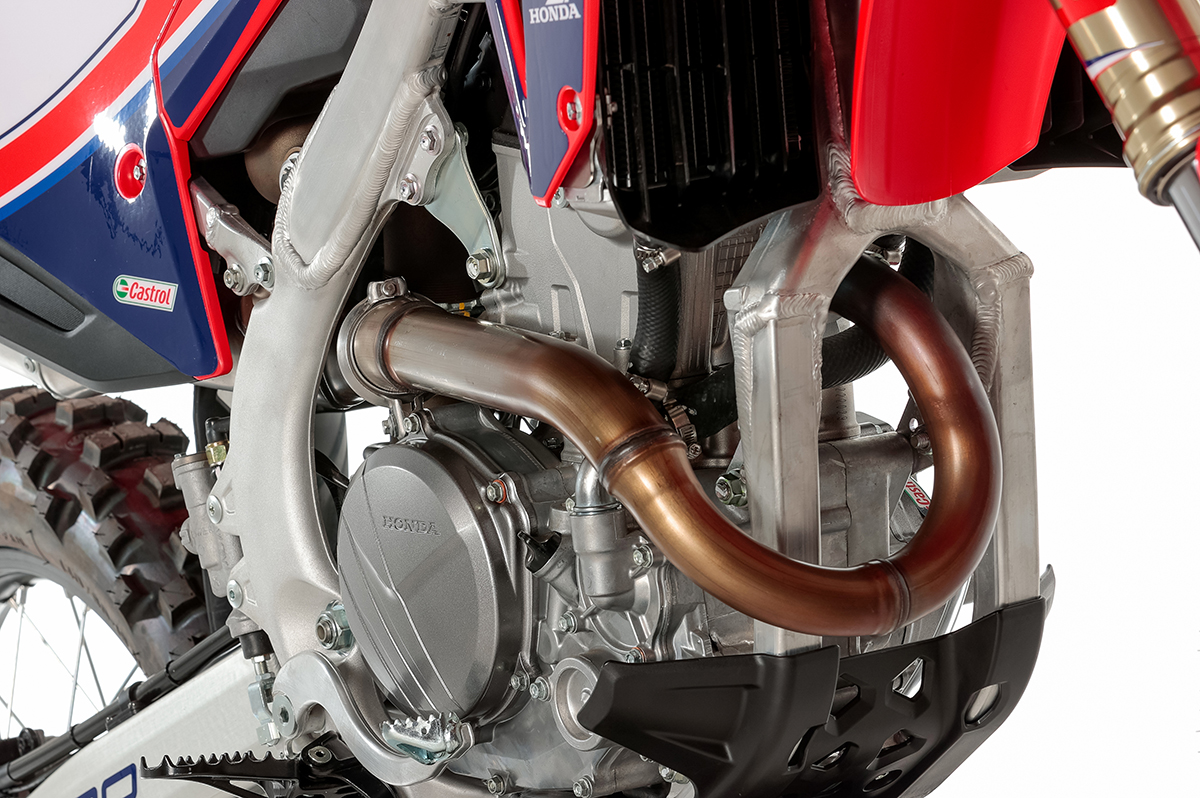 RedMoto also work on the engine mapping through each gear to better suit enduro. More work goes into the 300 engine naturally which features its own, exclusive top-end from Athena.
The difference between the 300 and 250 in sizes is a 86 x 50.9mm bore and stroke, with a 4.5mm cylinder offset to reduce friction and compression ratio of 13.9:1 (79 x 50.9mm and 13.9:1 on the CRF250RX).
What's it like to ride? When Enduro21 has tested the bikes the 300 is like the easy-to-ride 250 but picks up earlier in the rev-range, has a smooth and linear delivery with more torque at lower rpm. Overall, RedMoto claim there's up to 10% more power and 15% torque across the rev-range for fluid, same gear corner-to-corner over-rev.
2022 RedMoto Honda CRF450RX and CRF400RX models
The 450 and 400RX models, like Honda's official R and RX model range, received major updates for model year 2021. They were big changes including a completely revised chassis, 2kg less weight, new hydraulic clutch, more power and torque, easier start and a heap of engine and electronic changes to make the bikes easier to ride and, well, faster.
For 2022 the 450 and 400 RedMoto RX models have fewer updates except new ECU settings to bring "smoother drivability" to the engine response and power delivery. There's also a damping re-valve for the Showa suspension to improve balance between front and rear, and overall control they say.
If you want the engine details RedMoto say the bore and stroke is set at 92 x 62.1mm with compression ratio of 13:1 (96.0mm x 62.1mm and 13.5:1 on the 450RX). The frame remains unchanged, and is the exact same frame used on the CRF450RX Enduro piloted by Thomas Oldrati, winner of the ISDE 2021.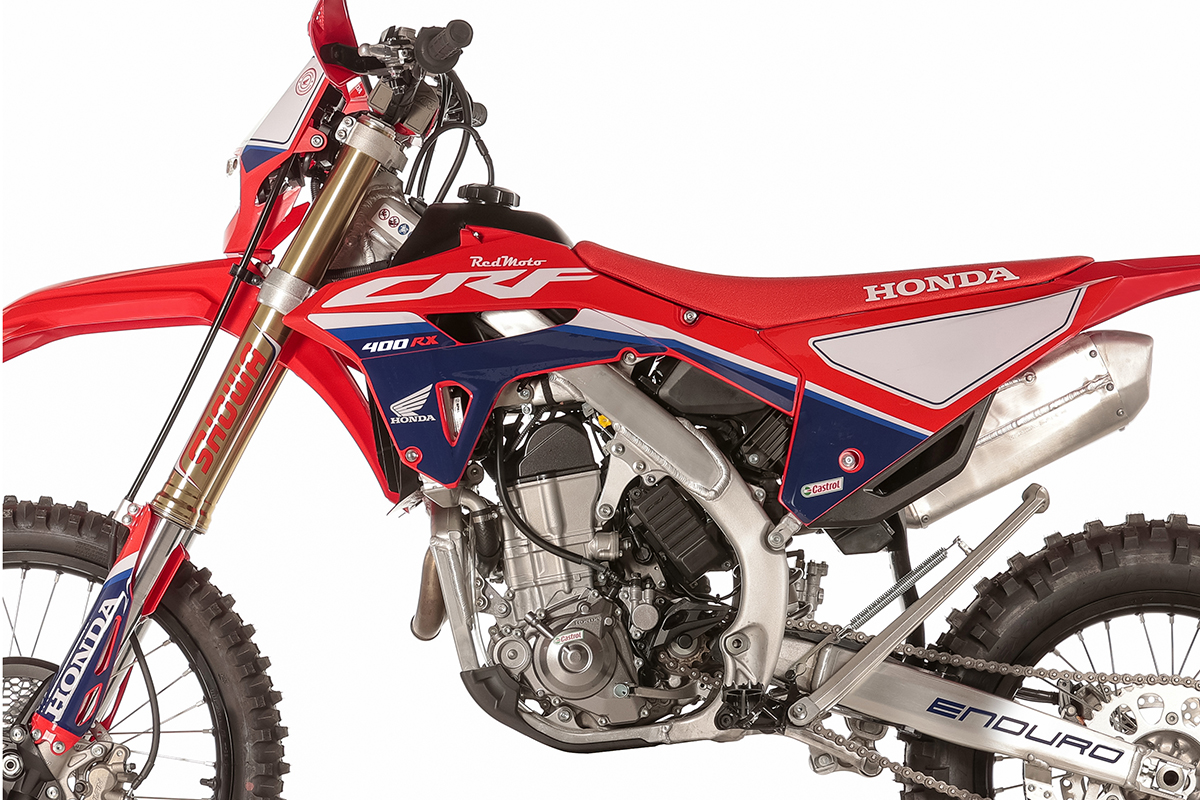 What's the 400 like compared to the 450? Pretty much as you'd expect which is to say a little less fire in the belly and, if anything, a little more trail friendly. To anyone who's ridden the latest 450RX you'll know it is a very thinly disguised motocross bike which is arguably too much for most people riding enduro. The 400 is more manageable.
Read more about those 2021 CRF450 updates in our previous story here.
2022 RedMoto prices (including the upgraded 'Special' models – more on those in the coming days, stay tuned):


More information: www.redmoto.it
Photo Credit: RedMoto Honda