First look: 2024 Husqvarna cross-country and motocross model updates
Husqvarna Motorcycles has announced the eight-bike FC, TC, TX and FX, two and four-stroke cross-country and motocross model line-up for the 2024 season – fresh graphics, spension settings and a quickshifter on the FX 350.
On the back of a some. Big changes to the 2023 off-road model range, Husqvarna Motorcycles have naturally taken a smaller step forward for the updated '24 bikes – the focus this year is the enduro line-up of TE and FE machines expected soon.
But in this motocross-focused chassis and suspension specification, Husqvarna has five MX and three cross-country models marked out in new grey, white and yellow colours.
The off-road or XC line-up of TX 300, FX 350, and FX 450 are the same platforms as found on the TC and FC motocross models but are adapted with large capacity fuel tanks, six-speed gearing, side stands, sump guards, handguards, 21/18-inch D.I.D DirtStar wheelset fitted with Dunlop MX33 front and AT81 rear tyres. Oh, and the aluminium subframe prized by so many in off-road compared to the composite types.
The new model news includes a note about a quickshifter as standard on the FX350, though why only the 350 is not clear (you can retro fit one to the '23 model with a software update from your HSQ dealer).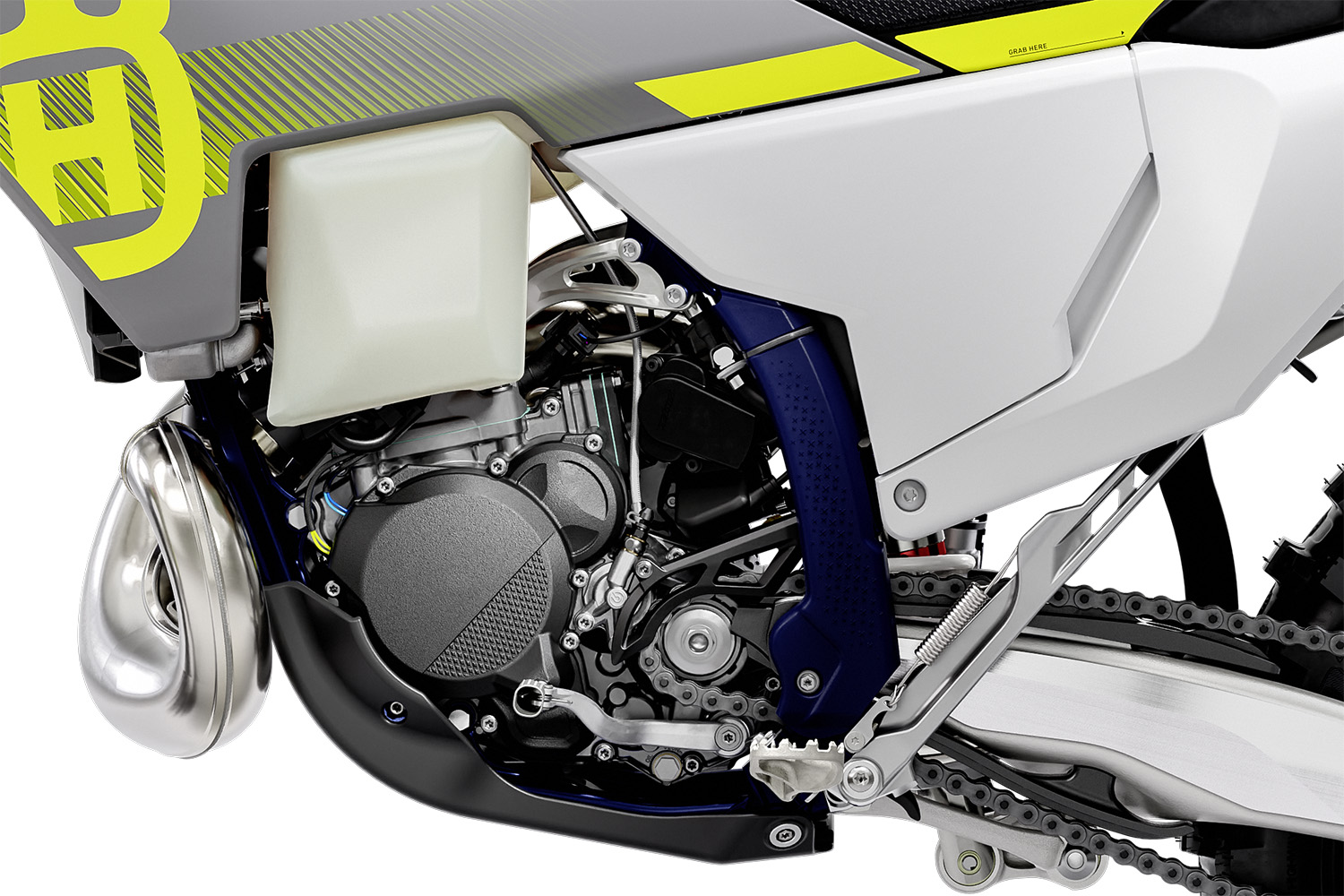 Just the one two-stroke there then with no baby screamers in the mix. You can, of course, adopt or adapt either the TC 125 and TC 250 motocross models however. Both come complete with electronic fuel injection (EFI), an electronic power valve and electric start.
It's all about preference of course but the new TX300 is one of the best looking bikes out there we reckon...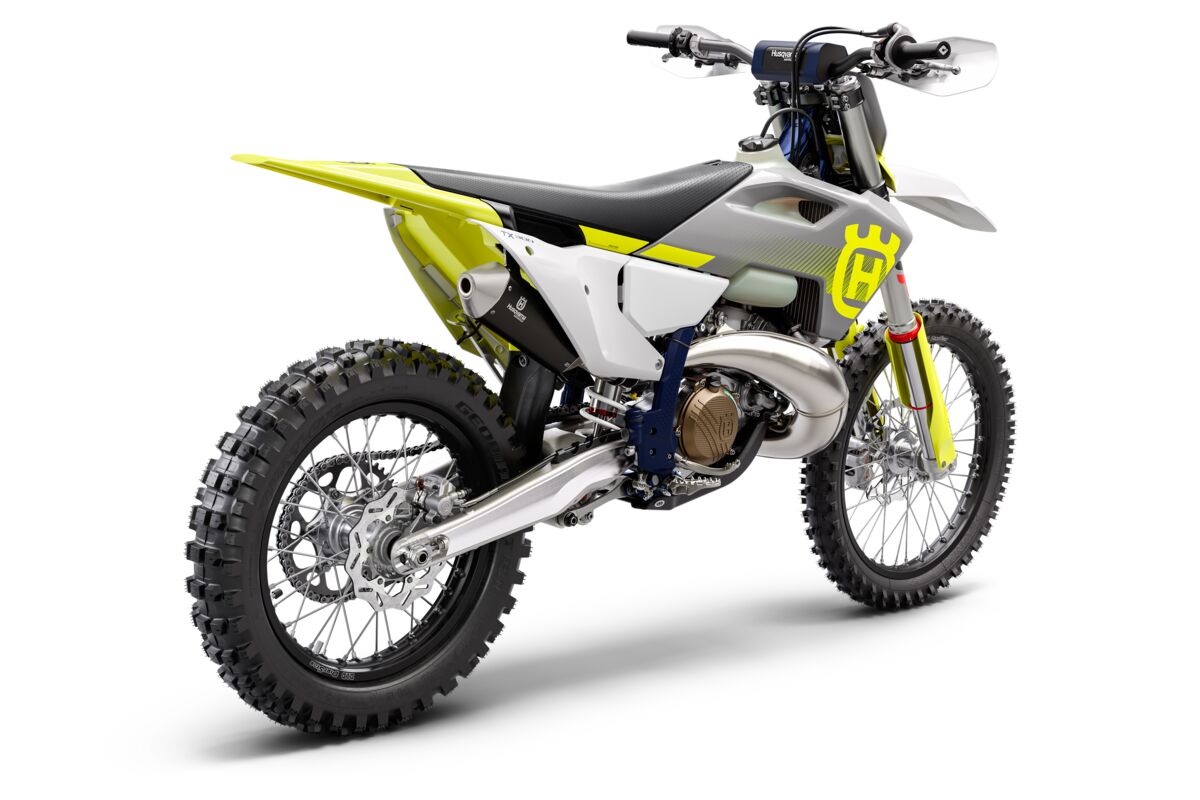 New spring forks
Headlining the platform differences for 2024 is the all-new WP XACT closed cartridge spring fork offered on all cross-country models.
Husqvarna say WP's R&D department have worked on the new 48 mm WP XACT closed cartridge spring fork to improve comfort and consistency over long rides. The closed cartridge system helps here but also they point at a mid-valve piston designed to improve oil flow and "prevent foaming for consistent and predictable damping at all times."
A hydrostop, active in the final 68mm of travel, also reduces the impact of harsh and high-speed landings for straight line stability and forward momentum they explain.
As ever on the Husky, both the compression and rebound settings are quickly adjusted by hand using the easy access clickers. No changes to the rear shock absorber after big updates in '23 – read more about that here: First look: 2023 Husqvarna motocross line-up – new subframes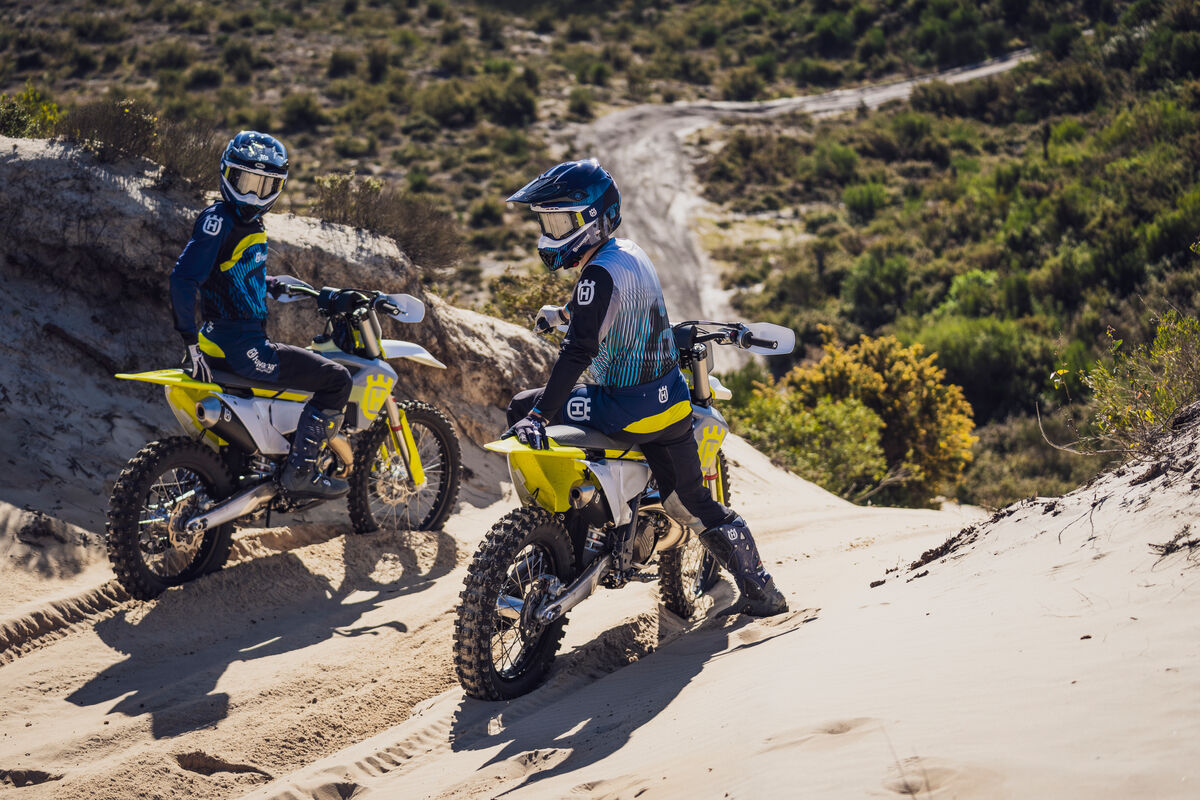 2024 Husqvarna cross-country and motocross range technical highlights:
New grey and yellow graphics
New high-grip seat cover for improved control under hard acceleration
New FC/TC suspension settings for improved cornering agility
New FX/TX WP XACT closed cartridge spring fork delivers improved damping performance
Six-speed FX 350 now equipped with Quickshifter for 2024 (Quickshifter can be added to 2023 FX 350 as a software update)
Quickshifter ensures seamless upshifting on all 4-stroke MX models
Multifunctional Map Select Switch also activates the Quickshifter, Traction, and Launch Control on all 4-stroke models
Bodywork designed with specifically tailored ergonomics for easier movement on the motorcycle
Hydro-formed chromium-molybdenum frames offer enhanced anti-squat behavior
Die-cast aluminum swingarm provides optimal rigidity and low weight
Throttle body fuel injection on two-stroke engines
Aluminum-polyamide hybrid subframe construction provides specifically calculated rigidity and advanced durability
High-performance Brembo hydraulic clutch system
Premium-quality ProTaper handlebars
Electric starter on all models powered by a lightweight Li-Ion 2.0 Ah battery
A competition-focused range of Technical Accessories and Apparel accompanies the release of the 2024 motocross and cross-country machines. For added durability, the Factory Racing Wheels are incredibly strong with the Factory Racing Triple Clamps offering improved suspension performance and enhanced front wheel feedback. Offering comfort, style, and protection, the Apparel Collection ensures riders of all abilities are fully prepared and protected for every ride.
The 2024 motocross and cross-country range will begin arriving at authorized Husqvarna Motorcycles dealers this month.
More information including prices in your country: www.husqvarna-motorcycles.com
Photo Credit: Philip Platzer