First look: all-new Husqvarna FR450 Rally ready for Dakar 2022
As the "all-new" Husqvarna FR 450 Rally bike breaks cover ahead of its race debut this week at Rallye du Maroc, Skyler Howes reveals the Rockstar Husqvarna Rally team decamped to his house in Utah for one month developing the new race bike in preparation for Dakar 2022.
"The whole team was at my home testing for a month" says Rockstar Energy Husqvarna Factory Racing Rally team's Skyler Howes as the new, 2022 FR 450 Rally is makes its race debut this week at round four of the FIM Cross-Country Rallies World Championship in Morocco.
Electing not to race round three of the World Championship, the whole Husky squad instead decamped to Howes' USA training ground and home in Utah for a month's testing throughout September to hone the new 2022 version of the FR 450 Rally – a bike in reality which is common to Husqvarna, KTM and GASGAS factory riders (GASGAS' Daniel Sanders was also in the USA developing the new bike).
Husqvarna say this fresh version of the championship-winning FR 450 Rally is the result of two years' work. Boasting "huge improvements to key areas of the machine" they point at a new frame, engine and new slimmer bodywork.
The biggest difference we can see (details are a bit thin) seems to be the frame. Is that a beam frame and have they ditched the trademark steel trellis? Surely not?
It's a bike the Husqvarna Rally team have already clocked up many hours on as they gear-up for Dakar 2022. "The bike feels great." Says Howes. "We still need to run it under race conditions, but for me it's lighter, easier to control, and it's more forgiving in the tougher terrain. It looks like the race here will be a really good test ahead of Dakar."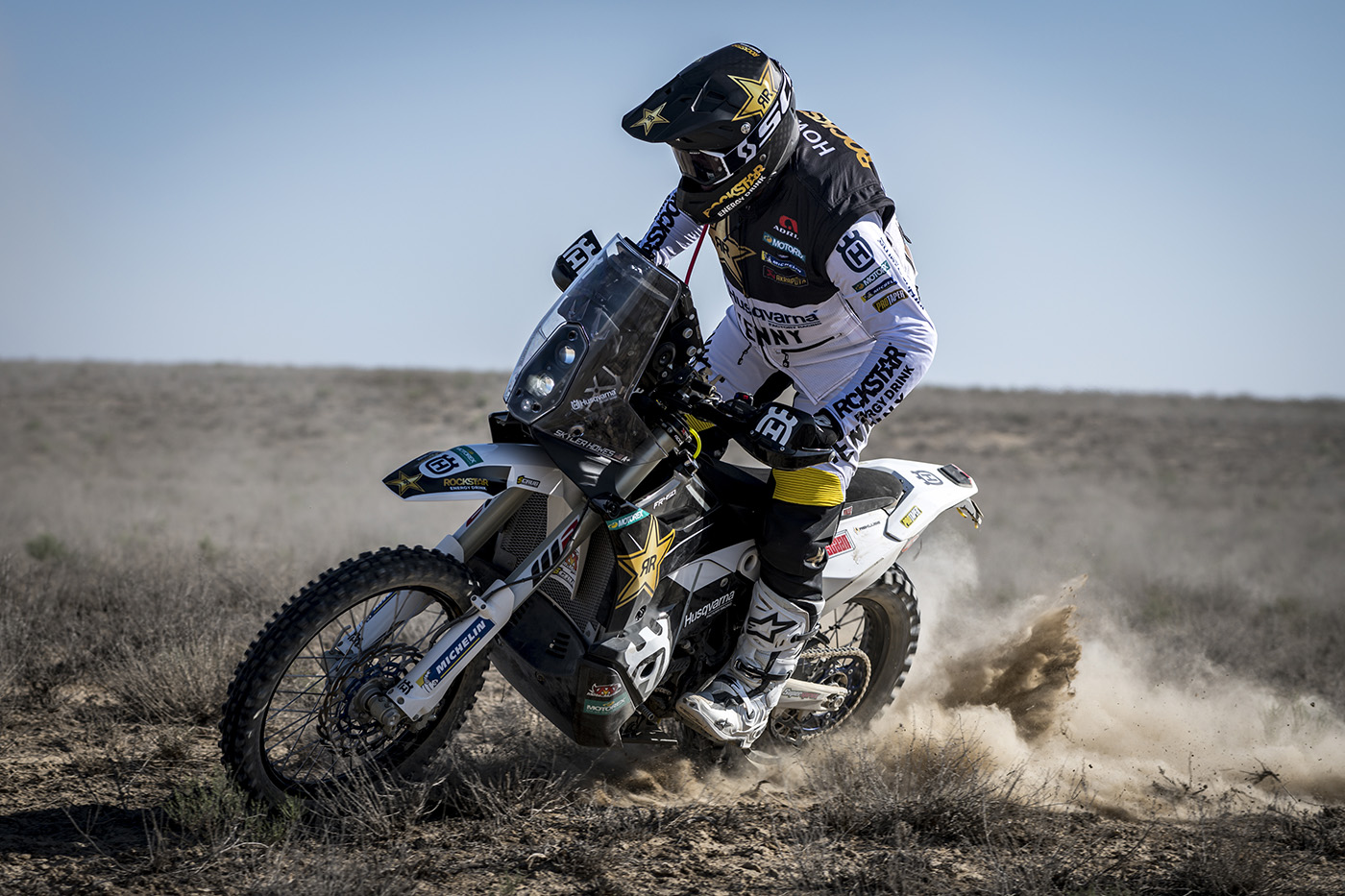 Speaking about the summer break from racing and concentration on the test programme with the new bike, Howes says, "the downtime has been quite nice, but also really busy. We had the whole team in America at my home in Utah for about a month of testing on the new bike. To be a part of that and to help develop this latest version is really cool and a big honour.
"It looks like all the hard work we put in has paid off too, as the shakedown test in Morocco has gone really well and the bike feels great…I'm excited to get started, and with such a stacked field it's going to be really fun."
"It's completely new – new chassis, new engine – and for me it's a really positive step." Adds teammate Luciano Benavides. "The team have put in a lot of hard work, and it has been good to be a part of that development. Not only does the bike feel good, but it has given me renewed motivation – I really want to see what it can do here in its first race. It'll be a proper test ahead of Dakar and I can't wait to see where we are compared to the others."
The 2021 Rallye du Maroc stretches across six days with a short prologue on October 8 before five days of race. The event is centred around one bivouac located in Zagora, where each stage starts and finishes, with a loop format for each daily stage for safety and logistics reasons.
Totalling 2,656.61 kilometres, the event will challenge riders with over 1,600 kilometres of timed special stage.
The event is the first time this season where all factory teams have fielded their full squads since Dakar 2021.
Photo Credit: Marcin Kin