First look: KTM goes smaller with new SX-E 3 mini bike
KTM has announced a new, smaller addition to the off-road family, a 10" wheel size, 600mm seat height SX-E 3 electric motorcycle for kids.
Following the footsteps of the SX-E 5 – which has hit the social media platforms with Freestyle MX legend Robbie Maddison's sons Kruz and Jagger Chris Birch's daughter Zoe – KTM has announced a smaller version, "a true entry-level motorcycle, rather than an electric-powered mini-cycle."
The new SX-E 3 condenses components and looks from not just the SX-E 5 and junior range, but the grown-up petrol powered off-road bikes from the Austrian manufacturer. The new model features the same chromium molybdenum frame and suspension as the SX-E 5 but in a "more user-friendly package".
2023 KTM SX-E 3 highlights:
New model based on the innovative KTM SX-E 5 with reduced power and seat height.
MAXXIS MX-ST tyres are mounted on black anodized 10" aluminium rims.
WP XACT 35mm fork and WP monoshock with 133mm travel.
Tapered aluminium handlebars (Ø 28/22/18 mm).
ODI lock-on grips with decreased diameter to provide increased control, comfort and confidence for smaller hands.
3.8 kW peak performance electric motor is wear and maintenance-free.
Battery with 60 modern Lithium-Ion cells in a robust die-cast aluminium casing, offers more than two hours of riding for a beginner and 30 minutes for faster riders, depending on riding conditions.
Adjustable seat height can be set at the standard 23.6 in (600 mm) or reduced to 21.8 in (555 mm) by adjusting the bodywork and lowering the suspension position.
Multifunctional instrument panel has six different ride modes (lockable) to tailor the power characteristics to any ability level.
Quick-charging external worldwide charger supplies up to 900 W can be connected to any 110 Volt socket and plugs directly into the battery back.
Check the video:
Plug and play, 70-minute charging time
The permanent magnet electric motor in the KTM SX-E 3 (the same as the SX-E 5) has 3.8 kW, with the 60 Li-Ion cells providing a capacity of 648 Wh in a low 48 V configuration KTM says which should bring approximately two hours of ride time between charges.
The bike plugs directly into any 110 or 230-Volt socket for easy charging, with a full charge from empty taking approximately 70 minutes KTM says.
The 10" wheels and seat height of 600mm are what mark the difference between the models with even more adjustment by moving the rear suspension mount, lowering the front fork in the triple clamps and adjusting bodywork/seat they say.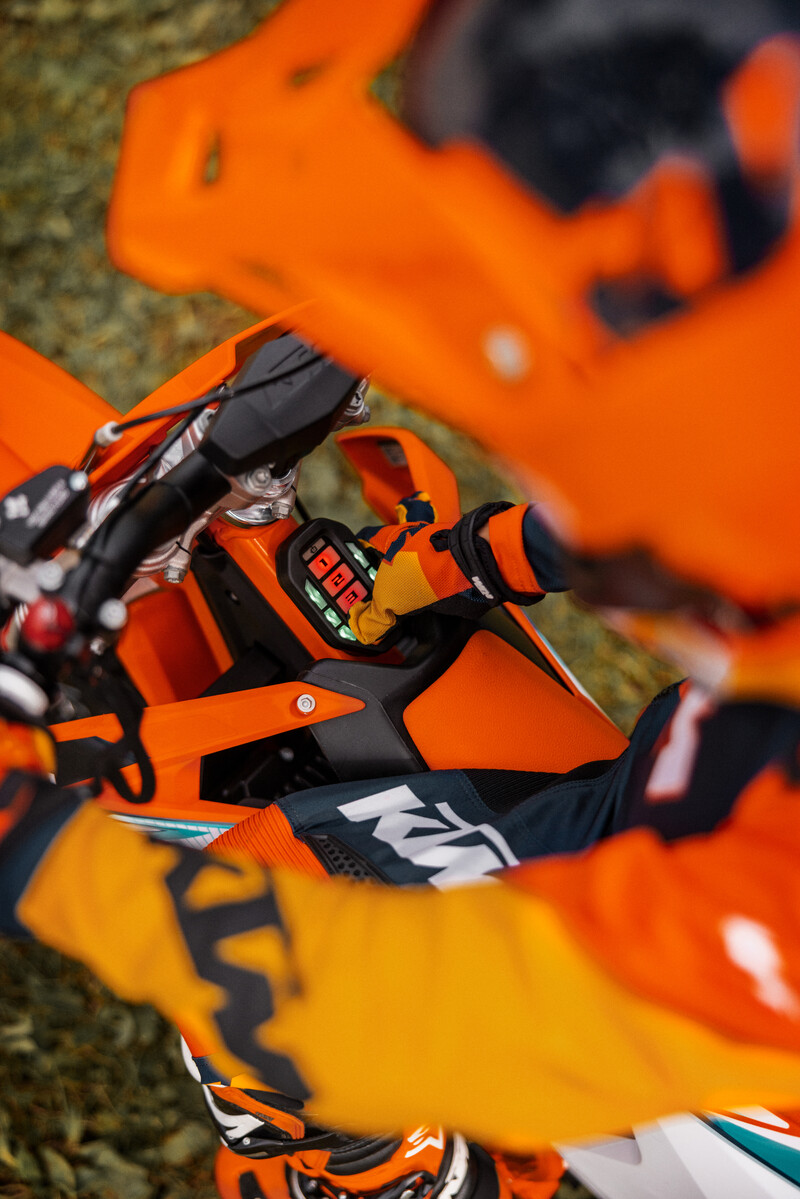 The KTM SX-E 3 is also fitted with a roll-over sensor which cuts power if the bike is dropped plus there's a wrist lanyard key, which also stops the motor if the rider topples off.
As KTM Group continues to grow the electric-powered models across its brands of KTM, Husqvarna and GASGAS, this model is almost a no-brainer for all the established reasons of limited noise and impact. It means kids can enjoy the ride virtually anywhere.
KTM SX-E 3 specifications:
Electric Motor: 48 V – BLDC Motor with Outer Rotor
Rated Output: 2 kW / 3,200 RPM
Max Power: 3.8 kW / 3,900 RPM
Torque: 10.5 Nm from 0 RPM
Max Motor Speed: 5,500 RPM
Final Drive: 8:46
Cooling: Air Cooled
Battery: Lithium-Ion KTM
Capacity: 648 Wh
Charging Time 100%: 60 minutes
Charging Time 80%: 30 minutes
Charging Power: 900 W
Frame: Double Grinded Central Double-Cradle-Type Frame
Subframe: Fiberglass-Reinforced Plastic
Handlebar: Tapered Aluminum Ø 28/22/18 mm
Front Suspension: WP XACT 35 USD Ø 35 mm
Rear Suspension: WP Monoshock
Suspension Travel Front/Rear: 144 / 133 mm; 5.6 / 5.2 in
Front/Rear Brakes: Disc Brake 160 mm / 160 mm
Front/Rear Rims: 1.60 x 10" / 1.60 x 10" Aluminum
Front/Rear Tires: 60/100 x 10" / 2.75 x 10"
Chain: 1/2 x 3/16 in
Steering Head Angle: 24º
Triple Clamp Offset: 22 mm
Wheelbase: 1,017 mm ± 10 mm / 40 ± 0.4 in
Ground Clearance: 152 mm / 5.9 in
Seat Height: 600 - 555 mm; 23.6 / 21.8 in
Weight, Approx: 39.2 kg / 86.4 lbs
More information: www.ktm.com