GASGAS goes e-powered – new MC-E 3 mini bike for kids
GASGAS has announced an all-new MC-E 3 mini electric dirt bike for younger kids to make their first off-road steps at an even younger age.
Making sure you've got something for the kids is important in this world. Forget about them and life can be hell! If you're a manufacturer of motorcycles, perceived wisdom says if you get them on two wheels sooner the more likely there are to get hooked into "the brand" and stick for life.
Hence the newest and now smallest powered two-wheeler in the GASGAS off-road range, the MC-E 3 which joins the larger MC-E 5 electric bike plus 50cc, 65cc and 80cc gas-powered dirt bikes in the line-up.
In short it's a virtually maintenance-free, battery-powered plug and play dirt bike with multiple ride modes, 10" wheel size and 23.6 in (600 mm) adjustable to 21.8 in (555 mm) "real motorcycle" for the next wave of mini Taddys and Veronas.
Video highlights of the MC-E 3
In reality this is the GASGAS version of the KTM and Husqvarna models built and produced to the same specification. Whichever colour you prefer, it produces next to no noise, no carbon emissions, and claims a running time of up to two hours for the dead-easy fun factor of just getting on it and riding.
The 3.8kW motor is compact and fitted low in the frame to create a lightweight feel, which means riders can keep spinning laps without getting too tired.
The hassle-free motor is maintenance free, resistant to dust and water, and features six different ride modes to easily alter the power delivery to suit the ability of any rider.
With no clutch or gearbox, the MC-E 3 is that genuine first set of wheels if you want to start 'em young.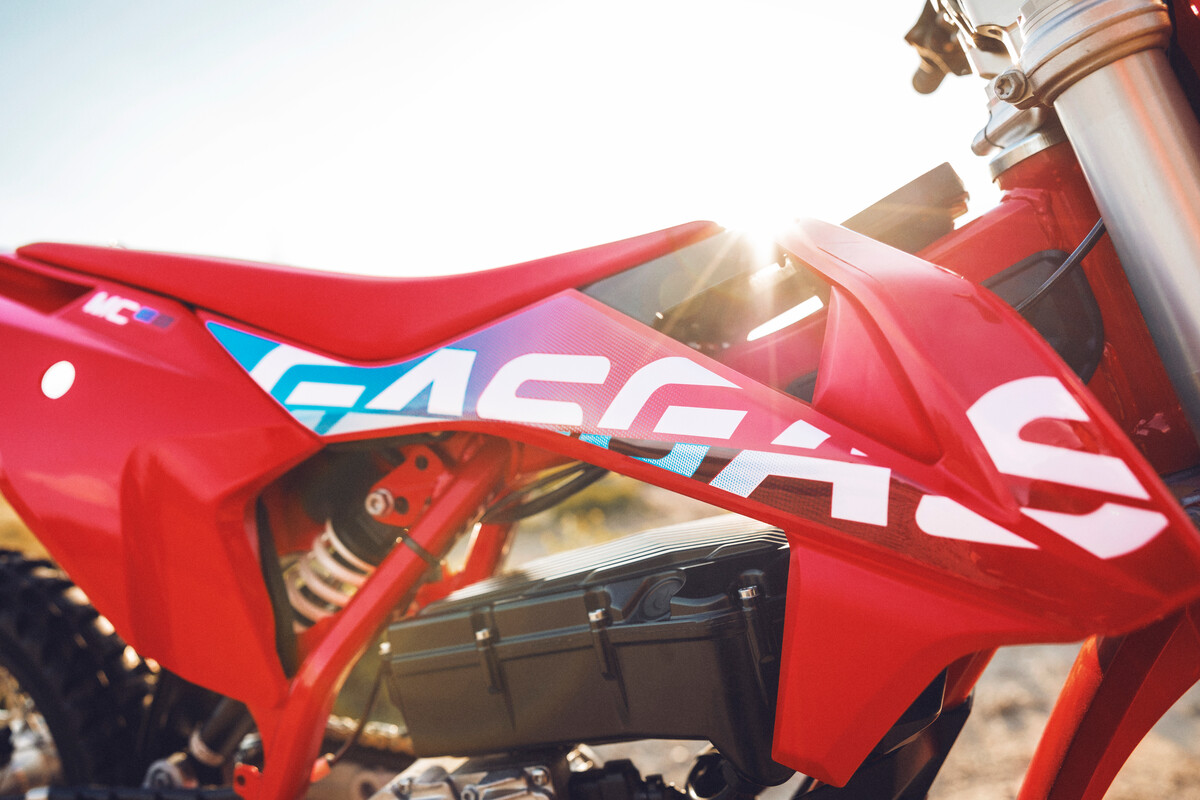 The MC-E 3 is fitted with unique graphics highlighted by a splash of blue to signify its electric power unit. The graphics are applied beneath the surface of the plastics to prevent peeling or scratches, the graphics will stand the test of time they say.
The MC-E 3 also comes with a red powder-coated frame, WP suspension, Neken bars, 10" wheels, and Maxxis tyres.
The new bike is available now at GASGAS dealers. Availability may differ from country to country.
More information: www.gasgas.com