Christophe Nambotin calls time on Enduro GP racing career
Three-time Enduro World Champion and 10-time French Enduro Champion, Christophe Nambotin retires from EnduroGP racing after difficult season with Gas Gas.

GP legend and one of the most decorated riders in French motorsport, Christophe Nambotin has called an end to his Enduro World Championship career.
Speaking to Enduro21 at the final round of the 2019 season in Ambert, France, Nambotin explained that a difficult season with his Gas Gas team, plus admittedly his age coming into play, means "it is time."
Nambotin took the first of his three world titles in 2012 and very much in the thick of a super-competitive time in GPs. Between 2008 and 2017 Nambo also claimed six ISDE Trophies with the French team.
"Never-say-never of course but normally, and how things are now, this is my last GP race." Continued Christophe. "It was good in front of my home fans and I have a podium to finish – it is time I think."
Ending the year back at the GPs and at his home race in France was a good bookend to what has been a troubled 2019 season for any racer concerned with Gas Gas. Amid troubled financial times and political issues at the factory, Gas Gas pulled out of GP competition after just one round this year, leaving Nambotin and Alex Snow up the creek.
"I spoke a little with Gas Gas already and for sure if we can make a deal to race in the French Championship then I will. But I am a little bit too old to ride in EnduroGP in good condition so it is the end." Explains Nambotin.
"For sure it was a difficult time after Gas Gas pulled out of EnduroGP to keep a good motivation," says Christophe. "But I did a good French Championship with the help of Gas Gas France. We made some good races there and we won the championship for the 10th time this season."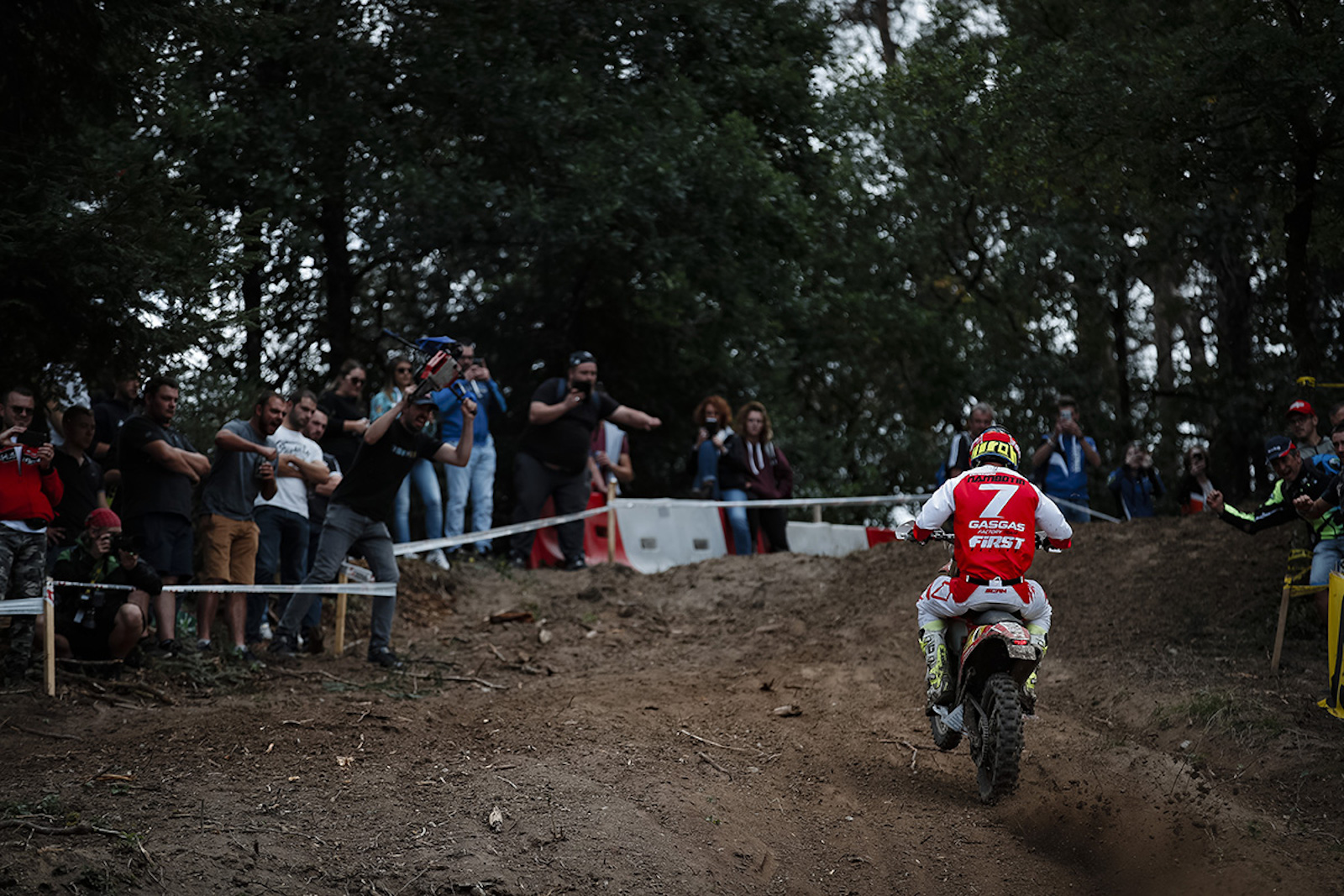 Speaking about his last GP, Nambo said: "It was a nice race with some good tests and actually some difficult riding between the tests, but the crowd was amazing and really enjoyable event. It is really good to see for EnduroGP to have this support.
"It is difficult also to arrive at the last GP when you have not raced all season and have the results but day one was not so bad. Then on day two I made a big mistake on the extreme test and it was difficult to come back from that. Anyway, I finished on the E3 podium and this is a positive in front of the home crowd.
"Anyway we have a French champion also and Loic (Larrieu, E2 World Champion) made a good season and I am happy for him, he is the leading rider in French enduro right now. It is good for the young and junior French riders to have Loic to admire and follow."
All the best Nambo, you will be missed.
Photo Credit: Future7Media/Andrea Belluschi