First Look: New Thumpstar 250 & 300 two-stroke off road motorcycles
Australian company Thumpstar is taking on the two-stroke off road market with their all-new 250cc and 300cc motorcycles.

Thumpstar might be an unknown motorcycle brand to many, as it was for us, but when we heard they were planning on releasing 250 and 300 two-stroke bikes by midway 2020 (or beginning of 2021 at latest), they got our attention.
Thumpstar as a company was established back in 2004 by Australian Timothy Hunter who set about manufacturing pit bikes. Now, after a few years in the making and a growth of their company and product range, Thumpstar are ready to take a share of the bigger off road market with their 250cc and 300cc two-stroke machines.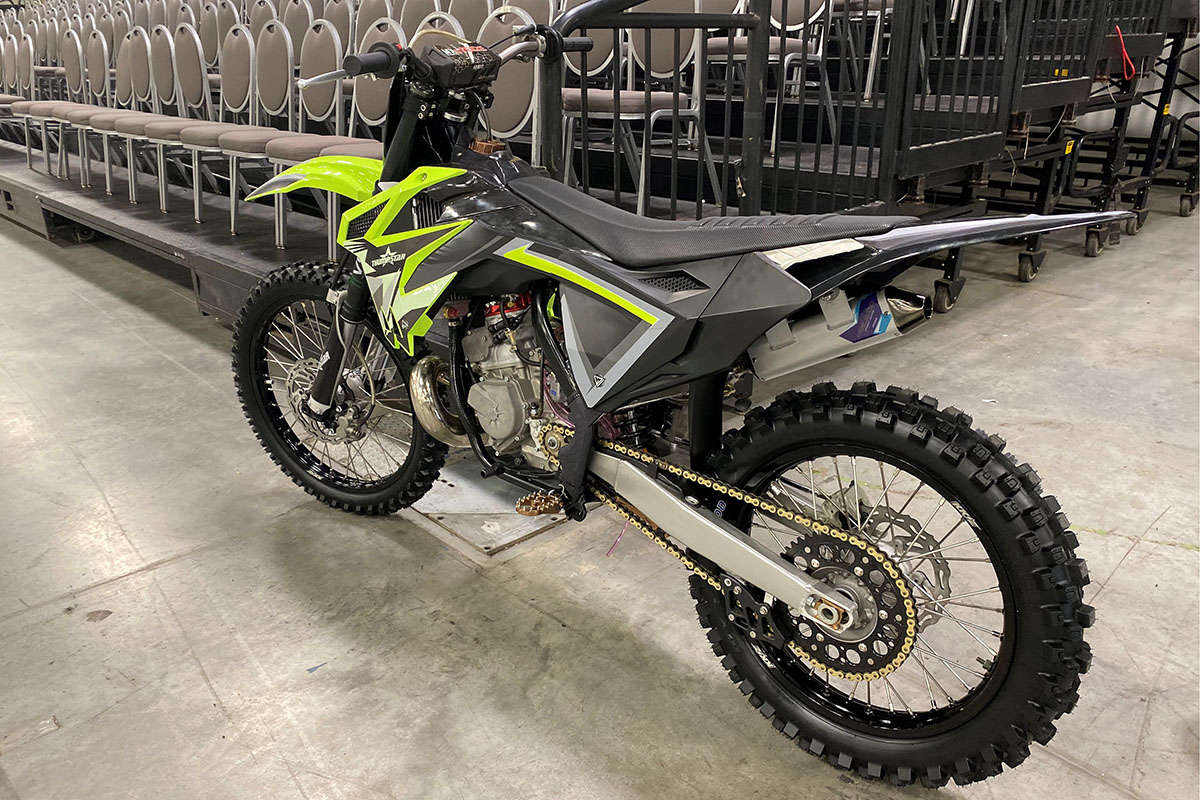 Thumpstar 250/300 two-stroke highlights:
Spanish-built Jotagas engine and chassis
Carburetted, two-stroke engines
Under $7000
FMF exhaust system
VS1 suspension with option of upgrading to Öhlins
250 kickstart only/300 kickstart and electric start
Hydraulic clutch
If you're familiar with the trials motorcycle market you might know about Spanish manufacturer Jotagas. The brand was jointly established and continues to be the baby of Josep Pibernat – one of the original co-founders at GasGas – who helped design and develop their distinctive trials bike. Originally the plan was also to develop Jotagas enduro bikes but when the project was ditched, Pibernat retained the technology and tooling and is now collaborating with Thumpstar on the project.
The journey for these bigger models started back in 2017 when Thumpstar first expressed their interest to produce two-strokes to Pibernat. It didn't take long for the idea to become reality and the first bike builds took place based on the engine and chassis manufactured by Jotagas in Spain.
"We started focusing on two-strokes because they are light and powerful, yes they make more emissions but with new EFI systems coming out that will be reduced," says Jason Young, current Thumpstar CEO. "Another thing to consider is they make less emissions during manufacturing as there are less parts and less parts required when engine needs to be rebuilt."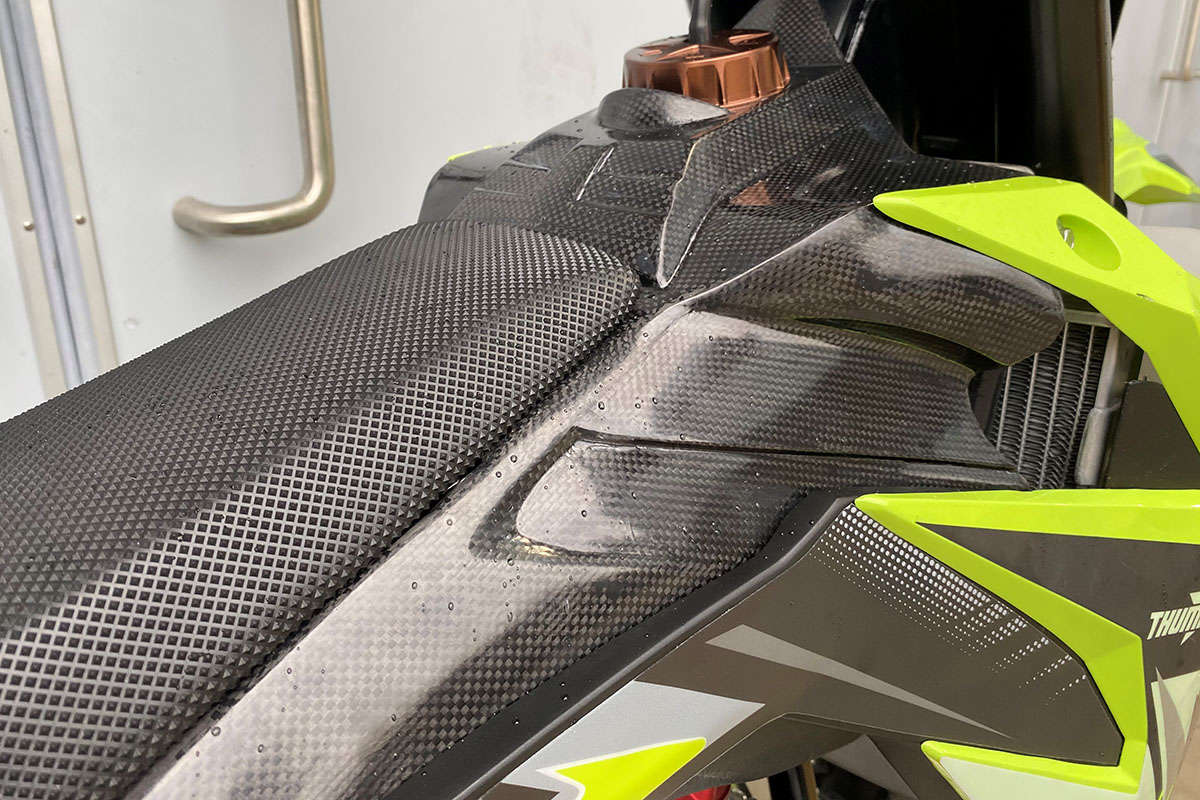 Fast-forward two years and Thumpstar now has two carburetted two-stroke models: 250cc and 300cc – both are kickstart plus the 300 is equipped with electric start.
The standard bikes will be mounted on fully adjustable VS1 suspension which is aimed for the entry level riders but there's the possibility of upgrading to Öhlins suspension for those customers looking for higher spec performance, Young tells us.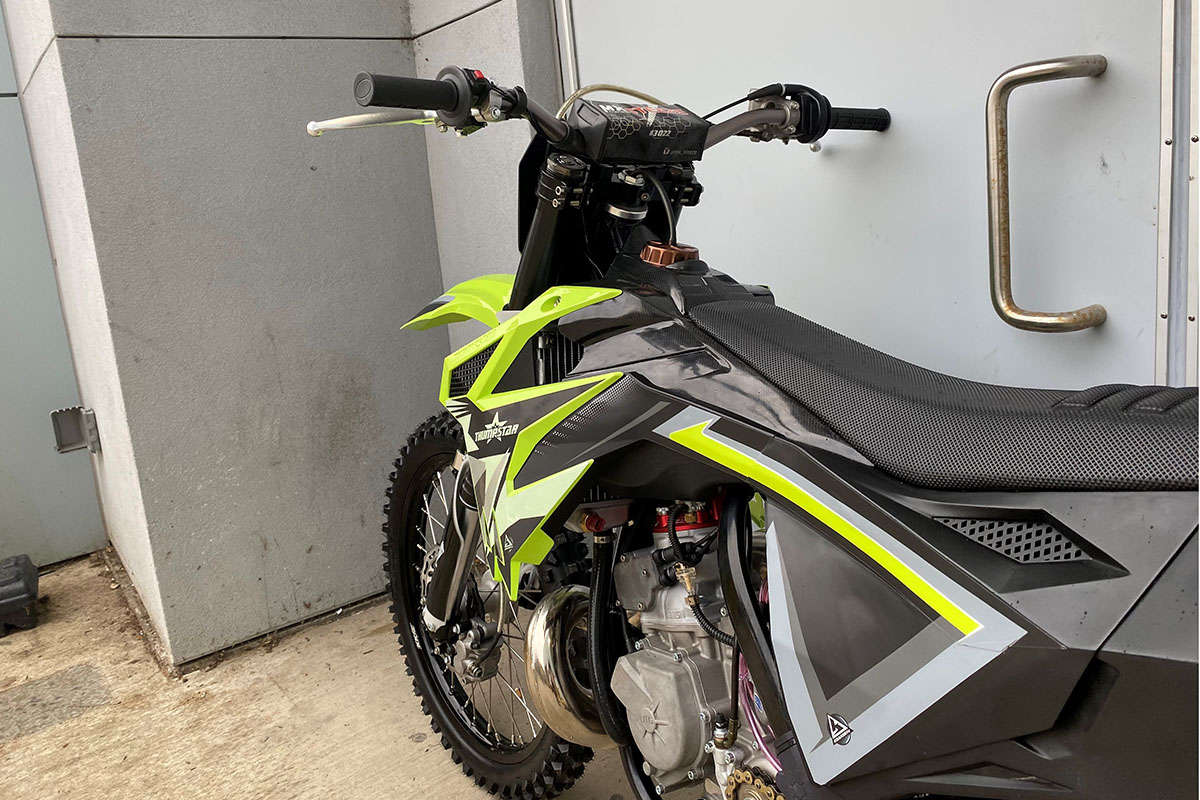 Clearly there are no lights on these bikes and they're running 19-inch rear rims as standard. Thumpstar are aiming at the closed course, MX market more than enduro at this stage – although a street model is planned.
Thumpstar claims the 100 bikes they're producing for 2020 (or early 2021) will be a very healthy $6749 for the 250cc and $6999 for the 300cc. There's also the possibility for pre-ordering discounts.
Thumpstar's future plans include racing the 250 two-stroke model in US Arenacross and in the long term they're also aiming at producing high performance 250 and 450 four stroke models and importantly putting themselves onto start gates.
More information: Thumpstar.com