KTM's 790 Adventure R Rally limited edition
"A truly special bike for our hardcore customers" is how KTM describe the limited edition 790 Adventure R Rally – a bike built simply "because they can".
Is this as good as Adventure bikes get for off-road? KTM extend their Adventure and Travel motorcycle range with the new 790 Adventure R Rally, an exclusive model limited to 500 units.
Blurring the lines between rally, off-road and adventure bikes, the 790 Rally is aimed at riders who want a greater off-road performance from their adventure bike. It's a fact hammered home by Chris Birch's skills on the big bikes...
https://www.instagram.com/p/B7nYZ6chHBv/
Based on the 790 Adventure R (which Birchy raced to fourth overall at the 2019 Hellas Rally), the Rally model shares the same steel chassis and LC8c parallel twin engine but with upgraded suspension thanks to the WP XPLOR PRO fork and shock absorber.
The Rally model gains 30mm in suspension travel and ground clearance plus naturally the seat height grows to 910mm over the standard 790 Adventure's 850mm.
Suspension "close to" Dakar race bikes
The XPLOR PRO suspension package is built in the same department as the WP's Factory Racing Equipment and KTM say it is "close to" the same level of equipment used by the Dakar-winning Red Bull KTM Factory Racing Rally team on the KTM 450 Rally.
The WP XPLOR PRO 7548 fork uses the cone valve technology, a system that allows a good damping performance without compromising comfort or bottoming resistance. Setting changes are also easier to make via the external adjusters.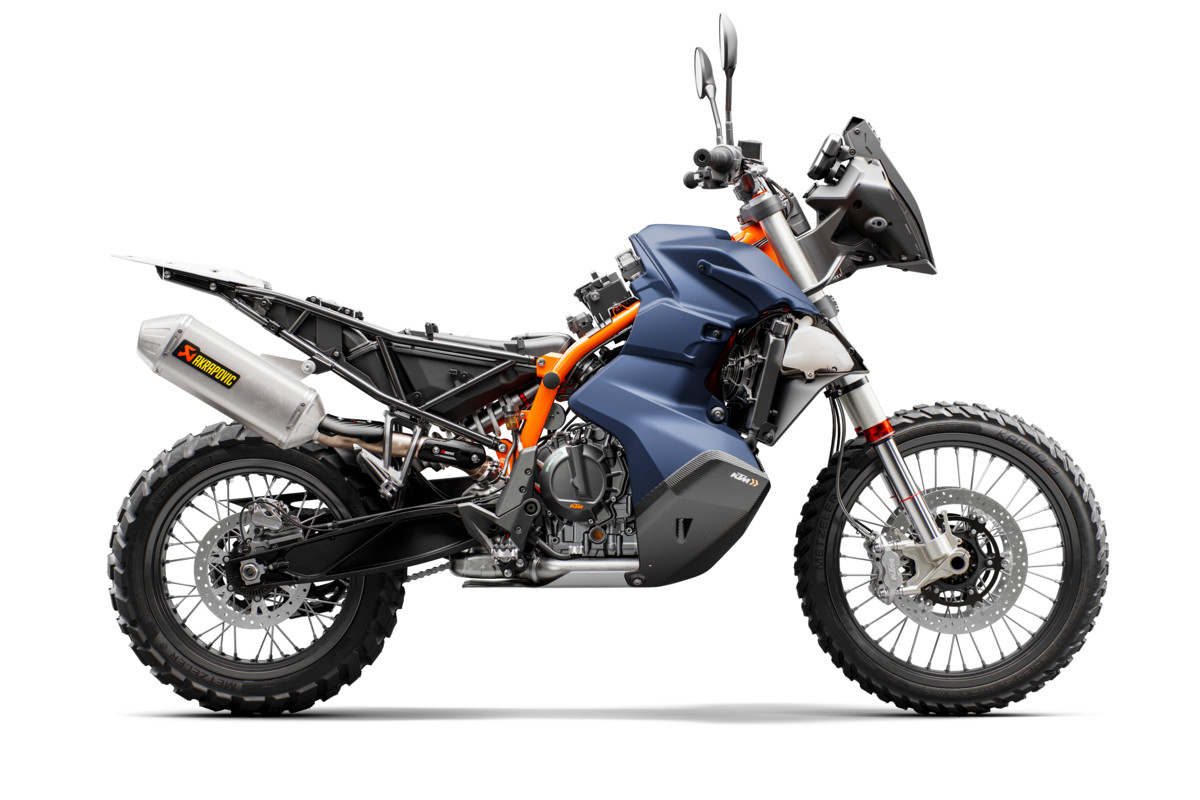 On the rear the R Rally equips a WP XPLOR PRO 6746 shock based on the one used in the KTM 450 Rally race bikes. The shock uses the signature PDS system and the damping is easily adjusted.
The R Rally is also equipped with an Akrapovic exhaust, carbon fibre tank protectors and the Quickshifter+ system. KTM has also changed the rims for narrower and tube-type while the seat is more off-road being a straighter shape to improve the standing riding position. The footpegs have improved grip and width to give the rider a better feeling when standing up also.

Speaking about the new Rally 790, KTM Executive Hubert Trunkenpolz says: "Quite simply, we've built the KTM 790 Adventure R Rally because we can! At KTM we continually try to push ourselves and the development of our products. We have the equipment at our disposal, and we know how to make a truly special bike for our hardcore customers."
Retail prices: $20,000/£17,999/€19,949
More information: KTM.com
Photo Credit: KTM + F Montero