Pro bike: Kirian Mirabet's Honda Impala CRF250RX
Enduro21 has been chasing Kirian Mirabet for a closer look at his immaculately prepared Honda CRF250RX since the start of 2020. Restrictions and cancelled races have got in the way but finally caught up with the Honda Impala Team at the Infiesto Enduro…
Not long after these images were taken all the hard work and preparation SDS Prorace had put into the Honda Impala CRF250RX was hidden under a thick layer of mud.
The rider, Kirian Mirabet, like everyone else racing the Infiesto round of the 2020 Spanish Enduro Championship was simply doing his job but sometimes it is a shame to ruin the hard work and the Asturias mud was all-consuming!
Mirabet races in both the Spanish and EnduroGP World Championships in E1 on this CRF which is prepared for Honda Impala by SDS Prorace under the watchful eyes of Sergi Durán.
Durán is an enduro old hand having previously been in charge of UFO Yamaha and GASGAS Enduro Teams racing in the World Championship and Spanish Enduro Championship. We caught up with both Sergi and rider Kirian for all the details behind their immaculate CRF.
Engine: taming the beast for enduro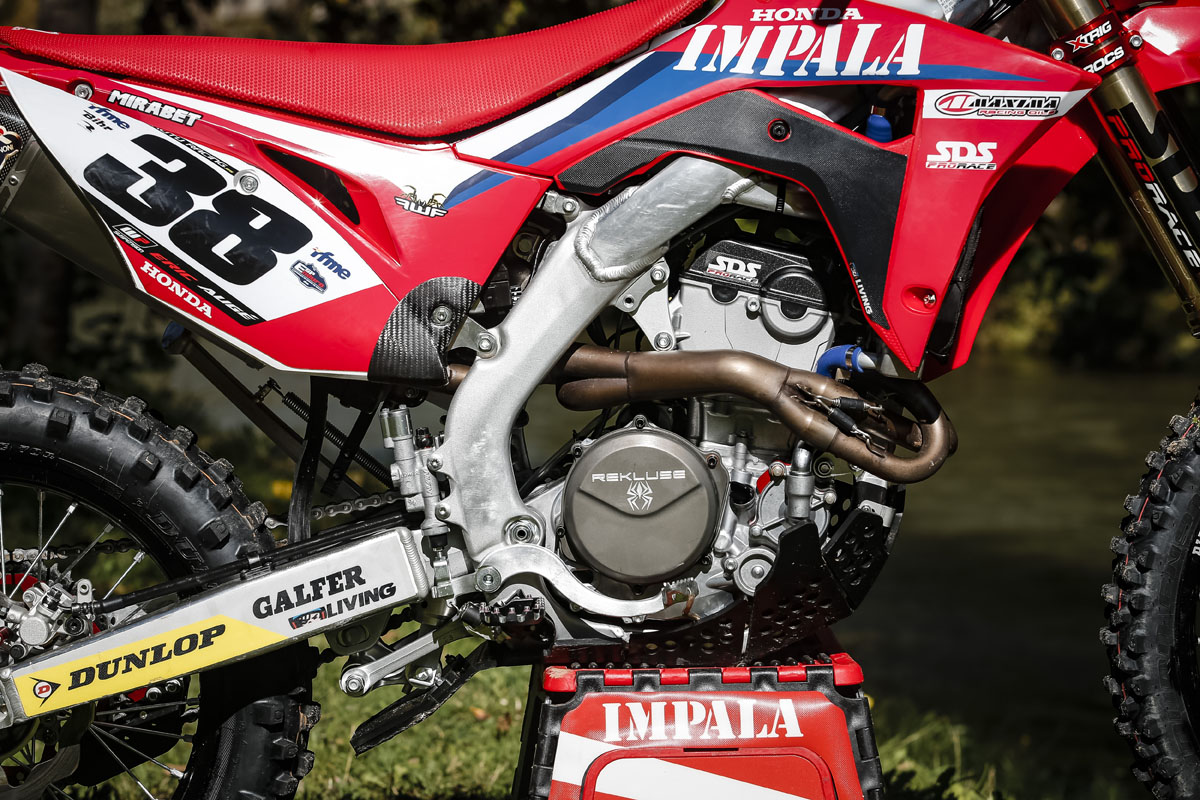 "The cylinder head has been modified to improve lower and mid-range power, something which is not so 'MX' " says Durán. "We use a Termignoni exhaust system, it's the official 2-1-2 part plus a Funnelweb filter that provides greater air suction capacity. We also use a Vortex control unit that allows us to modify the engine mapping in low and medium range of the power curve."
Kirian Mirabet raves about his bike, "it works well in any race conditions, very fast, great chassis and feeling but with a super comfortable riding position. It is a really easy bike to ride, I can be aggressive and above all effective, which is what helps us to set good times," says the Honda rider.
Any change or modification over the standard RX model from Honda (with connections to the official Honda team, RedMoto) has a purpose and while some modifications are to tame engine and adapt it to enduro, others are no less important but equally interesting.
Reliability of components such as the 12-disc Torq Drive clutch from Rekluse. "It is a clutch with incredible durability," says Durán, "together with the hydraulic clutch, gives a very comfortable and soft feel and also makes it a much easier motorcycle to ride on trial-like sections or extreme tests. It does not vary with cold or heat either so is consistent. The clutch cover is also from Rekluse and is much harder than the original one."
"The team did a great job, especially with the engine. It is a bike that holds up and is reliable, which I appreciate as a rider. The Rekluse clutch gives security of consistency," adds Kirian.
The four-stroke engine retains the same five-speed gearbox found on the standard CRF model and they also run a 13-50 final drive ratio.
It would have been easy to miss one detail in the engine section which Durán points out. An extra mount in the water pump delivers an extra flow in the cooling system and the team also mount silicone radiator hoses for durability.
Showa suspensions prepared by SDS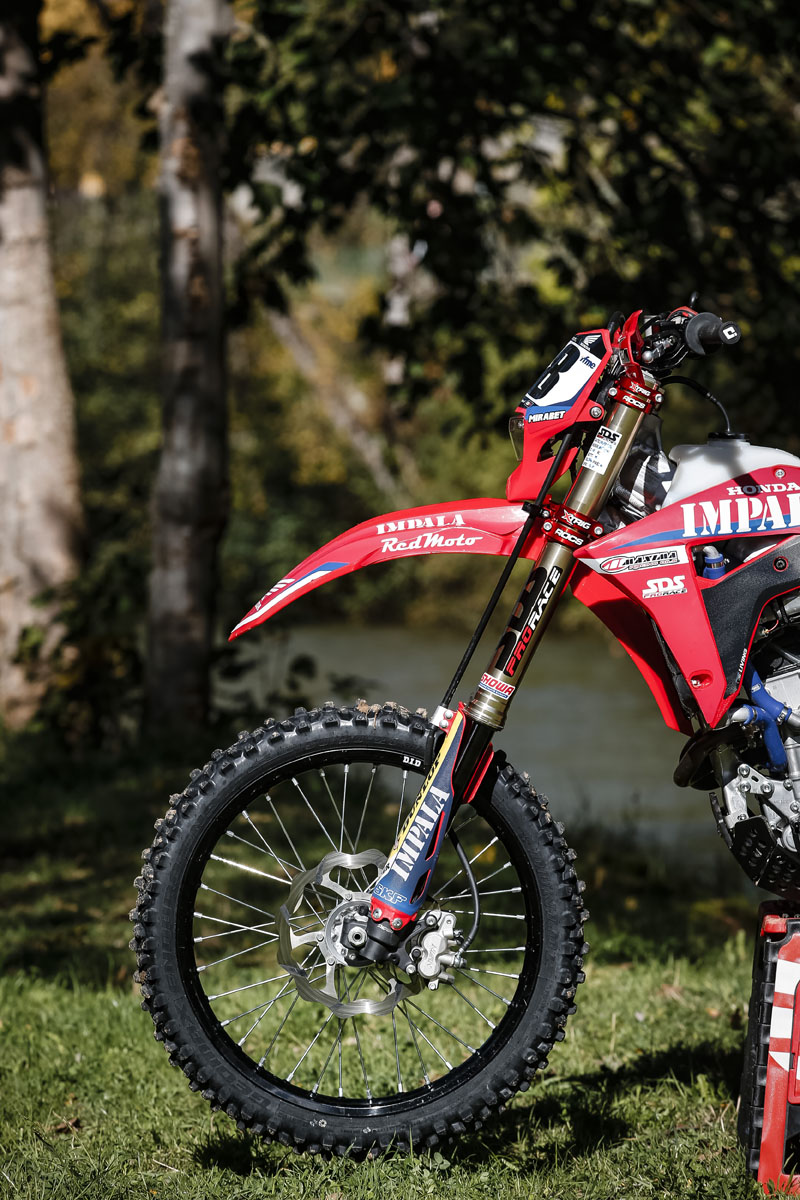 The Showa forks keep their original external appearance but with plenty of work going on inside. "The tubes are original, although we have stanchions treated with DLC," Durán says, and we have anodized dropouts plus of course a modified 'setting' for enduro.
"The shock is the same, the settings have been modified and the spring is also different from the original one," he adds.
X-Trig triple clamps hold the forks, deal with flex issues and, "offer us a greater feel when entering the turns," says Durán of the work all carried out by SDS.
Kirian explains the changes suit his riding style: "I particularly like the fact the forks are a little bit softer than usual, because I stand further back on the bike. I don't put much load on the front, and that is why I like the softer front and harder suspension at the rear because I have a habit of hitting potholes hard!"
Experience counts
The experience of the SDS Prorace team in racing, where they have had a thousand and one scenarios to draw on, has led them to adopt "orthodox" solutions to avoid problems and above all to protect parts of the bike.
In the electrical section the team have simplified things with straight wiring and a switch for the brakes and lights "to minimize the possibility of any electrical failure." Says Durán,
"We have worked a lot on protection with a long AXP sump guard with the linkage extension plus a reinforced chain guide. We also reinforced the support for the chain guide, welding an extra inner aluminium plate plus mount an external machined bracket for strength. All this gives us greater reliability against impacts," says the Honda Impala team manager.
Durán continues pointing out all the other "sweets" around the bike such as the ignition cover protector and the carbon rear panels, both from the Italian firm CMT, in addition to the wider, grippier footpegs personalised for Mirabet by S3 Parts.
Powerful braking
"We use Galfer brake discs with Honda standard part Nissin calipers and master cylinder," Durán explains. The rear disc is, "more solid than the original one," while the front disc is fixed, not floating, since, "in theory we don't need a floating disc here with this type of bike. It's a 260mm slotted front rotor which gains a bit of extra stopping power." He explains.
Sergi takes the opportunity to point us to another detail, a small extension to the rear brake oil reservoir to take just a little more oil and help dissipation of heat. Like they told us, the years of experience are clear put into practice with this bike.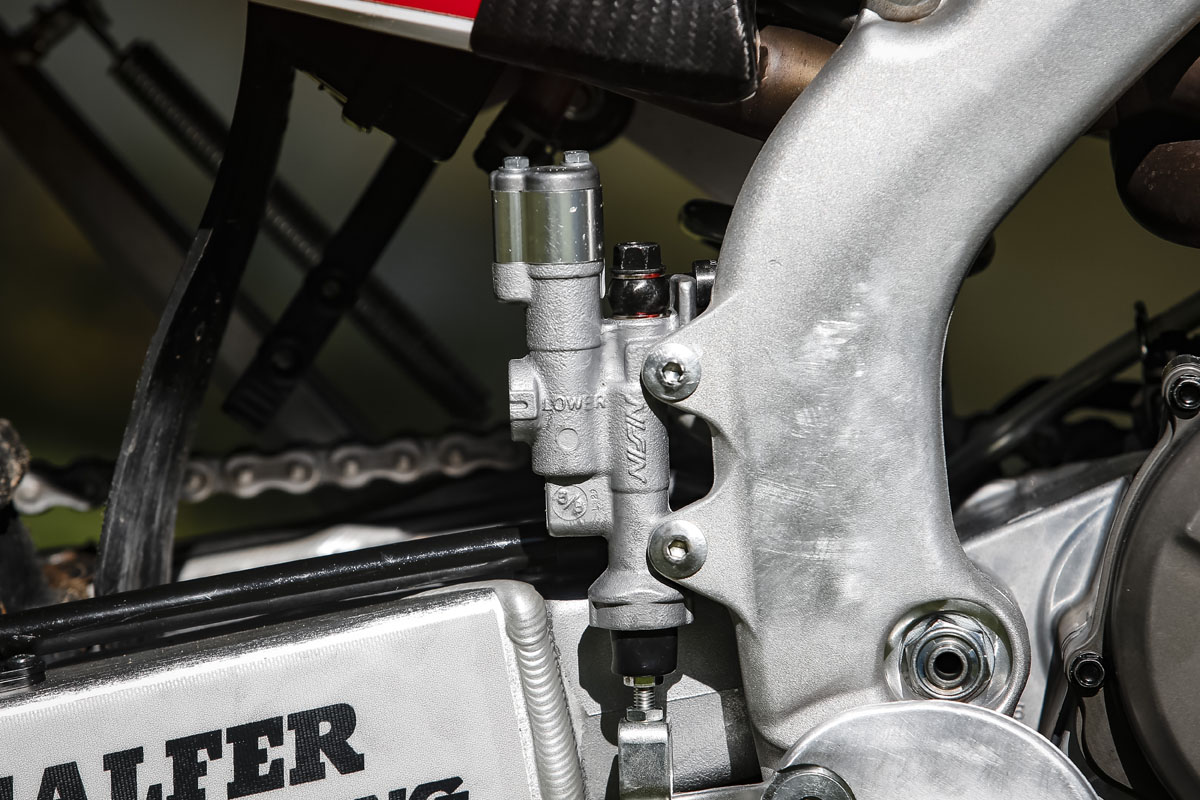 They also have a brake mount which, in the 'pre-finish' or service area of the race, makes wheel changes easier and faster. For this muddy race at Infiesto the team also ran radiator protectors to prevent mud and grass from getting caught and we have cooling problems.
Fewer spokes, more agility
The wheels and hubs? They use the original D.I.D. Dirtstar parts firstly because "we don't need to change" and secondly because, "normally machined hubs work with 36 spokes instead of 32, and that leads to an increase in weight on the rim and reduces agility. This bike is very agile, and those 32 front spokes allow us to have more dynamism on the front end," Durán explains.
Kirian gives us a little more insight: "The stock bike was a bit stiff so we played with the engine mounts to make it more flexible and easier to turn. My way of riding is always pulled back a bit and that is why we have adapted it to my way of riding."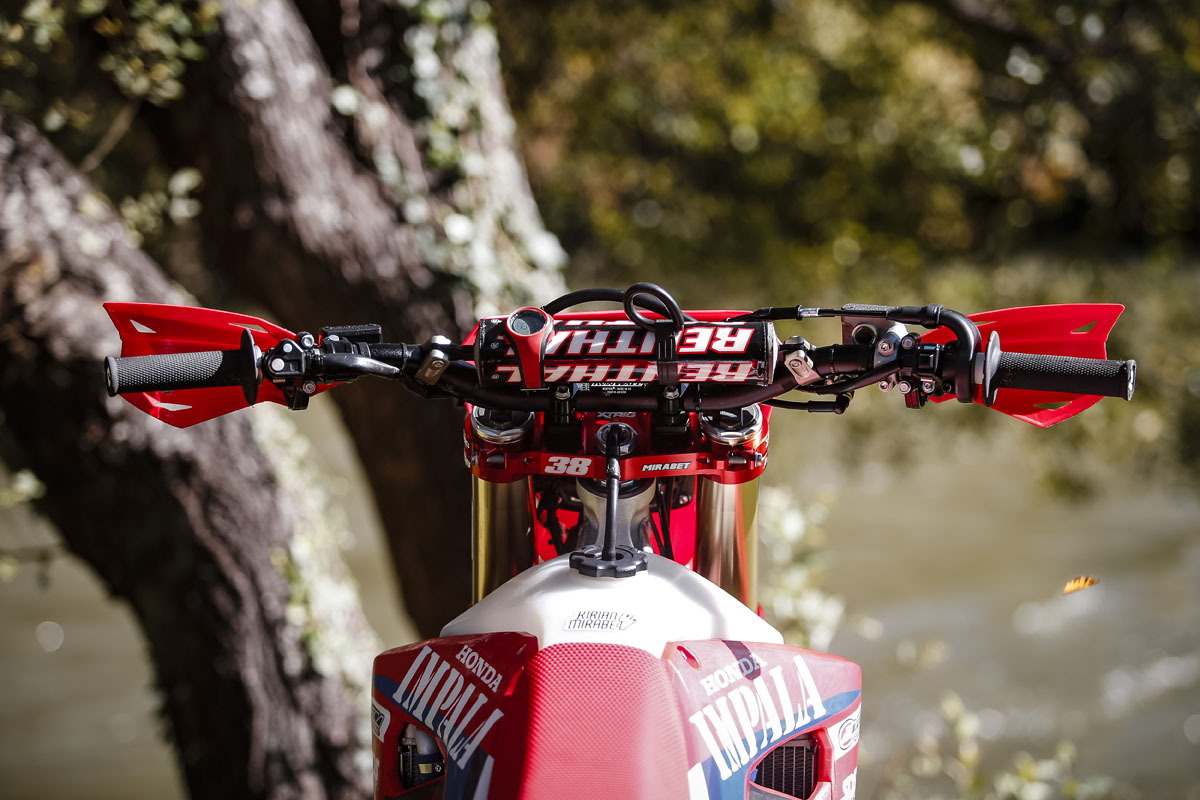 At the beginning of the season, "we had low handlebars," says the Mirabet, "we tried different heights but always stuck with the lowest options." In the end they opted for the Renthal 996 handlebars with ODI grips and Mirabet also runs the Gripper seat cover with a very rough pattern and what feels like quite rubbery foam underneath. Kirian's CRF also looks good with the graphics from the creative studio, 'Living This Bike Life' run by Joan Jou.
Dunlop tyres, rare in European Enduro
Kirian is in charge of talking about the tyres and mousse choices and explains they use Dunlop tyres which is pretty uncommon in European Enduro. "We have two compounds at the front, one for dry and one for wet, and a single rear tyre option," Mirabet explains. "We play with them, and also with the mousses depending on how much they roll and move for the terrain."
To conclude, Sergi Durán summarizes the philosophy behind all the changes and improvements of a bike he's pretty proud of. "In the end, we have a very agile bike, light bike, easy to ride, competitive and durable. It is a motorcycle that weighs little for a four-stroke with a powerful engine also.
"We have improved the standard CRF model and gained performance thanks to our engine and the clutch modifications that make a very intuitive bike that is less work for the rider and easier to ride and we hope also easier to go fast."
We need your support
If you've enjoyed this article, if you've found it informative, interesting, entertaining even, please support us.
We want to continue doing what we do, to the best of our ability, serving the enduro and off-road community.
Please consider a donation, every little helps…
Thank you.
Photos: Nicki Martínez | Enduro21.com