Pro Bike: Taddy Blazusiak's KTM 250 SX-F
Taddy Blazusiak's 2017 KTM 250 SX-F prepped for AMA EnduroCross duty is a 100 per cent eye candy.

About as special as a factory prepped dirt bike can get, it takes about a dozen indoor enduro titles to get a bike looking this good.
With the AMA EnduroCross Championship closing out this weekend in California, KTM mechanic Tyler Renshaw talks us through the Greatest Of All Time's 2017 KTM 250 SX-F…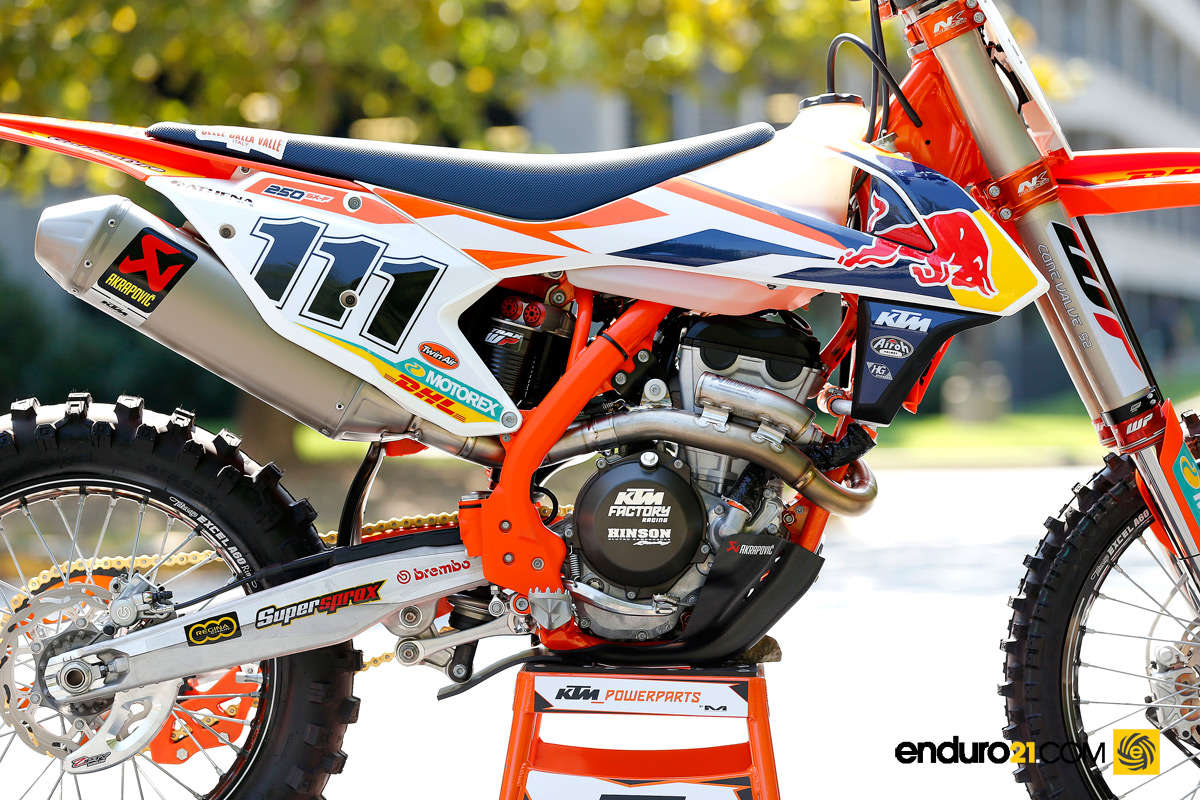 The motor is fairly close to production spec as it's already got plenty of power. We worked on the engine mapping a lot to find a setup that suits him and his riding style. Taddy likes it snappy off the bottom and responsive on the throttle. He wants that snappy hit out of corners and off the start line.
Gearing ratio is standard, that's not something we change. We do work on the transmission replacing the most-worked gears with a stronger material.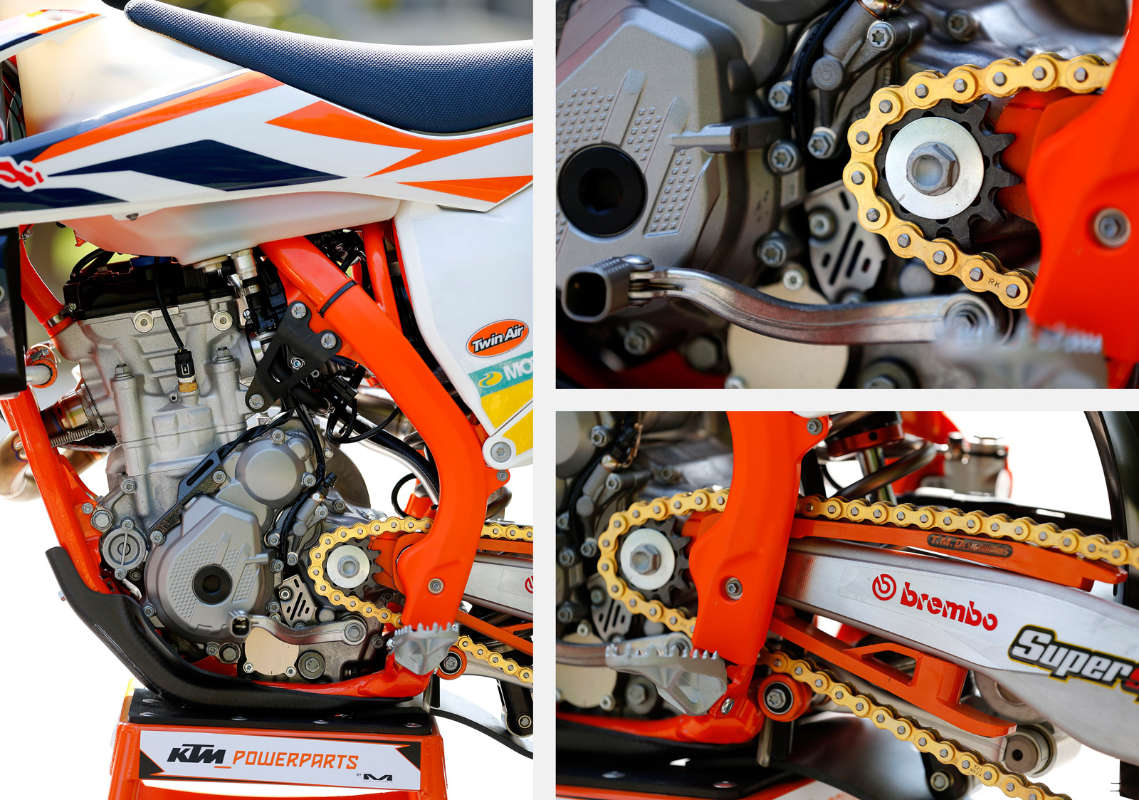 Sprocket ratio is something we've worked on a lot to get right. We've moved from the standard 13/51 to 12/49 for two reasons. It gives a longer pull and therefore reduces the need to change gears often.
But secondly, the smaller sized sprocket means the circumference is reduced and so are better tucked out of the way of rocks and stuff.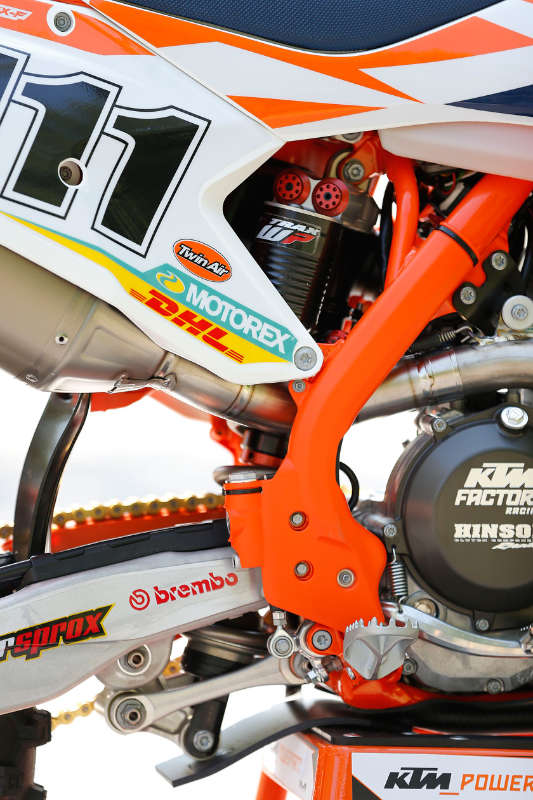 Taddy uses the 52mm WP Cone Valve front fork and WP Traxx shock on the rear. He's actually the only one on the team who uses the larger 52mm fork as opposed to the 48mm that Cody runs. He likes it setup quite stiffer, stiffer than say Taylor Robert or Cody Webb would.
It matches up with his engine setting, meaning you've got to be quite aggressive on the bike to get the best out of it. He varies between the third and second line on the fork leg to set the height. This makes it a little lower on the nose again helping with cornering.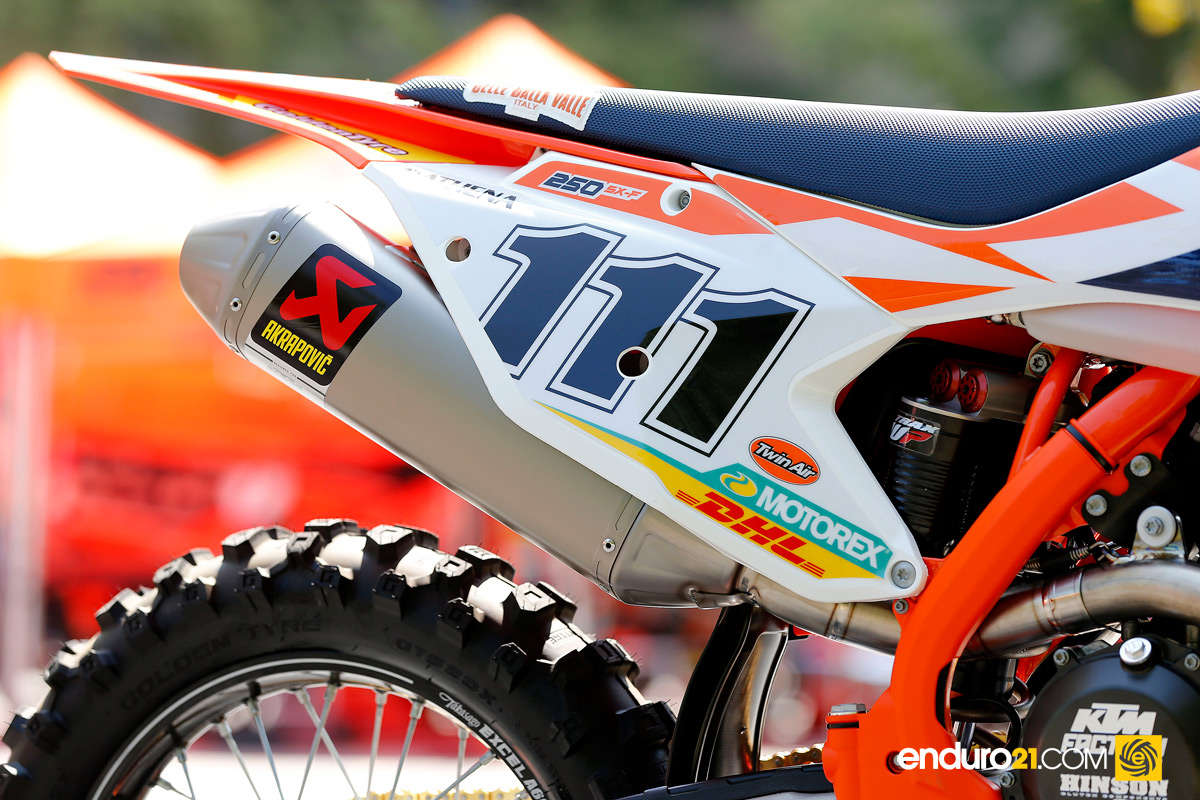 KTM USA use FMF exhausts and Dunlop rubber, Taddy has stayed with what he knows from Europe which is an Akrapovic exhaust with piggy-back system and Goldentyre.
His tyre choice is the GT523X with X moose. These are also drilled.
The subframe is titanium.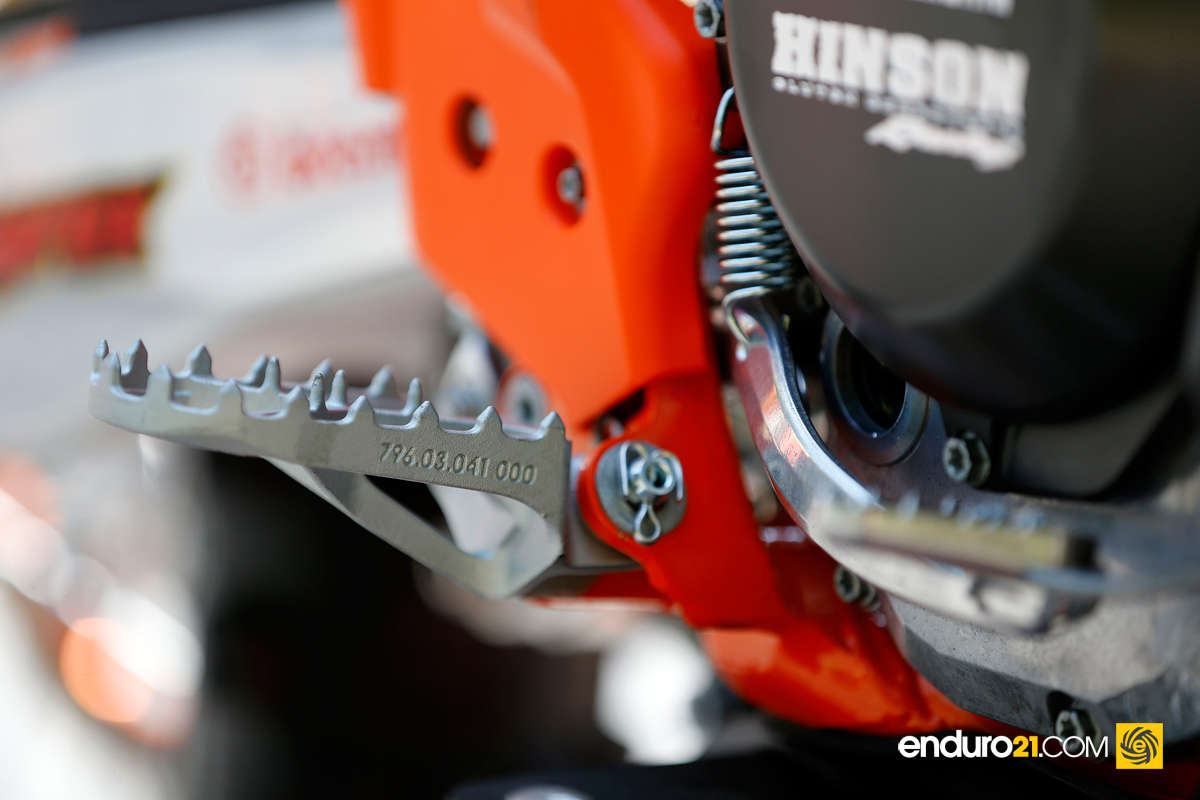 The European EXC-F models have a 5mm taller foot peg, he likes that and runs it on this bike. It gives his feet added ground clearance.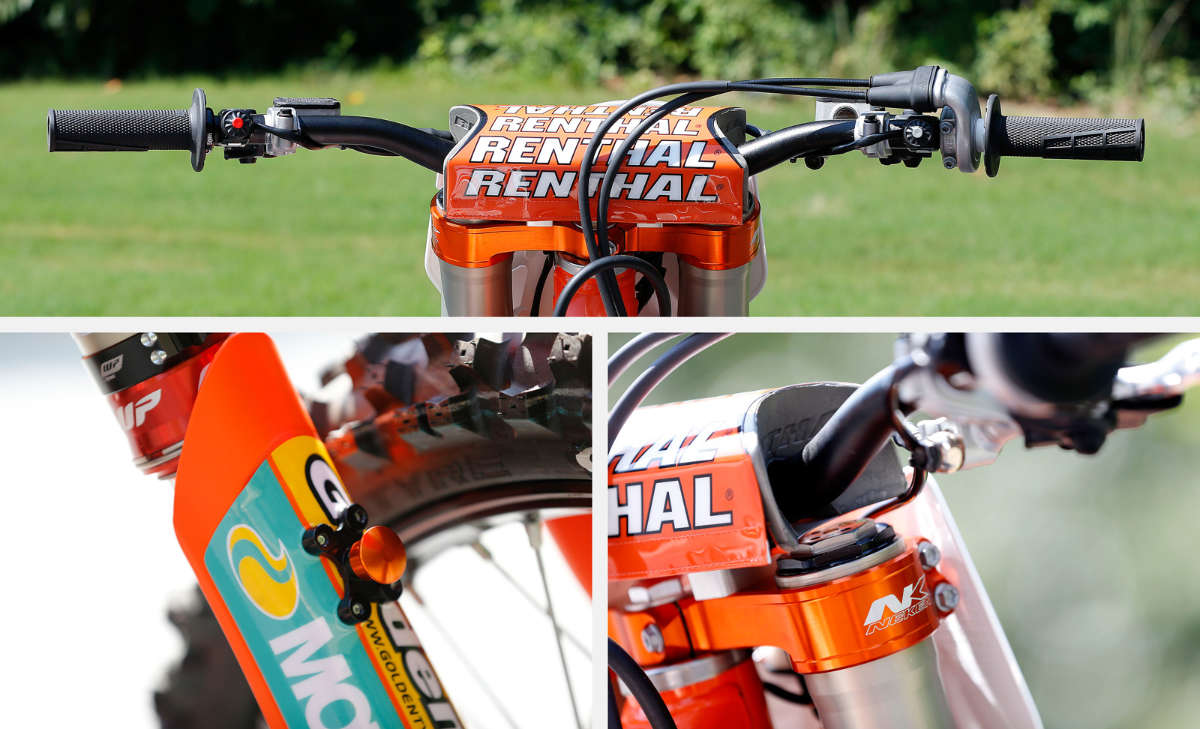 Although he's originally of a trials background his handlebar setup is quite neutral. They are Rental Fat Bars and set only a little further forward in the Neken triple clamps.

Stopping power is Brembo callipers mated with Moto Master discs. A carbon Acerbis guard protects the front with a Zip-Ty shark fin covering the rear.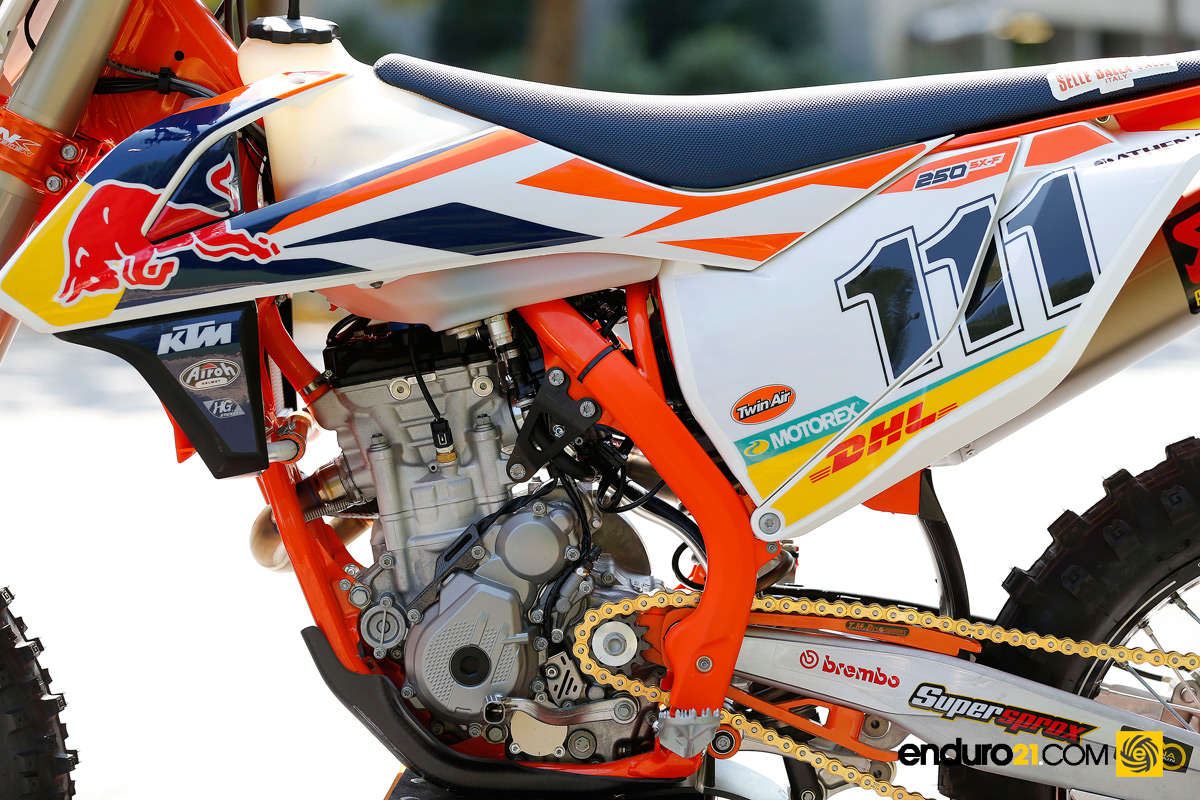 Keeping with the European theme, he uses an Akrapovic carbon fibre bash guard. We add a fin to the rear to protect the linkage while allowing it to slid better on logs and tyre jumps. He also runs a WP starting device.