Pro Bike: Zach Pichon's Sherco SE 250 Factory – 2022 World Champion's weapon
Enduro21 takes a closer look at the 2022 Enduro Junior World Championship winning Sherco SE 250 Factory two-stroke Zach Pichon has rocketed to the title in his first EnduroGP season.
MXGP to EnduroGP is a big step, going from a Honda 4T to a Sherco 250 two-stroke is no mean feat either. Zach Pichon didn't just do that but from the outset became the benchmark rider in the Enduro Junior World Championship this season.
Despite having very little experience, Pichon went on to claim the world title at first time of asking with a Grand Prix to spare. Winning test after test, Zach consitantly ran well-clear of his Junior class rivals and was often inside the top 10 scratch, shoulder-to-shoulder with the seniors. Sherco's signing of him over winter quickly looked like a masterstroke.
CH Racing, who run the official Sherco Factory world championship team, didn't just absorb Zach but also welcomed former world champion Christophe Nambotin who has been walking tests, line spotting and basically mentoring his young compatriot all the way. It was a determined effort.
But that's enough about the new Junior world champ, what about his bike? Enduro21 catches up with Pichon's chief mechanic Alex Febvret to find out some of the details behind this all-conquering 250 two-stroke.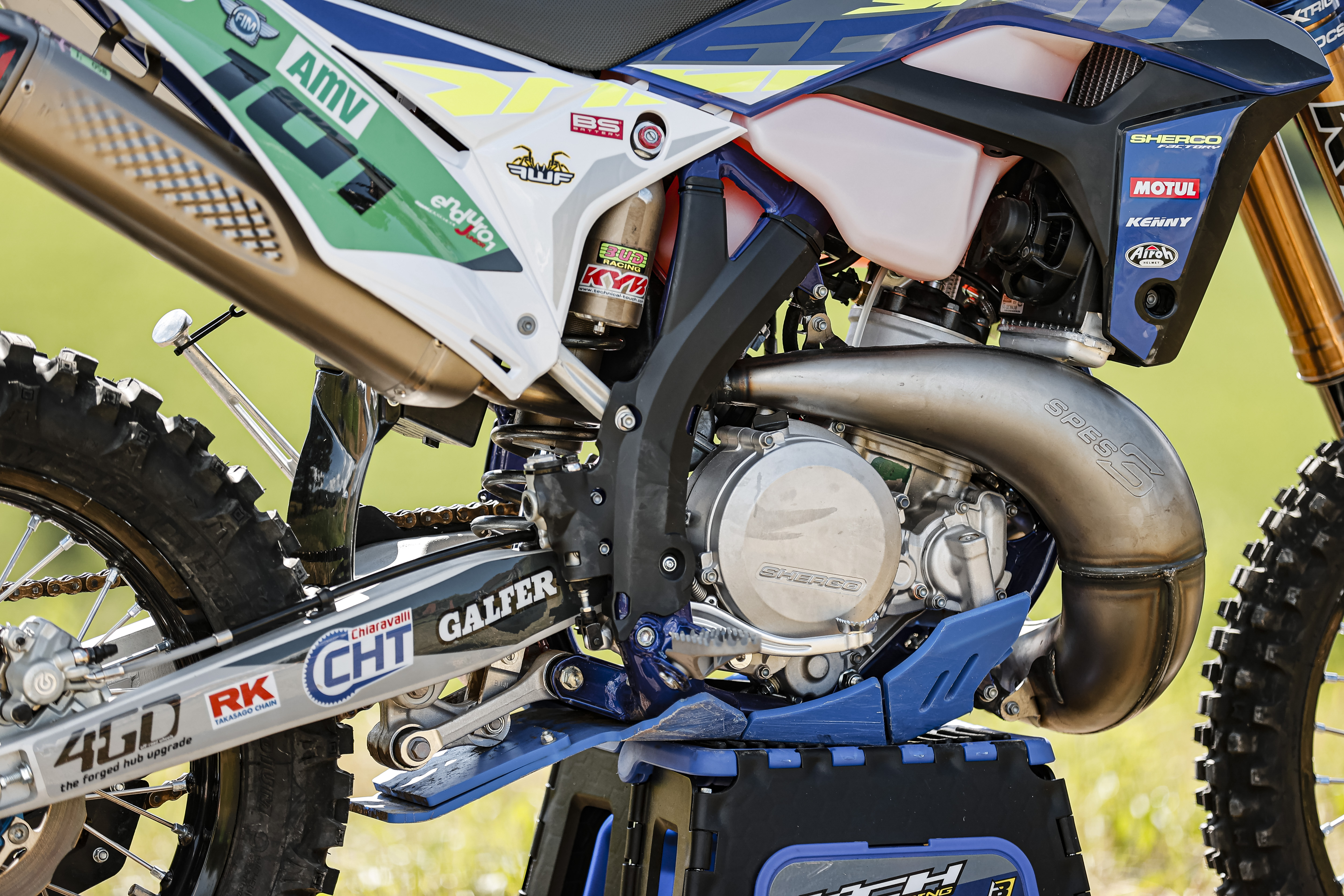 He's a hard rider...
"He rides three or four times in the week and it makes a lot of work!" Explains Febvret as we get down to the details of this full-factory Sherco. The training regime in this first season of enduro world championship racing is naturally about adapting from short moto laps to timed tests, technical terrain and long days on the pegs learning new skills.
The hard work has paid off but it also means the mechanic is kept busy. "He is easy to work with, and fun, but it can be a lot of work." Alex adds.
Bud Racing Suspension
While bike geometry is all standard, the suspension set-up is based on the standard KYB components on the SE 250 Factory but with Bud Racing. A lot of riders jumping from MX to enduro tend to bring the hard set-up mentality with them, and need persuading otherwise.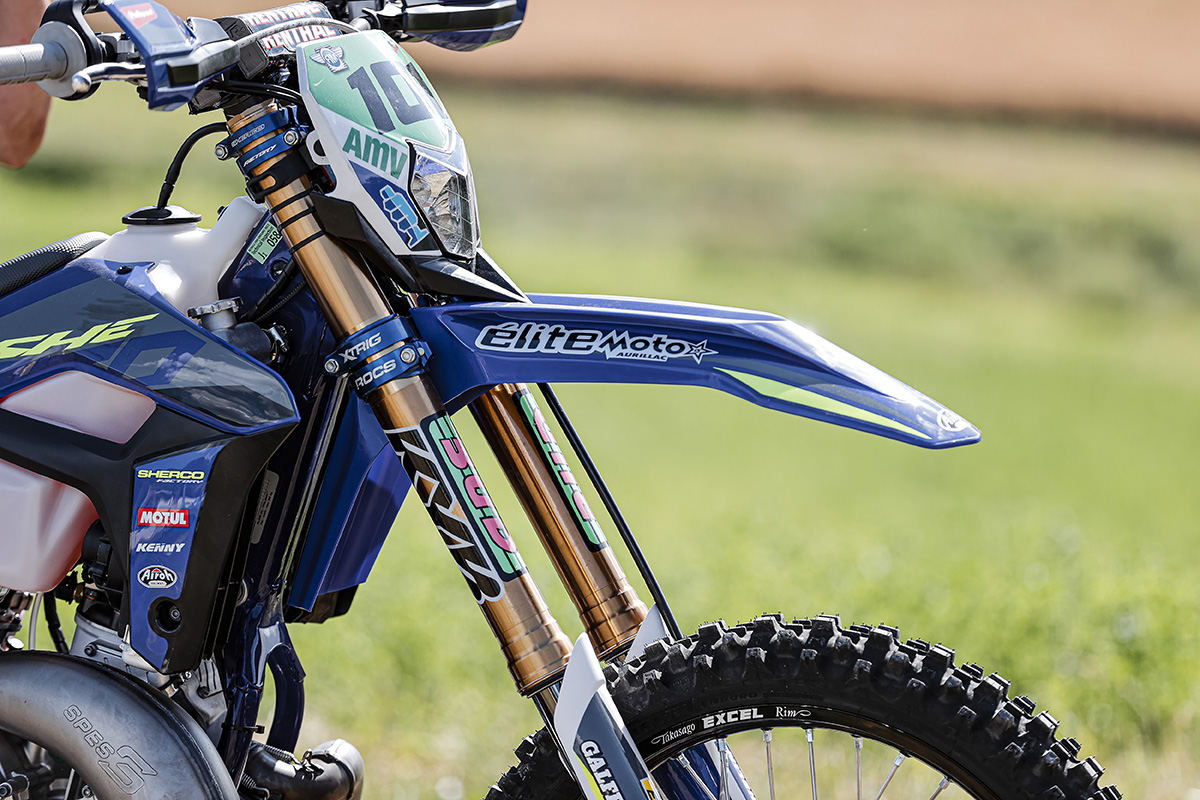 But Alex explains Pichon took onboard the experienced people around him and worked hard on finding the right setting pre-season, "it's soft, an enduro setting for sure, just different springs and some damping changes. The setting is something they worked hard on pre-season and we make a few clicker changes this year but the setting is basically the same at each of the races."
Standard engine tune
The Junior class is open in terms of machinery. The classes within the class award Junior 1 and Junior 2 points and prizes for different machinery but the scratch result is open to anything basically. Riders tend to opt for 250 four-stroke to 300 two-stroke or even 500 four-stroke machines.
Pichon's choice is the SE 250 model, the classic two-stroke enduro bike in many ways and which has "more than enough punchy power". It's good to see a 250 2T at the top of the tree again in a world where 4T bikes can seem so popular.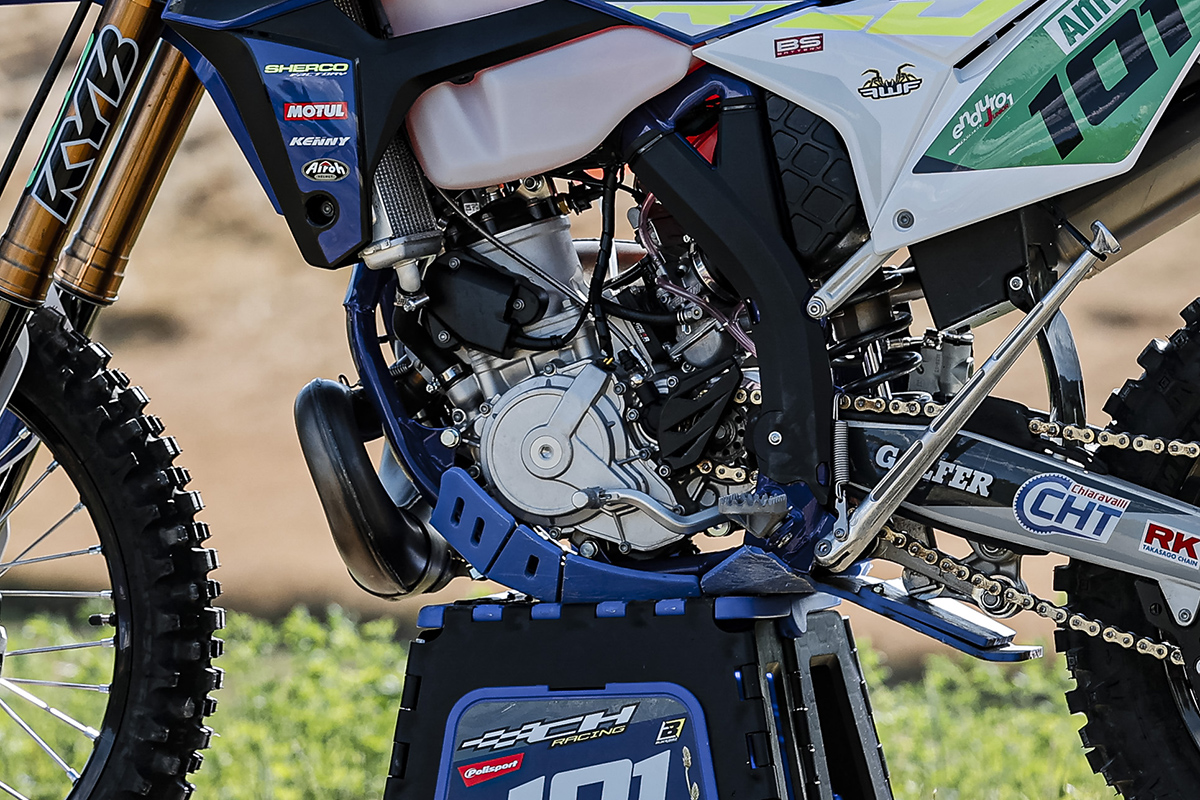 Changes to the stock bike notably include the engine mapping and saucy SPES expansion chamber feeding the standard Akrapovic muffler. There are two map options for Zach to choose from and both are developed for him. Map one is softer (like standard bikes) for mud conditions and map two more aggressive.
Interestingly Zach uses the soft map more often than you might expect, Alex tells us. Not always just in mud conditions but also where hills are steep and in technical terrain where the softer map is more linear and progressive on the throttle response. "To make it better, not so aggressive."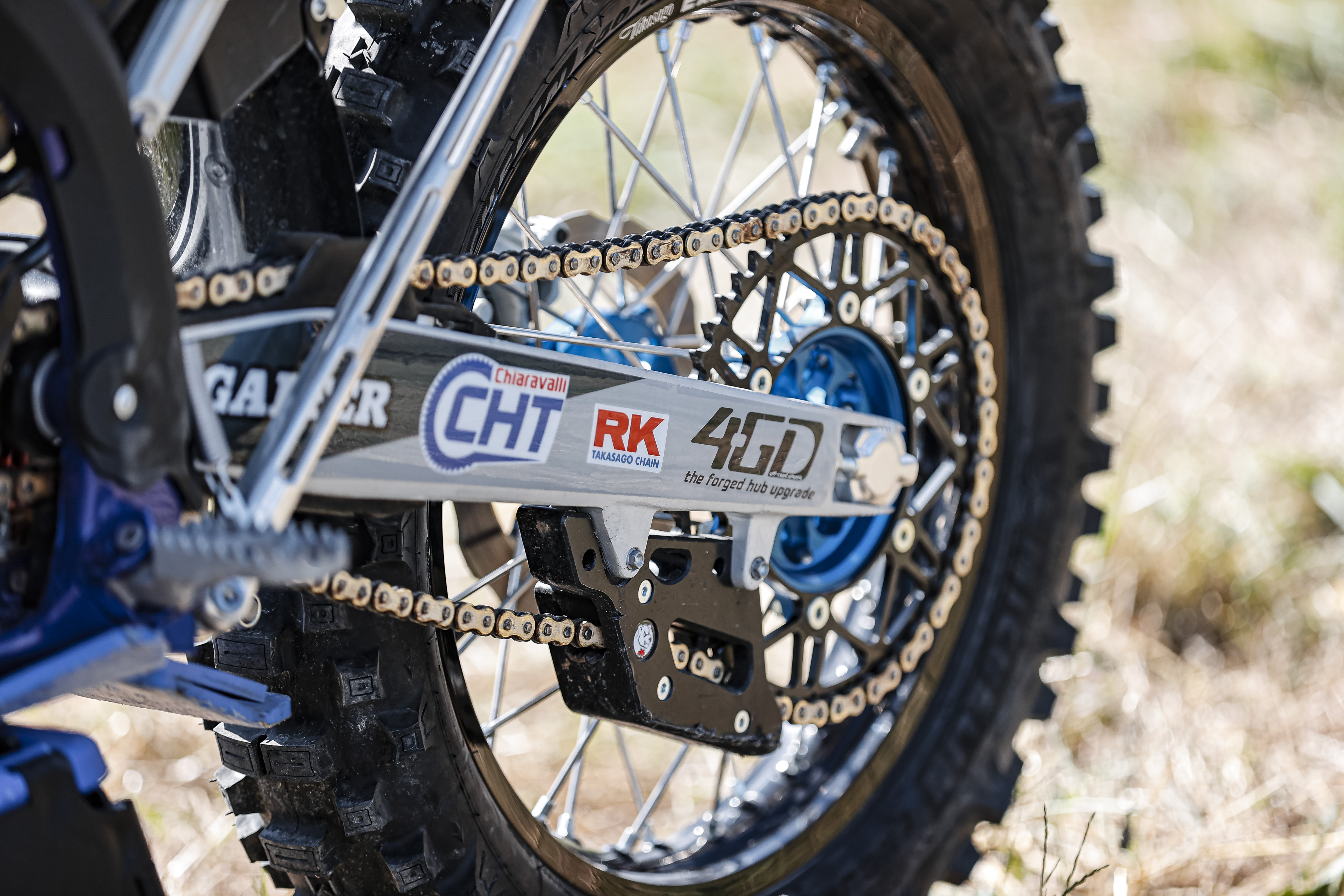 Speaking of power response, the final drive 51 rear sprocket and 13 front and they are pretty settled on "the same in all conditions", Febvret says. Slightly oddly, the CH Racing world championship team is sponsored by RK Chains so they use their sprockets at a GP but in French races, they use AFAM parts.
Pichon in fact has two race bikes, one stays with the CH Racing squad who ship it around the GP season from their Italian base, while the other is on home soil, direct from the factory for their domestic race series.
Michelin tyre and mousse choices
Pichon goes for a tyre and mousse combination pretty much down the middle: medium tyre compounds and alternating between the medium and softer mousses to get good feel depending on the conditions. Some people opt for a narrower 120 width rear but Alex says Zach's happier with the bigger 18-inch rear hoop.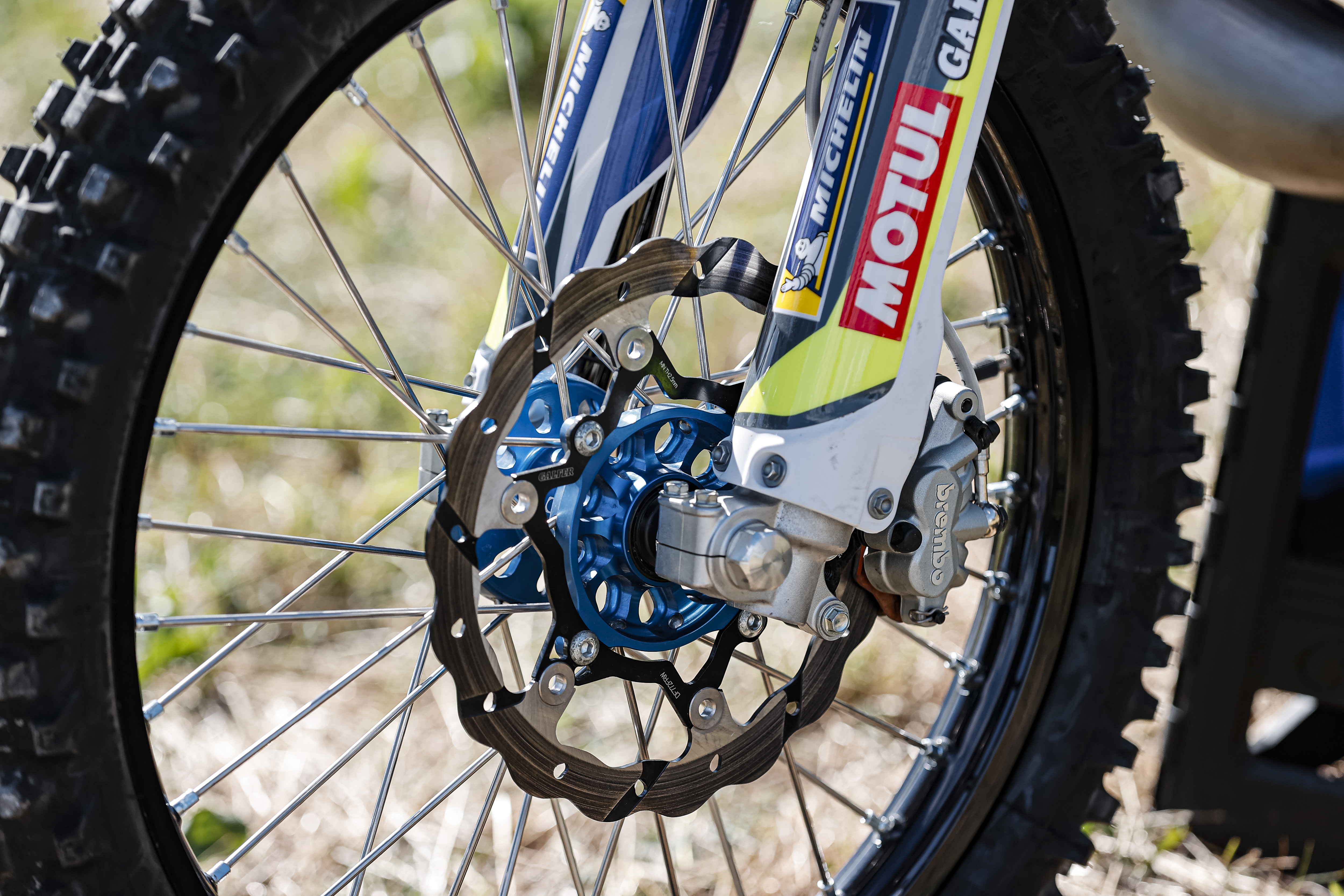 Stick with stock, or not?
Lots of standard scatter parts around this Sherco including the OEM Selle Dalla Valle seat and cover, stock footpegs, Brembo brake master cylinders and Braking calipers front and rear. Like all Sherco Factory Racing team bikes it has the Funnel Web air filter hiding under that side panel too.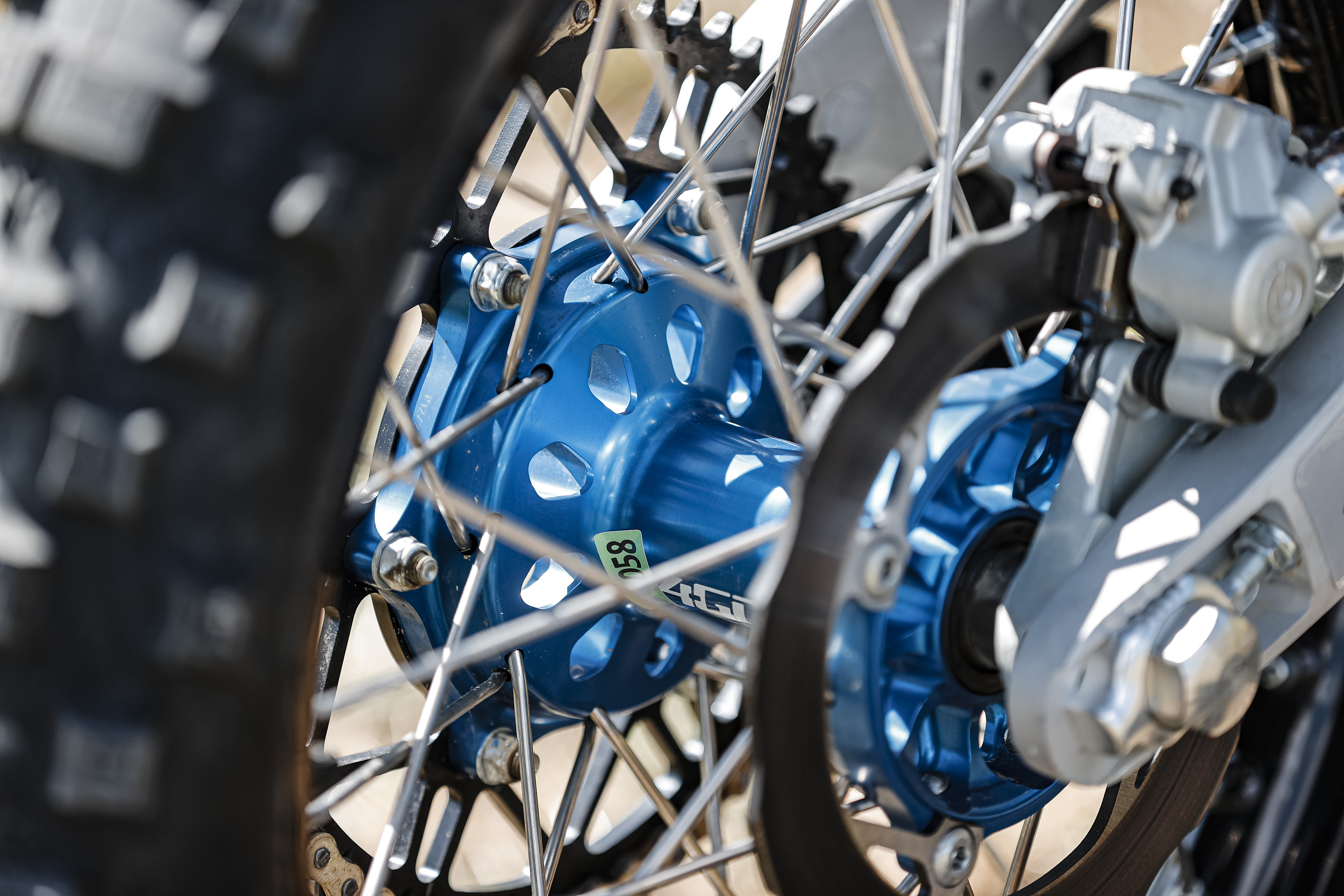 The Galfer discs aren't standard though. Pichon prefers a larger 270mm front disc, which is 10mm bigger than standard. The rear rotor is the standard 220mm size but a couple of millimetres thicker for strength and is obviously also solid.
Handlebar set-up
Pichon runs Renthal's 881 bend twin wall handlebars, Renthal soft grips and XTrig clamps. Excel rims hold those Michelin tyres and mousses and the team run sweet 4GD anodised hubs with thicker (stronger) spokes.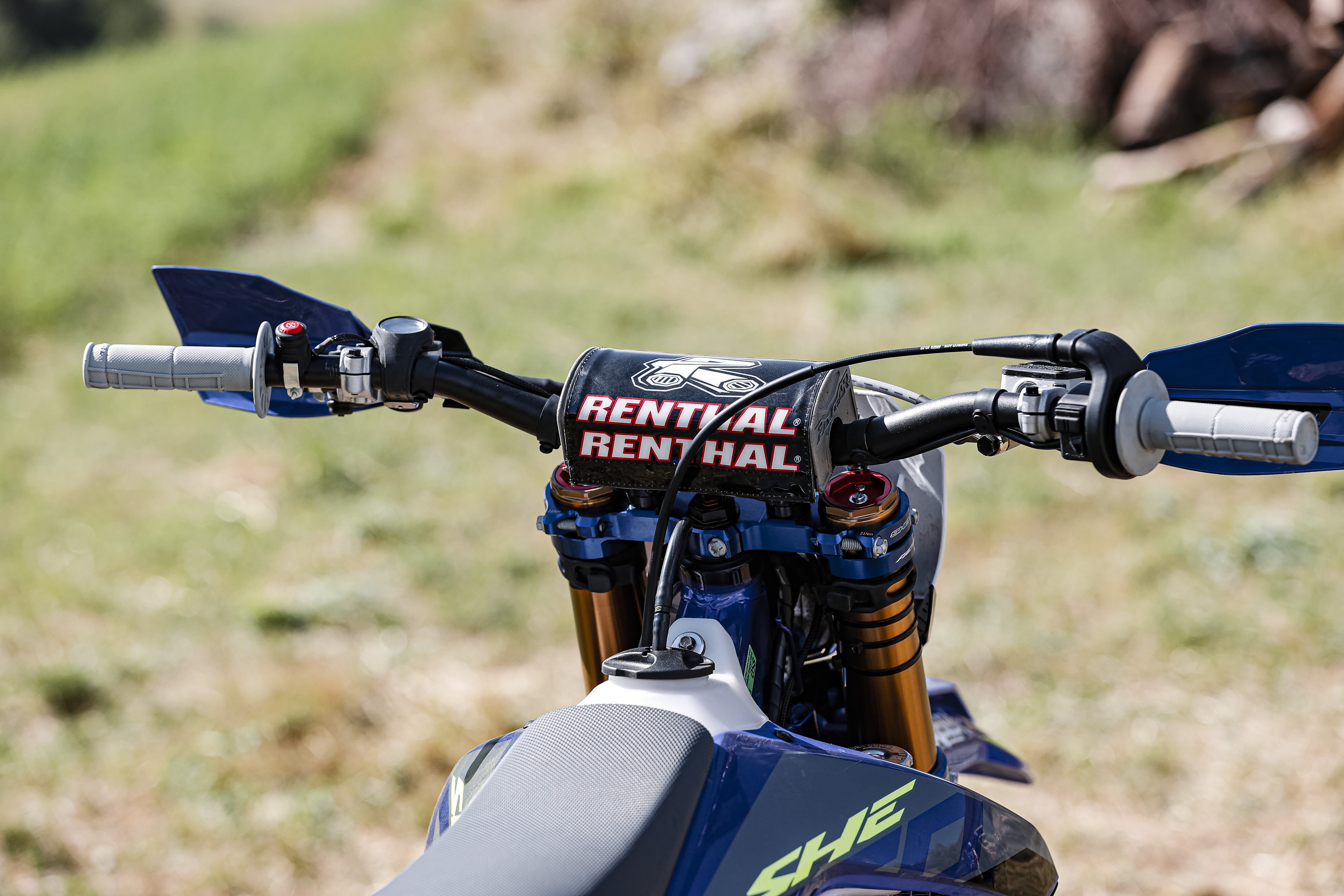 That's it, that's all we got from too few minutes chatting with the mechanic before he whisked the factory weapon away to get it ready for the friday Super Test. It's a classy bike though and Zach is a standout rider. With a year under his belt, who know's what he can achieve in 2023.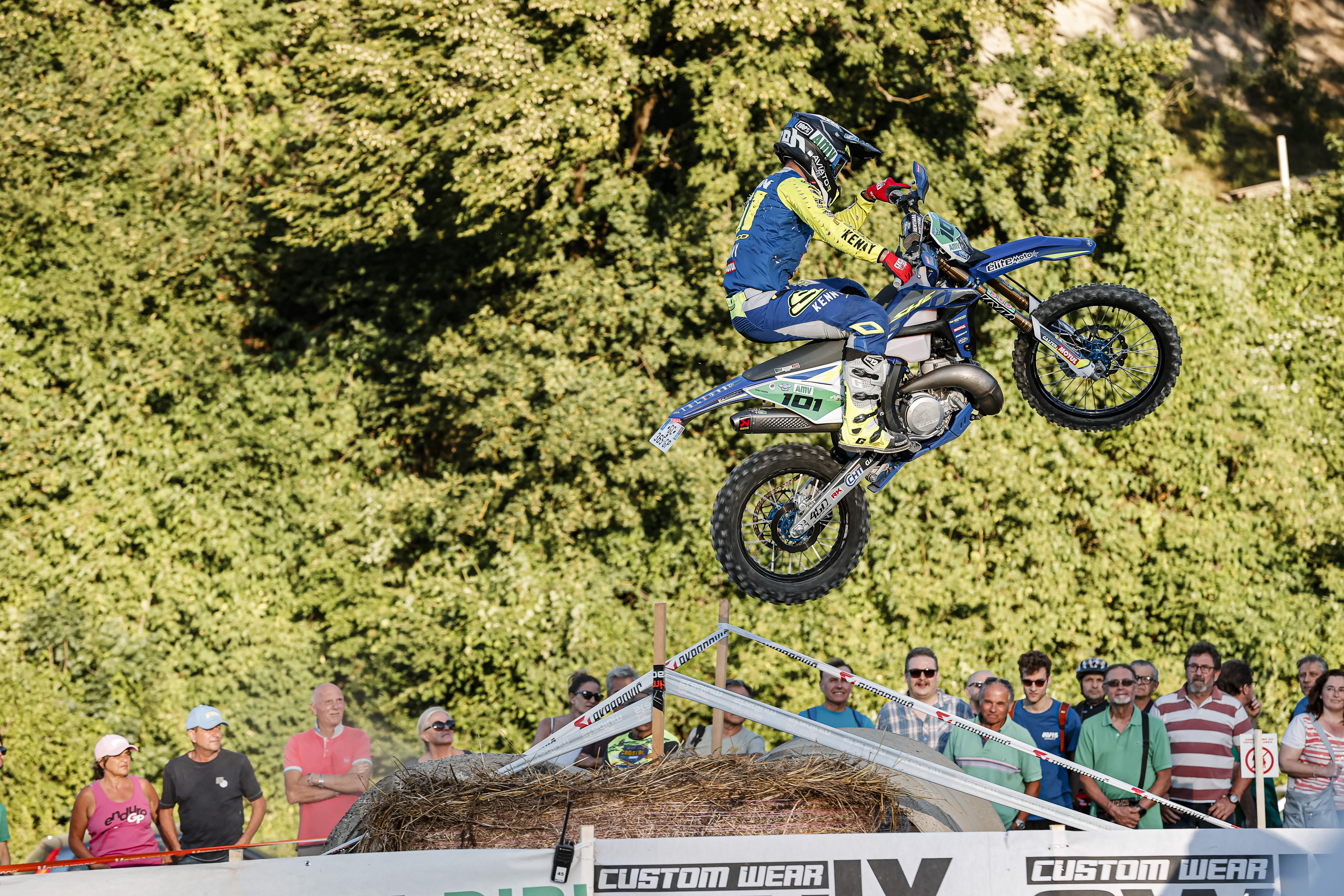 Photo Credit: Future7Media | Andrea Belluschi