Project 250: Husqvarna TE250 TPI test mule
Enduro21 takes on a used Husqvarna TE250 TPI as a rolling test mule/project bike with the plan to build into the best off-road tool it can be for the fraction of the price of a new bike.
We are now a proud parents of a five year old. A 2019 250 Husky that is which we'll ride, race, build, improve and basically treat as a project during 2023. It's a test mule and antidote to the new bikes loaned from a manufacturer – this one is ours to do what the hell we want with.
Rules of engagement for Project 250 test mule:
Build it into a better bike
Make it rival any new bike, but for less money
Test and review parts
That's it. That's the plan. We're pretty keen to build this 5K GBP (6K USD/5.6Eur) bike into something which can rival a new two-stroke enduro bike without spending anything like the current RRP prices (disclaimer: taking the cost of suspension upgrades into account!).
We know, this is just common sense, what people the world over already do and that fuel injected Austrian-built enduro bikes have been around for years already but that's the point.
As the days of the TPI are numbered (KTM Group will launch the TBI, throttle body injection, fuel injected enduro models this year) the cost of new enduro bikes continues to soar which makes the used bike option more relevant than ever.
Why a 250?
Well, why not for a start but the simple answer is just because. We spent ages looking for a good condition, used enduro bike at a good price actually from any manufacturer and simply this was the best bike we found.
We've already had a test ride and it is doing that classic, early TPI thing of ding-ding-dinging into corners when you shut the throttle. We've documented a few of the issues we found when the bike left the showroom and got it back home – one being no oil drain plug washer causing a little leak in the sump guard. We're sure there are more problems lurking.
Read more about the original condition it left the dealer in our used bike feature here: Oil leaks, mysterious holes and bad scuffs – the reality of buying a used enduro bike
80 hours on the clock
It had done a 2500 miles (around 4000 kilometres) and 80 hours but notably they were on trails and the road, not in competition to our knowledge and certainly it had done nothing serious.
The plan is also to take it apart and see what's worn after 80 hours and like we say, fit hard parts, see what works and what doesn't to make this the best bike it can be without spending a tonne of cash.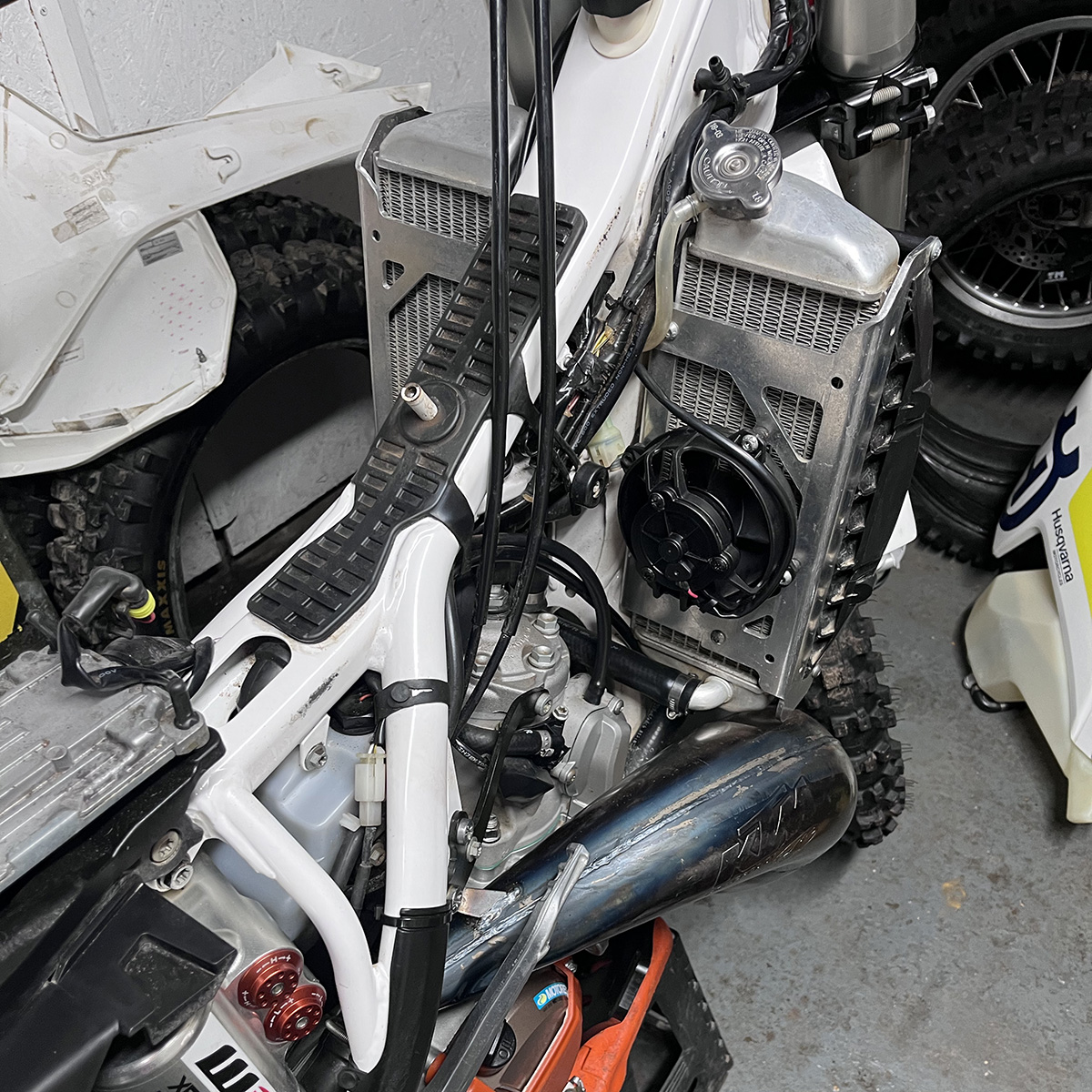 Hard Enduro, XC, time card enduro or a bike fit for all?
We've already got some things lined up (upgraded suspension, a hardly used FMF Gnarly pipe from a 2019 KTM TPI which fits has already gone on as you can see above, a new seat cover from One Gripper, some Galfer brake discs also from an old test bike, a Pro Carbon front disc guard, an AXP Xtreme skid plate…the list is as long).
What bike should it become? An extreme and hard enduro build or trade on the 250's power punch and go for traditional enduro? What about cross-country or prepping a set-up that works for anything and everything off-road?
Keeping a record
There's not much else to say at this stage except we welcome feedback from you guys on running older TPI models – contact via the email at the bottom of any story on E21 or comment in the Facebook story connected to this.
We'll document the journey on Enduro21 and our YouTube channel too as well as basically being another rolling test-bed for parts and products. It's a bike on a journey to become the best version of itself.
Photo Credit: Enduro21