Tested: 2023 Kawasaki KX250X and KX450X
250 acres of land to play on, some brand new Kawasaki KX250X and KX450X Enduro bikes to play with…at last Enduro21 gets chance to test the green machines.
For a bike launched during 2020 it has taken Enduro21 way too long to swing a leg over the KX250X or KX450X. But, like buses, you wait for ages and then two come along at once. Which is exactly where we found ourselves faced with a bank of boxfresh shiny, green machines in the autumn sunshine.
It's taken this long because, as Kawasaki tell us, they chose to launch the bikes at the "worst possible time" just when the pandemic arrived. They didn't plan it that way of course but everything unfolded pretty damn fast back in early 2020 and since then, with supply and demand, shipping around the globe at times troubled and so on, it has been a long time coming.
But they made it and we made it to a cracking 250-acre off-road site on the English/Welsh border for a full day testing the two model enduro range from Kawasaki.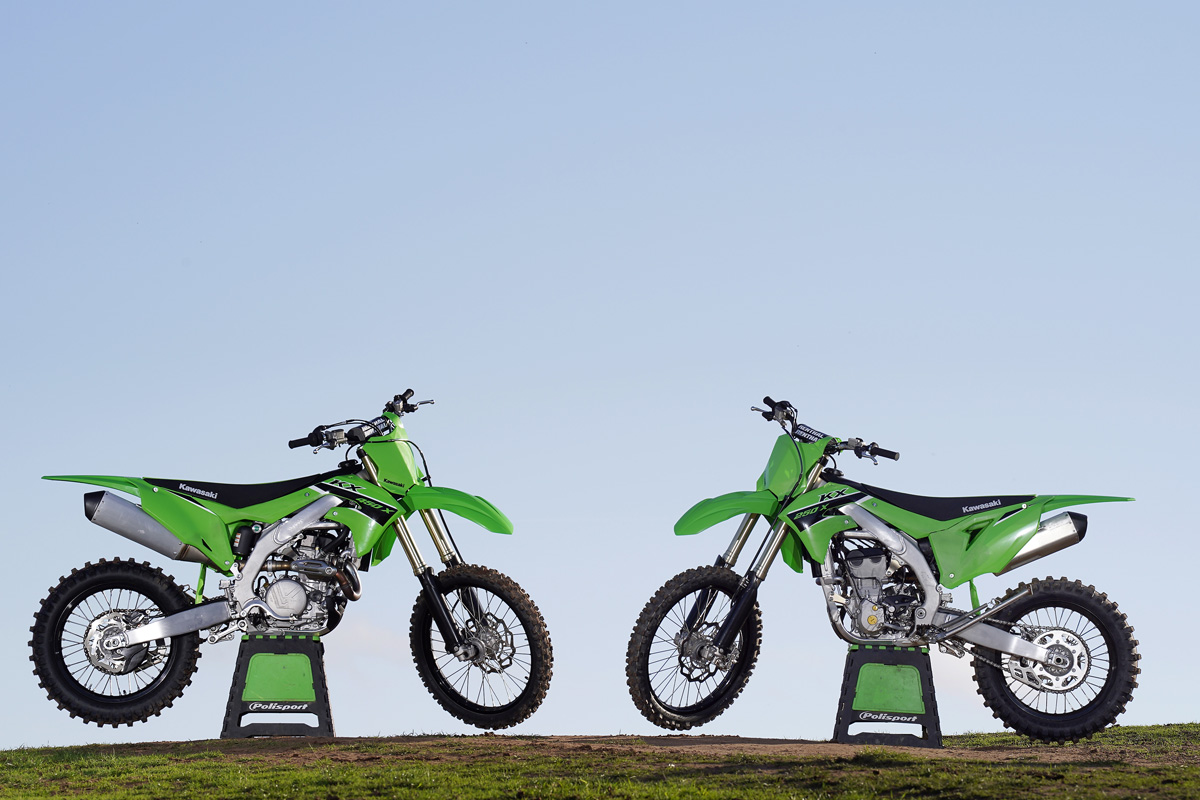 Question one to answer is what's going on here Kawasaki? Why step into enduro and off-road? Kawasaki say simply because the market is growing and they noticed more people were converting the KX motocross models for enduro. We're doing it in enough numbers to warrant the two KX-X models.
The fact is people have been riding the latest gen KX bikes in GNCC, stubble field enduros and GP level for while but it seems word gets about they actually are pretty good. So Kawasaki made it official, it's as simple as that.
What did Kawasaki do to convert the KX to a KX-X?
Quite obviously there's not a big leap from the two motocross, KX models to these enduro, KX250X and 450X versions. They remain closed course bikes basically, not homologated for road use from standard out the factory. The UK-spec bikes we tested have the option for a Holeshot lighting kit (optional after market is £499 incl. vat) which allows the bikes to go through competition registration, much like a trials bike can.
KX vs KX-X differences:
18-inch rear wheel
Dunlop AT81 tyres
The rake and trail and seat height are slightly different (2mm seat height) due to the rear wheel
A side stand as standard
Small sump guard
One extra tooth on the rear sprocket
Standard Showa suspension has spring not air forks with lighter springs on the enduro model (4.8Nm front and 52Nm rear), plus "opened up" damping settings
Standard KX equipment also includes an e-start, hydraulic clutch, Renthal FatBars, 4-position adjustable bar position at the triple clamps (25mm or 15mm forward, standard and 10mm backwards) and a two-position adjustable footpeg bracket plus more power across the rev-range on the '23 KX models, new gear ratios and revised disc-coned hydraulic clutch.
First impressions
Trundling out through a farm and up on to the hills and trails of this 250+ acre test facility, the first real impression we got was how boxfresh these bikes were. They'd been run in a bit but they still felt like freshies and it would be a while on the test before they started to bed in.
How slim the KX chassis' is grabs you pretty quick though. It's been a while admittedly since we'd thrown a leg over a Kawasaki but with both bikes running the same chassis, the overall feel of the 250 and 450 models is not 'big, old four-stroke' but manageable and encouraging.
A big box gets ticked for handling pretty soon into our test ride as we get to know the bike. For someone who had spent the previous weekend doing a 2.5 hour XC race on a standard KTM 300 EXC, the suspension on the KX-X quickly feels like a small blessing.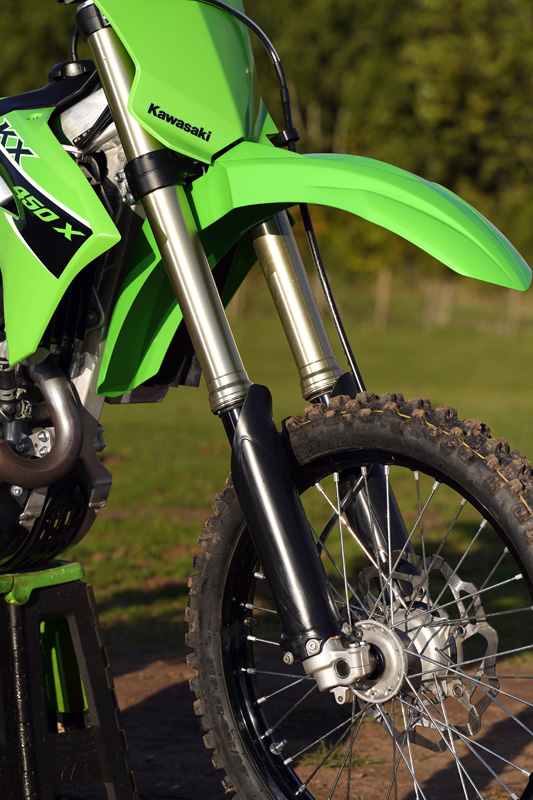 The Showa kit soaks up choppy, hard sections of track and encourages you to turn a string of bumps on the trail into small doubles or triples in a way lesser suspension cannot manage. Simply it helps you to be more confident and do things with the bike which can be restricted on a softer, less well damped bike.
Kawasaki use Showa suspension front and rear, with "opened up" damping settings which they say helps with feel but the reality is it still gives plenty of stability and that makes riding rough ground easier and faster. Thumbs up immediately for the enduro-spec suspension on these bikes.
MX/enduro trade-offs
Slick, wet grass made it hard to feel completely comfortable on the KX-Xs but super-hard tyre pressures and that bedding-in process all needed a bit of time. But there are some positive points to make about the motocross bike turned enduro here.
Rule number one is Japanese MX-derived enduro bikes have got a lot easier to ride than they used to be. The development on track for MX has gone in that direction and as engines get more powerful, the chassis' have had to get easier to ride and electronics control the fuelling better so they translate to enduro much more than even just a few years ago.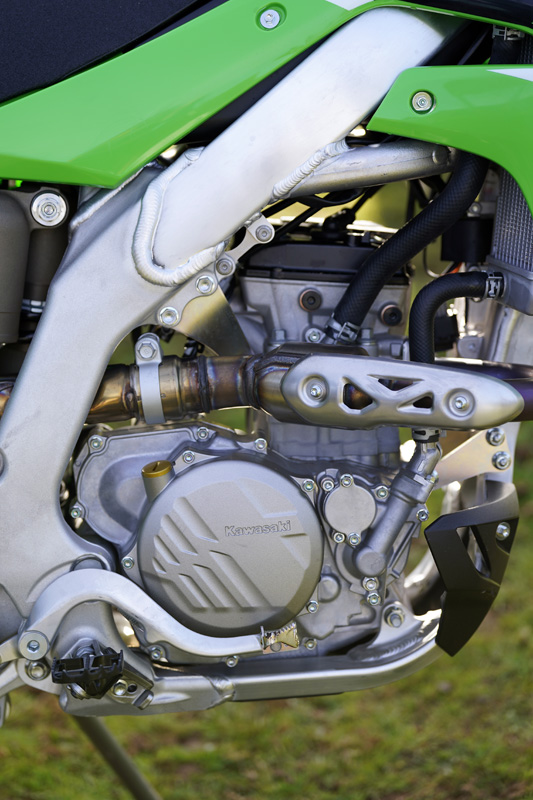 Slimmer proportions, less stiffness generally, more rider freedom of movement around the bike, more versatile riding position, less likely to stall, more linear power that fuels and picks up better right through the rev-range…it's a list that works for MX but naturally makes them lean towards enduro better too.
While a standard EXC from KTM is easily a softer option for trail riding, a bike like these KXs can do it more easily than you expect. There's nothing wrong with being a bit cynical of manufacturers fitting a side stand and an 18-inch rear wheel and calling it an X model but it works and can be enough.
Phantom sixth cog
You expect a bit of stalling, coughing and reluctance from a four-stroke, MX-derived bike when you try to put it through some technical riding. But the KX250X and 450X have that trait ironed out.
The hydraulic clutch is fine, heavier on the 450 of course, but with enough feel and lightness during constant use. The aim of the X model is to be suited to XC-style riding, Kawasaki say but they are more versatile than that and with some encouragement will happily take on tighter and more technical riding, you just need to be ready to carry a bit more momentum than a 2T sometimes. The only downer is you miss a bit of steering lock with this twin spar frame design.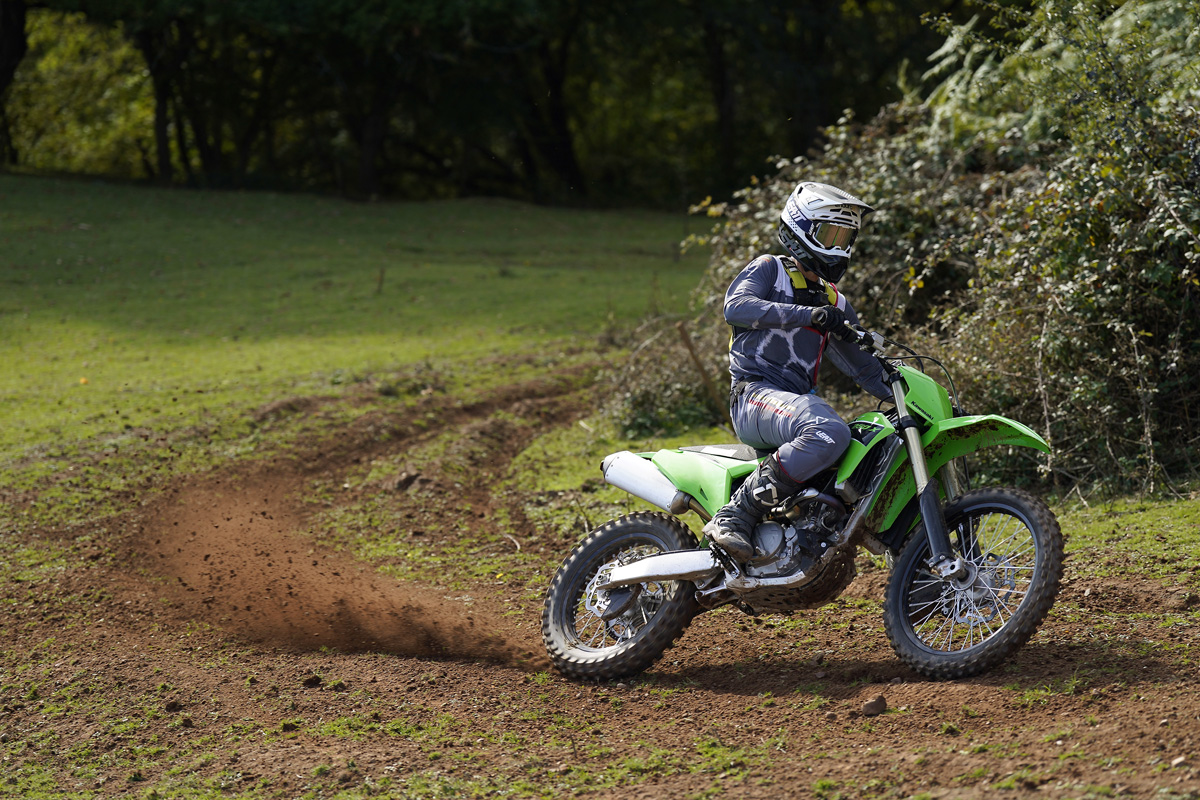 On the open going, in some fast and flowing fields we had to play on, the Kawasaki's are in their element. Composed on the bumps and confident, the power is long and strong on both models, picking up and pulls through the gears. Both 250 and 450 bikes reach the top of their fifth gear fast enough to make this enduro boy repeatedly keep going for a phantom sixth cog.
The tooth lower rear sprocket on the KX-X models (compared to the motocross version) can obviously be played with if this is your bike. It's at the expense of some top end speed, most notably on the 250, but life without a sixth gear only really mattered on a flat-out stuff and the trade-off in the tighter going is worth the lower gearing we reckon.
Full disclosure, we crashed it…
Early morning dew on the green grass was damn slick on this test, and the 270mm front brake felt like it was almost too powerful for steady riding. The feel is nice from the standard Nissin master cylinder and caliper but it doesn't lack power.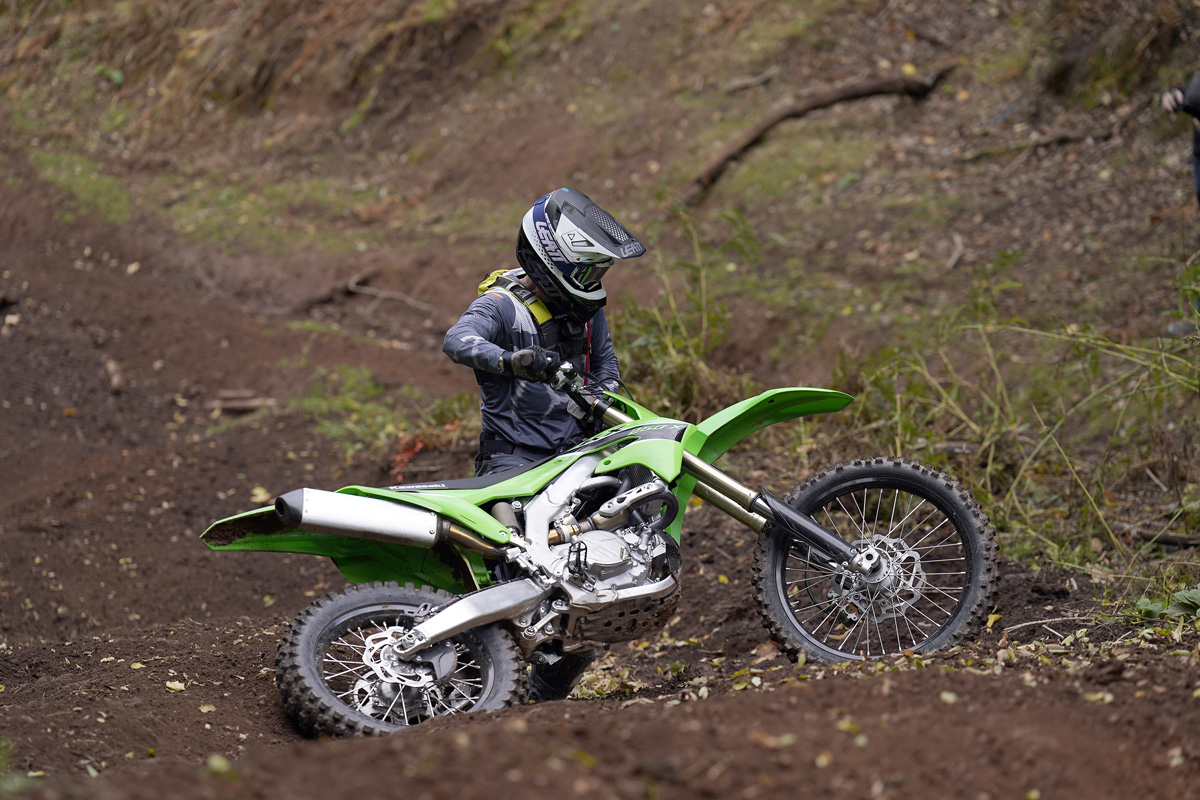 In the process of getting used the bikes and Dunlop AT81 tyres (blown up to what felt like 400psi) and that Nissin brake, we were dicking about doing some stoppies down a hill and, boom! Yep, we had a monster crash over the bars.
No harm was done (we're pretty sure it looked worse than it felt) but the lesson was there's plenty of power and feel here, just get used to it first sonny boy (and stop dicking about doing stoppies!).
Build quality tested…
If an end-over-end crash down a hill can ever be productive, then this moment of daftness was surely proof that Kawasaki built a robust bike. It wasn't part of the plan to test a KX450X by chucking it down a hill but in the end, a crash is not unusual in enduro is it?
So it doesn't justify anything but it does show the KX can take a hit or two without bending or complaining. Renthal FatBars as standard help here but there was no ill effect other than some scuffs on the silencer and one side panel.
On that same note, we'd already spotted (before the cartwheeling trick) how nice Kawasaki's overall build quality is. They appear simple and uncomplicated when you scan you eye around the frame, welding, footrests, engine, triple clamps and so on.
The KX models look functional compared to some other bikes, simpler but neat and tidily put together and in a way that was refreshing.
Dunlop's AT81 as standard
As mentioned already, Dunlop AT 81 tyres are standard and they are well tested and liked by Enduro21. But with everything set 'standard' on this test, that included the bikes running inner tubes set hard and when you're used to running mousses and it was far from ideal.
We know these tyres are good though and when we get on of the KX-Xs on test in the near future, the first thing we'll do is fit some enduro mousses to have a better impression of the grip feel from the KX chassis'.
Standing on the side stand
Kawasaki bolt on a couple of additional standard parts to the KX-Xs including a side stand to the back of the left footrest and just about the only niggle we had on this test day was to repeatedly catch a foot on it.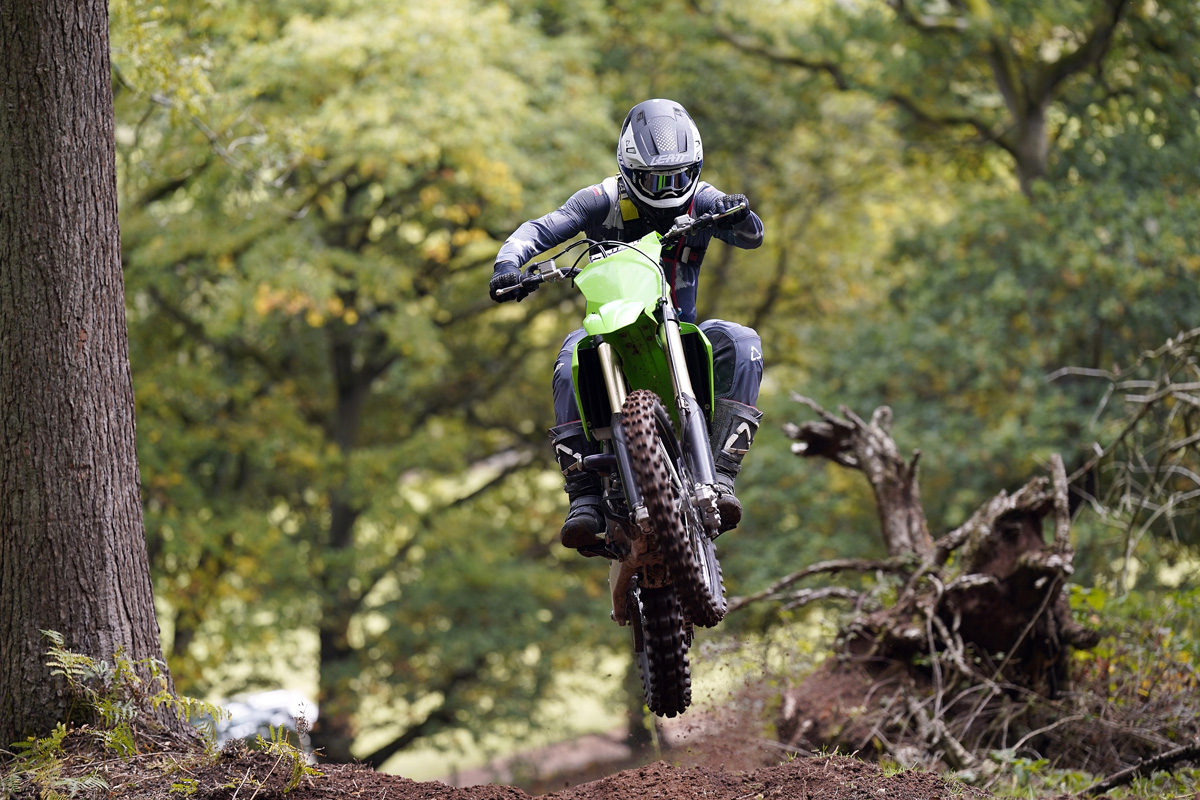 When you change foot position to stand more on your toes for rear grip, or to get over a log or something similar, it puts your foot further back on the footrest. In turn that means the inside heel of the left boot easily catches the side stand. Size 11 feet probably makes it worse, but it was something that kept happening and got a bit distracting.
Did Kawasaki do enough?
The short answer is sure they did. We enjoyed riding the KX-X models not least because it was refreshing to jump on a bike, all set to standard and immediately feels good riding over rough terrain. This is a cracking chassis and suspension straight out the crate and both models feel ready for a cross country race. They ride almost identically except for the slight weight difference, and obviously one having more the power and torque.
Is it enough to change the rear wheel, a smaller rear sprocket, fit a side stand, and soften the suspension? Depending on what type of riding you do, yes. Easily.
We spent a long day's riding these bikes, deliberately in different kinds of enduro conditions and they bring plenty to the table which some other standard, four-stroke enduro bikes can't manage – a lot of that is down to the handling and chassis.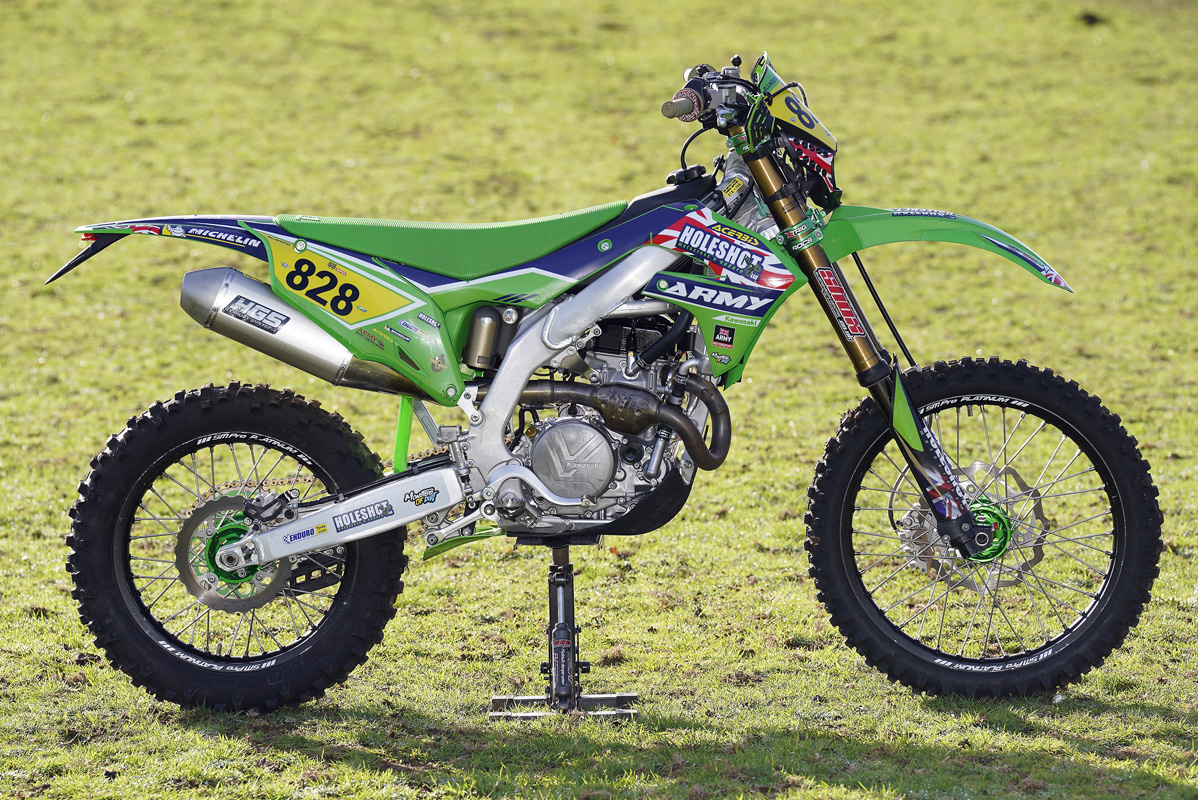 Race teams work a lot to develop bikes but the Babbitts Kawasaki team in the US surely know that as a base model, the KX250 and 450 work very well indeed. Lyndon Snodgrass for example, the newly crowned GNCC XC2 Pro champion, can stand as testament to that.
We took a close look at Josh Strang's more standard than you think 450 in a separate Pro Bike feature: Pro Bike: Josh Strang's GNCC Kawasaki KX450
Also on hand at this test was Kawasaki UK supported rider, former Enduro Open World Cup 4T class winner, Tom Ellwood. He's been campaigning the Kawasaki (above) on and off for a few years now and although he is often a rare green sight in a paddock, his results stand out.
Ellwood has enough seasons under his belt on the KX450X now to have nailed set-up, sorted the parts he needs and make the bike work. His bike makes fascinating viewing and we'll put together a 'Pro bike" feature in the very near future focusing on his set-up.
Verdict – would you buy one?
Any two-stroke fans reading this will not be tempted away to jump on a Japanese four-stroke, we're almost certain. It depends where you ride as to whether a Kawasaki would work for you but after this test we're confident enough to point at it and say; don't knock what you haven't tried, and give it a test you'll be surprised.
You'll want to look at the price tags for a start. Enduro21 readers are all over the world, so it is impossible to say a retail price everywhere which is meaningful. But in the UK where we did this test the 250X is just over £8000, in the US that is $8599. The 450 is £8699 and $9799. We'll let you do the price comparisons but that is pretty damn competitive for a 2023 four-stroke enduro model, especially the 250. There are some good deals floating about at time of writing too.
250 or 450?
Power is more important to some people than others. Naturally a 250 is easier to ride while a 450 has more for your money but gets you tired more easily. These are the basic rules of four-stroke engagement and they certainly apply here.
We repeated some of the test course on both bikes multiple times to compare and contrast including a steep, rocky climb which led to a long, uphill through the trees where you could basically choose your own lines through soft, leaf fall.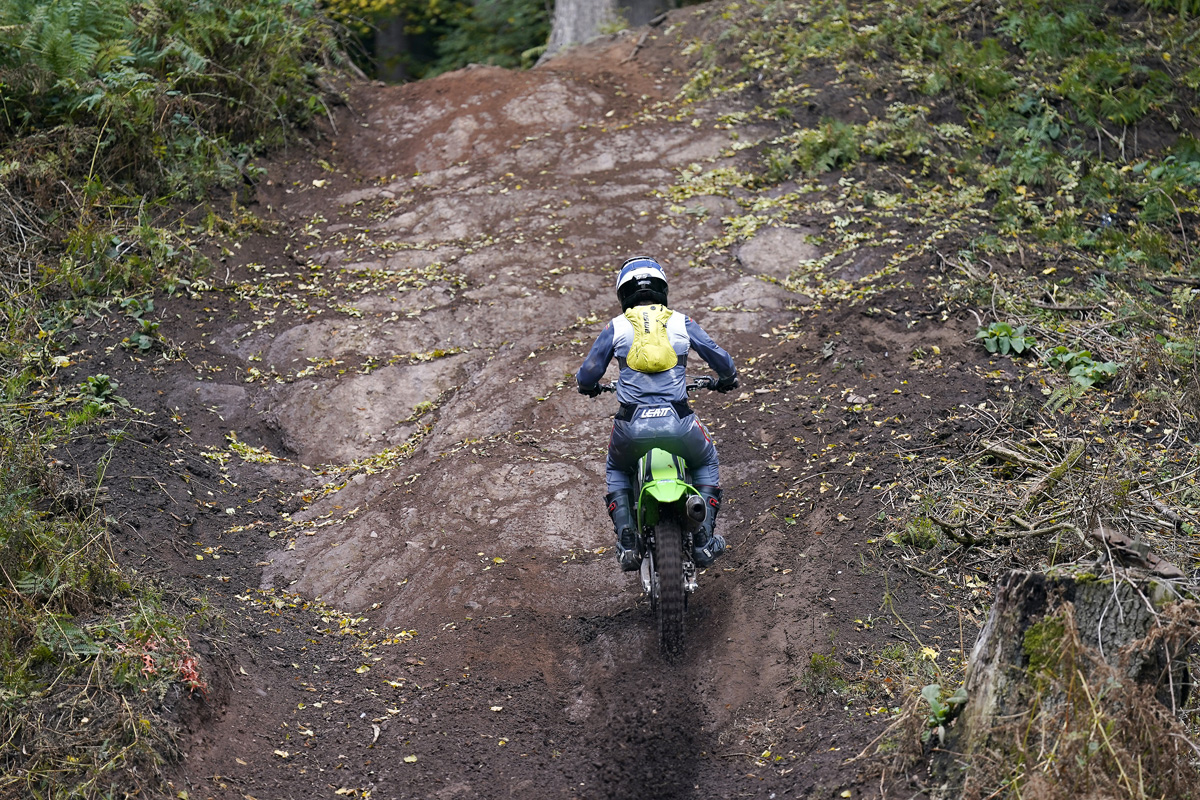 It was a good spot to feel the 250 and 450 power character, how they respond to different throttle use and how you can feel for grip. It was loose and our line up through the trees was a snaking one, but you could attack it and making our way up through the trees felt awesome fun.
The chassis' suddenly don't feel so different, they are essentially the same just one has more power and weight. If anything, the extra weight of the 450 (KX250X: 230lbs/103kg, KX450X: 235.8lbs/107kg without fuel) is a bit of a bonus as you commit to a soft, uphill berm on the gas trying to carry momentum.
You can be lazier on the 450 too, holding one or two gears, usually second or third, for what feels like forever. The power is in your favour on the 450 when the back wheel is digging deep for grip, those extra horses work in your favour and you need less clutch work and throttle stretching than the 250 asks.
But the 450 needs better control and more confidence to keep on riding fast and smooth. If the 250 needed working harder, the 450 is harder work. When you do the same hillclimb 20 times, that difference in energy spent and physical effort counts.
Which is why the 250X came out favourite here. Simply it was more manageable and fun on the mixed enduro terrain we had to explore. From top gear grass fields, loamy trails through the trees, committed climbs and more extreme, hard enduro-like conditions were all ticked off and in all that, the 250 felt favourite. The 450 does it all, you just need to be on you're A-game more.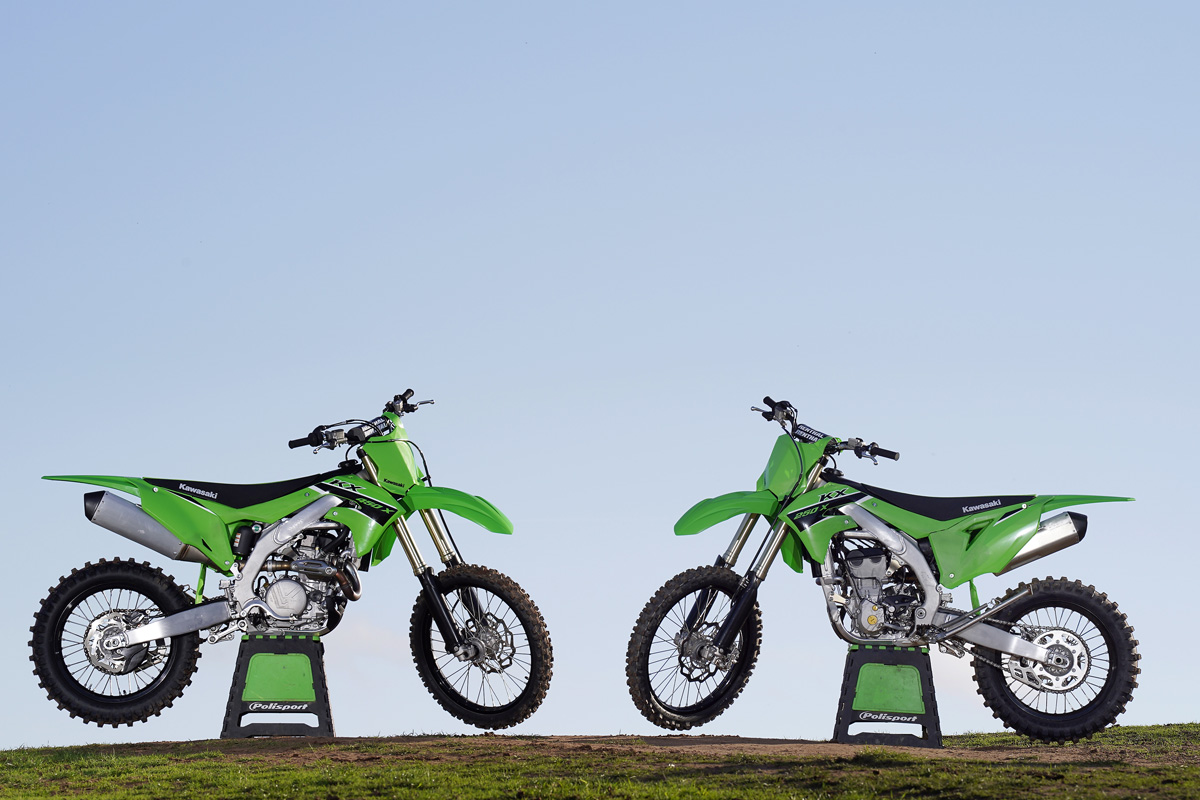 Kawasaki KX 250X technical specifications:
Engine: 249cc liquid-cooled, DOHC, 4V, 4-stroke single
Bore and stroke: 78 x 52.2 mm
Compression ratio: 14.1:1
Fuel system: Keihin 43mm, dual electronic fuel injection
Electric start
Forced lubrication, semi‑dry sump
Brakes: Single semi-floating 270mm petal disc, twin-piston Nissin caliper front, single 240mm petal disc and single piston rear caliper
Suspension: 48mm inverted telescopic fork with adjustable compression and rebound damping and 314mm travel front. New Uni-Trak with adjustable dual-range (high/low-speed) compression rear with 316mm travel plus damping, rebound and preload adjustment
Transmission: 5-speed chain drive
Final gearing ratio: 3.923 (51/13)
Clutch: Wet multi-disc
Frame type: Perimeter, aluminium
Steering angle/Trail: 42°/123mm
Dunlop AT81 tyres, 80/100-21 front, 110/100-18 rear
Wheelbase: 1,480mm
Ground clearance: 330mm
Fuel capacity: 6.2litres
Seat height: 945mm
Curb mass: 109.2kg
Kawasaki KX 450X technical specifications:
Engine: 449cc liquid-cooled, DOHC, 4V, 4-stroke single
Bore and stroke: 96 x 62.1 mm
Compression ratio: 12.5:1
Fuel system: Keihin FCR-MX40 electronic fuel injection
Electric start
Forced lubrication, semi‑dry sump
Brakes: Single semi-floating 270mm petal disc, twin-piston Nissin caliper front, single 240mm petal disc and single piston rear caliper
Suspension: 49mm inverted telescopic fork with adjustable compression and rebound damping and 305mm travel front. New Uni-Trak with adjustable dual-range (high/low-speed) compression rear with 307mm travel plus damping, rebound and preload adjustment
Transmission: 5-speed chain drive
Final gearing ratio: 3.923 (51/13)
Clutch: Wet multi-disc
Frame type: Perimeter, aluminium
Steering angle/Trail: 42°/120mm
Dunlop AT81 tyres, 80/100-21 front, 120/90-18 rear
Wheelbase: 1,485mm
Ground clearance: 335mm
Fuel capacity: 6.2litres
Seat height: 950mm
Curb mass: 111.6kg
More information: www.kawasaki.co.uk + www.kawasaki.com
Photo Credit: Tim Keeton