Cross-Country two-stroke bike build – AXP Racing's 2023 KTM 250XC
AXP Racing's 2023 KTM 250 XC two-stroke bike build is a simple one aiming squarely at GNCC-style racing with a select few bolt-on parts to protect the vulnerable areas of a bike. Enduro21 takes a quick look at what they fitted and why...
Enduro, Hard Enduro, Sprint, Cross-Country or trail riding...whatever you do on your bike you'll know how important protecting the most vulnerable parts can be.
The 2023 two-stroke XC (and SX) models from KTM and Husqvarana are still pretty rare around the world. The new direct fuel injected 2T 250 and 300 models are already sought after becasue they are the next generation on from the TPI engines.
French off-road bike protection specialists AXP Racing have mange to get hold of one and they've put it to good use, building a simple, cost considerate and effective GNCC bike. Two-strokes are too rare in XC racing but we reckon there should be more and this build shows just how little you actually need to do to make a bike fit for the purpose.
XC race bikes need protection but you also want it to be fast and not get unnecessarily heavier – three hours is hard enough! What they've done to this bike is not rocket engineering, just a small collection of parts designed to protect the vulnerable bits of the bike.
The list of things which can leave you stranded out in the woods are common: bent disc, sprocket, bust water pump housing, hole in the engine casing, squashed radiators. Here's what they fitted to keep that list in check…
Skid Plate
Probably one of the most popular products at AXP and one we use ourselves on Enduro21 test bikes. We know from experience it takes the hits and protects against hitting logs and concrete pipes as much as the lower fram rails and side engine cases.
AXP have updated the Xtrem skid plates for 2023. New, stronger reinforced welds on the seams offer better resistance against impacts they say.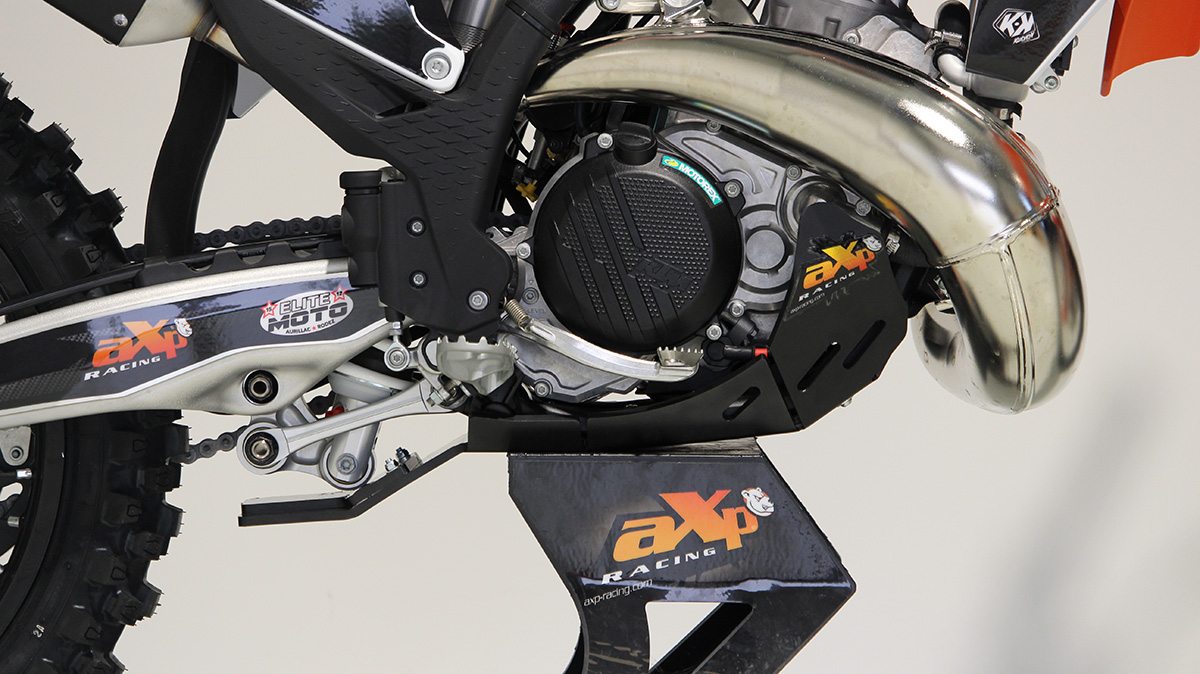 Made of 8mm thick, high density polyethylene plastic AXP claim the bash plate is 30-40% lighter than a comparable alloy part. It covers the lower frame, footrest mounting points, engine cases, water pump and suspension linkage.
The Xtrem skid plate is available in a range of colours (orange, black and blue) and fits latest generation KTM and Husqvarnas models.
Radiator Guards
Newcomers in the AXP range from 2022, the Xtrem radiator guards are made of 4mm thick aluminium to form a protective cage around the radiators. They house a 6mm thick HDPE plastic grill on the front which replaces the OEM parts with something stronger and offer more resistant in case of a fall.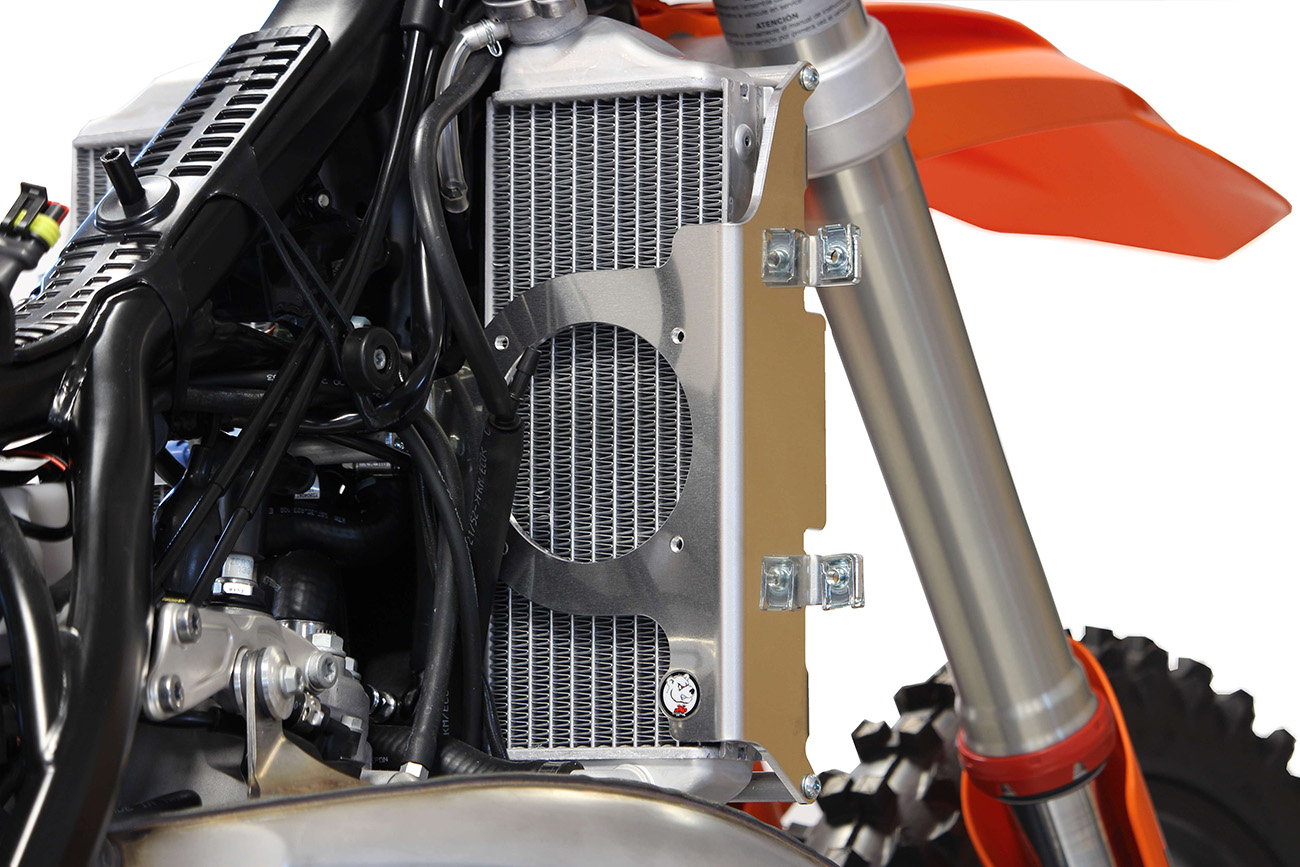 These grills can be removed in less than 15 seconds, allowing you to clean your dirt or built-up grass from in front of the radiators quickly to prevent overheating.
Reinforced Chain Guide
This is the first after market chain guide available for the 2023 KTM's and Husqvarna's AXP say. , the AXP model comes and replace the OEM one without any modification. Made of UHMW plastic, this will offer a higher resistance to friction and so, a better durability in time.
Rear Disc Guard
Already thousands sold through years AXP tell us, the rear disc guard is a solid part of their catalogue. It uses the rear brake hanger as a fixing point to hold a high impact plastic 'shark fin' protector outside the rear disc guard.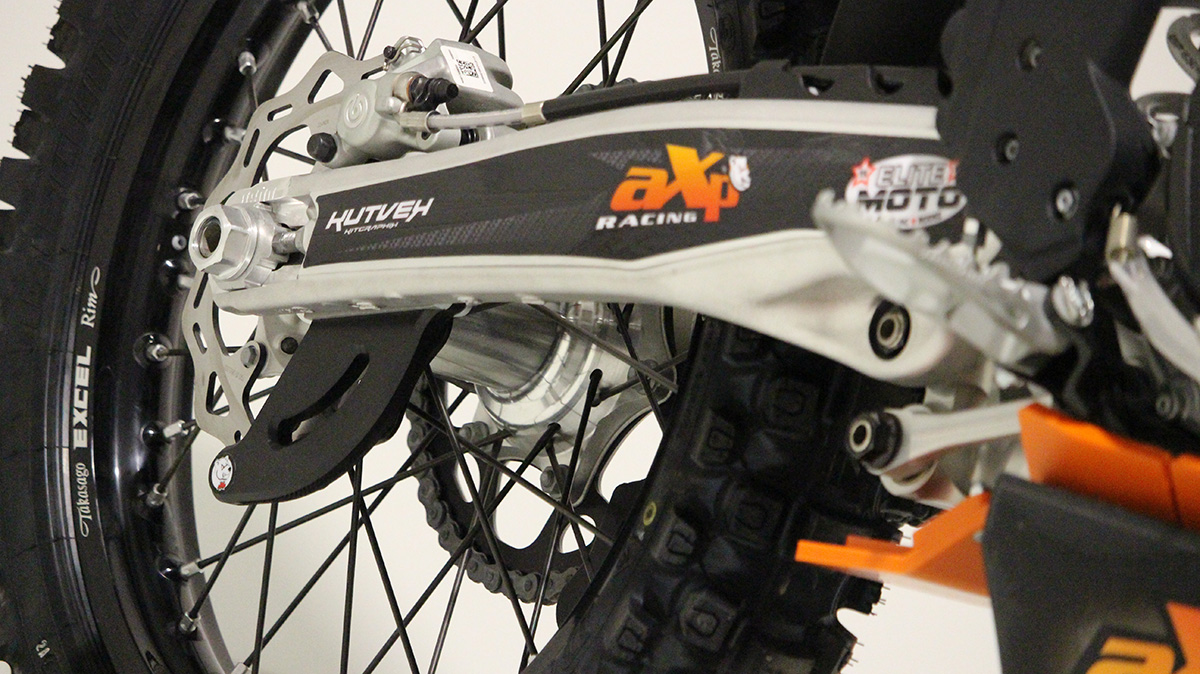 The USP here is the shark fin takes hits without bending and potentially touching against the disc as metal disc guards can. At around 80 Euros/GBP/dollars it is product which earns its money over a three-hour race – if you've ever bent a disc you'll know.
Full disclosure, though this is a real bike built to be ridden, AXP built it as a show piece for their products and stands as an advert. But they are experts in protection and are also riders themselves so putting a bike together which is fit for purpose make sit a decent build we thought it'd be good to share.
More information: email This email address is being protected from spambots. You need JavaScript enabled to view it. or www.axp-racing.com or follow them on intagram