Triumph Motorcycles announce Enduro and Motocross models
Triumph Motorcycles have dropped a bombshell by announcing development is well underway on a comprehensive range of all-new competition Enduro and Motocross bikes.
In a 'didn't see that one coming' announcement of epic proportions, the British manufacturer says it will add genuine off-road models to its existing motorcycle range as a new project in the Triumph factory race programme.
The focus is very much on the competition side with Triumph promising the commitment is to "top tier championship racing in both Motocross and Enduro series" and to bring "engineering expertise to riders and racers worldwide".
At present the announcement is just that and no more. Any details about the bikes or images are being kept under wraps. It is not clear if they will be two or four-strokes, what engine capacities they are working on or how many models we'll see although reading between the lines it is likely to be limited at first.
Nor do we know any further details about a release date. Triumph say dates and reveals of the motorcycles, as well as information about the racing programme on the new MX and Enduro range, "will follow in the coming months."
Ivan Cervantes in bike and race programme development
The bikes exist and are in development already. Enduro21 spoke to one person heavily involved, five times Enduro World Champion Ivan Cervantes in the Estonian EnduroGP paddock.
Predictably Ivan was tight-lipped but says he has been testing the enduro model and told us it was a serious bike, very much fit for purpose and not a scaled-down adventure bike from the British manufacturer. One key point is it appears to be their own bike and parts, not a doner engine and chassis from another manufacturer with a Triumph logo on the tank.
"To be working with Triumph from the beginning of this project, is an amazing opportunity for me," says Ivan, "not just because it is working with one of the world's greatest motorcycle brands, but also for being part of building something from zero. It is a dream come true for any racer.
"Everyone I am working with at Triumph is focused to make the bikes the best they can be. I cannot wait to see the bikes competing at a world level, but I also look forward to when I can stand in a Triumph dealer and know I was part of this very special project."
What do we think at Enduro21?
For a major manufacturer to jump into the off-road market is a surprise. Don't some quarters call us a dying breed? Isn't the off-road market already pretty-well saturated and certainly dominated by Austrian bikes? No doubt Triumph want a slice of that pie.
The more the merrier we say, anything new is welcome of course and we were pleased to learn it was not just a motocross bike but gave enduro an equal billing in the equation from the get-go.
The other major positive here is the racing programme. There's a lot of media coverage in the off-road world and if Triumph are about to jump feet first into it that will raise their profile and credibility. Imagine a Triumph world championship team at EnduroGP level or at hard enduro events like Romaniacs, Erzberg and Lagares – this could be big news. That's not to mention the MX side of things.
"Today's announcement marks the beginning of a new chapter for the Triumph brand, which everyone at Triumph is incredibly excited to be part of." Says Triumph Motorcycles Ltd CEO Nick Bloor."We are 100% committed to making a long-lasting impact in this highly competitive and demanding world, with a single-minded ambition to deliver a winning motorcycle line-up for a whole new generation of Triumph riders"
Carmichael onboard
Cervantes is not the only high-profile development rider involved here. Heading up the MX side is legend Ricky Carmichael and both have joined the Triumph family as active partners in both bike testing and preparation for racing.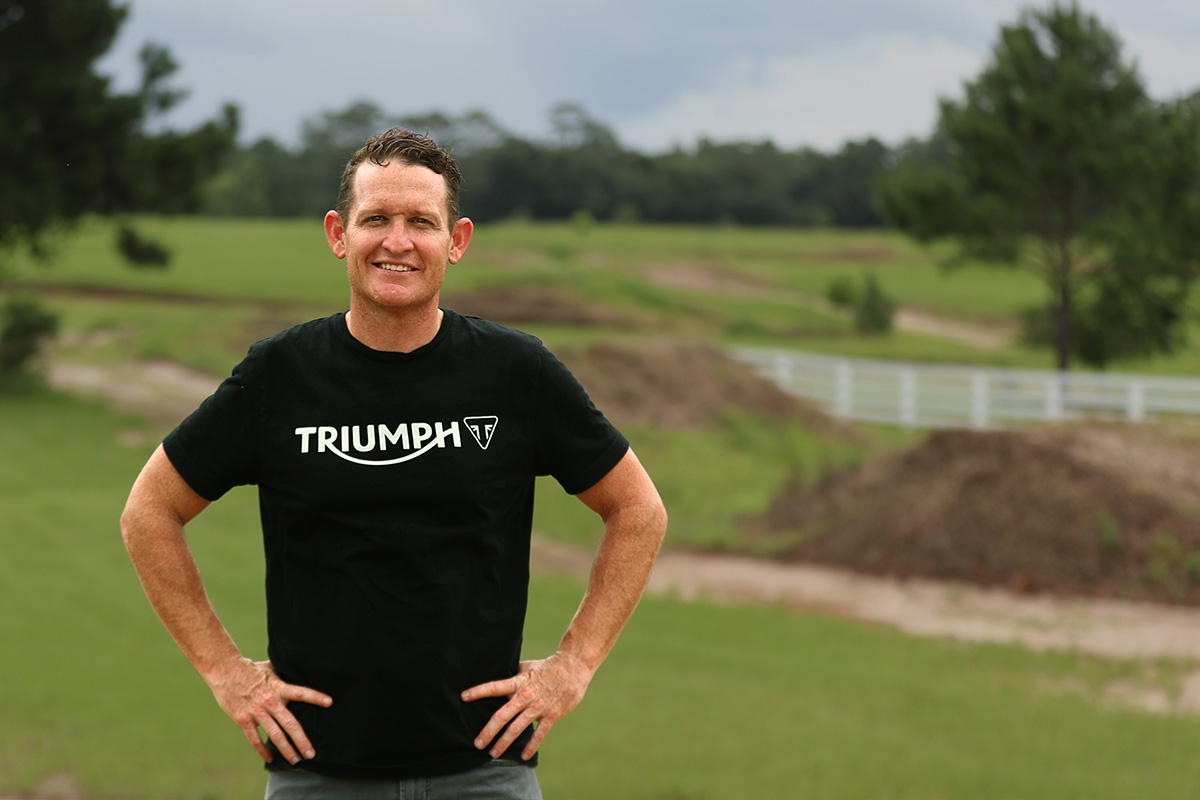 Ricky Carmichael points at the commitment to the project from all involved. "What is impressive to me is Triumph's dedication, and passion to develop a top of the class product. Everyone that I have been involved with in this project from the engineers, design groups, R&D deptartment, etc., have shown extreme passion for what they are doing and that is a recipe for success and something that I love being a part of."
More when we get it.
We need your support
If you've enjoyed this article, if you've found it informative, interesting, entertaining even, please support us.
We want to continue doing what we do, to the best of our ability, serving the enduro and off-road community.
Please consider a donation, every little helps…
Thank you.
Photo Credit: Triumph Motorcycles