First look: Yamaha's new 2022 YZ range goes big on the two-stroke 125
The 2022 Yamaha YZ model updates across the two-stroke and four-stroke range are something to write about but the all-new YZ125 two-stroke with a more powerful engine, new carburettor (remember those?) and a revamped chassis is something to shout about.
Two-stroke lovers rejoice. Yamaha's 2022 model year updates to the YZ range are focused on the blue smokers with particular attention on the YZ125 model, a bike you'd think should be going out of fashion these days.
In a world of increasing concerns about the future of two-strokes, it is a refreshing surprise to see words like new "Keihin carburettor and V-Force reed valve assembly". The heavily revised engine on the '22 YZ125 is just part of the equation along with a whole heap of changes to the chassis and even bodywork all aimed at improving the power (through improved air intake) plus new suspension settings, brakes and more.
Yes, this is Enduro21 and these are MX bikes but as ever, the motocross models feed the enduro beast and plenty of riders buy the YZs and convert them for off-road so these are bikes worth shouting about.
The 125 is not alone, Yamaha has also updated the YZ250 two-stroke, YZ250F and 450F for 2022 as well but the 125 gets all the attention this year…
All-new YZ125
Yamaha's pitch on the all-new YZ125 starts well: a "completely redesigned higher performance engine" with "significantly higher power output". Along with the promise of better handling and chassis performance, we already want one.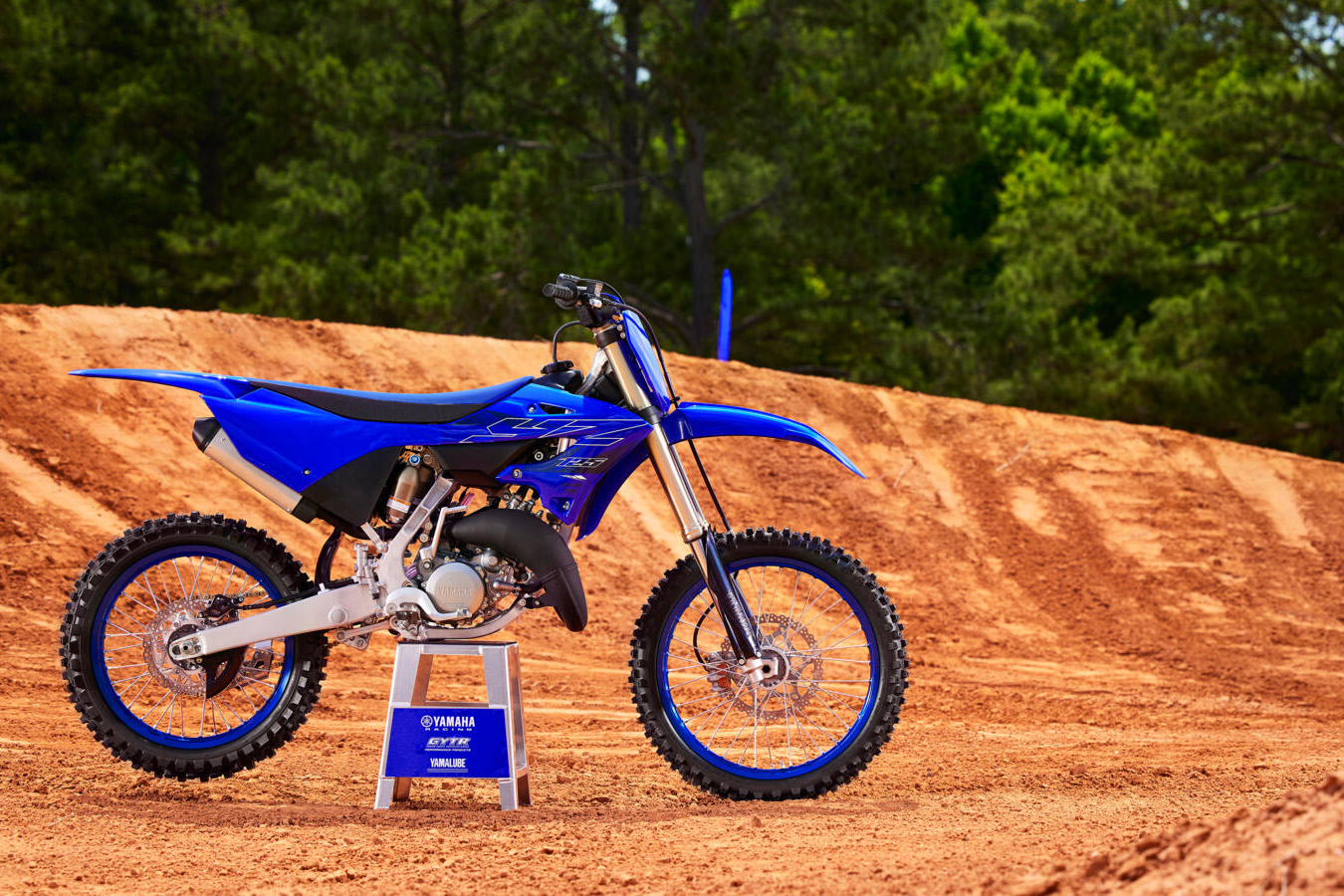 2022 YZ125 technical highlights:
All-new 125cc engine
Stronger mid-to-high rpm power, with improved useability
Increased maximum power
New Keihin carburettor with TPS and power jet
Redesigned YPVS
Reshaped exhaust and shorter silencer
New high-efficiency air intake
Stronger six-speed transmission, revised ratios and uprated clutch
Improved gear shift feel
Lightweight aluminium frame
Redesigned rear frame
New slimmer body – 36mm narrower between knees
Newly designed fenders and sidepanels
Improved ergonomics with new fuel tank and flatter seat
Higher performance braking system
Best-in-class KYB suspension with revised low-speed settings
New Icon Blue duo-tone colours and in-mould graphics
Also available in Monster Black factory colours
"The most powerful engine ever fitted to a production YZ125" – the changes in more detail
Virtually every major component on the 2022 engine is new so Yamaha says of the comprehensive redesign and that begins with an all-new cylinder head, cylinder and piston
A reshaped combustion chamber, as well as a shorter exhaust port and revised cylinder porting give a significant improvement in combustion efficiency Yamaha says.
Yamaha's YPVS power valve system gets some attention too with maximum lift on the new exhaust power valve also tweaked, and the timing of its opening and closing also modified in order to improve engine performance and also help driveability.
New Keihin carburettor and V-Force reed valve assembly
How good is it to see that phrase? A major feature on the 2022 125 engine is the new Keihin PWK 38.1mm carburettor equipped with a solenoid controlled power jet that delivers "an instant hit of power" when asked.
The new carb features a TPS (Throttle Position Sensor) as well as a 3D map controlled CDI working on the ignition timing. Together with a new V-Force reed valve assembly and a revised manifold design, the new intake and carburettor produces stronger acceleration and more explosive power when exiting corners Yamaha claims.
Longer con rod and heavier crank
It's not all about peak power, internal engine changes also include a longer con rod as well as a slightly heavier crank for increased inertia to match the increased power output with more control through the power range.
New air intake system
Yamaha say a key feature on the new YZ125 is its completely redesigned air intake system. It's all linked to the redesigning the frame, side panels and reshaping of the seat base (more on all that below). Combined that has allowed Yamaha's engineers to reduce the resistance to incoming air by 15% and "dramatically increase" intake efficiency on the new model.
This contributes towards improving the mid-to-high rpm pulling power and improving the over-rev character they say, plus it sharpens the low-to-mid rpm throttle response for more stable running at lower revs.
New exhaust pipe and shorter silencer
All of the above in turn links to the gases coming out the front of the engine too which has meant the dimensions and shape of the exhaust have been changed for 2022. The expansion pipe's diameter is slightly reduced at its widest point, and the silencer is 50mm shorter.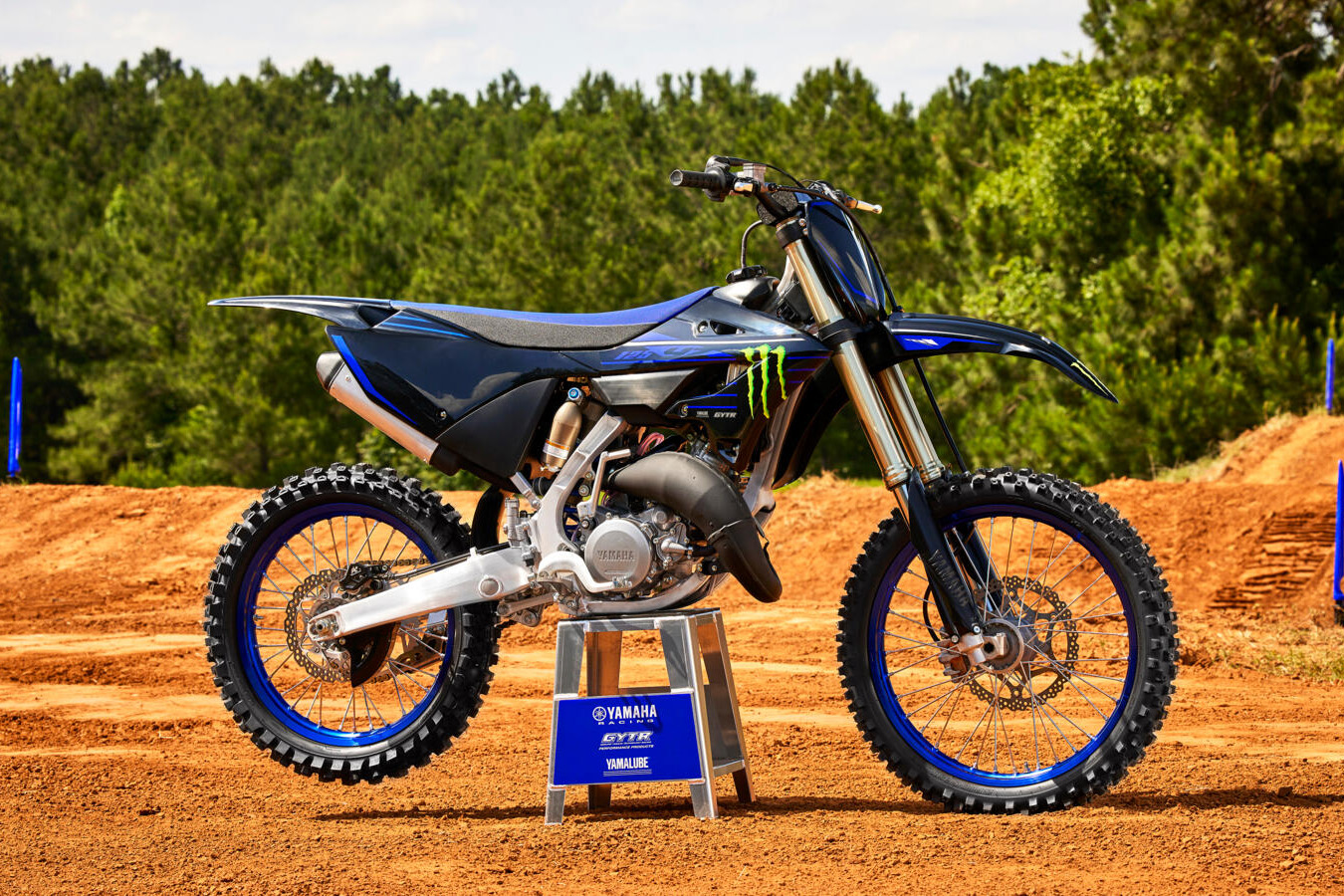 Stronger and smoother transmission
Slicker gear shifting is always welcome and the new YZ125's six-speed transmission has been strengthened for 2022 ,in part to handle the increase in power. There's a change to final drive too with a 13/49 gearing ratio – previously it was 13/48 – and for improved driveability fifth and sixth gears.
There's also a new shift shaft with a redesigned return spring which they say gives a much smoother shift feel. The clutch springs are also uprated to cope with the increased power.
Slimmer body
As mentioned above, the 2022 YZ125 has had its dimensions redesigned in large part to help that air intake and boost power. A slimmer tank, new seat and revised graphics give the bike a different look but promises also to provide more control when riding.
The seat's upper surface has been flattened by lowering the front by 6mm and raising the rear by 5mm, while a new fuel tank blends with the front of the new seat – there's also a new single-bolt seat fixing for an easier life accessing under there.
Slimmer tank and radiator shrouds
The new fuel tank and narrow radiator shrouds make this the most compact YZ125 ever Yamaha say with width between the rider's knees reduced by 36mm to give a slimmer feeling, improve agility and rider mobility.
New fenders and side panels
The new air intake system also means the side panels, rear fender and underside of the new seat have been redesigned and, again, contribute to the improved flow of air into the airbox. The shape of the front fender has also been revised to give a more aerodynamic and dynamic look.
New designed subframe
The YZ125's aluminium semi-double cradle frame has a new mounting point for the shorter silencer and a new raised cross member design on the detachable aluminium subframe. This new cross member helps with that airflow and accommodates the new single bolt seat mounting point.
Revised suspension settings
The YZ125 is joined by the rest of the 2022 YZ model range in getting new suspension settings on the KYB front forks and rear shock absorber. As Yamaha say, these KYBs are regarded by many to be among the best stock suspension you can get and for '22 the front forks and rear shock have revised low speed damping to further improve rider feeling.
More powerful front brake and lighter rear brake
Last on this long list of changes to the 125, and again which also applies to the other models in the '22 line-up, the brakes have also seen some attention.
Larger 25.4mm diameter pistons in the "more rigid" new front twin-pot caliper use new pads for a 30% increase in contact area on the redesigned 270mm front disc.
The 2022 250 two-stroke gets attention too…YZ250 technical highlights:
New higher-efficiency air intake
Reshaped exhaust
New slimmer body – 36mm narrower between knees
Newly designed fenders and sidepanels
Improved ergonomics with new fuel tank and flatter seat
Higher performance braking system
Revised KYB factory suspension settings
New lighter handlebars and shorter levers
New Icon Blue duo-tone colours and in-mould graphics
Also available in Monster Black factory colours
The YZ250F and YZ450F models also gets the revised suspension settings as well as a new rear sprocket, a gold chain, and DID wheel rims. The YZ250F rear wheel has a wider 2.15 rim and a 110/90 tyre, as well as a lighter hub and revised spoke pattern.
New generation colours and Monster Energy Yamaha Racing Edition
All the new YZ models adopt the latest Icon Blue colours consisting of a duo-tone finish that blends Yamaha's famous Icon Blue with a dark matte blue.
Yamaha Monster Energy Yamaha Racing Editions are available too with an exclusive black colour scheme and graphics inspired by the Monster Energy Yamaha Factory MXGP and MX2 team bikes.
More information including full specifications: www.yamaha-motor.eu and www.yamaha-motor.com