First look: 2022 TM Racing Enduro model updates
TM Racing have unveiled updates to the nine-strong EN enduro model range – sweeping changes across the bikes include new chassis', gearboxes and ergonomic tweaks to improve rideability.
The Italian manufacturer TM Racing remains resolutely personal and comparatively small in comparison to, well, almost everyone else. But that hasn't stopped them from either making a significant mark on the enduro world stage during 2021 with a new race team, TM Boano Racing, leading the charge in and placing riders in blue throughout the EnduroGP class podiums.
Neither has it stopped TM from introducing some significant updates to the nine-model enduro range for 2022. Spread across the six two-stroke and three four-stroke EN models, the 'what's new' list is a long one including main chassis', air intakes, significant ergonomic updates and tweaks to details like footrests and brake levers.
MY22 TM Enduro model chassis highlights:
All 2022 models feature a new, lighter frame with new geometry to improve stability and a new riding position
New off-set triple clamps
New plastics reduce bike width by 30mm
New front fender offers better protection from the mud
New smaller seat
New wider footpegs
New subframe
New Circuit handgrips
Maxxis tyres as standard
New LED rear light and number plate holder
New rear brake pedal design and fixing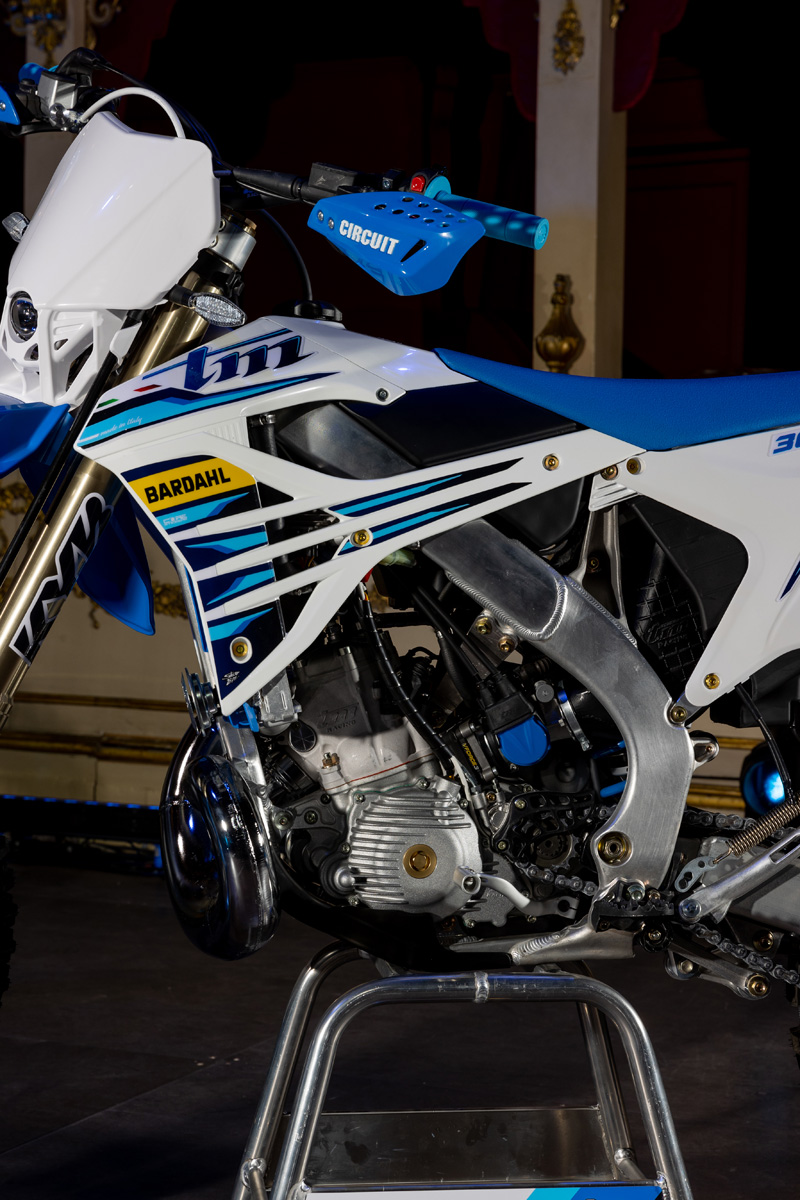 MY22 TM enduro model engine highlights:
New engine with new air intake to improve performance
New fuel injection systems
New oil mixer tank on two-stroke models
New exhaust system
New fuel tank cap
New wiring system
New six-speed gearbox on all models
The TM enduro model range begins with the EN 125 and EN 144cc babies, both of which are fuel-injected two-strokes. There are also two 250 and 300 two-stroke options, with or without fuel injection basically with the EN 300Fi the bike currently setting the EnduroGP series on fire in the hands of Australian Wil Ruprecht. There are also three four-stroke fuel-injected models to choose from – EN 250, EN 300 and EN450.
Enduro21 recently shone a 'Pro Bike' spotlight on Ruprecht's race machine, read that here: Pro bike: Wil Ruprecht's TM Boano Racing EN 300 Fi
More information and your nearest dealer: www.tmracing.it