5 Minutes: Taddy Blazusiak – SuperEnduro, British mud and GasGas
Five minutes catching up with the legend that is Taddy Blazusiak at a muddy British Extreme Enduro to talk winning at SuperEnduro 2020, testing two-strokes and what about the GasGas move?

Seeing Taddy Blazusiak at a cold and very muddy Extreme Enduro in the depths of a British winter is not normal, trust us. It is the preserve of the extreme enduro mad locals and if the appreciative crowd is lucky they get a rare chance to see the likes of Billy Bolt or Jonny Walker racing on home soil.
But January 2020 saw Taddy head up north in Europe for a very different kind of training for a guest appearance and a taste of some proper mud.
We caught up with Blazusiak to ask a why he switched dry and relatively warm Spain for muddy Britain, did he expect that triple win at SuperEnduro round two, what's going on with the GasGas move and could we see him back stateside to race EnduroCross 2020?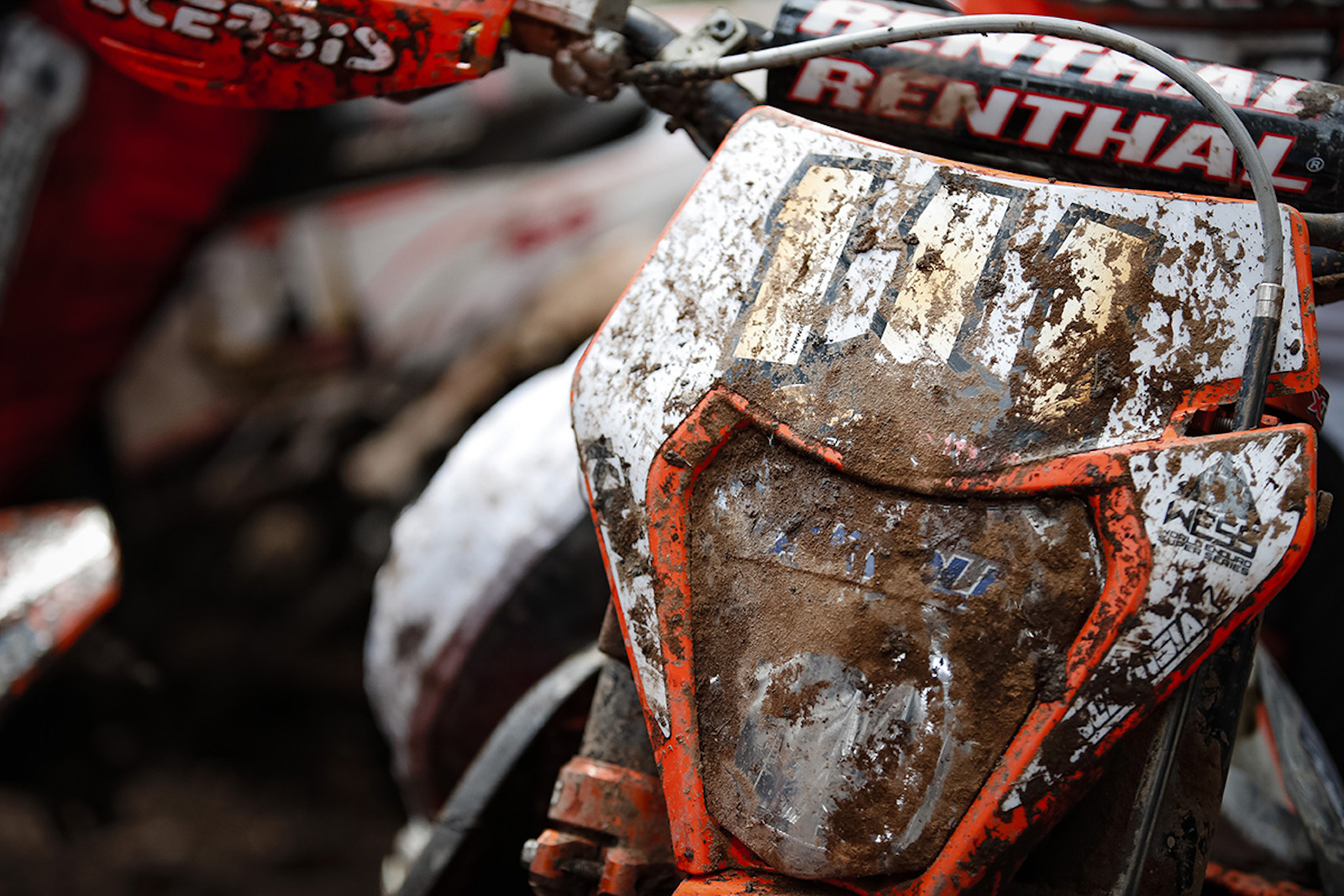 First question has to be what the hell made you come to England to race in these conditions?!
Taddy Blazusiak: Ha! Yes it was pretty slick. I came here to ride exactly what we had today, I came looking for something different. I wanted to change the SuperEnduro routine I've been doing for the last three months.
All I do is pound out motos and try to go fast looking for that tenth of a second everywhere, so I decided to do a longer race, ride something else to break the routine. I just wanted to do something different.
It was tough man. I had some crashes, I looped out on a hill in the second lap and it cost me 10 minutes, so I was trying to catch up the front guys. I got around Billy with one lap to go, we raced a little bit but he got around me again. It was a good race and I really enjoyed it. It was hard so I loved it.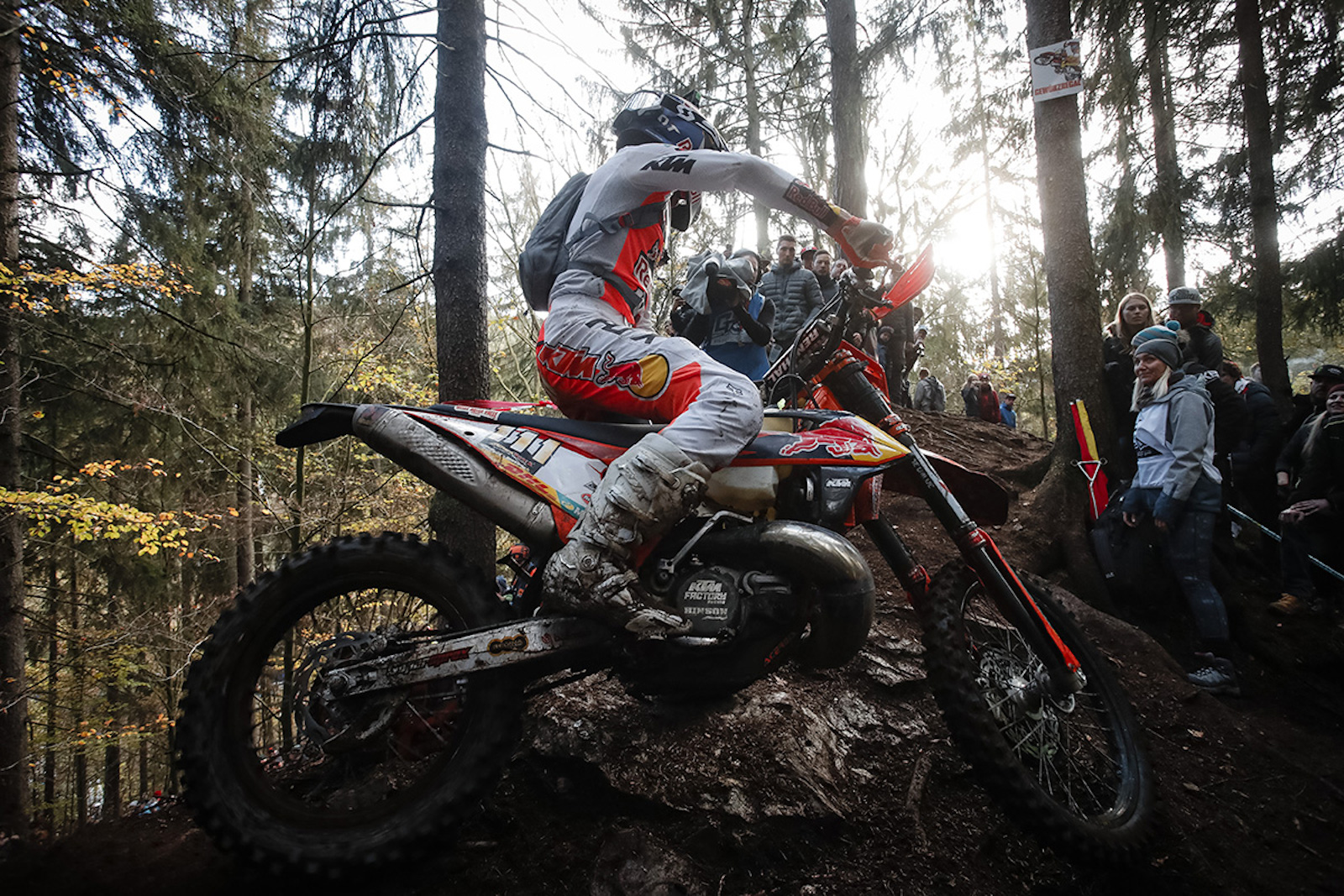 It was good to mix things a little bit I guess but was it just training?
I still haven't decided a few things on the outdoor bike actually so coming here was good for testing the two-stroke. The last time I rode this bike was in Getzen (last round of WESS in November 2019) and there's nothing like these muddy conditions in Spain so it was good to come here. I know more things about the bike now.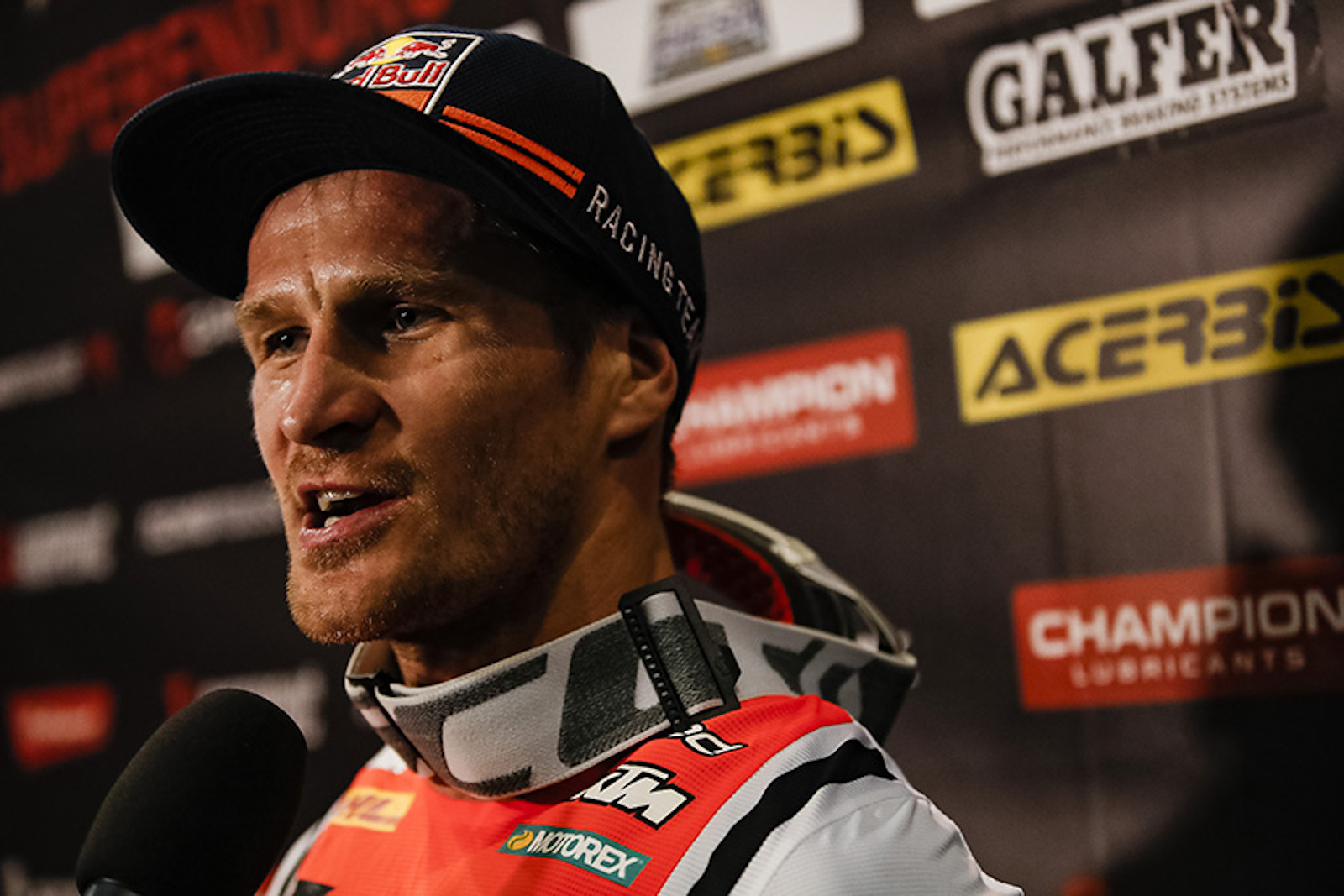 You're back to SuperEnduro next week…
We'll hit the track on Tuesday and do some motos and get dialled back into that.
The championship is going great for you but were you expecting to win all three finals at round two in Riesa?
No, I wasn't expecting three moto wins. But I'm riding really good and the bike is working awesome, we've done a lot of work with it, that's really why I raced EnduroCross. Halfway through that season I think we had the bike dialled so I knew the bike was really good for SuperEnduro.
I did great in Germany, still it is a long way to go but it's good to be leading the championship two rounds in.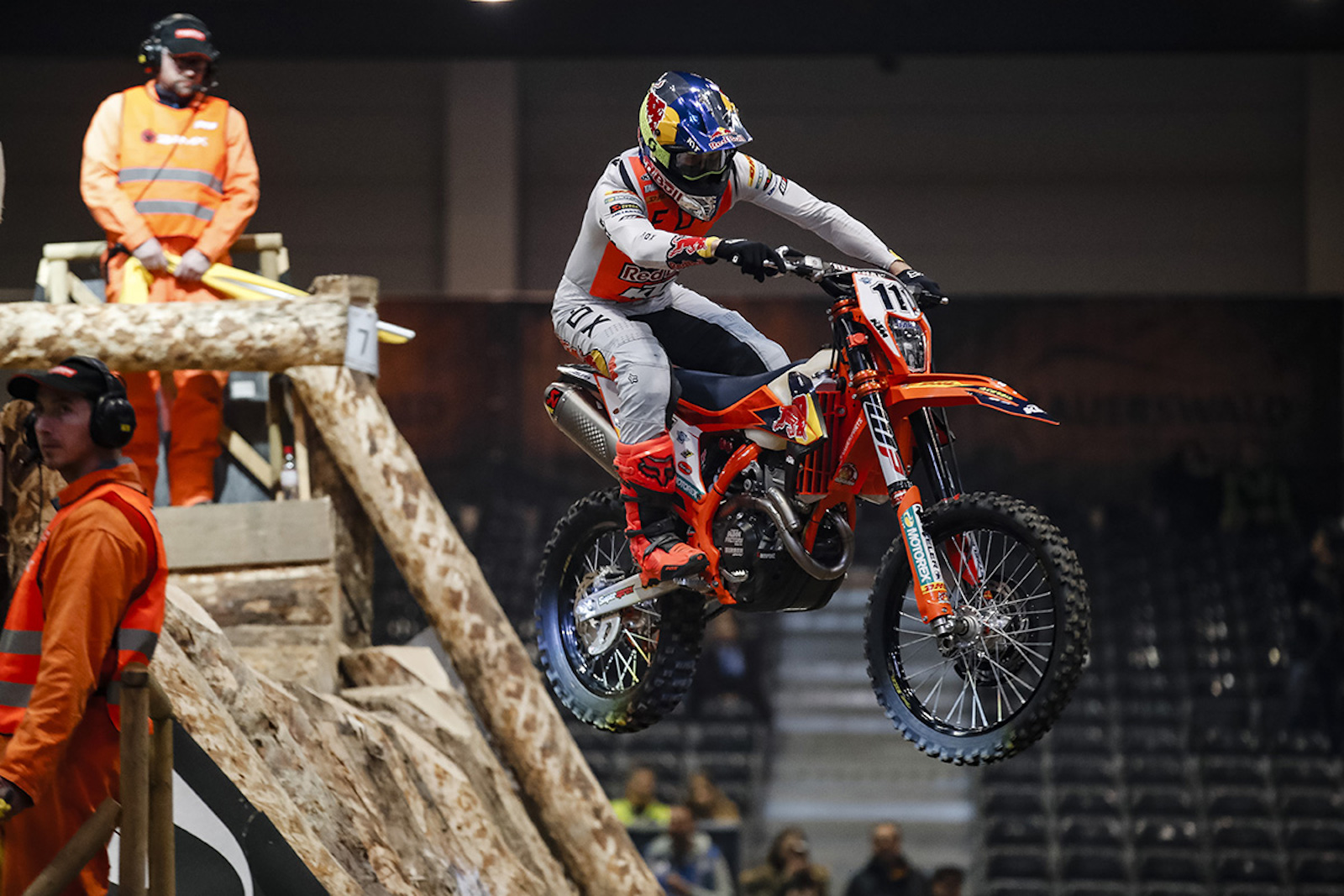 Is it fair to say the smart rider won that race?
The last round was one of those times where someone is really fast, Billy and Jonny in this case, but maybe the smart thing to do was to go 98% or 99%.
If you look at the times of the SuperPole race there were three tenths of a second between me and Jonny. Billy was pulling some super moves and taking some risky lines but I have been racing long enough to know that you aren't going to be able to take them for every lap in the race. The heats are so intense and hard on your body that you're just going to make a mistake sooner or later.
That's what I did in Germany, I still was going really fast on the last race and despite a mistake I build a 13 second gap to Billy and Gomez by the end. I rode on the fine line of not going to hard but going hard enough. I'm really happy with my riding to be honest.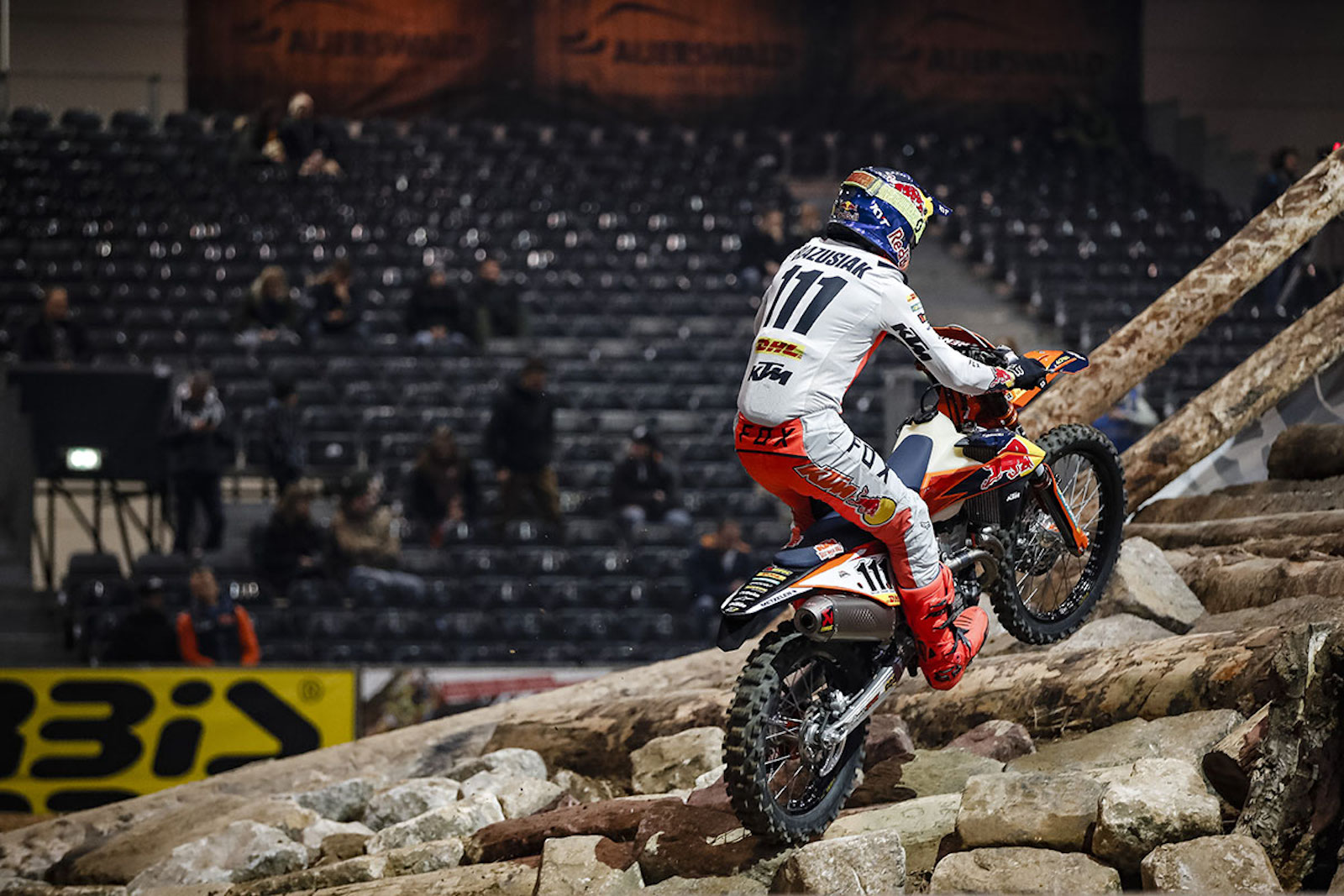 Are you going to race EnduroCross again this year?
It depends on how the calendar goes, with GasGas and everything we have a lot of work with the new bike. It's not a new bike but you know we have a lot of work to do before the races start.
I like racing EnduroCross, but we'll see how things go. If I feel like I want to do more I'll race it. We're back to full schedule and you can't do everything.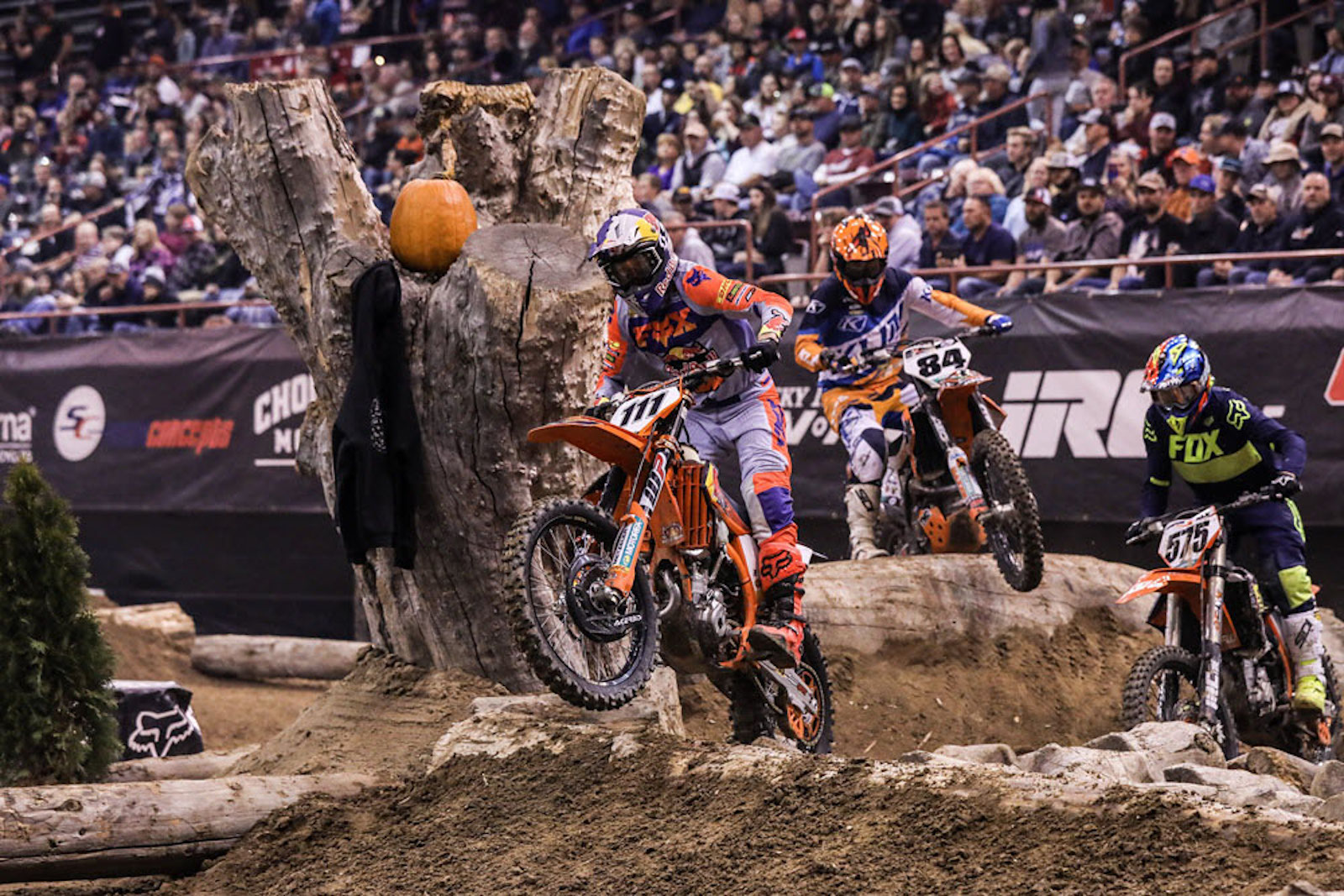 And what about the move to GasGas after the SuperEnduro Championship concludes, does it feel like a change for you or you feel no difference?
I've been in KTM for so many years and as GasGas is part of the KTM group I got asked to do it to give the brand a little push so for me it was something cool and new.
Developing the bike, it's not like we're building a completely new bike because it's going to be based in what we already have but I like the project, it's a little adventure which I'm on now. It's going to be a cool experience for sure.
Photo Credit: Enduro21/Andrea Belluschi/Robert Lynn + Jack Jaxson