5 minutes: Xavier de Soultrait – "I'm happy to be able to race the best bike"
Xavier de Soultrait talks exclusively to Enduro21 about his change from the factory Yamaha rally squad to the Dutch-based HT Rally Raid Husqvarna Team, his Dakar goals and why we might see him racing EnduroGP in Requista.
A post on social media showing Xavier de Soultrait riding not a blue bike but a HT Rally Raid Husqvarna Team 450 Rally caught our attention. The French rider has been synonymous with Yamaha and the development of the 450 bike and it came as a surprise to see he'd changed manufacturers.
But after eight years racing for Yamaha Xavier de Soultrait says he feels, "fortunate and proud about the new project" and has his eyes fixed firmly on accomplishing his career ambition, to win the Dakar. We caught up with the French rider to learn more about the new team, how he feels about the new safety measures adopted by ASO and what's all this about lining up for the opening EnduroGP of the 2020 season in Requista?
Firstly, tell us what have you been up to during this chaotic start of the year?
Xavier de Soultrait: First of all, I really hope that everyone in the off-road and enduro community hasn't been affected by the virus and, if they have been, I send them my best wishes. From my side I have been able to continue training and I have been spending more time at home with the family, something I'm not always able to do. It has been a bit strange but that's the positive part of the pandemic, I have been able to spend more time with the family.
You caught us off guard when we saw you on a Husqvarna. Why change to the HT Rally Raid Husqvarna Team from Holland?
I have seen how fast these Austrian bikes are during the past years and I always wondered how would it be to race one. I'm aware that it's a big change in my career but sometimes these changes can lead to becoming a better rider. I was in contact with Pela (Renet - Rockstar Husqvarna Rally Team manager) and the HT team and in the end, we were able to come up with an awesome deal.
https://www.instagram.com/p/CDg1iJwqPu4/
Tell us more about your new team…
My new team, the HT Rally Raid Husqvarna Team, has a large experience in rally raids and it's a really professional structure. The most important thing for me was to have good material and a good working environment in the team and it'll be that way. Henk Hellegers, the team owner and I are really motivated.
I have factory support from Husqvarna but, anyway, I think that the strong point of these bikes is that they're really close to the factory machines. It's incredible that anyone can buy a bike that is so competitive.
I'm really pleased to have Dafy Moto, a French motorcycle product distributor, as a sponsor and to collaborate with VILTAIS, a charity to help young people in trouble.
Was there a main reason for this change or you just wanted to try something new?
Our careers as racers tend to be short so you have to take the right choices and I'm really passionate about this project, so I went for it. I maintain the control on certain key aspects like training and I'm happy to be able to race the best bike… "and the safest"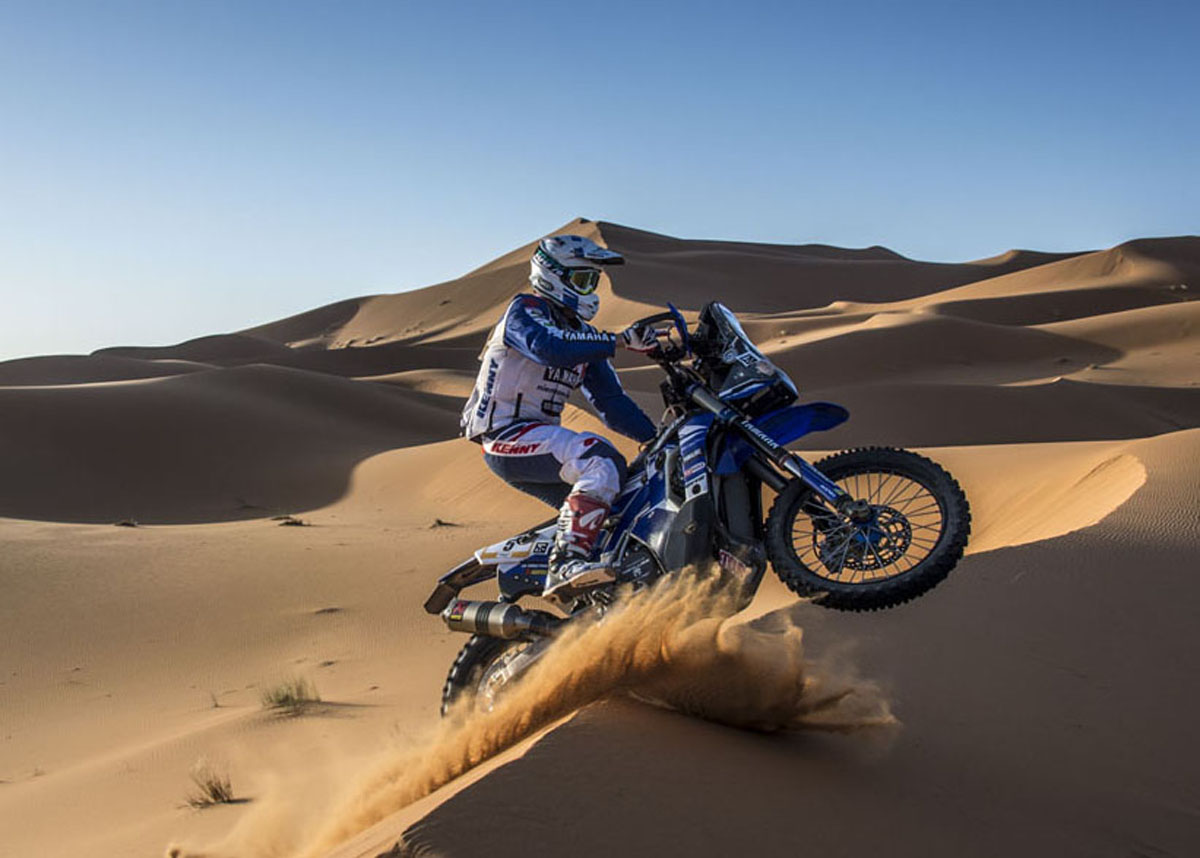 What are your plans for the rest of the season?
My initial plan was to race in Turkey, Rally du Maroc and Abu Dhabi Desert Challenge. Also, I wanted to train for a couple of weeks in southern Spain before heading to Morocco. Anyway, now I'll race the Rally of Andalusia – read our article about the new rally – and then head to Dubai in December.
How does it feel to leave Yamaha Behind? You started your rally-raid career with them, first with the Mecasystem team and then as a factory rider for the Monster Energy Yamaha Rally Team.
I have really good memories from the beginning to the last days, but now it's a new chapter for me with many victories to come I hope.
What have you learned from teammate Adrien Van Beveren and navigation master Jordi Arcarons?
That inside team rivalry and learning from the past is always interesting. We have had loads of experiences together, but now we'll be racing one against the other. It has been a great pleasure to share the team with them.
https://www.facebook.com/watch/?v=1714645428558749
During the last Dakar a cut in your wrist in the third stage forced to retire from the race. What went through your mind?
We managed to get through some crucial stages, so we know what Dakar will have instore for us next year, the experience wasn't that bad. Even if it was a small and silly fall I have to learn from it to keep improving as a rider.
You were Bajas World Champion in 2016, have finished two top 10 finishes at Dakar with two stage victories. What is your next goal?
My main goal is to win it or at least be on the podium. Anyway, there are a bunch of riders that go really fast and work really hard for the same thing, so I have to stay working as hard as I can.
The French have a strong Dakar history with riders such as Neveu, Oriol Lalay, Peterhansel, Sainct, Despres… Will we see the your country back at the top of the podium?
It would be an honour to put my name in that list but things have changed in the rally-raid scene. The level that we have nowadays is insane. We're going flat out all the stage, 300, 400 or 500km, from start to finish. But I have to admit that I love that intensity.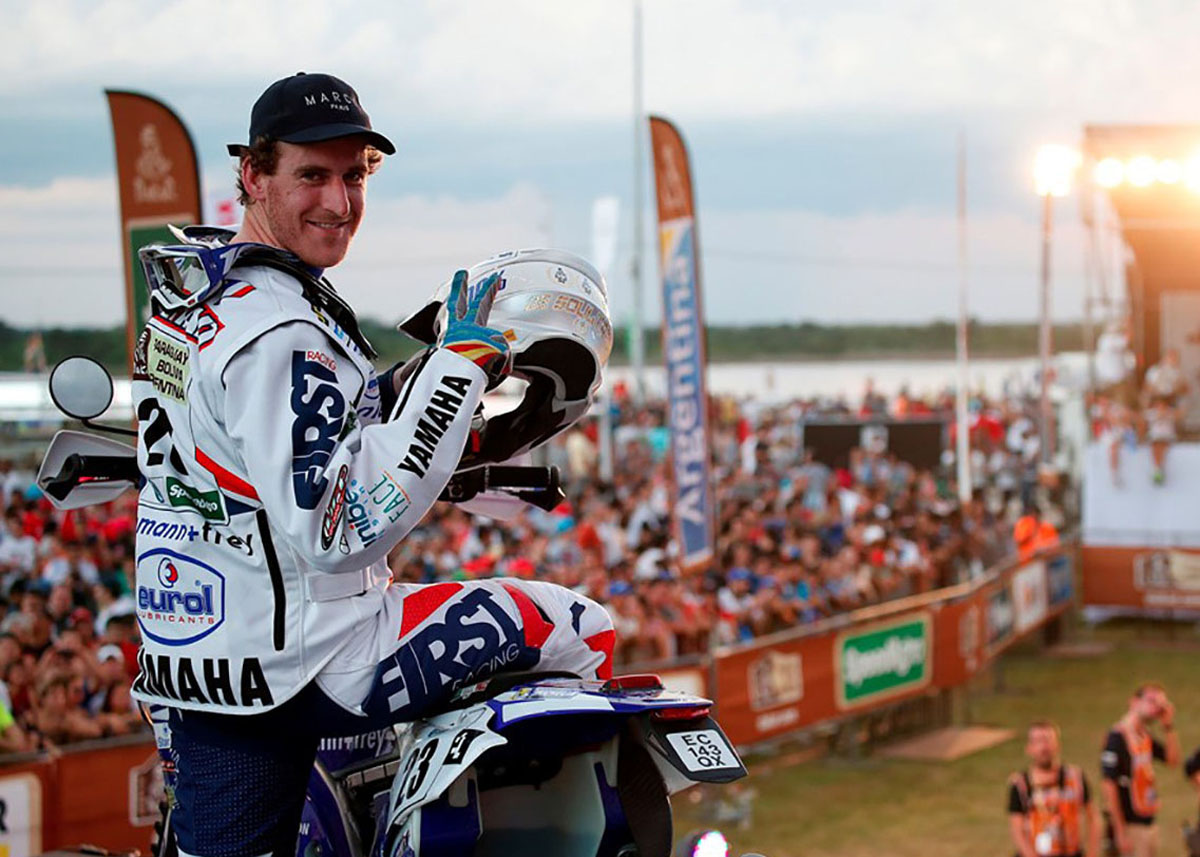 What's your opinion on the new safety measures adopted by ASO?
It won't be easy for us, the riders, but it's the main objective, you make it harder so we are forced to go slower. The ASO did a good job and put the right people in the right places, like Thierry Viardot – technical coordinator ­­– and Charler Cuypers ­– as the intermediary between riders and ASO.
We need your support
If you've enjoyed this article, if you've found it informative, interesting, entertaining even, please support us.
We want to continue doing what we do, to the best of our ability, serving the enduro and off-road community.
Please consider a donation, every little helps…
Thank you.
You started in enduro and finished runner-up in the French championship in 2008. Do you still ride enduro?
Enduro has been my real passion and I follow the EnduroGP races special test by special test. I'll love to go back and line up at a race and I have to admit that we're thinking about it with Dafy Moto, as they already have an enduro team.
Does it mean that we'll see you in Requista for the opening round of the 2020 EnduroGP season?
I had a couple of enduros planned this year and unfortunately coronavirus changed everything, but, yes, I hope to be in Requista. Enduro is what I really love and I want to be back racing on my new Husqvarna TE 250i two-stroke.
Photo Credit: Yamaha Racing | AFP | DPPI