5 minutes: "I want nothing more than to win TKO" – Trystan Hart
After coming so close, young Canadian rider Trystan Hart finally put one over on Cody Webb taking the win at Battle of the Goats and cemented his place among the elite riders in North American Extreme and Hard Enduro.
For the 23-year-old Canadian you could say it has been a long time coming. The blossoming of the AMA Extreme Series' as official championships (at last) has coincided with Hart's emergence as a genuine challenger for major race wins and he's making good on that promise this season.
After taking second place at the King of Motos early in 2020 (ahead of WESS Champion Manuel Lettenbichler and Haaker), Hart then missed Tough Like Rorr before giving Cody Webb a serious run for his money at both the Mad Moose and Bad Medicine AMA East Extreme championship rounds, finishing second at both.
With a trophy cabinet which includes a coveted finishers medal from Erzbergrodeo (the only North American to do so in 2019) and a third place overall in EnduroCross 2019, the FMF/Maxxis/RPM KTM Racing rider took the win at the 2020 Battle of the Goats – beating Cody in what many are calling one of the toughest races ever on US soil.
We caught up with Trystan after his maiden major race victory to find out what's up, how it feels to finally beat Cody and what's next on the agenda…
Firstly, how are things after this run of AMA East Extreme races on the bounce? Finally you got the better of Cody Webb – how did that feel?
Trystan Hart: Yeah finally at Battle of goats I beat Cody Webb. We have been super close the last three races and it's been some of the most fun I've ever had racing. I missed the first round (AMA East Extreme series) so for me it's been three races in a row. But if I had it my way I'd race every weekend, I love racing. I wouldn't say I was expecting the race win, but I was just going to keep trying my hardest and whatever happens, happens.
Conditions looked tough there in the North Carolina woods, how was the course? What made that place so tough?
This was probably one of the hardest races in the USA I've ever done. The clay dirt was super-slick when wet and combine that with the heat and humidity of the east coast and you get a super-physically demanding race.
Trystan's onboard from Battle of the Goats:
https://www.instagram.com/p/CDbabKSghZy/
Where do you think you made the difference on Cody?
I think on the hill climbs I was making a little time on him. He was faster in the creeks and then on the hills I would gain time on him. There were a lot more hills than creeks!
This season you seem to have stepped things up with your riding, what has changed?
This year I feel like a completely different racer. I changed my riding style a little bit but mainly the biggest difference was my mentality. I'm feeling really good, and I want to keep this roll going.
What have you learned from being able to mix it up with a rider of Cody's experience these last few races?
Cody is a really smart racer, his line selection and trials skill is unbelievable. He also is incredible at keeping both feet on the pegs at all times, those are the three things I've noticed he does really well. Learning this doesn't happen overnight unfortunately…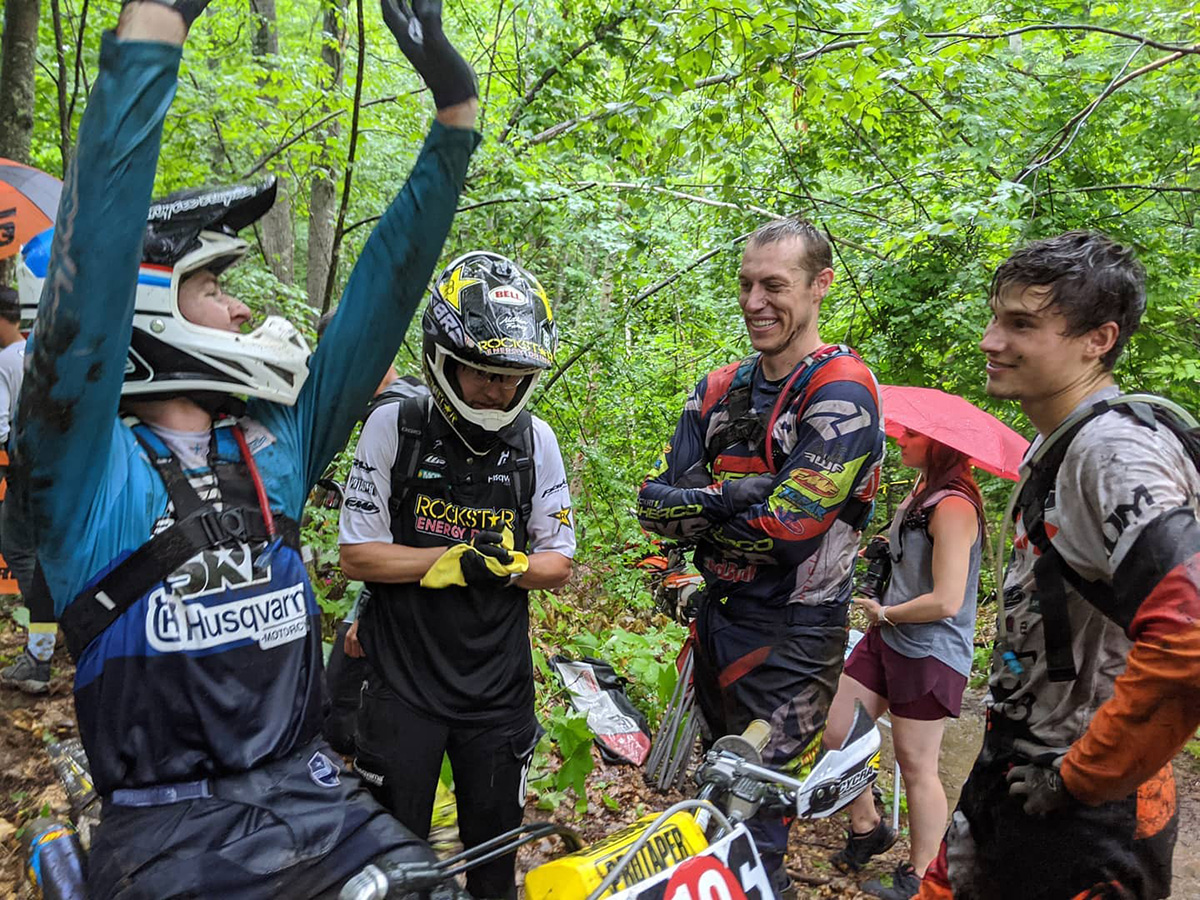 Which bike are you running?
I'm riding the Factory KTM 300 TPI backed by FMF/Maxxis/RPM KTM Racing Team. I absolutely love the bike and my mechanic Robbie has been doing a fantastic job preparing it every week.
The AMA Extreme series is taking hold and growing (despite Covid issues) in North America. How is it from a rider point of view?
The extreme series in North America is definitely growing and it's super cool to see, because it's probably my favourite type of racing to do. Generally speaking, the east coast has better terrain in my opinion because of the dirt and the constant rain it receives. The west coast is a much dryer climate where the current races are held.
TKO is coming soon are you ready for it?
TKO is in two weeks and I'm more ready than I've ever been! I'm going to take some time off after Battle of the Goats to recover and try to get some riding in at Tennessee and I'll be ready to go.
TKO has gone alright for me in previous years. I've never done fantastic there but I've never done poorly either. I want nothing more than to win it this year. Cody has won TKO six times so it's not going to be easy but I'm up for the challenge.
Sadly TKO is not a WESS round this year – do you have any plans to compete any overseas races – will we see you at Erzberg or Romaniacs?
This year I was planning on doing Erzberg and Romaniacs, that obviously won't be happening now. But I hope next year I can go to both and contend with the Europeans.
Photo Credit: Enduro21 + Rocks, Roots and Mud + Patsy Davis + Tanner Yeager