Billy Bolt calls time on 2022 season – "my whole arm just kind of drops off"
"It's not a sustainable plan to continue riding in pain" says Hard Enduro World Championship points leader and reigning title holder Billy Bolt who will undergo wrist surgery this month, ruling him him out of the HEWC title chase.
Strength to pull the front brake lever is kinda important in enduro, especially in hard enduro. Despite the reality of first a serious wrist injury and more recently ankle ligament damage, somehow Billy Bolt continues to lead the 2022 world championship points standings ahead of Mani Lettenbichler and Mario Roman.
But the reigning champ has been carrying a wrist injury, a damaged scapholunate ligament, since before the last SuperEnduro round in March and it has reached crunch time: "enough is enough" says Bolt.
The injury has been affecting his strength to pull the front brake lever, "after about an hour, an hour and a half all strength's gone and my whole arm just kind of drops off." Not that you'd know it after Billy still signed off the indoor world crown in Germany, raced a couple of British Extreme enduros, dropped in on EnduroGP and until last weekend continued to do the day job in the Hard Enduro World Championship.
Enduro21 catches up with Bolt at the fourth HEWC round, the Red Bull Abestone in Italy, where he took a last curtain call on a season plagued by the injury with second place behind Lettenbichler.
We wanted to ask the Husqvarna Factory Racing rider more about those injuries, where they are causing problems and why, despite continuing to race, it has taken so long to finally go under the knife: "You have to be realistic with yourself, whether I'm leading the championship or not, I'm pretty far from being in the same position I was last year."
Billy, an injury to your wrist has been there brewing all season, what's been going on?
Billy Bolt: "Basically I injured myself just before the end of the SuperEnduro season and tore a ligament in my wrist. It's called the scapholunate ligament and it holds your scaphoid and lunate together.
"I didn't get it checked out immediately, I kinda just ignored it until after that SuperEnduro round because I had one more left, the championship had obviously gone perfectly up to that point and I just thought I can't even think about this right now.
"I got through Germany and it didn't actually bother us a great deal, I think there were obviously a lot of emotions and adrenaline, the Red Bull thing was all happening that weekend and there was just a lot going on. I didn't really think about it. Then I was straight from there to a photo shoot with that week for two days, then back to the UK and that weekend I went straight to a British Extreme championship."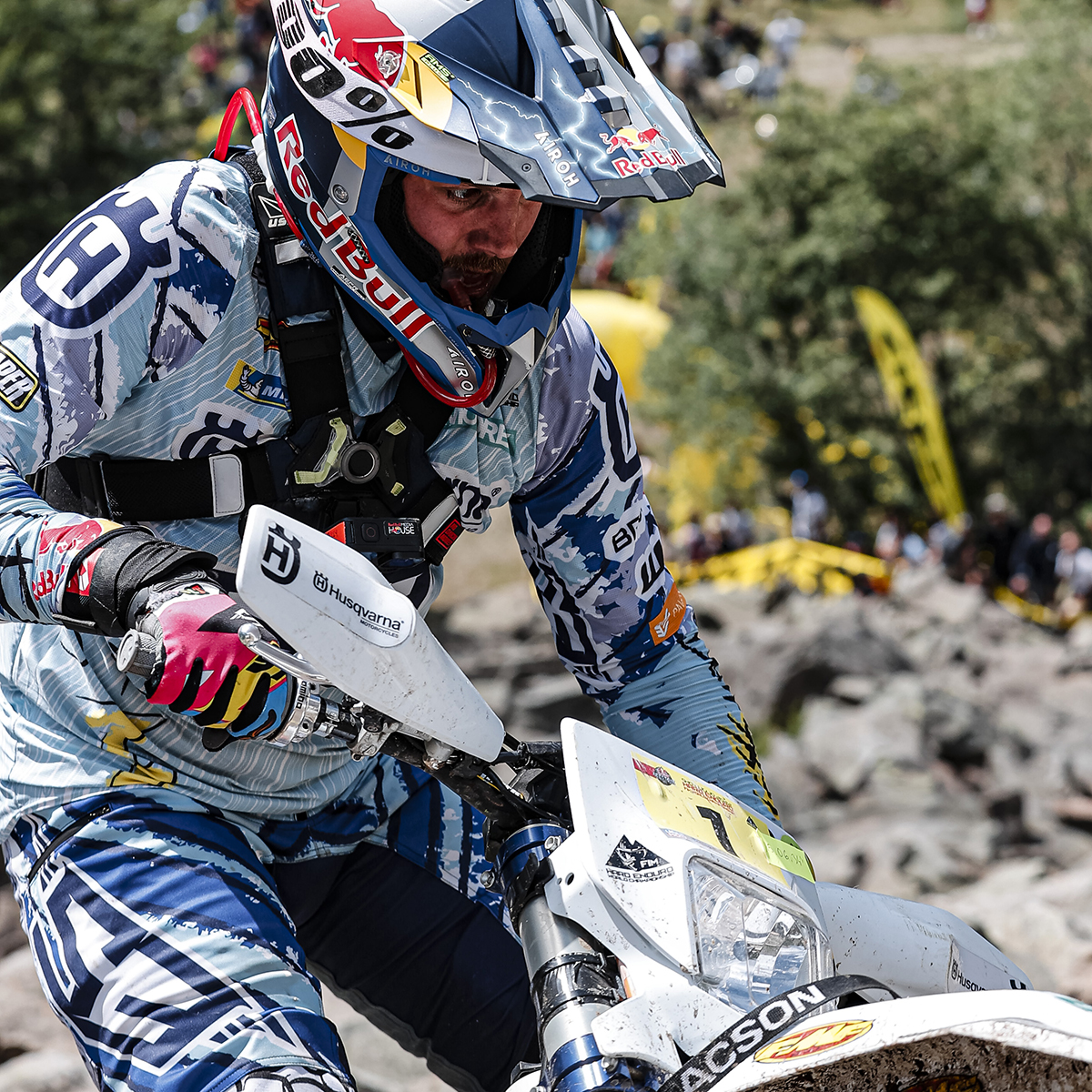 "It was actually there where I realised it was giving me more grief, it'd been over three weeks and that it was probably getting worse.
"I struggled quite badly in that race and I was pretty close to pulling in. I didn't in the end but I was having close battle with Will Hoare for most of the race and that really wasn't what I was wanting to be doing in that amount of pain. It was really painful and difficult to pull the front brake in an just kind of struggled my way through it.
"At that point I hadn't even been to a hospital at all so I didn't know what the injury was. I went to a hospital in the UK that week, had scans and they told me the ligament had torn and the two bones started to separate. At that time they were three millimetres apart which is kind of on the limit of getting surgery, three or four millimetres is kind of the cut-off point."
How is it actually affecting you on the bike?
"Basically, the strength to pull the front brake lever in and then after about an hour, an hour and a half, all strength's gone and my whole arm just kind of drops off.
"It's not actually that bad on a big jump or heavy impacts but when I'm on the bars down hill, braking, it just gives up and goes weak."
But even with the diagnosis, you carried on riding…
"At that point we had the first Hard Enduro World Championship round in just over a week's time and then we had six week break until Serbia. So, although that ligament can never heal by itself, quite often the injury can stabilise and you can manage it, the bones can settle and you can manage surgery-free.
"So we decided to get through Israel and then take the full six weeks before Serbia off, fully immobilised. I was doing all the right things, I was in an oxygen chamber everyday pretty much and just did everything we possibly could for a full month and didn't ride once.
"Before Serbia I had another check-up in the UK and the doctors were pretty happy. I wasn't overly convinced but at the same time, after not riding for five weeks and the doctor says 'you're good to ride again', it was kinda what I wanted to hear."
Serbia was struggle town
"We went to Serbia and I'd only ridden two times since Israel and honestly we'd pretty much not done any training on the two-stroke since Getzen. I'd ridden the Tough One in the UK at least but that was a one-off in the middle of SuperEnduro season.
"I was massively down on riding hours on the bike but I didn't mind at the time because I thought it was worth doing if I'm going to be pain-free. But then as soon as Serbia started I realised I was pretty far from being pain free in actual fact.
"I'm now at a point, after five weeks off and a crucial time in the season, where I'm still in pain but have no fitness, no riding time and no testing and really that race was a bit of a mess. I survived the first day somehow but the second day I actually crashed and broke my clutch perch early on and was fighting with that, but I just kinda died as I think everyone saw at the time.
"I just hit the wall, had nothing left and I make no excuses, there was really just nothing left in the tank and it took some finishing."
"That's when it was clear I was in a bit of bother. I didn't really know what to do."
Becoming a Red Bull athlete brings many benefits for a professional rider like Billy, not just the extra cash in the bank. One major positive is access to the now legendary Athlete Performance Centre (commonly called the Red Bull APC).
It's a well-used facility where Mani Lettenbichler could have been found religiously earlier this year before his meteoric return to racing. Rally riders like Sam Sunderland are regular visitors and Jonny Walker has also been there during 2022. It's where Bill headed after the second HEWC round in Serbia…
"I went to the APC after Serbia for the initial check-up but they couldn't get the previous scans to them. They checked it out and didn't really agree that I should have started riding again when I did. They confirmed there was definitely still a problem which in a way was reassuring to know there was actually something wrong still."
Two weeks before Erzberg things go from bad to worse...
"I left Serbia leading the championship somehow, whether I wanted to be or not! I then decided to go and do an Edge Off Road extreme race in the UK because, it sounds mad, but with no training and with Erzberg coming up, I needed the bike time.
"In fact it was a really good race but I ended up having a pretty big crash, twisted my ankle and tore two ligaments.
"So now I'm kind of double injured. I've got the wrist and now of the three ligaments in my ankle one has got a grade three tear, the other a grade two tear and the last one is still intact which is what kind of holding everything together."
How come then you took on the toughest single day hard enduro on the planet?!
"To be honest until the Tuesday before Erzberg I still wasn't going to ride. I was feeling like enough's enough. I'd done almost three months with the wrist injury and now the ankle and I was like, that's enough.
"I tested on the Monday that week and really didn't feel comfortable. The thing is it's the same leg where I have all the nerve problems from the broken leg three years ago. I had all that in the back of my mind and didn't want to damage the nerve anymore because my ankle was so unstable.
"On the Tuesday I went back and had another go and I was going down the road sticking a my foot out, hitting it on the ground and just really trying to test it. The difference on Monday to Tuesday was pretty mad and I actually felt reasonably confident that I could ride. In my mind I was also just thinking, 'well, I might as well do Erzberg and then call it day and get fixed.
"And that's kinda what happened. I went with no expectations but really, in the grand scheme of things, I'm pretty happy with fourth at Erzberg. I came away pretty stoked."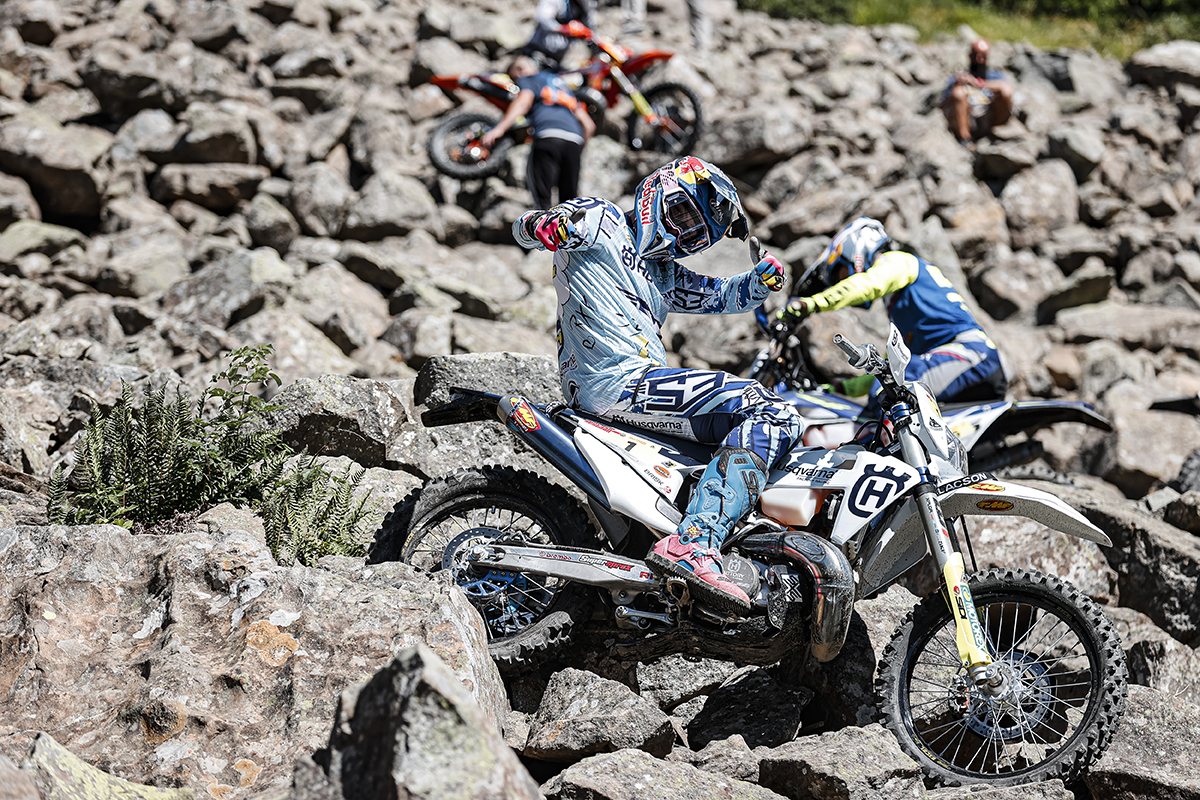 Back under the scanner machine
"I then went straight to the APC for two days had new scans, a new update from the doctors on that, ankle scans and got some actual proper results for everything.
"They confirmed the risk situation and showed the bones were now six millimetres apart, getting worse, and they confirmed it isn't going to heal itself. So that's when we finally took the decision to fix it properly."
…and then you decided to race an EnduroGP?!
"Ha, well, we had to go back to Italy because we had a couple of things to do there, passport stuff with Roxy, and we were basically stuck for a few days waiting on things. We went to the Farioli workshop, [home to Billy's Husqvarna (plus KTM and GASGAS) Factory Racing team] to sort kit and gear out after the mess of Erzberg.
"We arrived at the workshop literally as the mechanics were closing the van doors to go to Carpineti for the EnduroGP. I looked at my phone to see where it was and realised it was about two hours away.
"I went in Fabio's (Farioli) office to say 'what about it?', he was pretty keen on the idea. There was no 450 available but we basically put the prologue suspension in the Erzberg race bike and said we'll go just for fun."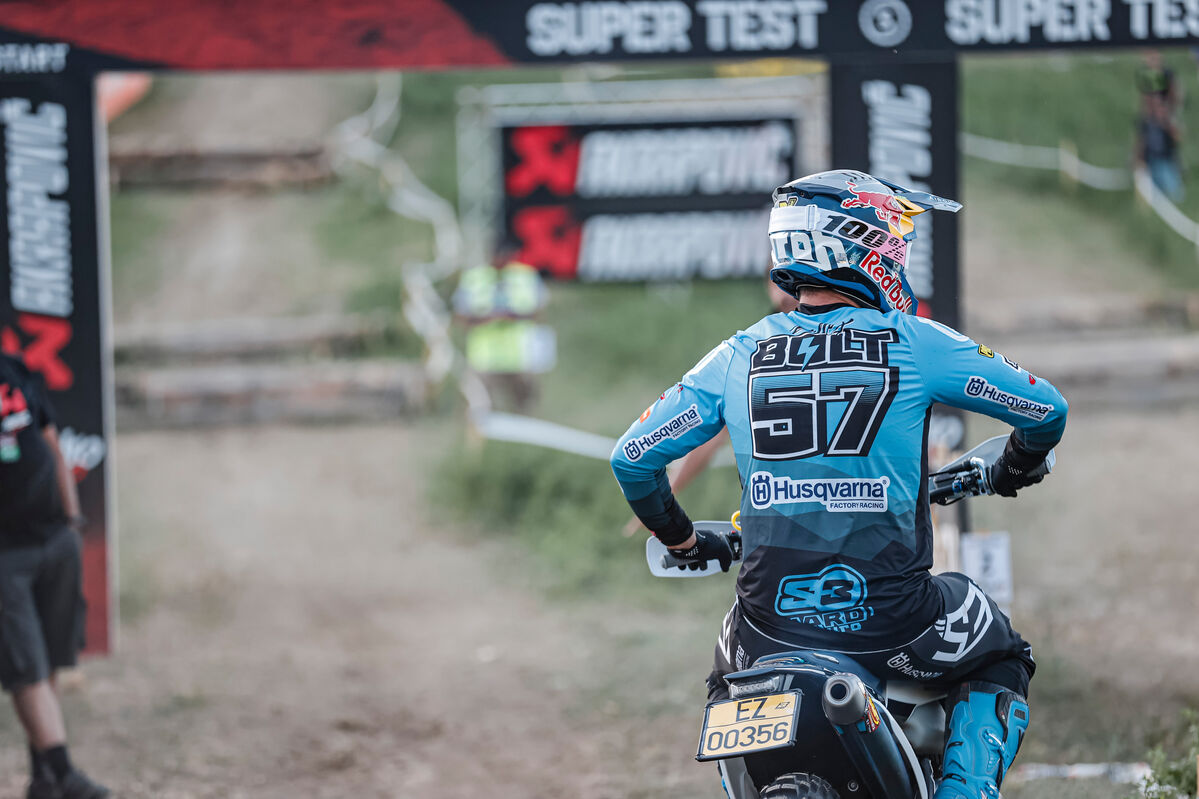 "My physical condition was far from where it needed to be and I didn't get there until the Thursday night so didn't even walk the enduro or cross tests, just the extreme test.
"After the first GP I'd done a year earlier it was hard not to have expectations but that time I'd done a lot of testing on the 450, we'd arrived on the Tuesday and did lots of walking of the tests – basically last year I had a proper go at it and stood on the podium where-as this year was literally just for fun.
"I really enjoyed it. The crowd were awesome all weekend it was really good to ride. I was getting better and on the Sunday wasn't losing so much time on the enduro test, plus I put in some good times on the extreme test, second I think scratch on the second day.
"The cross tests was super, super-fast and a lot of off-cambers and I was having to make a lot of gear changes on the two-stroke. Without the enduro test I wasn't losing a lot of time and wasn't too bad, not like last time but I got faster so I was pretty happy with it all things considered."
People don't realise how physically hard EnduroGP is…
"It turned out to be two, long, hard seven and a half hour days and pretty good training. It wouldn't do a few extreme enduro riders any harm to go and do some of them to be honest because it is such good training."
"The thing is the going between the tests is pretty hard because the bikes have to be set-up so different – tyres hard, mousses hard, suspension stiff and all that to cope with the tests. You'd look at a rocky track on an extreme bike and not really think about it but with GP bike set-up, the going is much harder, you can't really compare it.
"The bike is set up 100% for the test and zero for the going and it becomes hard to ride some of it. People don't realise. I'm not going to lie it beat me up on the first day. I was laying there on the Sunday morning thinking do I really need to do this."
"One more round and we knew that was going to be it for the Hard Enduro World Championship this year"
"It kind of made sense to wait another weekend to come to Abestone after that. I wasn't pressured into doing it at all by anyone but I was mindful of the importance of the event on home soil for the team and everyone including some of my sponsors.
"Whether I got the operation done this week or last week probably wasn't going to make any difference in the long run. Missing three races rather than four wasn't a lot different."
Wasn't there a danger the wrist could get worse racing at Abestone?
"Yes, but at the same time I've ridden with it for three months now and it is kind of where it is. There was probably more danger of injuring my ankle because it is so unstable. But we're going to take the time off and get things fixed so in the grand scheme it didn't matter. If I was worried about that I wouldn't have ridden for 400 kilometres round the hills of Carpineti…"
So what's the plan now, no Romaniacs for sure?
"Yeah, the plan is to get the operation done in Spain and take a few weeks off at home. I'm based in Andorra now so we'll take the time, spend a good few weeks resting up and take a break.
"I'm not complaining because this is my job but it feels like there's been no let-up since, well, probably half way through last year. We wrapped up the '21 Hard Enduro season and went straight to SuperEnduro testing and training. I train pretty hard for that and, as I said earlier, we were straight then into this year's outdoor season and it really does go from one week to the next and before you know it a year has gone past.
"So we'll take the time off to recharge and refresh and after a couple of weeks, as soon as I can start rehab, I'll get back to the APC and do a solid few weeks there."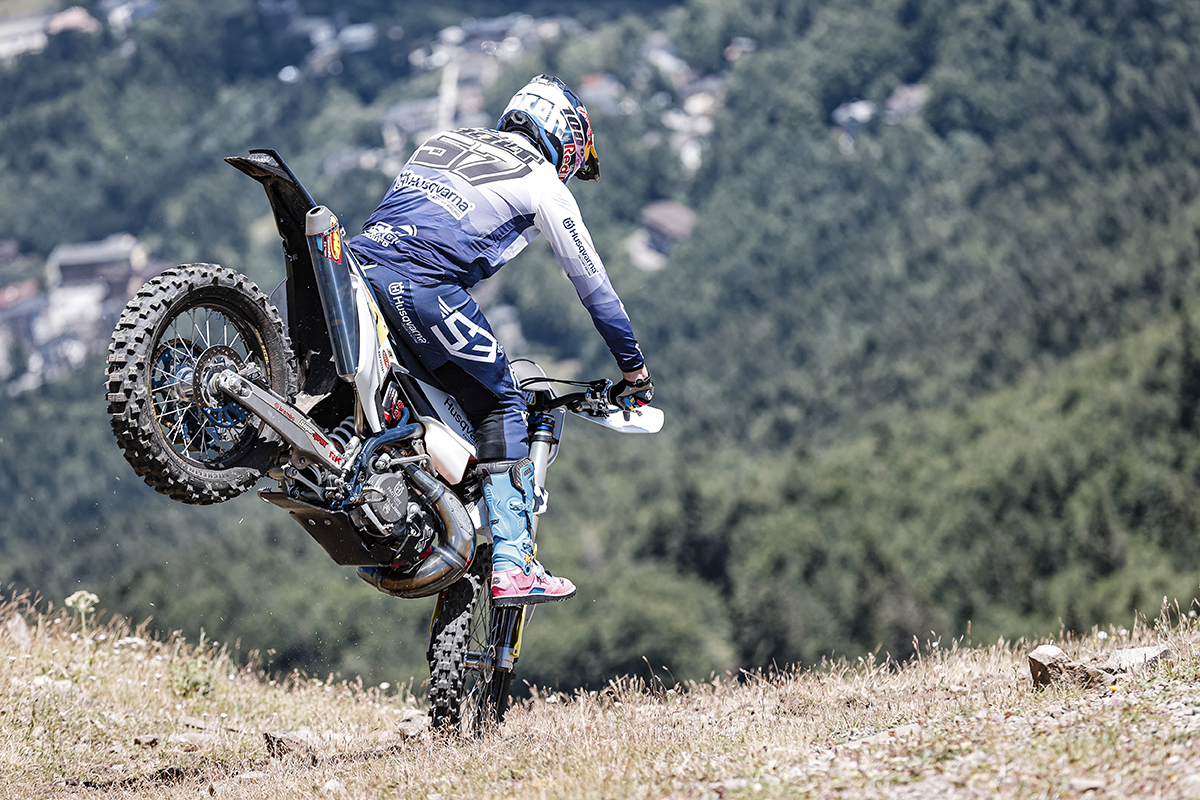 Is there a prognosis for the injury and recovery?
"There are a couple of options. They're not 100% sure what they'll do depending on what they find when they make the operation. At best it'll be two months before I'm ready to ride again, but more than likely it could be three months.
"The faint target is to be back for Hixpania [the last HEWC round in Spain on October 7-9] but it will be a case of putting no pressure on myself for that. If I'm ready for SuperEnduro that's what I'm focused on.
"The thing is if I don't do it now it's going to run into SuperEnduro season. If I wait till then it will run into next season and before I know it'll be three years down the line not riding at my best physically, riding in pain and so on.
"There's no good time to have it done and even though I'm leading the world championship, it needs to be done or I'm gonna be three years older wishing I'd had it sorted. I've been putting it off and dodging the bullet for three months now and when I think about it, I'm not really gaining anything from doing that – even though somehow I'm still the points leader.
"I can pretend to myself that I'm ok to ride but I know how much pre-season I did last year, how much training I did and when I compare that to this year I'm kidding myself.
You have to be realistic with yourself and knowing how much training and momentum you need to be at your best in this sport, whether I'm leading the championship or not, I'm pretty far from being in the same position I was last year. The intensity of these races is insane."
Photo Credit: Future7Media | Andrea Belluschi