"I wasn't ever thinking I'd get third" – Privateer Mikael Persson on stealing a Six Days podium
Mikael Persson might not have been on everyone's radar before the 2021 FIM International Six Days Enduro in Italy. But the Swedish privateer rider kicked it out the park with a third placed result putting him above and beyond many factory riders and global stars of enduro – "when I realised who I was starting with on the second day, I was like, 'shit, they're gonna run over me!'".
The ISDE always throws up surprises and in 2021, the 95th edition of the biggest event in enduro, we had plenty to talk about. One rider was standing out from the crowd more than most.
The ISDE starts early each day and from day two onwards, protocol has it that the fastest riders from the previous day start first. So each cold, early morning, it is a who's who of world enduro as all the fastest riders from around the world head from their team tents into the parc ferme to collect their bikes.
Among them this year in Italy was 26-year-old Swedish rider Mikael Persson. He was almost looking sheepish as he collected his KTM 250 EXC-F alongside Josep Garcia, Andrea Verona, Taylor Robert et al each day. But it was no fluke, he was there again each and every day.
By his own admission, you might have expected the long list of world class riders to overwhelm him as the week progressed. But they didn't or rather he didn't let it happen. Consistent top three finishes every day and then eventually winning the final moto meant he took third scratch.
It was a remarkable result on the hard-packed Italian dirt for a privateer rider used to the Swedish forests. It was all the more amazing for a rider who tried his hand at EnduroGP for a few years, had dropped out in 2017 and had, "taken a step back and started to think about what I would do for my future."
Enduro21 catches up with Mikael, interrupting his day job digging with a shovel and drilling deep holes into the ground to install heating systems into Nordic homes, to find out how the hell he rode the ISDE of his life…
Hi Mikael, how are things, did you get over ISDE ok?
Mikael Persson: "Not really! I was probably tired for two weeks after. I am still tired. We did a Swedish Championship round two weekends after and my body was still tired." Ed note – Mikael finished first in the Swedish race and took the 2022 championship with one round spare.
How about that result at the ISDE, you must look back and be proud of finishing third overall?
"Yeah, really, it is still kind of unbelievable. I've not been in that kind of shape or riding with that speed for a few years. For sure when I was riding in GPs I was riding good but not for a few years. I had really taken a step back and started to think about what I would do for my future."

Really? In that case where did that result come from?
"My year was going good and I thought, before Six Days, let's take some chances and step up a little and see what we can do. And I really stepped up a few more levels than I expected if I am honest.
"I did the Swedish round of the World Championship (in late July) and took the 250 F I would ride at Six Days there for a test really, to try and learn the bike. (Mikael normally rides a 350).
"On some of the GP tests, when I rode them well, I found I was not so far behind the fast guys so I could take that as a bit of motivation.
"I thought if I can be fresh in my body, be prepared with the bike then I can be close to the guys, not the same but close.
"I wasn't ever thinking I'd get third, probably somewhere around the top 10 is where I was hoping for. So the plan was to perform at my best but it was way better than I expected."
Yes, third wasn't so bad! How did it feel to be running not just with Garcia and Verona but ahead of riders like Taylor Robert?
"That was the unbelievable part really. When I realised who I would be starting with on day two, I was like, 'shit, they're gonna run over me!'
"I was thinking I'd taken advantage of starting early on day one (Mikael was in E1 class which traditionally starts first and his number put him among the first 10 riders on the tests, he finished fourth overall on day one). I knew the guys behind took a lot of dust on the first day and I really thought this was the best I could do."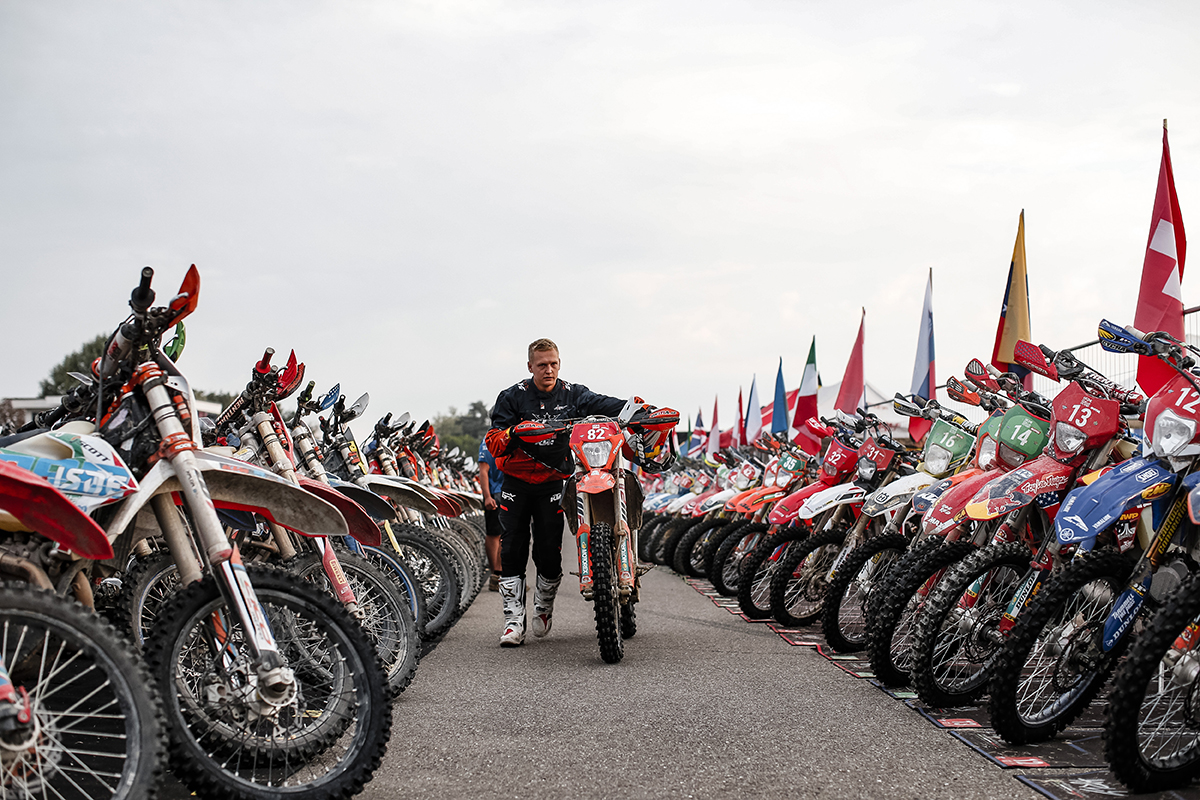 "For day two I thought to myself to try not to make mistakes and stay out of the way of the fast riders. But then a few tests into the day I realised I still had the speed.
"When I realised that fact my confidence was high and honestly it wasn't really any problem after that to stay where I was.
"Once you have such a good first and second day it made my life easy. I wasn't really thinking on day two that I would be there on day five that's for sure but once I realised my speed was good I didn't really need to try to push any more. I was able to just stay mistake-free and perform at that level without giving anything away and making mistakes."
It looks good in the results but were there any low points? Were there times in the week when it was hard mentally?
"Not really. You could say on day four, when the tests changed and became typically Italian I was less confident. There was a very long woods test, where there were a lot more off-cambers, and it's not really even close to what I am used to in Sweden.
"I hadn't done any Enduro World Championship races since 2017 so that day I really thought I would struggle, I wasn't feeling very confident.
"But I tried to do the best that I could and although I was not at the level I was on the previous days, I was still third so it was almost more impressive to me."
How about that 250 EXC-F, did everything run smoothly?
"Honestly I think I changed just a throttle tube all week. Oh, and a pair of brake pads in the rear. That's it. The thing is I managed to stay mistake-free all week, I probably fell off twice the whole week and when it is like that life is easy."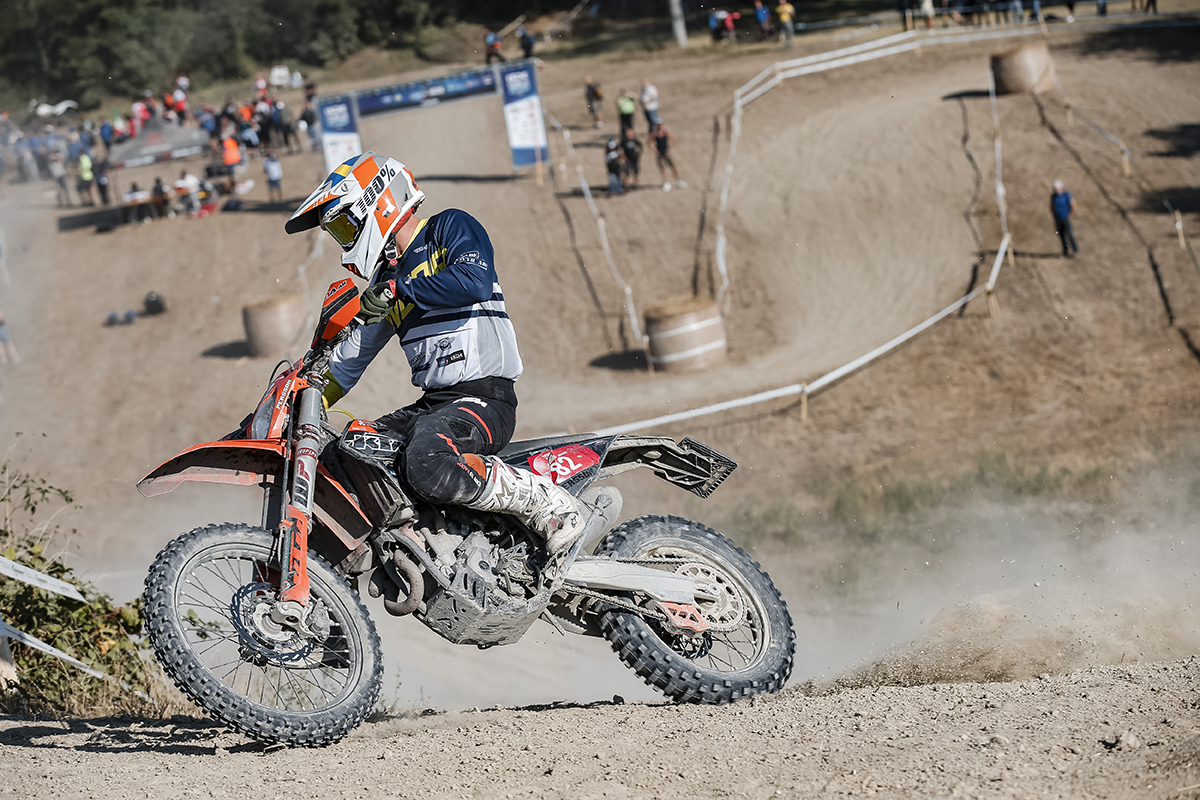 Was bike set-up important, did you change much (tyres, mousses, gearing, suspension) or did you just concentrate on the tests?
"That thing about the tests being so different to back home meant the suspension had to be quite different, yeah. Back home we have big rocks, roots and sand. When I went out on the short test track in Italy before the race I knew it was not going to be perfect.
"I didn't change anything then. I made a mental note of the feeling and called my guy who helps me with suspension during the days before the race.
"Then during the morning of day one I made some changes but just on the clickers, nothing internal, and it really worked very well.
"It was simple stuff like moving the forks up a bit to help it turn, slowing the rebound in the forks and a bit faster in the rear to get more traction and to help with more pressure on the front to help in the tight turns. This was a big difference apart from the lack of grip in the tests, it was not really having berms like we have in Sweden.
"I tried to rely on the experience of riding in the World Championship for three years. It wasn't forever and it was a couple of years ago I was riding anything like this but I tried to think about that and utilise it the best I could."
What's going on with your team set-up at the races these days, we're correct to call you a privateer right?
"Well, I am working on a digger today so I guess you could say that! I have support from KTM Scandinavia but only really to do the Swedish Championship.
"For sure if I want to do a World Championship race, they will support me with bikes and so on but I have to do it on my own, drive my own van and so on. You could say I was a privateer at Six Days really."
Do you think it is easy for a rider from northern Europe to get a contract to ride in the World Championship paddock right now? Things are very focused on Italy in general?
"It is strange right now, yes. I think if you are Italian, Spanish or French it is easier to get a ride. It seems like the manufacturers and teams don't really want to reach out into Scandinavia.
"I understand if you have a rider from up here the logistics and stuff are different and maybe the costs are higher than if you are an Italian team with a rider from your own country. But just 10 years ago the majority of riders were Scandinavians. It is strange."
The result should be a good shop window for you, have people been on the phone? What about 2022?
"Yeah, Six Days has been good for that reason and though I can't say anything right now it is looking good for 2022. I hope to be back in the World Championship."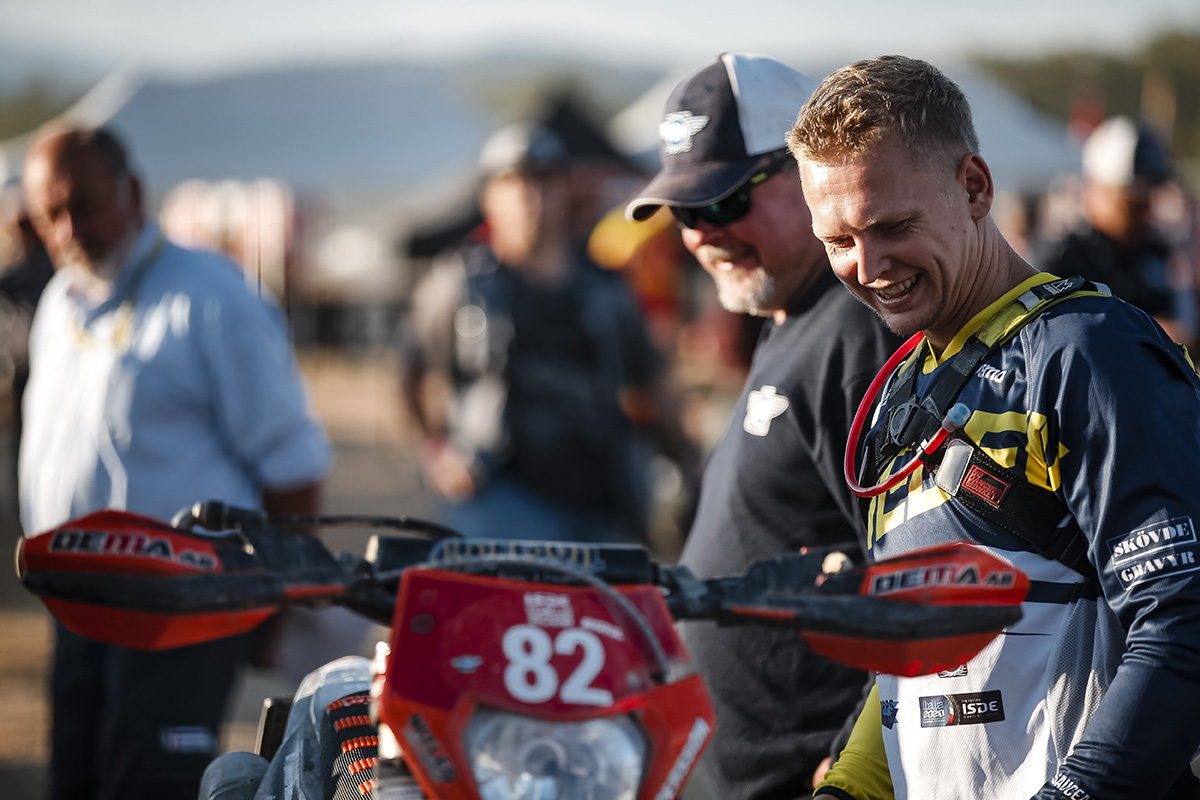 We need your support
If you've enjoyed this article, if you've found it informative, interesting, entertaining even, please support us.
We want to continue doing what we do, to the best of our ability, serving the enduro and off-road community.
Please consider a donation, every little helps…
Thank you.
Photo Credit: Future7Media | Andrea Belluschi