The 2021 KTM Adventure Rally: trail riding on a grand scale
Clocking over 1000km including some truly epic trail riding in the mountains of central Greece and with ISDE, Enduro World Champion and Baja winners setting the pace (plus some great food and a few beers) Enduro21 joins the 2021 KTM Adventure Rally and soaks in some of the big bike life.
Maybe it's because the pandemic affected so much of the last 18 months and stopped us travelling overseas to ride, or maybe it is because we knew how awesome the Greek mountains are to ride in. Either way, it was hard for Enduro21 not to accept the invitation to ride the 2021 European KTM Adventure Rally.
In its fourth edition, the event is an open invitation to basically any KTM Adventure bike owner to meet up somewhere new, fit some off-road tyres and spend a few days doing what their bikes were truly designed for. The same event takes place down under and in North America.
It's tempting, maybe, for Enduro21 readers to look at these images and think an Adventure Rally is not for them. We get that. Before this event we might have thought the same too, but this large dose of off-road is better than you expect…
A trail ride on a grand scale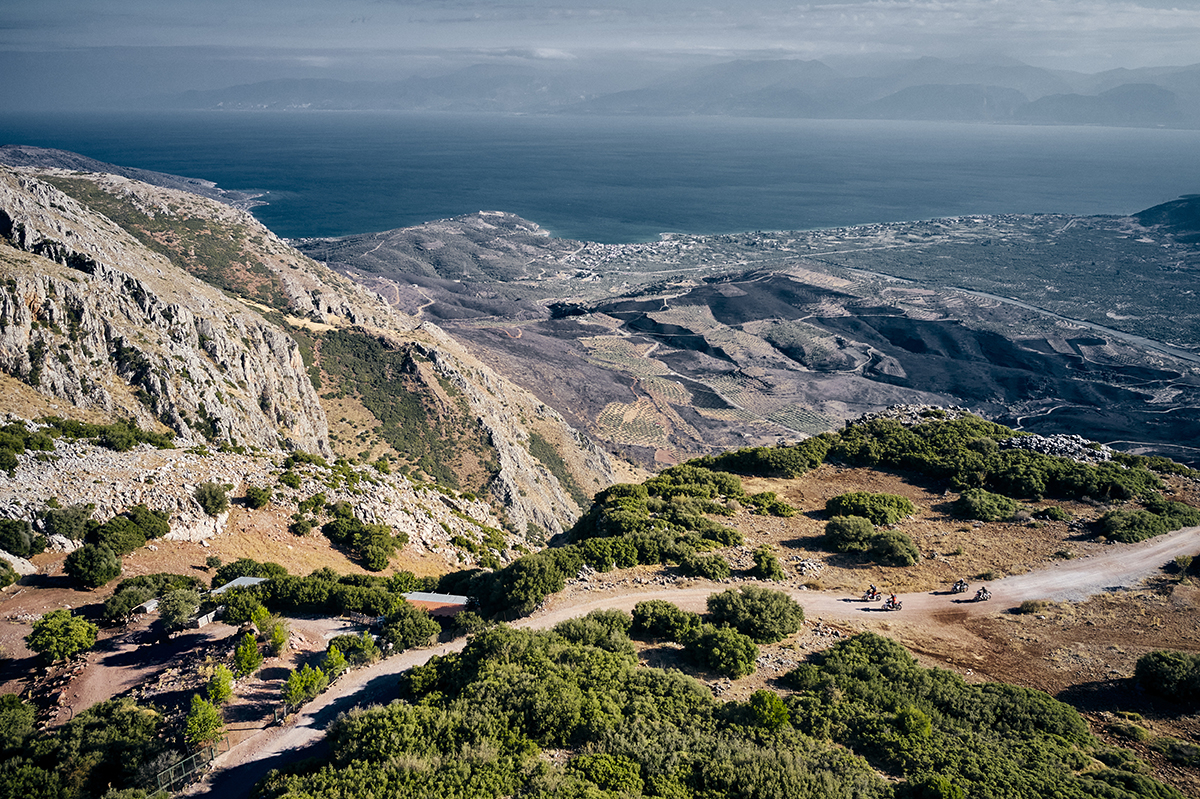 Unless you prefer your trail rides to be more like hard enduro then these big bikes do everything an EXC can do on the trail. Seriously, you wouldn't have done much differently on an enduro bike on the glorious Greek trails except arguably have been a bit less comfortable.
When Adventure riding meets trail riding like this, it is just a different horse for the same course with a better seat for the road sections, more fuel range and a heap of power for wheelies and power slides (yeah, sorry about that back tyre KTM).
This fourth edition landed back in Greece, in the area around an ancient port town of Nafpaktos on the banks of the Gulf of Corinth and picking up where the pandemic left it hanging in 2020.
Spicing up the ride
We spent a lot of time razzing along gravel roads – actual public highways in fact but most the time you would not know it. Apart from the orange bikes we bumped into, you see nothing except the odd goat farmer on these trails which twist and turn through forests, work their ways up through the tree line to peak out at altitudes as high as 2500 metres.
Apart from the views and the power sliding, each day threw in some great enduro-style trails, single track sections too and all through scenery which can suddenly not feel like Greece at all but could be the Alps.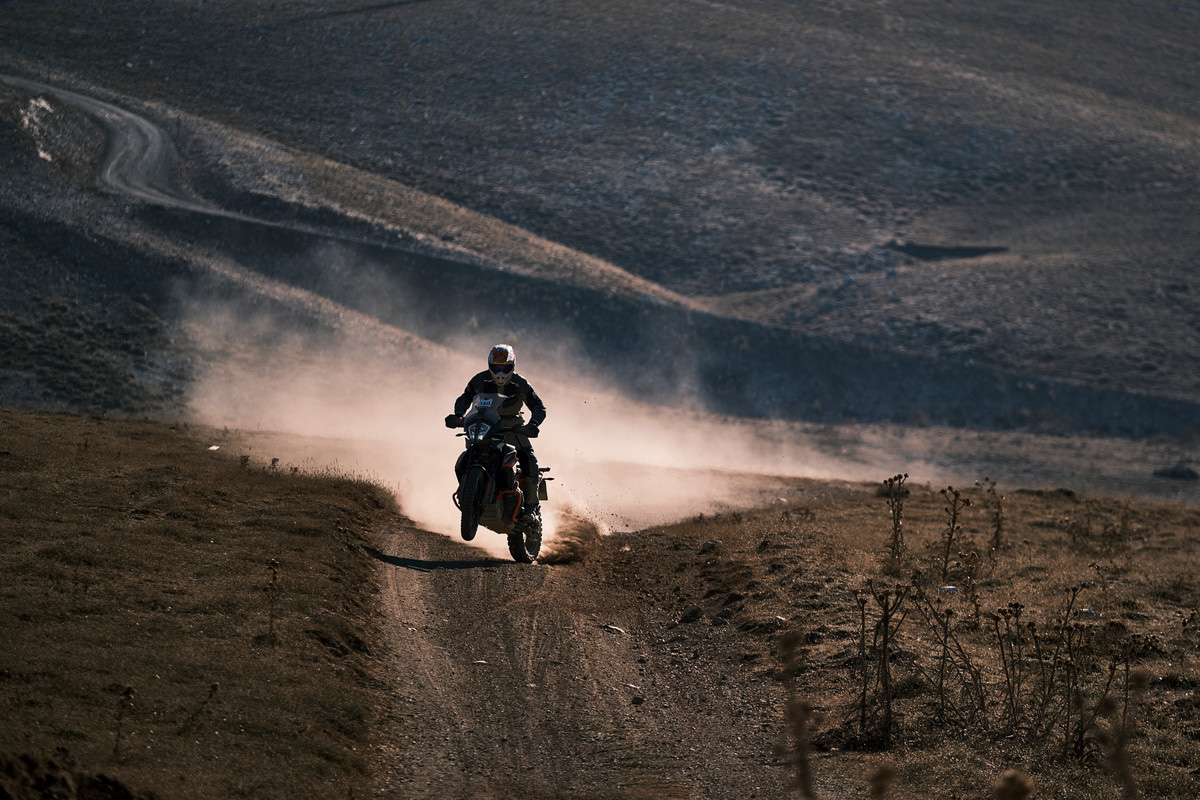 A couple of times each day we took on a tough climb or rocky section which spice things up a bit. The big bikes are more capable than you think – stand on the pegs and treat the throttle like a trials rider and they pick their ways through stuff well.
The consensus among our group was divided on these technical sections between those which you could see coming (and therefore gave you time to think too much) or the ones which sprung out the trail and needed attacking immediately. Both gave plenty of fodders for stories later at the bar.
No matter if you were on an EXC or Adv, these kinds of challenges off-road are the same and this is where the enjoyment lies.
With someone dropping off at each turn or junction in the trail, we kept flowing along all day with our boots going on around 7:45am and coming off again (after a beer at the bivouac) around 5pm. Trust us, after a good meal and a couple of beers, no-one wasn't sleeping at night.
More than your average adventure rally
There are two important points to make here: The KTM Adventure Rally is not an average ride out for poeple who want to taste off-road but actually don't want to get their fingernails dirty and it is good for the soul. Some adventure riding 'events' with different manufacturers can be similar in essence but actually a bit Adv-lite and sometimes it ain't all that much fun.
There's nothing wrong with dabbling in the dirt on adventure bikes but if you're used to a bit more you don't always get it with this kind of event. Happily, the KTM Adventure Rally dishes up a good dollop of off-road each day and it did feel like a rally.
It's well organised with logistics, spares and medics but like any good rally event it is basically one great trail ride after another with good back up.
(Footnote: Melatis and his experienced team from the Hellas Rally were heavily involved in this event and they know how to put on a good show).
The truth is the same spirit you'll find on any trail was here in abundence: people help each other, point lines out, pick each other up, talk shit and make videos of each other falling off – all the good stuff you'd expect and hope for from a day off-road. Sure, the bike takes a bit more picking up than an EXC but so what? Help was always at hand.
What's so good about it? Enduro21's take on this big bike game
Actually, apart from enjoying the ride far more than we expected (days were long, the mixed terrain meant the riding was never dull, plus the scenery we blasted through was at times gobsmacking), the good vibes were the best thing about the 2021 KTM Adventure Rally.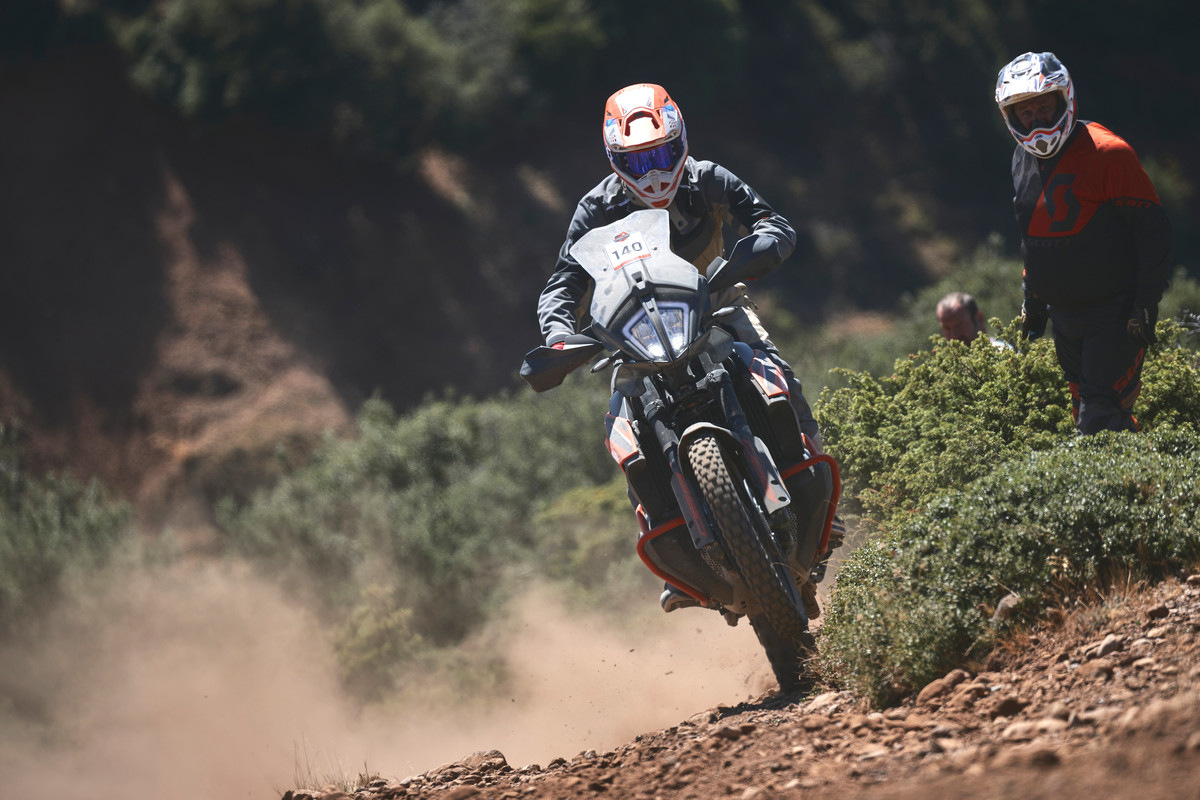 It was refreshing to see how many riders were treating their bikes properly, as in, like a real off-road bike. These kinds of events can attract the precious riders, people who are afraid to get their bikes dirty or scratch a side panel but there was a refreshing lack of pampering going on.
Some prefer to do their adventuring on their own and you could do this event on your own if you wanted, self-navigating but safe in the knowledge you'd have factory KTM back up if something went wrong). Going solo or in a group, that thing of finding like-minded, good-spirited humans when you travel and fool about on dirt bikes was here.
The vibes on the trail in our group, plus back at the paddock and in the town each night were great. Maybe we're too used to the race paddocks at Enduro21 but without the stresses of competition these environments are actually pretty cool place to ride and hang out. Who knew?!
It's also your chance to ride with the people behind the KTM bikes. People like Baja winner and these days Adventure bike R&D guy Quinn Cody and four-times Enduro World Champion Gio Sala. The factory mechanics are there too, some in the paddock and some on the bikes out on the trails and there was a definite one-in, all-in kinda vibe.
A guy who had had a bit of a health scare and decided to just do it before he couldn't anymore, a guy with a bunch of actual rallies under his belt, another fella who had given up riding years ago but then decided balls to it, bought a 690 Enduro just for this event and was back on the pegs like he'd never left them…these are the kinds of people we were riding with and it was a rich mixture.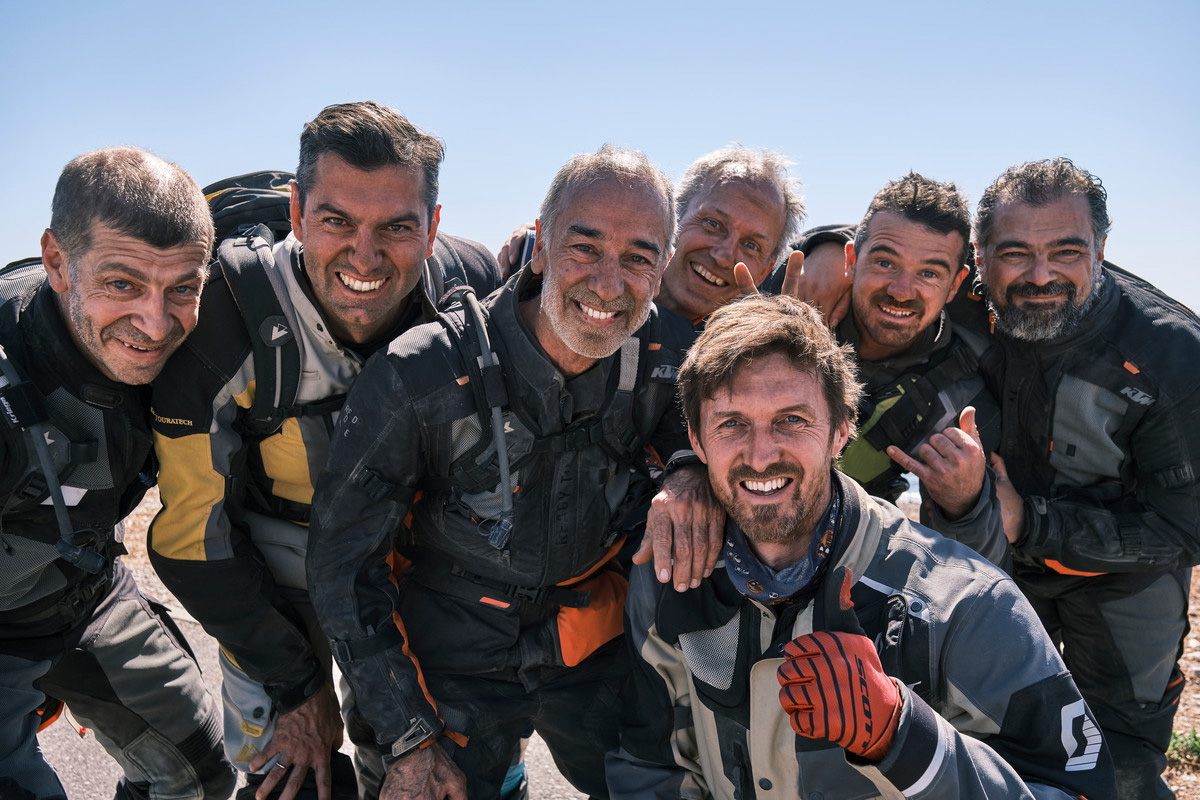 It's a test of the bikes and a test of the riding kit
If you're thinking this is a holiday or off-road cruise, it depends what you call a holiday but it didn't feel like s cruise. We had Jochi Sauer as our guide, a guy who's been in charge of KTM's off-road and Adventure range forever and who is no slouch on a bike having a decent career in enduro before they scooped him under their wing.
It's what KTM do as a rule, bring the sporting element in from all angles and their Adventure bikes have been that way from the outset – bikes which are a bit more capable off-road than the others. This event was no different. It was like other Adventure rallies, just with more off-road 'sport' added.
What kit to wear for this Adventure Rally?
It's a good question and to a degree, we got it wrong. Greek summer weather is obviously hot but this being a mountain region and on trails stretching above 2000 metres it can easily be cold, rainy or even snow so having good riding kit mattered.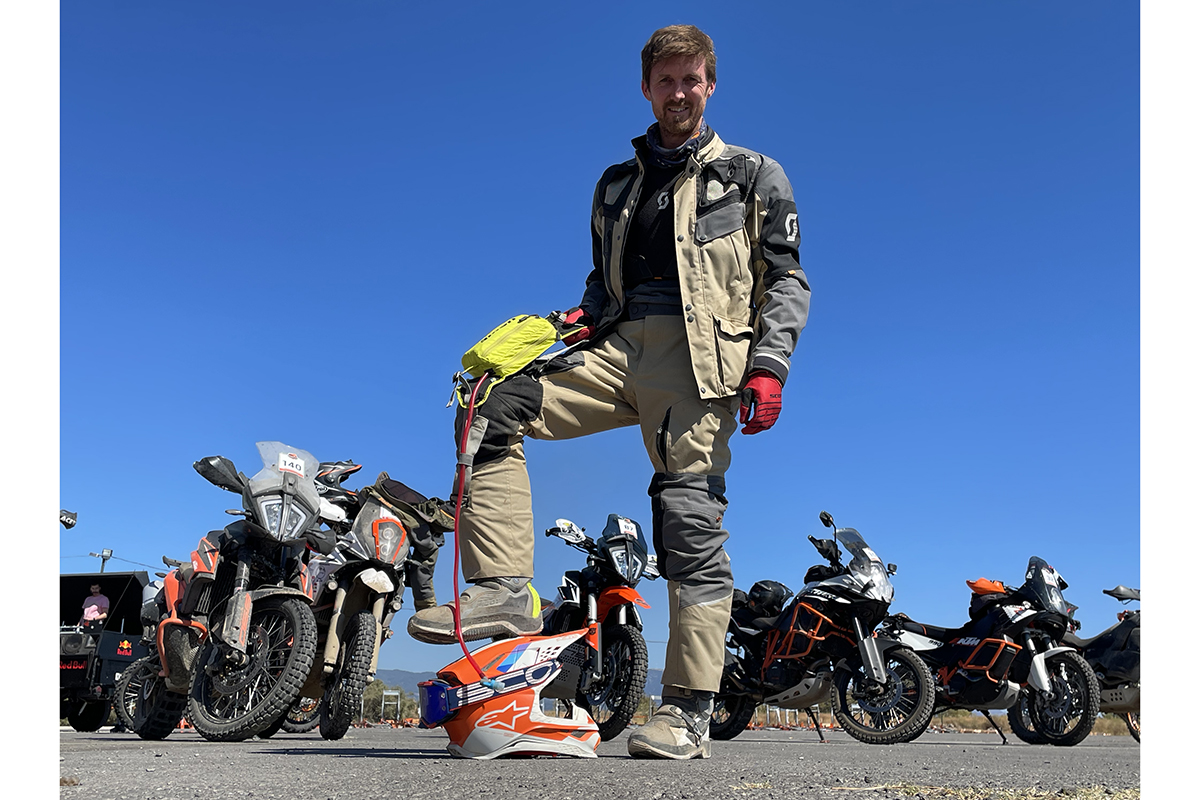 Alpinestars Supertech off-road helmet:
A good quality helmet with impact protection (MIPS in this case) was essential with five hours of road trip to get too and from the three days off-road.
This Alpinestars Supertech M5 is designed for off-road but fits that dual-sport criteria. It functions well off-road with good venting in the hot weather but it's one of the best we've used at speed on the road.
You naturally suffer a little with additional wind noise, but the normal, neck-wrenching tactics of a long peak are ironed out to a decent amount and this proved to be a versatile helmet.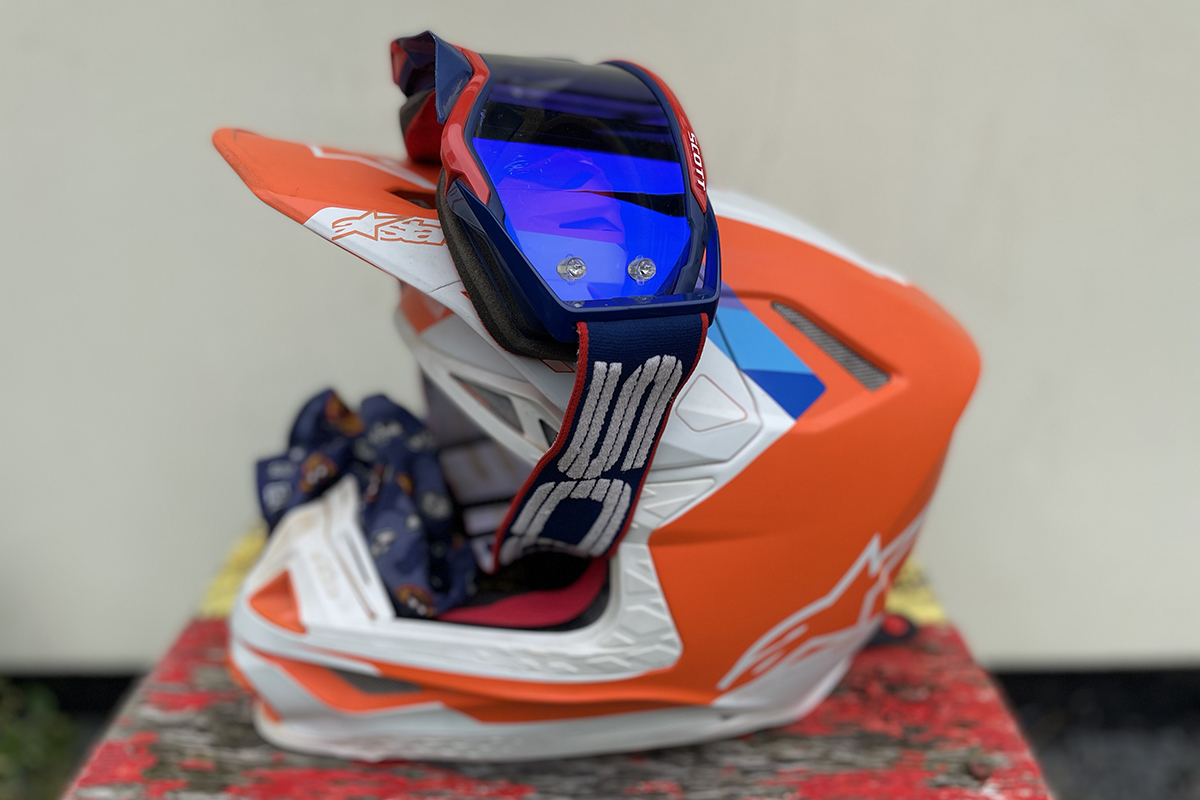 Opting for proper off-road goggles was a great idea in the dirt, dust and heat on this trip. It really made no sense to have a visor or adventure type helmet and anyone who did was suffering with dust inside the visor as well as out and had trouble seeing.
The Prospects deliver good, clear vision and comfort all day and with the small screen on the bike, road riding was no problem in terms of wind blast either.
The Scott Voyager Dryo riding jacket and pants:
This Voyager model from Scott ticks all the normal adventure riding boxes: CE armour protection, practicality with plenty of pockets, waterproof layers (and quilted layers but we left them at home), roomy for active riding, over the boot pants fits and durable construction.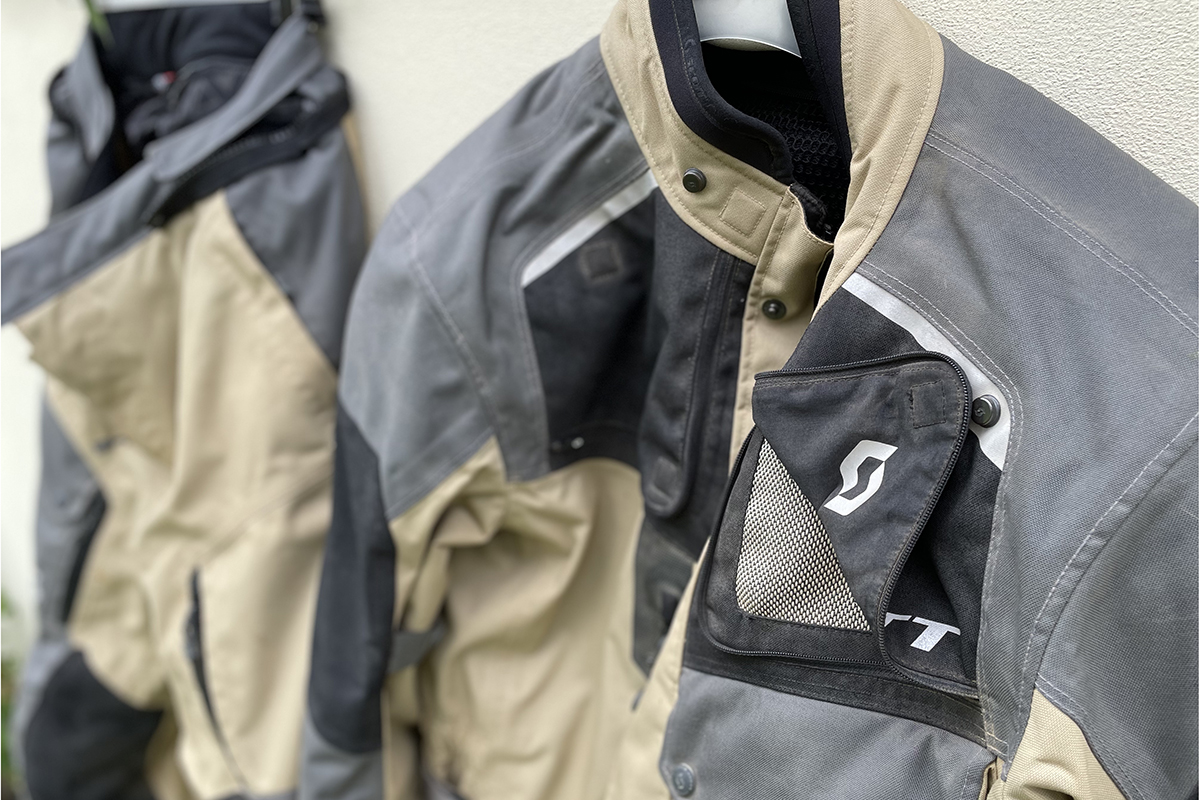 The trouble is this trip was too off-road and too hot (despite some venting options) and once there, the event proved to be a different spec to the riding gear. That's not to knock it, we just chose the wrong gear.
The Voyager is better suited to riding long distances on the road, with some off-road capability, and in hindsight the more off-road functional 'Dualraid' riding kit from Scott (with features like large, backside pocket on the jacket and quick access sleeve pocket for documents, plus the drinks pouch accommodation) would have been a better choice.
Scott 450 Angled enduro gloves: I opted for feel on the grips over protection for this trip (although I used more protective gloves for the long road ride from Athens to Nafpaktos). These are the '450 Angled' gloves which I've used in enduro. They are thin, fit well and give good feel of the hand controls.
Light, airy, crucial if you crash, this was the most understated item of kit for this trip because it would have (if needed) protected my torso.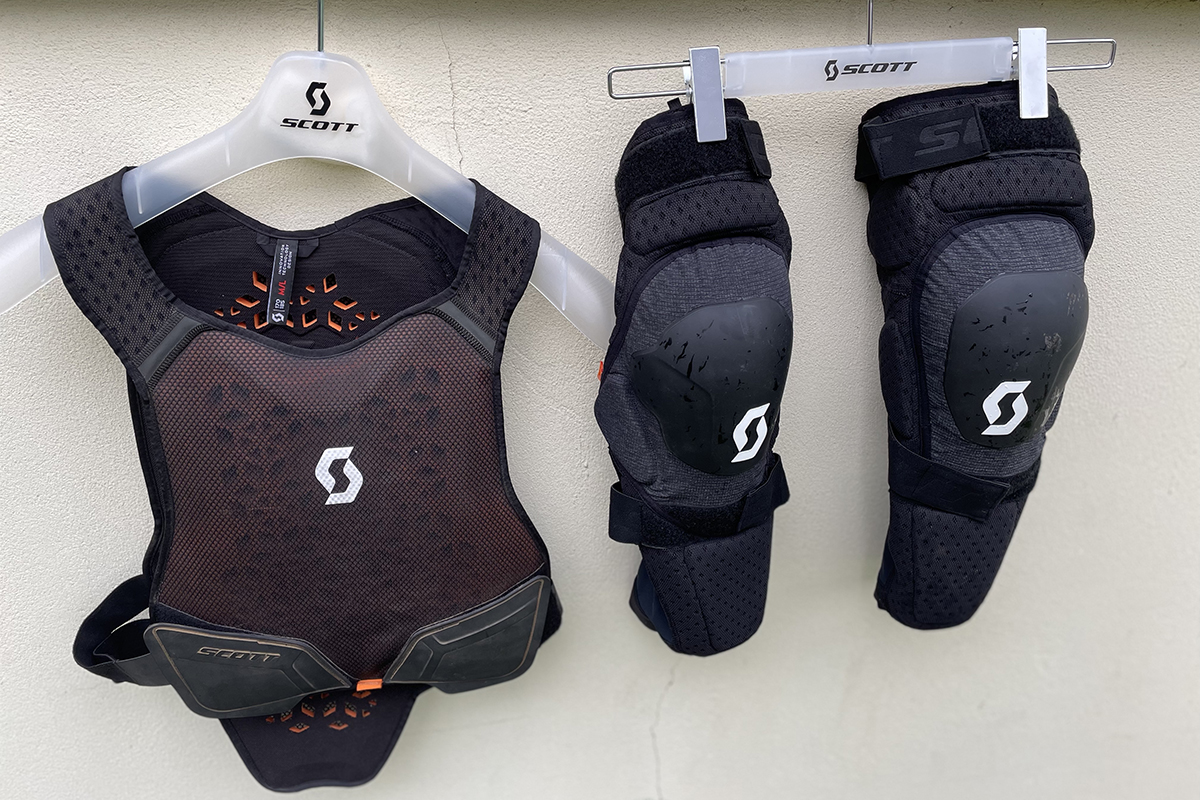 The Softcon knee guards were a surprise success too. The design brings padding not just to the front of the knee but around the sides a little too so you are protected against knocks to the tank and bike as you ride. The pads stretch when riding but thanks to stretch straps at the top and bottom stay in place all day long.
These new Pilot boots from Forma sit just below the more MX-oriented Predator boots in the range and as such have a little more comfort but still with good protection from the ankle armour system and a strong, anti-crush sole and shin armour.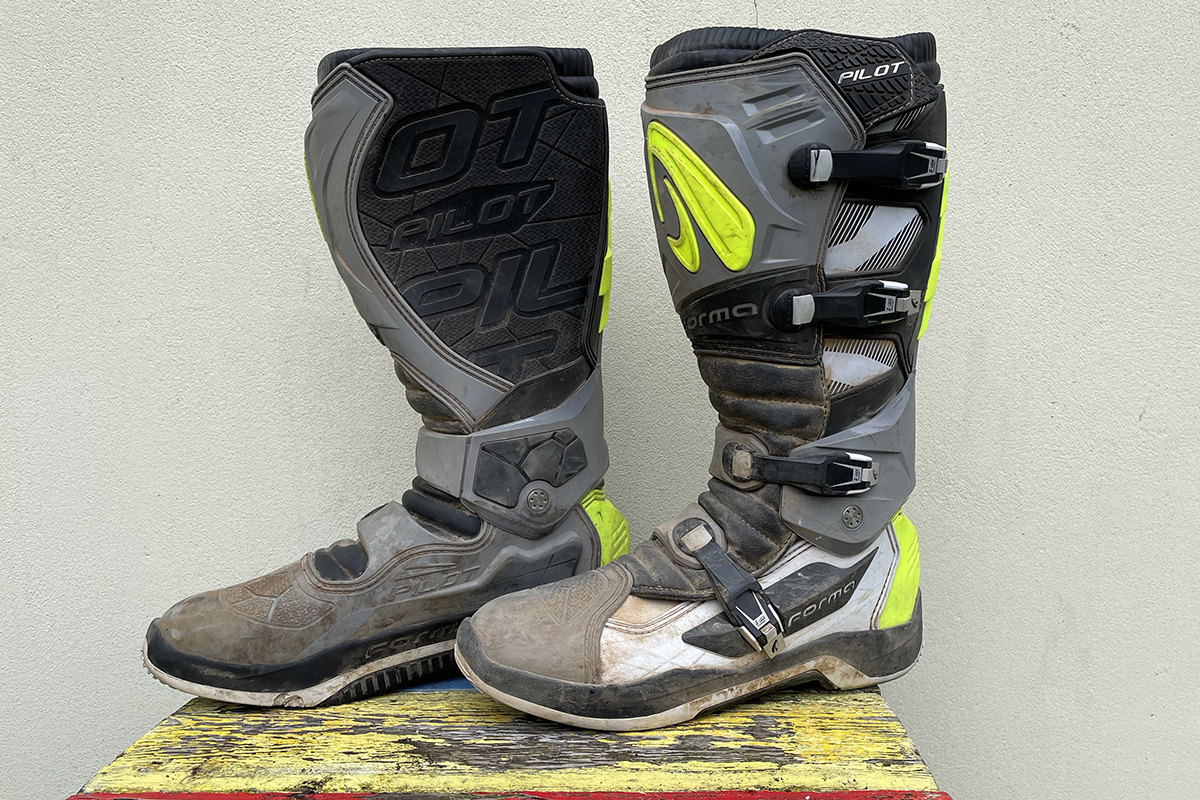 The moulded soles put up with many hours of stand-up riding during this trip. I haven't got the widest feet but still found they got a bit uncomfortable at the widest point inside each day, although this could have been through lack of venting – it was a bit hot in there.
Which size and type of hydration pack to take took the longest time to decide ahead of this trip and, again in hindsight, we made the wrong choice. The riding days were long, we didn't stop as often as expected and ultimately the water line had nowhere to go in or through the Scott riding jacket.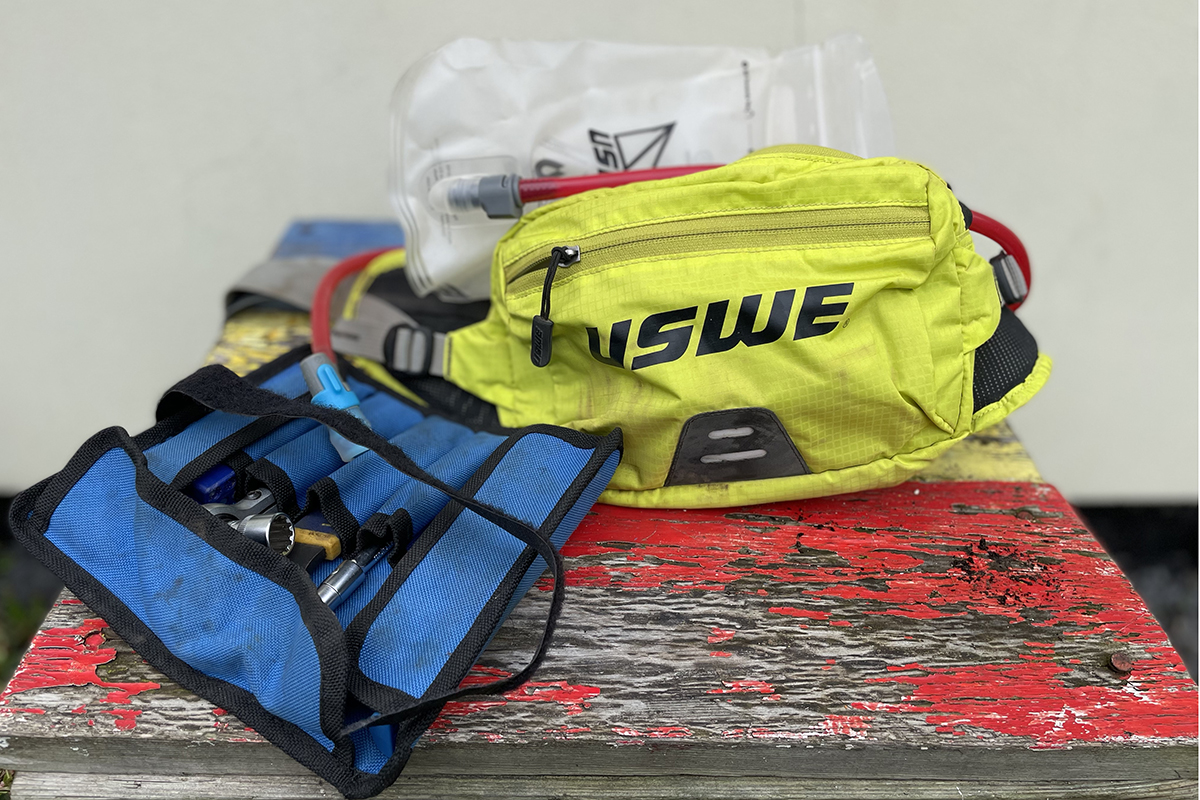 None of this is USWE's fault, it was bad decision making back home. The bumbag design of this USWE pack is a cool one: it's small but has enough room for a few tools (I used a Moto Hansa tool roll) and has the one litre drinks pouch integrated. The positives were how practical it was to carry tools and in it was good not to have additional weight on the body.
One litre wasn't enough this time out so next time it'll be one of USWE's hydration backpacks (they have plenty to choose from!).
Photo Credit: Enduro21 + Marco Campelli + Francesc Montero