"It's fuelling anti-FIM/World Championship sentiment" – TKO's Eric Peronard
The decision to drop the Tennessee Knockout from the Hard Enduro World Championship is "fuelling the anti-FIM/World Championship sentiment" says Eric Peronard – Enduro21 catches up with the hugely experienced off-road event organiser to find out what's going on with TKO and the HEWC.
After announcing an ambitious 10 round Hard Enduro World Championship schedule for 2023, WESS Promotion GmbH made a later decision to cut three rounds and make it seven in total, citing travel budget restrictions.
Having done what most people would consider a great job of welcoming the HEWC to their race for two years, the Tennessee Knockout (TKO) organisers were expecting to make the cut but instead found they were out, dropped off the '23 schedule via the same press release the rest of us read.
It was a decision without warning which left them "fighting fires" says TKO kingpin Eric Peronard.
The biggest question thrown up for many was why go to a remote part of Canada for Outliers in '23 when is TKO one of North America's biggest enduro events and the grand championship final for the US Hard Enduro series?
Peronard tells Enduro21 there's definitely no lack of respect between the two North American events, but more it was a lack of communication from the HEWC series promoters which caused the heat; "we were in full damage control for days after the announcement", says Eric as we try to get a better understanding of the situation which he says has fuelled the anti-FIM World Championship sentiment brewing in the USA right now.
We guess the first thing to ask is the TKO going ahead in '23 and do you have a date yet?
Eric Peronard: "Yes, absolutely it's on. TKO is 12 years old and was only with FIM HEWC the last two years. We were waiting to hear from HEWC to finalise the date when we heard we could be dropped out of the championship in '23.
"TKO will be the second or third weekend of August as always but we're currently trying to organise with the teams about what date is best suited for them."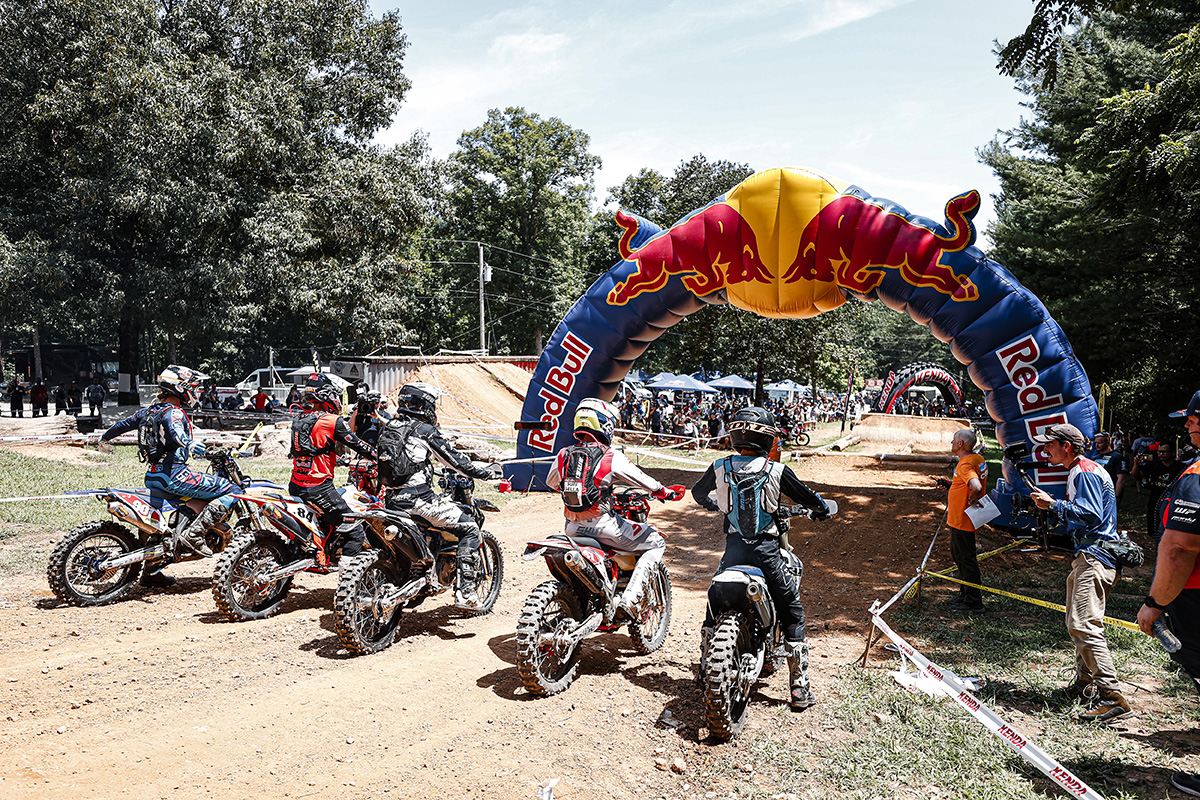 The news seemed to break quite quickly that you'd been dropped from the world championship, was it a surprise to you?
"Surprise would be an understatement! I got a call on Wednesday before Thanksgiving telling me we could be dropped from the championship in '23 due to travel budget restrictions ......and four days later they dropped a press release where we were not listed in the championship.
"Honestly, a decision like that with couple weeks warning to proactively address all issues would have been NO drama at all and would have kept everyone happy."
We're guessing it didn't all unfold as smoothly as maybe you'd like?
"Absolutely not, this is very disappointing since we thought we had a great relationship with HEWC but having a unilateral decision taken that quickly (as far as we know) put us in a spin.
"My partners and I were in full damage control for days after the announcement. Totally uncalled for since we are very easy people to talk to. We respect their decision, but the communication was very weak."
Do you think it was wise to drop TKO and go with the event in Canada – no offence to the Outliers organisers but surely TKO is a more prestigious event?
"Once again, we respect their decision and the Outliers promoter is a great guy and a friend, but it does not make much sense for teams, riders, partners or us.
"If travel cost is an issue, why go in a very remote area of Canada with very small spectator and rider counts potential. TKO is two hours away from Atlanta which is the biggest airport in the world and cheap to fly to.
"We have hundreds of participants, thousands of spectators and 100 million people within a 1000km radius.....Obviously I am missing something!"
What impact did it have in your plans for the '23 TKO?
"Short of the disappointment, the impact should be minimal. Red Bull, who have been backing us for years and invested in a super cool prologue in Nashville in 2022, are revved up to do bigger and better things with us in 2023. We were 10 years without HEWC and only two years with, so we are back in 2023."
A lot of people (actually a majority) are telling us to f...orget them. I am being polite here…
Rolling back a year or two, how is it hosting the World Championship? Is life easier or harder when you're sucked into the FIM and WESS organisation?
"Honestly, it was awesome, we loved working with those guys! Of course there were some FIM protocols and rules that were not always making sense but overall we enjoyed working with HEWC team members and the Red Bull TV crew."
The TKO is huge, but does being part of the HEWC add a lot of extra organisation and financial implications to an event?
"Cost wise it was high and we definitely had to bite the bullet but we loved what we were doing together for the sport. We all had a big sense of pride making this event happen with an international team and to have a global TV audience."
'22 looked like the same awesome main event with a major addition of the "prologue" in downtown Nashville. From our side it was certainly the case if you were not there, you had no idea what was going on. Why was that event so shut off to the rest of the world?
"Funny and sad you bring that up but that was a first strange situation that happened with HEWC. For some reason they decided NOT to include the prologue in the '22 TKO only a few weeks before the event.
"At first it made Red Bull USA and us super bummed but we decided to go ahead and it ended up being very successful. Sadly, their decision cost the world fans access to the race."
How does it leave you in terms of being part of the world championship in the future? Would you even want to do it again?
"That's a loaded question and you never want to say never but what's happened to TKO is fuelling the anti-FIM/World Championship sentiment in America. A lot of people (actually a majority) are telling us to f...orget them. I am being polite here…
My partners and myself will always take the high road but a big decision like this one has big consequences........yet our door will always be open for discussion."
Lastly, what can we expect from TKO 2023? More of the same, back to the basics and best or something new?
"TKO is first and foremost the most successful Hard Enduro race in North America for over a decade (with all the best partners we could wish for). We will bring back the Electric bike class that was very successful in 22 and maybe a couple more added twists.
"We hope to see a majority of the top foreign riders join us as we have seen in the past and our team will keep giving 100% to ensure the satisfaction of our thousands of live spectators and worldwide followers."
Photo Credit: Future7Media | Andrea Belluschi