Back next year? "Definitely" – Dakar winner and Roof of Africa organiser, Charan Moore
Winner of "the toughest class" at the Dakar Rally, South African Charan Moore took on the Original by Motul category and won, now it's back to his day job organising the Roof of Africa Hard Enduro.
Taking on the toughest category at the Dakar Rally, the do-it-yourself Original by Motul class, is hard enough but at one of the hardest Dakars in years, the 2023 .
But for all the hard work including days when it absolutely slaughtered down with rain, almost 1000 kilometre days, having to fix and prepare their own bikes and sleep in a tent, Moore was always smiling when Enduro21 popped over to check for updates.
It's a fact that reflects on the Originals class which has the best atmosphere in the paddock in our view. Comradery is high as everyone is in the same boat, knows they are living out their toughest of dreams but with a determined common goal to reach the end and claim a coveted finisher's medal.
After a rollercoaster two weeks which contained everything that makes the Dakar both magical and immensely tough, 31-year-old Charan took the Originals class win by over 20 minutes from his nearest rival.
Add to that 28th overall in motorcycles and 12th in the Rally 2 Class…
"This year's Dakar has been a real rollercoaster, physically and emotionally." Explains Charan. "I wanted to build on my fourth place in Original by Motul and 34th place overall from last year, and I have done it! It's an honour to have won a trophy of this calibre, and I'm proud to say that I've left nothing in the tank."
When Enduro21 caught up with Charan at the final podium, as Originals riders were all busy packing up their kit for one last time (still no team help for these guys even at that stage). Moore told us the most stressful thing had been those last few days. "The gearbox issue was one thing but the engine I replaced then had a radiator problem and I was back riding with issues, costing me time and stressing me out about reaching that finish line."
Every Dakar rider has their own stories like this naturally, but it has to be pointed out again, these guys and one girl (Kirsten Landeman), had to make all the mechanical work themselves. Enduro21 found Charan mid-engine change (an engine he'd pulled some favours to find in the paddock) one night as the sun was setting over the bivouac – there's no factory mechanic doing this work as he replaced the whole unit due to a major gearbox problem.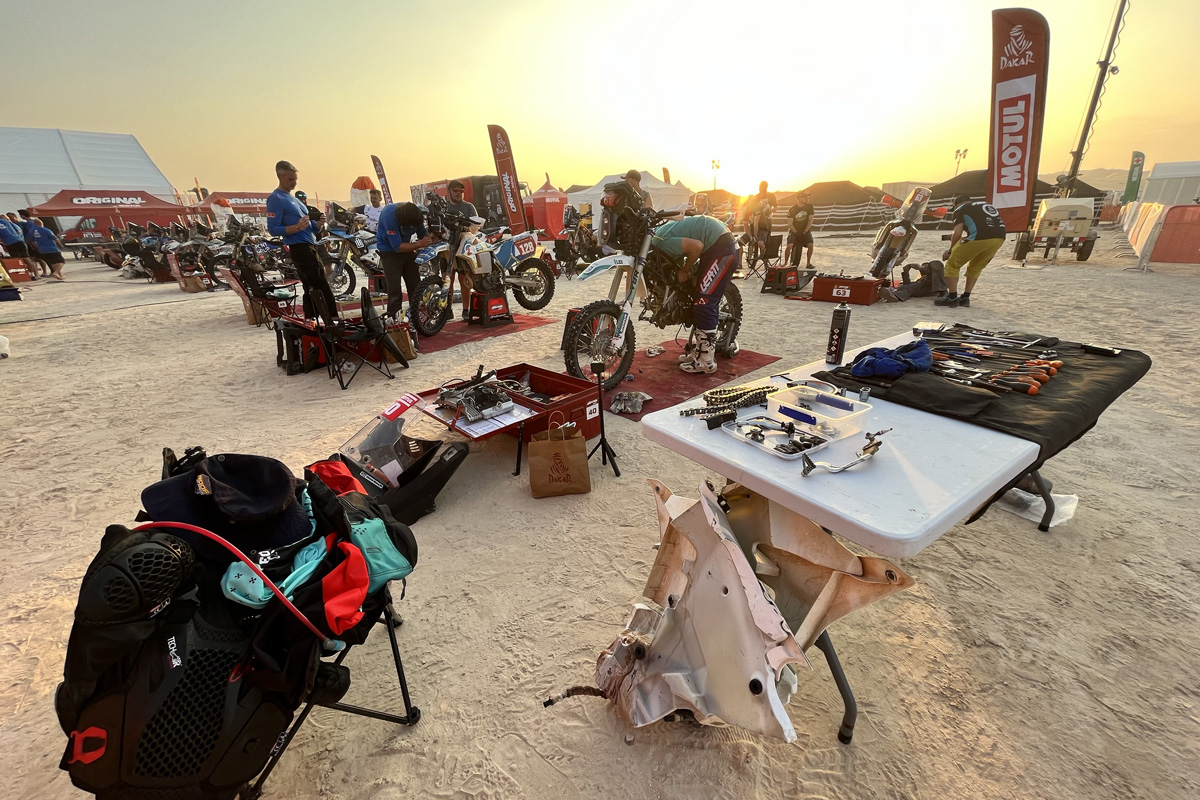 That faulty gearbox cost Charan five hours of mechanical work plus a 15-minute time penalty. That and radiator issues for the following stage 11 saw nearest rival Javi Vega reclaim the lead and that set up a climax.
But the penultimate stage was Vega's turn to suffer and over the final two days, which included more horrendous mud conditions, Moore went on to claim the hardest fought award at this incredible race.
That's it, you'd think but (after a rest) he'll be back to the job of planning the 2023 "Mother of Hard Enduro" – the Roof of Africa which this year will be part of the Hard Enduro World Championship.
Check out Charan Moore on Facebook and Instagram for his personal take on the 2023 Dakar.
Photo Credit: Motul + Enduro21