Five minutes with… Josep Garcia: "KTM bikes, as everybody knows, are rockets and this 250 is one"
Enduro21 catches up with Josep Garcia at the KTM Spain team presentation for the 2023 Spanish Enduro Championship to know a bit more about his comeback to E1 and how he's adapting to the baby four-banger 250 EXC-F – a completely new 2024 model in fact.
Would I be faster on a two-stroke or a four-stroke? Some time or another everyone has asked the question of themselves and most of the time we stick by the "better the devil you know" principal.
Josep Garcia was in that position during the EnduroGP off-season and had to make the luxurious, or perhaps unenviable choice between any bike in the KTM range, any bike except the one he's raced for the last two seasons.
As Enduro21 found out when we caught five with KTM's main man in EnduroGPs at the KTM Spain test ahead of their national enduro championship start, the lure of a brand-new model (2024) KTM 250 EXC-F and familiar E1 class (he won the 2017 E1 world title) was a decision and bike he is "super happy" with.
Hi Josep, your return to the 250 four-stroke took us by surprise… Is it something you already had in mind with KTM?
Josep García: "Last year it was not in my plans to change classes, but since Andrea Verona is within the KTM group [which includes KTM, GASGAS and Husqvarna] and he wanted to move up a category, they asked me if I wanted to return to E1 to try the 250 and, if I liked it, race it next season.
"We did a test, I liked it and I decided to race with this bike. From here on out, it's all been deciding where we were going with the bike. With the 2024 model I have tried to separate all the chassis and engine references that I had before, because it is a completely new motorcycle."
250 or 350, it looks like familiar full gas Josep to us...
"The truth is that I liked it a lot and it has a lot of potential. I have felt very good from the beginning and that has given me an extra of motivation, since I had been riding the 350 for three years. Changes like this, sometimes, come in handy to have that extra motivation to train harder. The truth is that I am super happy with the work we have done so far with KTM.
"I am giving it my all and training to the maximum. I've been riding the same places I was riding the 350 and I'm just as fast. In some places, I don't know if it was because my fitness or technique have improved, I think I'm even a bit faster. Or it can also be for motivation. In the end it will be see it in the races, so I am really looking forward to them."
Going back to E1 must bring back good memories. Of course, you do it with a completely new bike…
"I'll be back on the bike with which I won the world championship in 2017, it was called E2, but in reality it was the small bike class. In the end, I think the bike is not what mathers the most in enduro. In recent years it we have seen that small bikes have also won in the EnduroGP World Championship.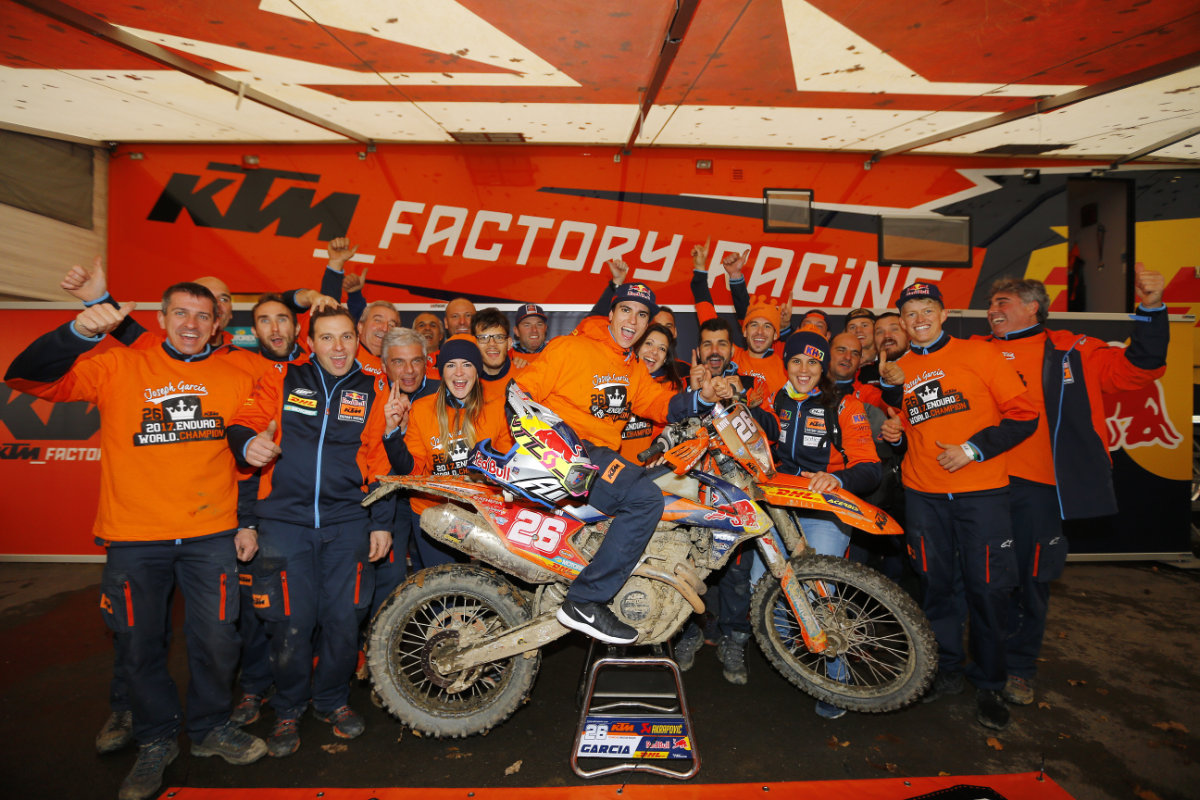 "The bike is completely new. I had never experienced such a big change with KTM. I have been with them since 2017. In 2019 we switched to the new bike, but there were only a few chassis and plastic changes that were not very significant. This is the biggest change I have experienced.
"The truth is that I am excited, because it is something new for me. I had never found myself in the situation of having to evolve a motorcycle and it is something that I am enjoying. The first few times you ride it's a bit weird, because it's like you've gotten on a completely different bike. The new bike has nothing to do with the old one."
Will you miss that bottom power of the 350?
"There are changes, because the 350, just because of that larger displacement, it must have something more than the 250. But it is the same thing that people told me when I switched to the 350, they said that I could not continue with my riding style going to the limit and blah, blah, blah…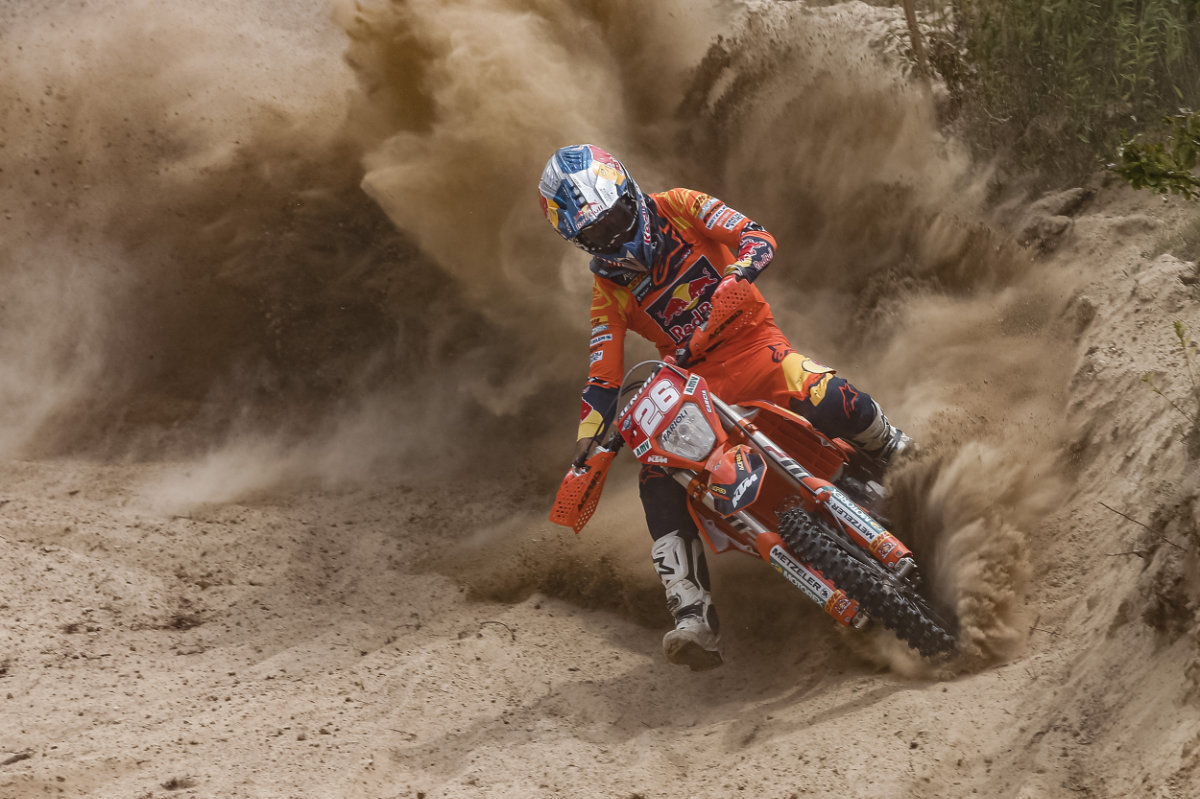 "I think that with the 350 I was going to the limit in the same way that I did with the 250. I already said it when I changed to the 350, that it is a change, but it's not so black and white different. The 350 just has a little more power.
" Now it's the same, it's a change to go back to the 250 again, but I'm not coming from a 500 four-stroke or a 300 two-stroke. In the end, the only thing that can change about the bike is a few things, the piston is smaller and little else".
Remember Nambotin
Have you changed anything in your riding to make the 250 work?
"KTM, as everybody knows, bikes are rockets, and this 250 is one. I don't notice much of a difference compared to the 350 I had last year.
"From the first moment I tried it, in certain places, although it may seem strange, I would say that I ride more calm, because the biggest change that the engine has is power at low RPM. How does that translate? The 350 has a lot of bottom power you had to control the throttle a lot. It is a motorcycle that when there is little traction it's difficult to ride."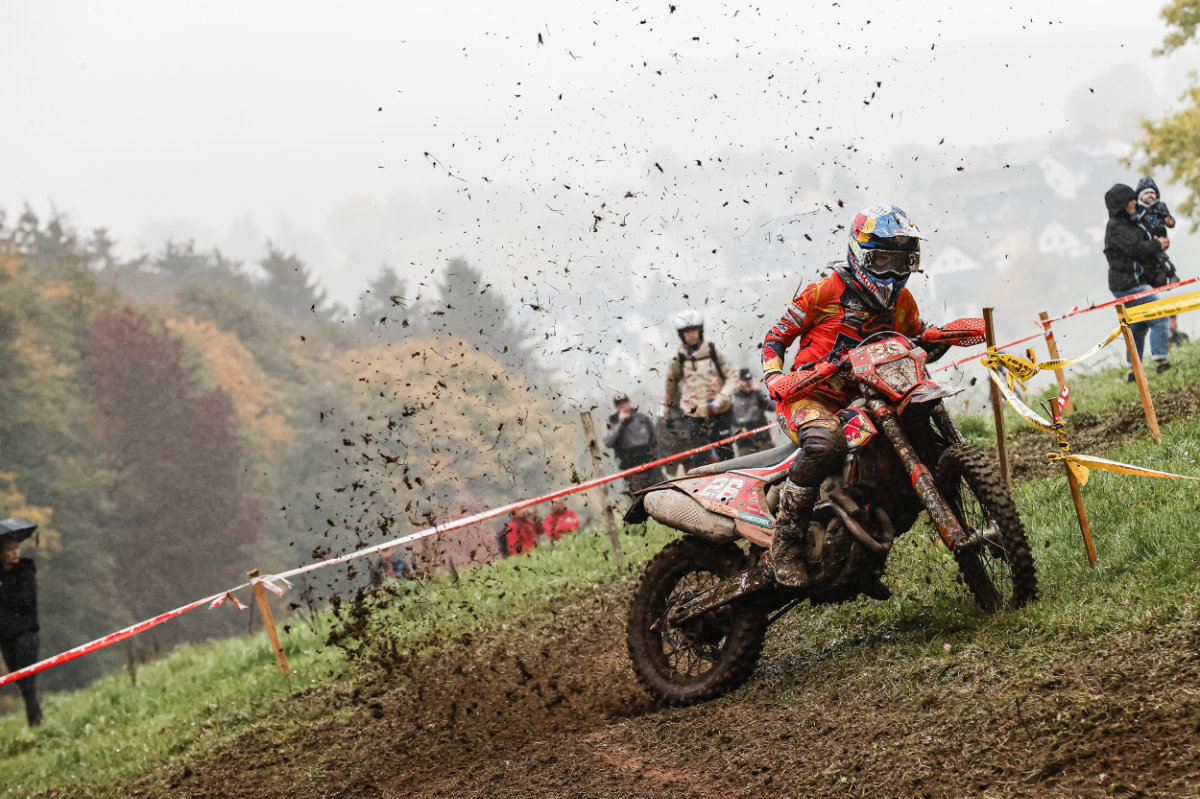 "On the other hand, with this one, because it's more docile, the transition coming out of a corner and opening the throttle is easier. I think that, in the end, everyone has their own riding style and it is clear that, with mine, there are bikes that it is better that I never ride in my life.
"It's something that would happen to me with a 500 four-stroke, I don't have the style to ride that bike. Although I believe that style is carried within and is applied to all bikes, if a guy is smooth, he will be smooth with any motorcycle.
"Just remember Nambotin, he was riding the 300 two-stroke without making any noise, and when he got on the 250 four-stroke, everyone said he wasn't going to do anything and he won the Enduro 1 world championship riding with his style. People will tell you that you have to take rev up the 250, but Nambo made it work on low rpms".
"By that, I mean that everyone has his own style, I have always thought that a rider is more or less the same with the bike you give him. With one bike you will win here and lose there, and with another it will be the opposite. You have to know how to take advantage of everything.
"In the enduro there will be a sand especial test, for example, in which a big bike will do better, but then you'll go to the extreme test and a smaller and lighter bike will be more favourable. Then, in the cross, if it's wet, to give another example, you'll loose traction easier. I think that each rider rides the same, he just adapts a bit to the bike.
"I haven't had to make big changes. I have evolved my riding in general, not because the bike has conditioned me. I ride it the same as I did with the 350 or the 250 five years ago, what I have done is evolve along the process. In the end I think that everyone rides the same, more or less, with the bike they are given."
Photo Credit: Future7Media