Jonny Walker getting his mojo back with Beta – "I'm in love with two-strokes again"
Enduro21 catches up with Jonny Walker to find out what's going on with his new race team and just how much he's loving his new Beta RR 300 two-stroke ahead of racing this season in the new FIM Hard Enduro World Championship.
Late in 2020 Jonny Walker's contract as a factory KTM rider came to an end. The British rider burst onto the extreme and hard enduro world stage a decade ago and quickly set about taking major race victories at events like Romaniacs and Erzbergrodeo. When KTM announced they were slimming down their enduro operations, Walker was out of contract and had to start looking for a new team.
To the surprise of many Jonny chose to go his own way, creating a new team with the support of Beta Racing but very much running his own programme out of the back of a van – albeit a pretty damn nice van.
"I'm really looking forward to it", says Walker as Enduro21 catches up with him in Girona, where he is avoiding the worst of the winter weather, training and getting used to his new 300 two-stroke – a bike which has helped him, "fall in love with two-strokes again".
Enduro21: Hi Jonny, where are you at right now? Anything been going on lately? You've been a bit quiet on social media…
Jonny Walker: "Ha! Yeah, it has been a busy time."
So, you're on a Beta and running your own show now, how did all this come about?
"I decided last year I wanted to do my own thing. In the last few years I've had to do a few things, use a few things which I haven't necessarily wanted to use and I decided this was the opportunity to bring the fun back and do it all myself again, racing out the back of a van and enjoy riding.
"The current global situation is obviously terrible for many people but not being able to race has been a blessing in disguise for me really. I'm so glad to be able to get this sorted out and I'm really enjoying the riding again."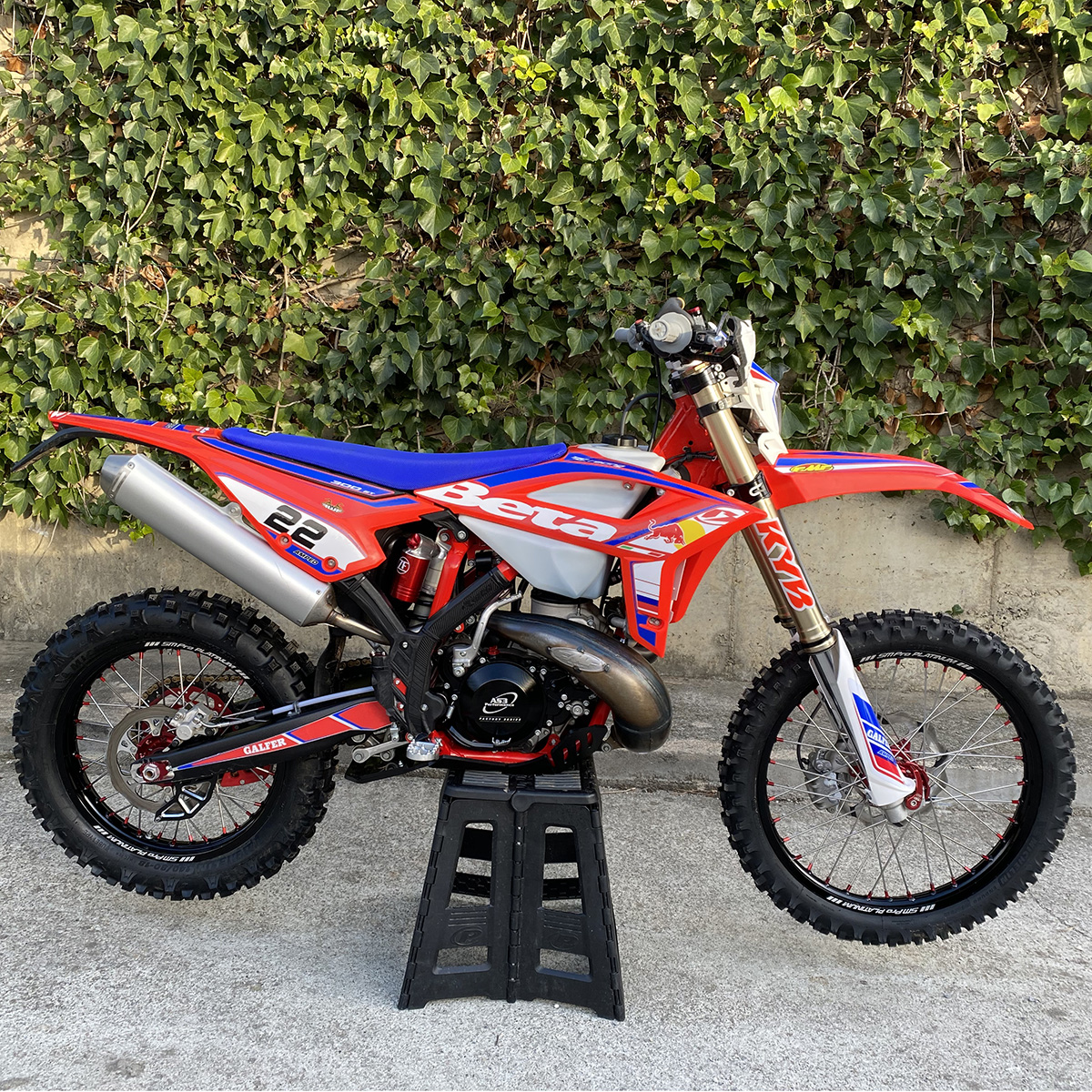 What made you choose Beta? Did you have choices with different manufacturers?
"Yeah, I was speaking with other manufacturers, not that there are too many others to speak to, but one of the things with some of the other teams was losing some of my personal sponsors, they wanted me to use their gear and so on. I wanted to keep using my existing long-standing sponsors like Leatt.
"With Beta we were able to negotiate a good deal and then when I went testing the bike I was blown away by how good it was.
"I spoke with all of the other manufacturers basically and the Beta was the first bike I tested and I felt more at home on that bike than I have in the past four or five years."
How was that first test on the Beta?
"We did a couple of days testing to get to know the bike and get a good setting. I worked with Fabrizio Dini, the Beta Racing team manager, to get an enduro setting and an extreme setting. To be honest, riding it there and ever since has brought the fun back into riding. I love two-strokes again."
I kind of fell out of love riding two-strokes in the last few years but riding the Beta has brought that love back." – Jonny Walker
What's the biggest difference jumping off one manufacturer to the Beta for you as a rider?
"Everything, honestly! Before I tested I thought this bike was good because you see Holcombe and Freeman spanking everyone on the 300. I went to the first test thinking it must be a strong engine but I didn't realise how good it was.
"When I actually got on it we basically just did a few little mods to the bike and that was it. I've heard a lot of stuff about the suspension, the KYB on the Factory RR model, some people say it's good, some say not so good. But I really like it and I have so much confidence on the bike now.
"To do the same kind of extreme riding on this compared to my old bike is quite different, it's got a different riding position – it's not that I'm saying my old bike was rubbish or anything but this bike suits me better.
"As soon as I got on it I felt really comfortable and that was the deal maker. This year is all about winning races and that's why I wanted to do my own team so I can use all the products I want to use and test the parts and get the best for my bike to get the job done."
Were Beta keen since you first contacted them? They haven't been big in the WESS series (as was)…
"Yeah, I contacted them initially and they were interested, then they weren't but when we talked more and arranged a deal it just got better and better to be honest.
"As a company they focus more on the world enduro, they do it differently in extreme enduro. I understand that because before now it hasn't been a proper championship with the FIM.
"Extreme enduro is pretty big obviously so this year should be a good year for them if we can get some good results. It will be so good to have another brand in extreme, with Pol Tarres bringing in Yamaha that is good as well.
"It has been really good working with them and Fabrizio. It's great working with him because he understands the bike so well and he can tell me so much about what I need to get it working better for me. I haven't had to do much but as soon as I get in touch with him he is straight back to me helping me sort it. It's great."
Dini can ride a bit can't he…
"I was shocked how good he was! Obviously I know he's the team manager and all that but he's also a test rider (and a former EnduroGP rider…). When we got on the bikes outside the factory and went into these woods to start a test, he just took off and started pulling off all of these little whips and stuff!"
Being a factory KTM rider is a bit like being a rock star – fly to events, hotels all booked for you etc. – how's it going to feel doing it all yourself?
"It's going to be good. I'm really looking forward to it. We can set off earlier heading to races, go places, ride my bike beforehand and bring it back to enjoying it and having a good time.
"It is different, just me, my girlfriend and a mechanic doing everything but the flip-side is having more freedom, having more time, not being told to do this and do that."
How will the new team work? Is it just you and a van?
"Just me and my girlfriend, basically. We're working on fitting out a new van and I just want to get a really good set-up going at the races so that we can enjoy it, have a good time and have all the things we need to make it happen. Then the results will come.
"I've just had a meeting with a young mechanic and the plan is to get him in full-time. I want someone good who I can work with like I am used to. I wanted my old mechanic to come with me but he did, then he didn't and I couldn't wait around. I wanted to get it sorted so that we can start working together, learn the bike and each other and build a good relationship.
"It would be cool to have another rider in the team as well in the long term, I plan to try and make that happen in 2022."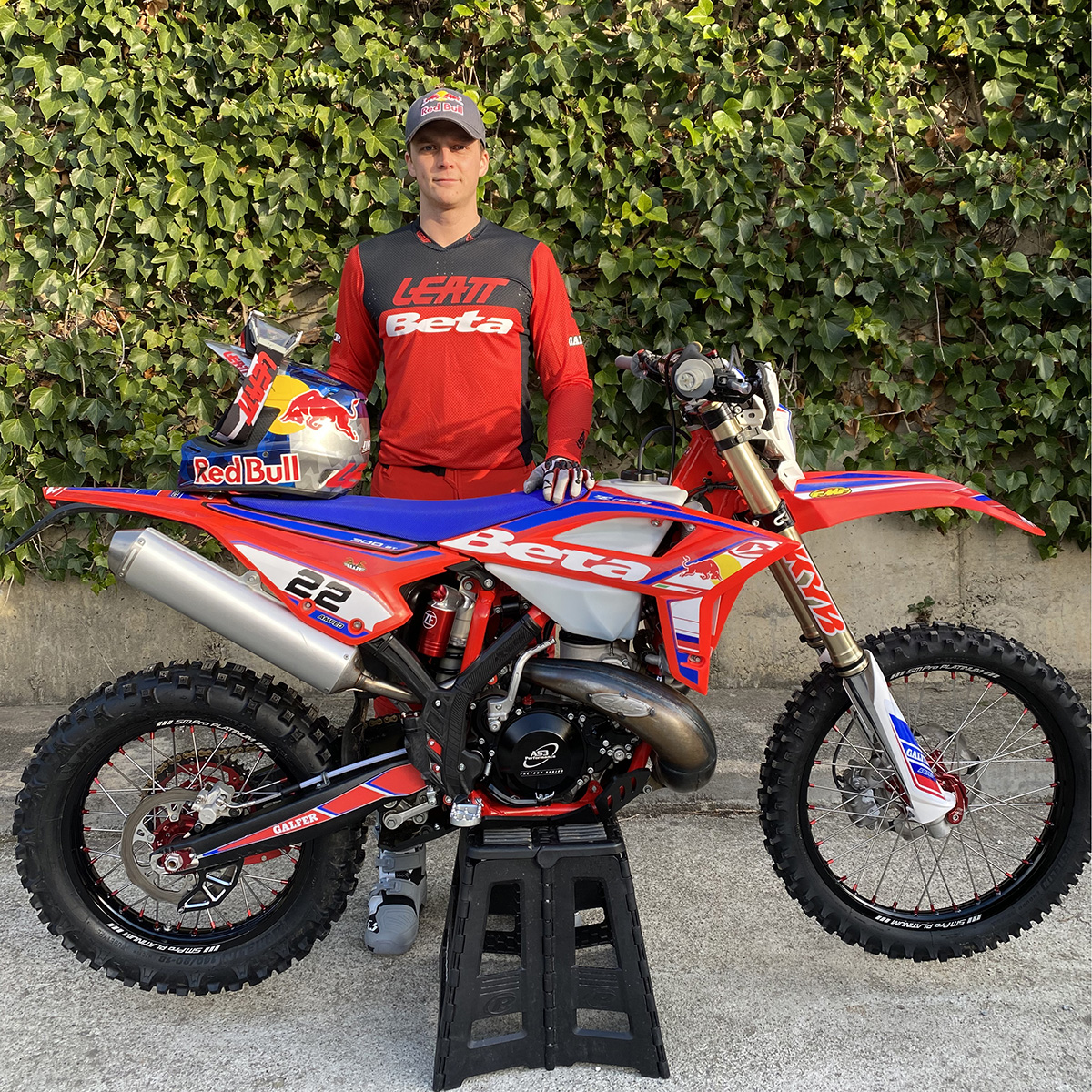 Some of the freedom running your own team is being able to use your own parts and products. Who's onboard?
"I'm sticking with my existing sponsors Leatt, Red Bull, GoPro and POD but I've got in touch with people that I want to use, you know? So not just going with this person or product because they are a big name or whatever. I'm trying to use good quality parts that work incredibly well.
"AXP make probably the best sump guards out there and FunnelWeb air filters for example, these are quality products. I want to work with people and manufacturers like that who make quality products but who cannot get themselves normally into a high profile riders bike or team."
That sounds refreshing…
"Basically that's how it was at the start for me, a deal for a bike and my own choice of parts. I don't know if I would say it is taking things for granted but you kind of get carried away riding for a factory team. You don't have to think too much, you don't have to help promote anyone too much. You just go to the races and do your job.
"It's quite cool to be interacting with the sponsors that we have got so far. Now we're going to be more involved with those companies. I want to put out more videos each week and I want to do 'How to' videos to help promote and explain the products I'm using to help those manufacturers and also so people can understand why I'm using them."
One problem you've got is finding events to race we guess? Where's your next race?
"My first race will probably be the new Spanish Extreme Enduro Championship but I'm planning on going racing in the USA and I am hoping to get out to the King Of The Motos in a few weeks but it is difficult with flying and everything at the moment.
"I'd love to go and do that and also the AMA EnduroCross later in the year if I can, that was always on the cards. I've always wanted to do it but never had the opportunity. Things seem to be going ahead a bit more in the US. Beta are keen for me to do some riding in the US because I don't think they have a rider out there anymore."
It looks like you're on the 300 2T so far, will you ride different Beta models depending on the race?
"Honestly I'm in love with two-strokes again. I would ride it at EnduroCross or SuperEnduro and be more than happy. I never thought I'd say that again but I absolutely love it.
"I did speak to Beta about potentially riding the 300 two-stroke outdoors and the 350 four-stroke indoors, but after riding the 300 I'm 100% sure I will race that."
Can you remember how to sort a carb out then?!
"[laughs] Luckily I've only had to turn the air screw once or twice and I'm managing! But it is so good to ride this engine and carb, I'd forgotten how good it is to ride with a carburettor.
"It feels easier on the rocks and extreme stuff but it also felt really good on a motocross track I went to the other day. I used to get into a rut on my old bike and sometimes feel a bit uncomfortable but this bike just sits in a rut better and I feel so much more comfortable on it. I don't know if it is because it is lighter or what, but it feels really good."
Sounds like the feel-good factor is back…
"I'm a new man! [laughs] I'm not dissing KTM or anything, I've been with them for 10 years and they were good to me but it does feel like a fresh start.
"My first-ever motocross bike years ago was a YZ250 but apart from that I've never ridden any other bike until now so this is does feel like a new start. I'm looking forward to getting everything in place, the van kitted out and some races under my belt."
Check out Jonny's extreme training loop onboard:
We need your support
If you've enjoyed this article, if you've found it informative, interesting, entertaining even, please support us.
We want to continue doing what we do, to the best of our ability, serving the enduro and off-road community.
Please consider a donation, every little helps…
Thank you.
Photo Credit: Jonny Walker