Interview: Kevin Benavides, 2021 Dakar Rally winner – "Being the first South American to win is a big honour"
Enduro21 catches up with Kevin Benavides straight from his victory at the 2021 Dakar Rally in Saudi Arabia to ask what it feels like to become the first South American to win the toughest off-road race in the world.
When the Dakar Rally kicked off at the very beginning of January 2021, many riders lined-up as potential race winners including a small handful of riders inside the Monster Energy Honda Rally Team. Maybe for some people one of those Honda riders, Kevin Benavides, wasn't at the top of that list.
Any doubters should have taken note of his record since making his Dakar debut in 2016: an impressive 4-2-5 scorecard (engine issues and broken bones held him back in 2020 and 2017 respectively).
Come the final timing beam in Jeddah after some 47 hours, 18 minutes and 14 seconds of racing, 32-year-old Kevin Benavides had silenced the doubters by winning his and South America's first Dakar Trophy.
"I think I have given it all in every stage", says the new champion as Enduro21 catches up with Benavides fresh from the podium in Jeddah and having burnt the only tyre left alive in the HRC stash!
How does it feel to win the Dakar Rally? You are the first South American to do so at one of the toughest and most unpredictable Dakars...
"It's an incredible sensation, as you said I have won probably the most difficult Dakar Rally in the last years. My first Dakar Rally was in 2016 and this one has been the most difficult one for sure, I'm not saying this because I have won it, if you ask any other rider you'll get the same answer. The navigation has been super tricky, you couldn't relax one minute and the route was very technical and full of 'traps'."
What went through your mind when you crossed the finish line?
"The first thing that came to my head was Paulo Gonçalves, I felt like I had crossed the finish line with him really. Paulo always thought that I could win this race, so it was a very emotional moment when I achieved it. Obviously, I also thought about all the people around me, my family and the ones that help me with training and all the necessary things."
You have said that it has been the most difficult Dakar you've raced, why?
"The navigation was super tough, that's what made this Dakar so difficult. The rally has been slower than the last years also and with many changes in the terrain, we had fast tracks, technical ones, rocky ones, dunes… with all that you couldn't lose focus even for one second. It has been a really exhausting Dakar where we had to ride loads of kilometres and we had some long days on the saddle."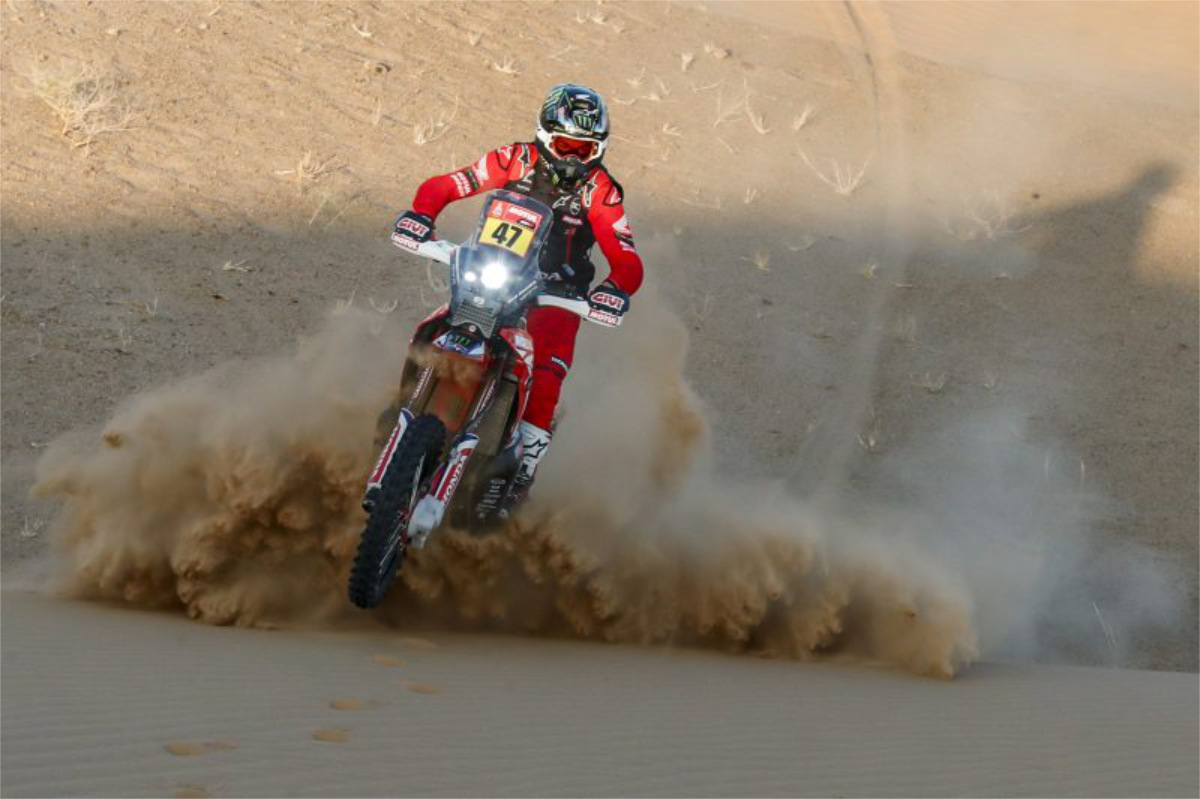 During the first week the lead was changing every day, in the second week everyone was really close in time – how did you manage the pressure racing like this?
"This Dakar changed every day. During the first week the overall was changing daily as you said because there were loads of riders getting themselves in the middle, but once days started going by the differences started appearing with withdrawels and mechanicals."
"On the last stage I was going 110%, I didn't want to give anyone the opportunity to snatch the win from my hands." – Kevin Benavides
"During the second week the rhythm changed, the riders opening the days started going faster and the differences got smaller. We knew that this could happen during the second week. In general, I tried to stay calmed and concentrated. I worked in maintaining my inner peace and that's what made me make it to the finish."
Nowadays the Dakar Rally doesn't allow you to rest for a moment. How many of the stages did you have to push hard and to the maximum?
"I think I have given it all in every stage. Probably I wasn't going at 100% but for sure the average was around 90%. On the last stage I was going 110%, I didn't want to give anyone the opportunity to snatch the win from my hands."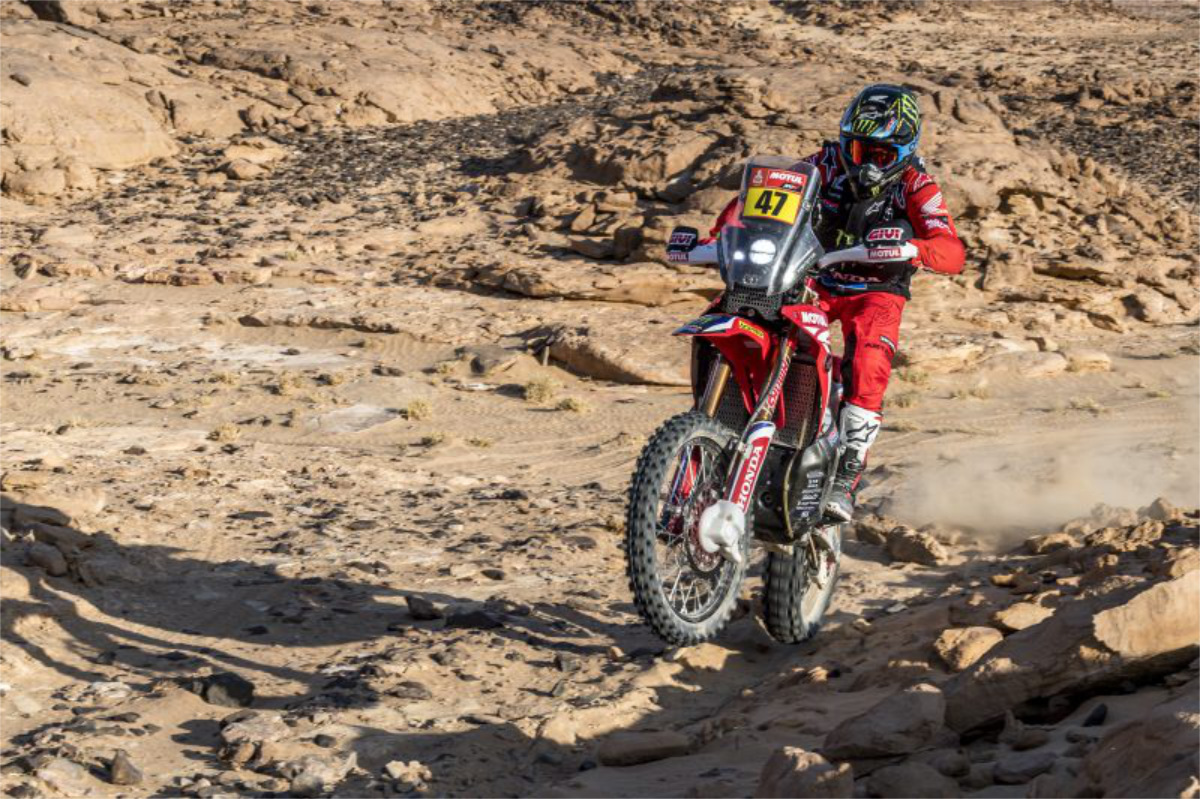 There was a lot going on both physically and mentally. How did you pull it together in the last stage?
"During the 12th stage I knew that the chances were on my side but that also Ricky Brabec and Sam Sunderland could make it as they were close to me. When I closed in on Sam after he got lost around kilometre 50 I was forced to open the way and I had to remain focused because Ricky was on my tail and that he was going to make time on me.
"During the last stage the pressure was very big, but I stayed focused on my goal and everything turn out good. Mainly I have been doing that for the whole rally."
You and your Honda teammates have opened many of stages and Nacho Cornejo and you have established yourselves as the top navigators of this edition. What's your secret to not losing time when you're at the front?
"The secret is to work a lot pre-race training with the roadbook as much as possible. You gain confidence when you train and that's key to be fast while opening a stage.
"Nacho has the desert right at his front door and I normally train in the desert areas in Argentina and Chile, occasionally I have also been training in the US. I think that Nacho and myself have open more stages than anyone during this Dakar."
Nacho, Ricky and you were really close during the last three days. Were there any team orders?
"There weren't any team orders, we were free to do whatever we wanted and give it all until the finish line."
Tell us about your CRF450 Rally bike and the tyre allocation, did you have any issues?
"The bike was spot on. Nowadays we have a really reliable bike, we have worked a lot on it and that gives us more confidence while riding. The team itself has also improved a lot which makes everything easier.
"From the six tyres (new regulations for the Elite class meant only six) only one made it in one piece, but I burned it on the podium. (laughs)"
Wheelspinning for days 🎉@kmbenavides#Dakar2021 pic.twitter.com/bZsASDGHhX

— DAKAR RALLY (@dakar) January 15, 2021
You live in Salta, Argentina, has it been possible to train easily during 2020 with the global pandemic?
"Unfortunately, I wasn't really able to ride this year in Argentina, I have only ridden at home during the last two weeks before the race. Until the Andalucia Rally I wasn't able to ride really, after that I travelled to the USA for a couple of weeks, which was a great training, and then I went back home.
"Because of Covid, training has been a difficult task. I live in Salta but if I want to train I have to make around 200 or 300 kilometres and change counties, the desert is not right at my door."
We have seen a new generation of South American riders coming up lately: Franco Caimi, Nacho Cornejo, Pablo Quinatnilla, your brother Luciano and you. Did the fact that the Dakar Rally travelled to South America have something to do with this?
"Everyone has always looked at the South American riders differently, the focus was always on the Europeans. When the Dakar came to South America it opened an opportunity and we're here because we showed that we had the level and that we could challenge wins during those years.
"After all, with a lot of sacrifices we have established ourselves and now you can see five South Americans ridding for factory teams. Being the first South American to win it's a really big honour and it gives all the fellow riders more credibility."
Last question, Argentineans are known for celebrating big, what are you expecting when you make it home?
"I think there'll be a big party, at the moment I don't know anything about it so I want to keep it like that, a surprise."
We need your support
If you've enjoyed this article, if you've found it informative, interesting, entertaining even, please support us.
We want to continue doing what we do, to the best of our ability, serving the enduro and off-road community.
Please consider a donation, every little helps…
Thank you.
Photo Credit: Rally Zone