I Survived: 'Originals' class at the 2021 Dakar Rally
It took five "selfish" years, one failed attempt, broken bones, snapped swingarms, and a whole heap of good will (including a lift from the Prodrive rally team all the way to Saudi Arabia) but Neil Hawker tells Enduro21 how he finally survived the unassisted, Originals class at the 2021 Dakar Rally…
It's well documented that the Dakar Rally is famously the biggest off-road event on the planet. The toughest. The hardest. The most expensive. The most gruelling… We hear it each and every year. But the 2021 edition in Saudi Arabia was about as dramatic, and brutal, as they come.
Honda and KTM duked it out for the win across the 12 long stages and 50 hours of racing. But we all know that. What we're interested in is what the event was like for the privateer heroes – those truly going it alone in the Originals (formerly Malle Moto) class.
Enduro21 caught up with British rider Neil Hawker, a guy who's spent his life on enduro and trials bikes, and part of his life in the Army and just finished the 2021 race. On January 15, when he crossed the finish line in Jeddah in sixth place in the Originals class, he fulfilled his ambition of finishing the Dakar Rally…
If only I could bottle up the feeling I had at the finish…
"The last 10 kilometres of the last stage on the final day was absolutely unbelievable, such a good feeling, I can't tell you. I can remember seeing the people, the flags and vehicles at the finish in the distance and bursting into tears. I was shouting into my helmet.
"It wasn't just the end of two weeks riding, it was the accumulation of five years. I couldn't hold it in and was just going mental in my helmet. What a feeling.
"I had to stop a bit short of the stage end before the cameras and everything just to have a word with myself. I was here in 2020 and crashed in stage five and I never thought I would get a second chance. All the money, time and effort came flooding out of me."
The toughest day was day one…
"Before Christmas I was 100% ready to go and then got a text saying the flights were all cancelled due to the Covid situation. It was a really stressful time for me and also for David Knight and Jamie McCanney, trying to get out of the UK. I was so lucky the Prodrive rally team (UK-based car team) chartered their own flight out of the UK, which I was able to get a seat on. I was bloody lucky."
"You can't believe the process involved in getting to the start line at Dakar. Normally when I get on my bike to start racing I can relax a bit but for me that opening day was really hard. After three days of admin, accreditation, covid tests, technical controls, all the time queuing in the hot sun for hours, not drinking enough and then the whole prologue and opening ceremony I started the day really tired and dehydrated.
"I was tense, knackered, I got arm pump and was holding on too tight and then worrying about getting blisters and ruining my hands with 11 more days to go. It was horrendous."
The difference between me and the top guys at Dakar is like the difference between me and Toni Bou on a trials bike – Neil Hawker
You have to get up at stupid o-clock every day…
"The thing with the Originals class is if we've got say an 800km stage, the truck carrying all our stuff has usually got to do the same mileage, so it has to leave early to be there at the end of the stage and set-up for when we arrive."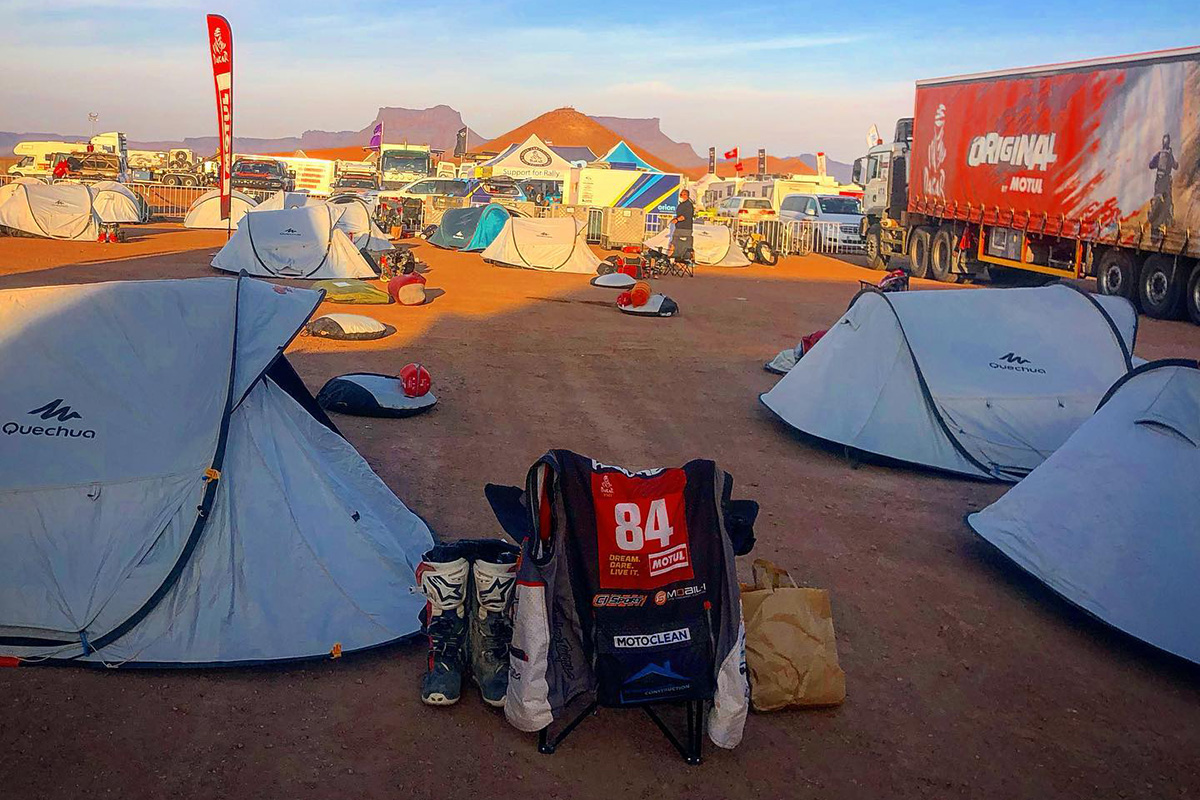 "If our first bike was away at 6am, the truck has to leave at 5am or something so we had to be up, packed and in our kit from 4:30am. Usually, you'd find the Originals riders going for breakfast and then finding somewhere to get some more kip for an hour or so in their riding gear.
"It was broken sleep but for me that routine in the bivouac was always good. My body got into the rhythm of it quickly, coped and kept doing it until I said stop – then it went into a meltdown."
Racing Dakar is like Army sleep deprivation exercises, without the army bullshit…
"I was in the Army and a big part of Dakar, especially the Originals class, is being able to manage yourself, to get up, pack things, keep organised and have a routine. It helped so much with that routine having been in the Army.
"I'd look around sometimes and see people with bits of kit and bike everywhere and think, 'you've got so much clearing up to do' when I was going to be relaxing. I tried not to waste time like that.
"The Army teaches you, on exercise, to only take five things in your bag and it is discipline like that which helped me. If you add up every single detail that you have to do from working on your bike, sorting kit, the next day's route, looking after your body – it's a lot to tick off but basically, I did it exactly the same every single day so I didn't forget anything."
I'm definitely a marathon not a sprint person…
"I really struggle to do a three-hour hare and hound race, by the third hour I'm fine but at the start I'm rubbish.
"Actually, I failed the basic British Army fitness test a few times. The test was to run a mile and a half in under 10:30s. It's not that I was unfit, I used to be fine with the eight-mile test carrying weight, it was just the short burst stuff and I'm still the same.
"I've raced the Six Days and it always took me a couple of days to get into it, Dakar was the same. My body is weird, I work best when I have to work hard for a long time, like when I won a 24-hour Iron Man race. Right now [one week later] I've never felt this fit and strong for years. Another couple of days and I think I would have got a better result."
I've never thought, 'how do I do this?' on a bike before…
"I've completed four ISDEs and 10 Scottish Six Days Trials but some of the dunes at Dakar this year were unbelievable. You're hitting what seemed like a six-story building made of soft sand as fast as you can in top gear, so over 100km/h, and just going up and up and up."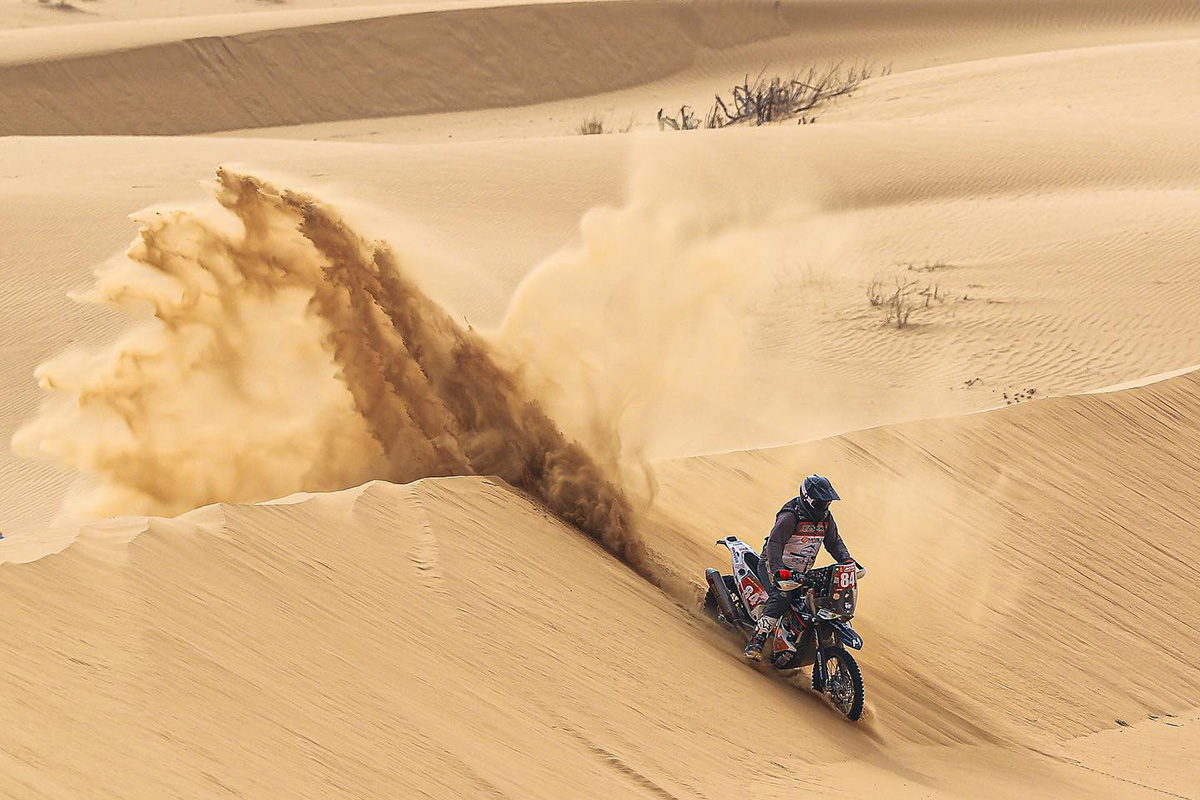 "It can be as bad coming down the big dunes as well, it's just insane and you have to be on the gas or you go over the bars. Coming from the UK you just don't see things on that scale and the landscape, the vast emptiness at times is incredible.
"The guy with the biggest balls will do better in a lot of the stages. There are a lot of riders who are so fast when it is fast or in the dunes. But where it is more difficult I found I was much quicker than many riders around me."
My swingarm pivot shaft broke in a stage…
"I arrived at the Dakar with basically a new bike, it had seven and half hours on it. Some people had much older bikes and some of the older bikes had the swingarm shaft break, so I decided to carry a spare one.
"The very next day I felt the shaft poking out against my boot in the stage. I could kick it back in a bit but not properly, just enough. It was around 30km to a road and I knew if I could make it to the next check point on the road I'd find some of the organisation who would likely have some tools or a hammer to help.
"We had 30 minutes of neutralisation, so I got the bike leant over against a rock and basically used the new shaft to knock the old one out with a borrowed hammer. Ideally, you'd take the back wheel and shock out but I didn't have time and it was a real struggle. The swingarm had dropped a bit so I had to try and lever it and hammer it at the same time."
The guy with the biggest balls will do better in a lot of the stages – Neil Hawker
"Nobody can help you and it was frustrating for me and a mechanic guy there trying to help with advice. In the end I got it back together and my helmet on with 30 seconds spare. Because of the rush I forgot to fill my drinks pouch and then had no water for the next hour or so.
"It's mad how that kind of thing can affect you. Those 30 seconds, not filling up my water, had a knock-on effect because then I was tired and dehydrated. I would easily have made that time back by being faster and fresher if I'd had water to drink."
Riding through the dunes with the top car drivers was awesome…
"Most days I had 50 or 60 wheel tracks to follow and through the dunes it is like a proper track. The cars caught me around the 200km mark each day and once they go by it is like a reset on the track ahead, it totally changes the riding conditions because they eat up the track so much and fill sections in. So, you have to try and stay at a good pace to stay ahead of the cars.
"One day it was unreal when they caught me and I rode with them through the dunes. I rode a section of Dakar with Peterhansel, Sainz, Al-Attiyah and it was absolutely awesome."
Rubbing shoulders with people like Ricky Brabec and Andrew Short is cool…
"The KTM riders kept themselves to themselves a bit. But everyone is there because they love the sport. The riders, mechanics, media, everybody in the paddock seems to love being there and it makes the atmosphere really good.
"Being in the Originals class amplifies that because we're always in the hub of the paddock and everybody wants to stop and talk.
"There's always so much going on – a clutch in bits here, a rider in bits there. The only thing is sometimes you just want to get on with changing your oil or something when people want to talk.
"A few riders who went out of the rally early would come around, like Jamie McCanney. He was absolutely brilliant, he came and checked on me every day to see if I needed anything and that was really nice to have someone thinking of you when otherwise you are on your own. Knighter popped round most days to swap stories and just be friendly."
People are asking me if I would do it again…
"No. Never again. To race an event like this you have to be so, so selfish. It's unbelievable. Being at the start for 2021 basically took a year and I treated it like a job every day. The effort, the emails, the multiple conversations, the meetings, the continuous all-round effort, it takes over. From the moment you take the decision to go for it, it has to be a job that you work at each day.
"I don't need to do it again. I've ticked that box. My mum and dad back home said that watching me each day, following the tracking and waiting for me to check in was so stressful for them it was the same as when I had been out in the Iraq war.
"It's also such a commitment for some of the people that helped me. In the end, the sponsors who got me there are so much more than just sponsors now, we're friends. I'm looking forward to getting my bike back and letting all of them have a go on it."
A.O.B. Hawker's Dakar wisdom
My service box
Your allocation on the Originals truck is a tent, roll mat and sleeping bag, a kit bag, a metal box, spare wheels and two sets of tyres and mousses. The Originals service area has its own tools, which we can share but it's like so many things, you are never guaranteed someone won't be using what you need.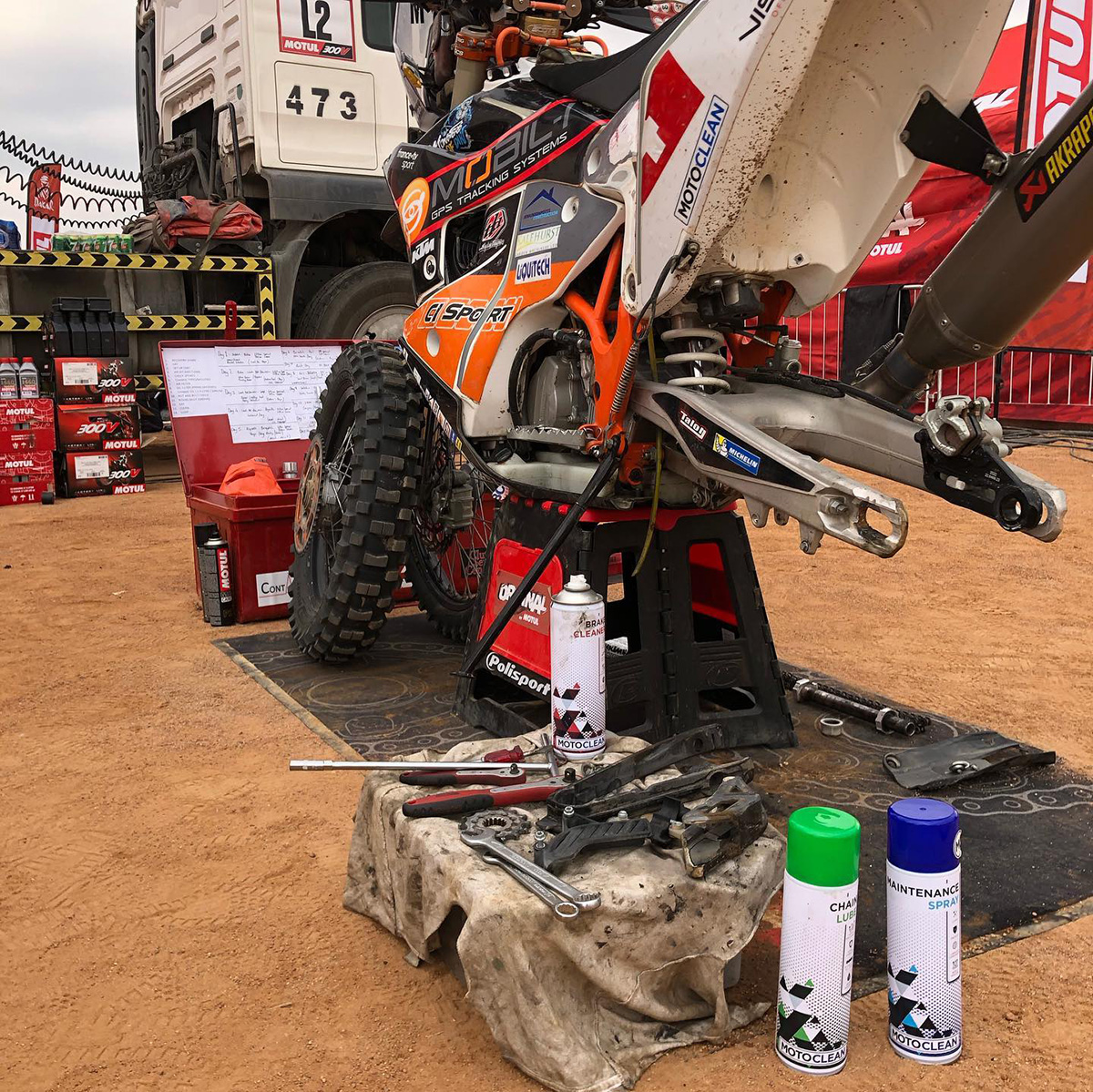 That's why I took my own tools. I took a small Teng tool kit, a filter box so I had a brand-new air filter every day. An oil service box with oil filters, spare o-rings, that sort of thing, a spare chain and sprockets (that I changed on the rest day) plus a few little things like spare cables, levers, glues and so on, plus a recovery shake for each day. The Originals class is sponsored by Motul so you don't have to worry about packing anything like that.
Pay a bit extra for a team to carry spares
Like Six Days events you can sign up for manufacturer support and pay to have service parts. The BAS KTM team carried extra tyres for me and I signed up for KTM service support.
It is a big help because someone is there 24 hours a day if you need anything. You pay €1,300 for the privilege of them providing the service and then any extra for the spares on top.
How good do you need to be to compete at Dakar?
For me, if you can complete a season of national enduro at expert level (that's the 'middle' class in the UK), finish those events, finish them on time, get home and get up on a Monday morning feeling alright, then you're about right. If you can't do that at least you're going to struggle.
Check Neil's Instagram page (@neilhawk41) for more including one of his specialties, rolling donuts on a BMW GS...
We need your support
If you've enjoyed this article, if you've found it informative, interesting, entertaining even, please support us.
We want to continue doing what we do, to the best of our ability, serving the enduro and off-road community.
Please consider a donation, every little helps…
Thank you.
Photo Credit: Neil Hawker + Rally Zone