Tyres, time off and a flying Sherco – Mario Roman explains his Minus 400 win
Mario Roman's win at round one the 2022 Hard Enduro World Championship, the Minus 400 in Israel, was an emphatic one against stiff opposition. Enduro21 catches up with the Sherco rider to find out the secret of his maiden HEWC win.
The first round of the 2022 Hard Enduro World Championship entered an unknown terrain for the series and the riders. The Minus 400 Extreme Enduro served three days on the banks of the Dead Sea in Israel in high temperatures and on incredibly dry and rocky terrain.
The opening race of the 2022 calendar was the place to show who had done their homework during the pre-season and, for Mario Roman, focusing exclusively on extreme races and physical fitness paid off big time with a resounding win.
Enduro21 wanted to know more about how he got the upper hand in the high-tempo battle with Billy Bolt and Wade Young, how he dealt with the high temperatures and terrain, and what it took to finally get a win...
Congratulations Mario, how was your first victory in the HEWC?
Mario Roman: "This was the first time that the Hard Enduro World Championship went to Israel and I think it was new for everyone despite the fact that I had already travelled to the country five times to do riding clinics. But I didn't race there before.
"However, I do have to say that the desert is a terrain that I have always liked after having won the Inca three times in Peru. A race that has not only taught me to navigate the dunes, different, since they are not sand, but a harder terrain where you have to go up the slope many times, although others through the valley or the trickle above. In Peru I learned a lot about this and I think it has helped me a lot for this race."
"Even though I only rode three hours before race day, close to the paddock, I felt very good, like at home. These hot conditions are the most favourable for me. And, despite the fatigue involved, I perform quite well in hot environments. On the other hand, since 2019 when I won Lagares, the first WESS event, and Hixpania which I think was the last, I had not won any World Championship events. I had only been able to land a few podiums and this whole Covid thing seems to have taken its toll on me. Now I have finally returned to the point where I was and where I think I should be."
What were the key factors to your win in Israel?
"Having raced in Peru three times, of course, and also the fact that it is a favourable terrain for me. With full gas uphills, full throttle and fast terrain. And then the work of these last few months, doing races like Ales Trem or the Spanish Hard Enduro Championship that have helped me get prepared and have helped me arrive in form that perhaps Wade, who is very strong, or Billy, who comes from winning the SuperEnduro World Championship, have not found yet.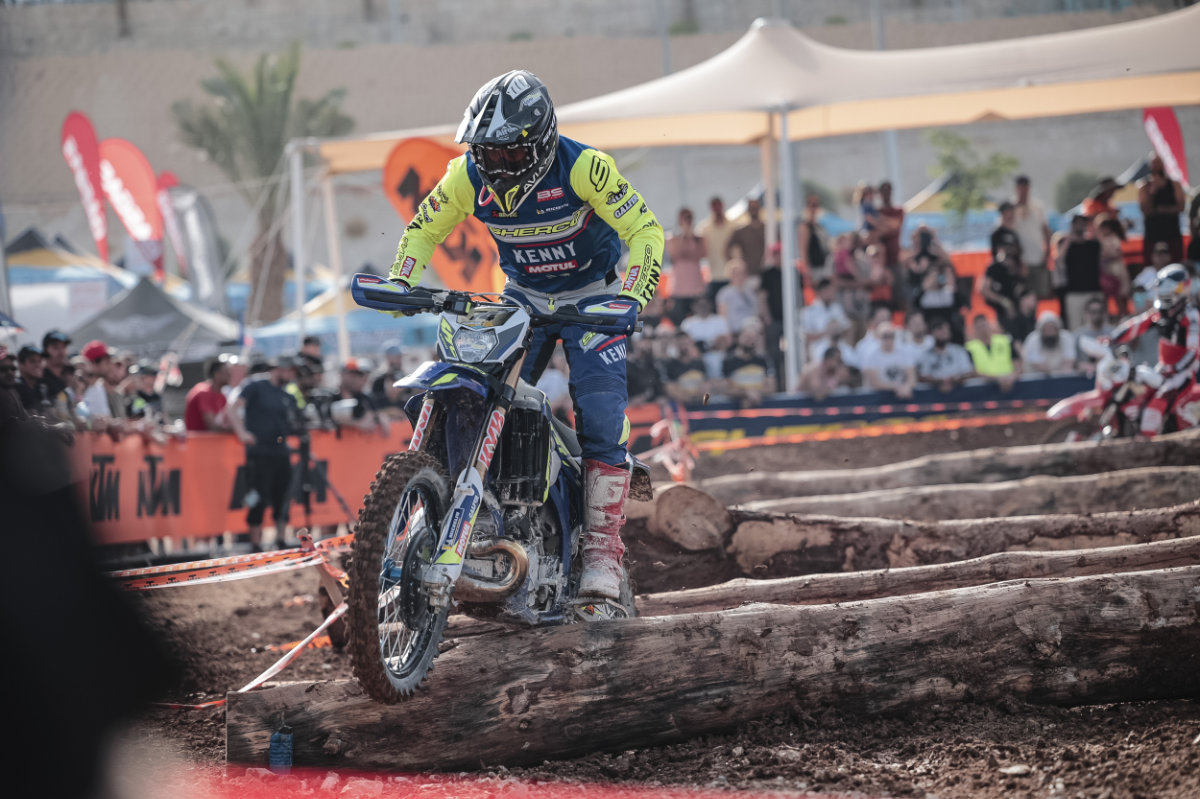 "I also think that this is just the beginning and that the pace of the guys out front is very strong. It will not be easy to be in front in all the races. You must work for each terrain, for each condition and each format. I think that one of the most difficult things about this Hard Enduro World Championship is that, in each round, we are going to find a different race".
"Like, for example, the next one in Serbia, which will be three days where the times will be accumulated. On the other hand, here in Israel, they did not accumulate, and it is more about navigation and long days."
How have the high temperatures and the dryness of the terrain affected this race and the tyres?
"My Sherco has never overheated. It has never happened to me. I know that it has happened to others, but at the level that we go, in which we try to do the uphills as quickly as possible, I don't know if the motorcycle cools more or what is the reason, but it is a motorcycle that works very well at high temperatures.
We raced on stock bikes, I think that it has to be said
"In fact, since we were 400 below sea level, but the start was higher, the truth is that the bike was flying and it was running as if it was at sea level. It was incredible!"
"On the other hand, regarding the tyre, I think that some riders have made a mistake in their choice, since they opted for the super soft one and as it was an 80-kilometre race with a really aggressive terrain, at the end they came with slicks. I think that was also one of the problems with Billy, who put on a super soft tyre, while Wade and I ran with another one. In the middle of the race, we still had some knobs and he had it completely slick."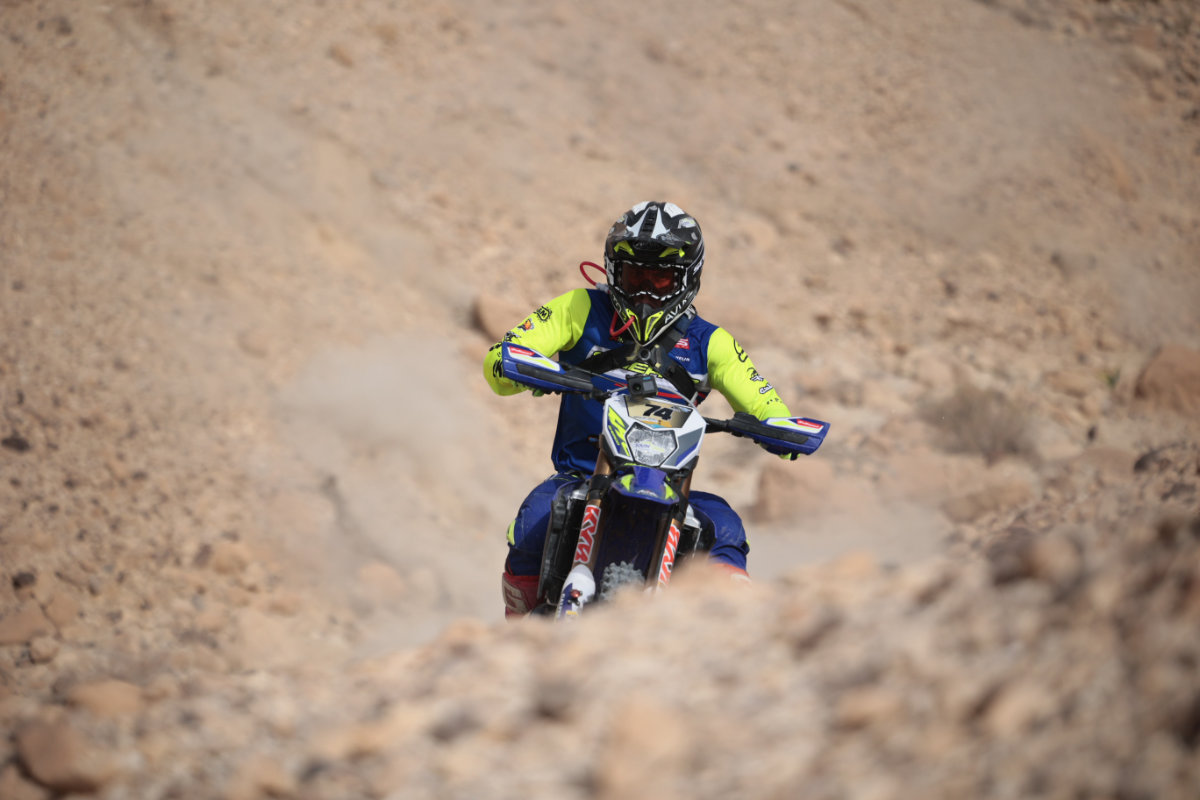 Before the Minus, you decided to give yourself a little rest and reduce the load of races on your calendar... has this been a key factor in coming fresh to such a demanding first test?
"Obviously, I've learned from other times that I wanted to attend all the events, but I can't. I have invitations to go to super interesting countries and super fun terrain. As I like training so much, the best conditions to continue improving are in the races, enjoying different experiences for me to learn from."
"In the end, I want to go everywhere, but this year I have decided to focus on the World Championship, come to it quietly and try to do my best. Not going to all the events, although there are some that I can do, but especially before the important races, I'm going to have a little rest. And I think that this March, in which I have only trained, has been very positive for me to arrive in good shape. January and February were very 'heavy' and it was time to rest a bit after so many trips."
Sherco was incredibly strong in Israel, between you and Wade. Is it all coming together now for the brand to constantly fight for wins in 2022?
"Sherco is working very hard in all the disciplines: TrialGP, Dakar, EnduroGP and Hard Enduro. The evolution of the motorcycle has been continuous and every year it is better. And the good thing is that they are stock motorcycles. In this race we sent the bike in a box because we wanted to have our suspension, cylinder head and footrests set-up… To make everything a little easier, because they are bikes that we have already tested and jetted at the factory, leaving them as we like them.
"For example, in Tennessee (HEWC round) last year we used a motorcycle from the American importer, by which I mean that, in the end, we raced on stock bikes, I think that it has to be said. They are not factory bikes. They are stock, set up and with parts that anyone can buy at a dealership. And that's what I think is priceless about our brand.
"Wade was also very strong here. He had a little navigation error in the final race, but we went the whole race together and he has shown that in the prologues he is a real beast. And I am also happy to have picked up the pace a bit this year. I was only six seconds behind in the last prologue on the second day, so nothing, let's keep working to see if we can also finish first in the next races."
Photo Credit: Future7Media | Nir Amos