What happens at a KTM TPI two-stroke first service?
You get a new KTM EXC TPI for Christmas and manufacturer advice is to run the bike in and return it for a first service after five hours – but what goes on at that first service? What do they do, why is it important and what can you learn?
The first thing that they are going to tell you when you buy a KTM at a dealer (after saying thanks for the money) is to go and enjoy it. The second is when you clock between five to 10 hours to bring it back for a first service.
It might not seem much time but these first hours are important for the life of an engine, the bedding in process of the whole bike and importantly to check for faults. Enduro21 follows the whole first service process at a KTM authorised dealer with a new KTM 300 EXC TPI…
Oil change and diagnosis
The first thing that happens is the bike is wheel onto an elevator and they drain the oil. "Even if it's only five hours on the clock, it's enough to run-in the gearbox and the oil needs to be changed because the gears need to get used to each other." Explains Jon at UK Racing.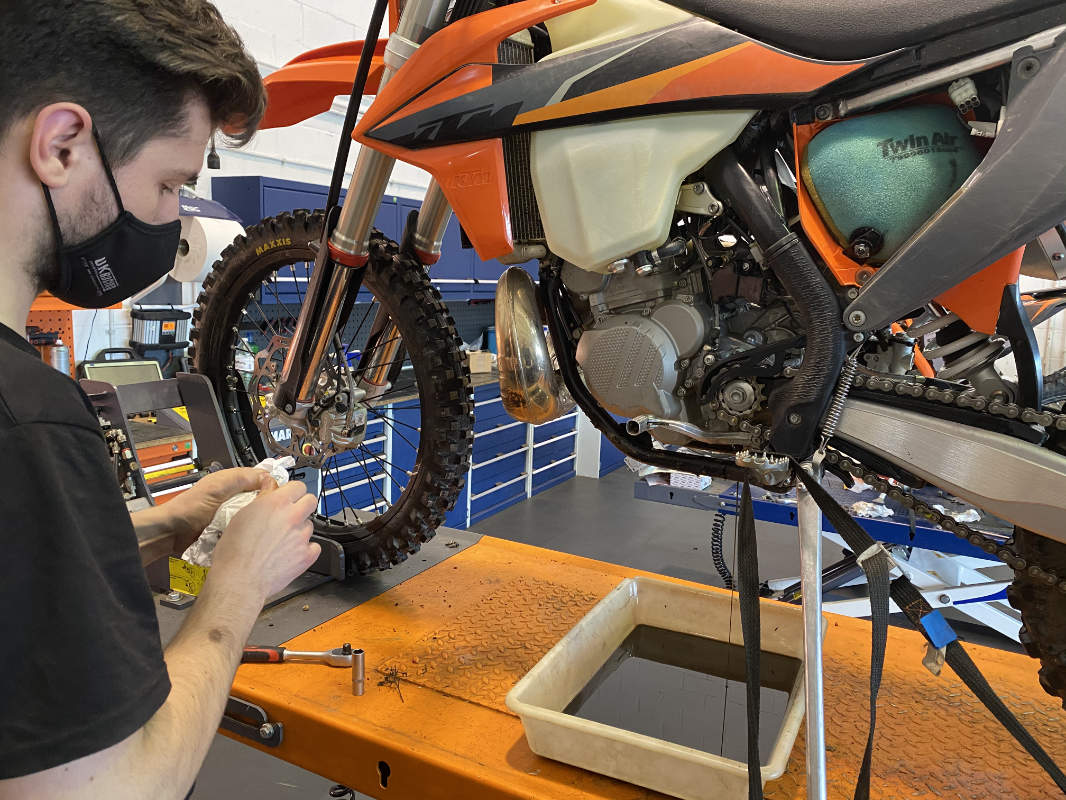 "We change it to see that all the gears have adjusted to each other correctly and check the oil colour. In the end the oil from the factory is just to run-in the gearbox and even with only five hours, the oil comes out pretty black." Adds Jon.
With it fully drained, 800ml of new Motorex 15W/50 goes back in with a new sump washer and the bike gets plugged to the diagnostics machine for the next check of the TPI.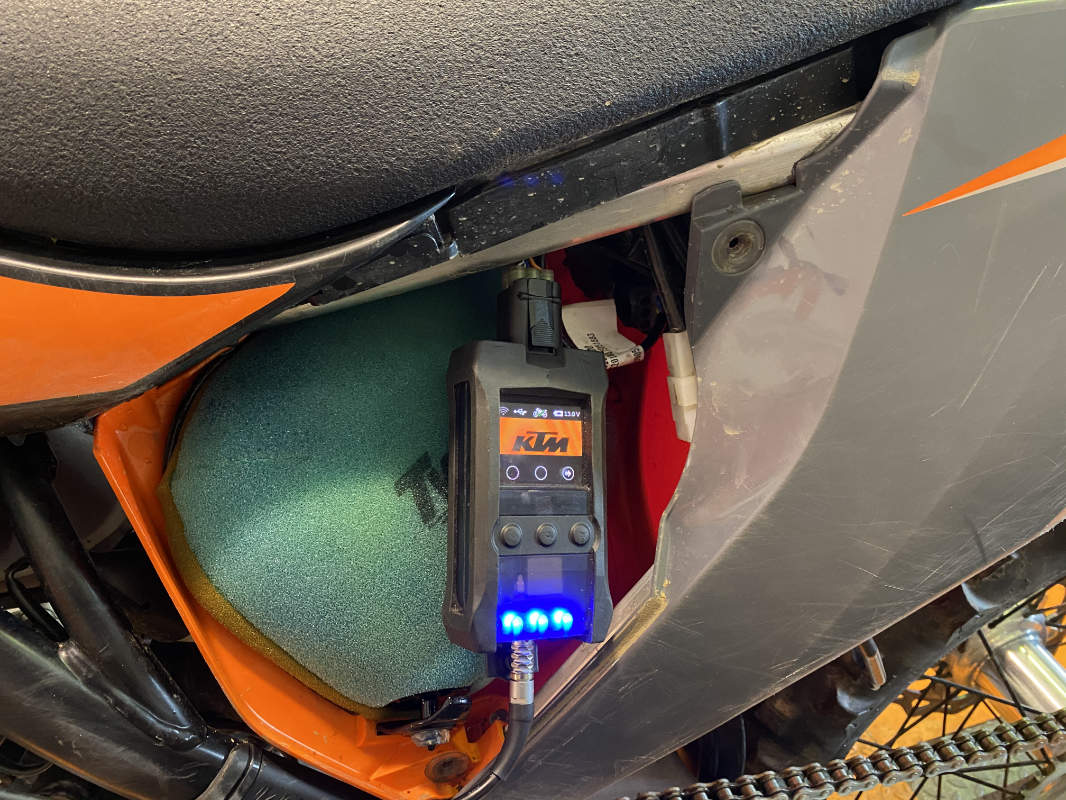 "We plug it to the diagnosis machine to see if there is any failure that might been undetected by the client or ourselves. It also gives us the opportunity to know if there any software updates to install," Jon says.
In this case there were no faults recorded and no software updates available, but the TPIs get updates regularly so they always check which is installed. Nevertheless, there was a different engine map available, the 'Extreme' which makes the bike run a bit richer making it overheat less. The rider of this TPI does more hard enduro riding so got the richer map installed – it's something they can do if it's beneficial for the type of riding he or she does and if they want it.
General nut and bolts checks
With the oil and electronic diagnosis finished, the mechanic moves onto the traditional bike checks of the components to check if anything has worked loose or is out of line.
The coolant level gets checked to make sure it is above the top fins inside, the air filter is clean and the air box are also checked. The mechanic also starts and runs the bike for around five minutes at this stage to see if everything is running like it is supposed to.
In this case that meant both wheels needed their spokes tightening because they had worked quite loose – the rocky uphills from its last ride had dished out a beating. "We tighten the spokes, this is very important with enduro bikes because the impacts on the rims makes them twist and need a re-tighten."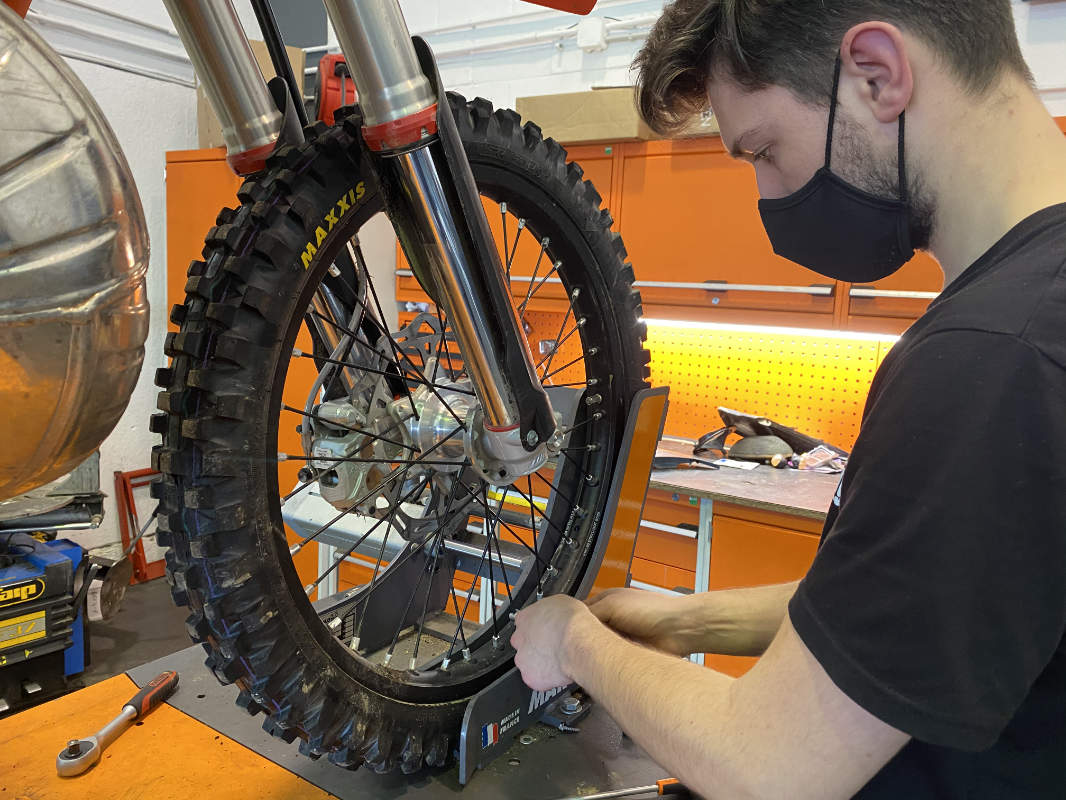 The mechanical checks include chain tension and normally also tyre pressures but in this case, as with many bikes, it is running mousses so that wasn't necessary.
Basically, after around one hour in the workshop, that is it for a two-stroke first service. It doesn't seem much does it? Visual checks, nut and bolt checks, the oil and engine diagnostics are all routine for the mechanic but are an important first check that a bike is on the right path to a happy life.
What should you do at home during the first hours of riding?
It seems like your dealer takes care of the important things during this first service, but do you need to do anything at home after the first rides? "Nothing special has to be done during this first hours apart from what you would normally do," explains Jon.
"It's advised to ride without making the engine deliver all its power or labour hard for the first two fuel tanks," he adds. It is common sense to treat the bike with some care, "the engine run-in has to be done with a bit of care, as you would do with any new bike."
Take care of your bike as you usually do, give it a good clean, clean the air filter, lube and check the chain, bleed the air out of the forks…basically what we should do after every ride.
Basic routine
Those basic nut and bolt checks are important and can form part of a routine you always follow. Get to know the torque settings for a quick and regular check of engine and exhaust mount bolts, triple clamps, shock absorber, spokes, subframe bolts, panels and chain slack – have a routine front to back of the bike.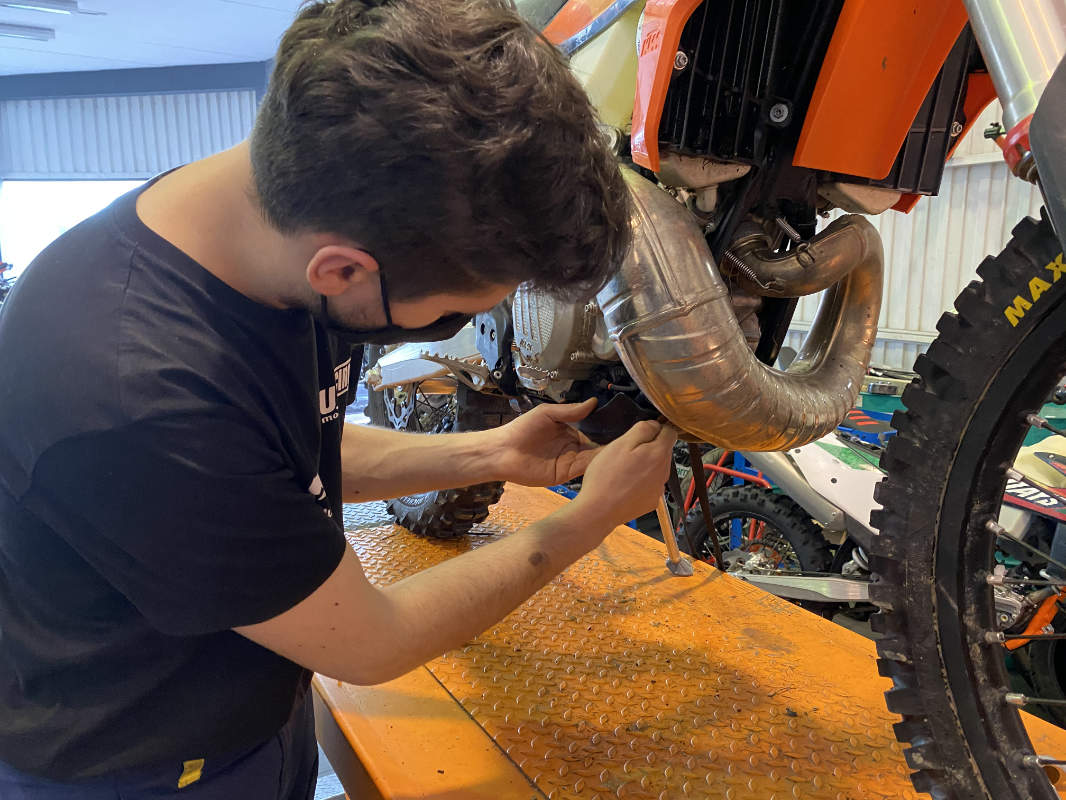 Check also the wheels are running freely, bearings are working as they should and brakes are not binding and there is no excess free-play in the steering head bearings.
The visual checks are important too. When you're out or when you get back home from a ride and are cleaning the bike, check for oil seeping out of engine cases or anything that looks out of place.
Preparation is key they say and it is this basic list of checks, the continuation of the first service pointers, along with regular oil changes, which will help keep your bike in good condition.
Photo Credit: Enduro21 | Igor Aguado