First look: 2023 KLIM Off-Road gear range – Mojave, Dakar and XC Lite all updated
KLIM have released their 2023 Off-Road riding gear range with the Dakar, Mojave and XC Lite series' (including Women's XC Lite) all updated with new colours and designs.
Split across three model lines, KLIM's off-road riding clothing range is pretty hot on being fit for purpose. In a nutshell, the Dakar gear boasts durability and versatility, Mojave durability and ventilation, while the XC Lite claims to be all about mobility and ventilation.
For enduro, we know that riding conditions dictate what clothing we wear and for some of us that means a preference for light, airy kit for hot conditions while others need more durable and tough gear for the mud, rain and rocky mountains.
KLIM aim to cover all bases with their range (plus their Adventure bike gear which you should check out if you're more into trails and mountain riding). "Designed specifically to give riders the tools they need to have the best experience possible, no matter the conditions" they explain.
Take a look at the three model lines and updates for 2023…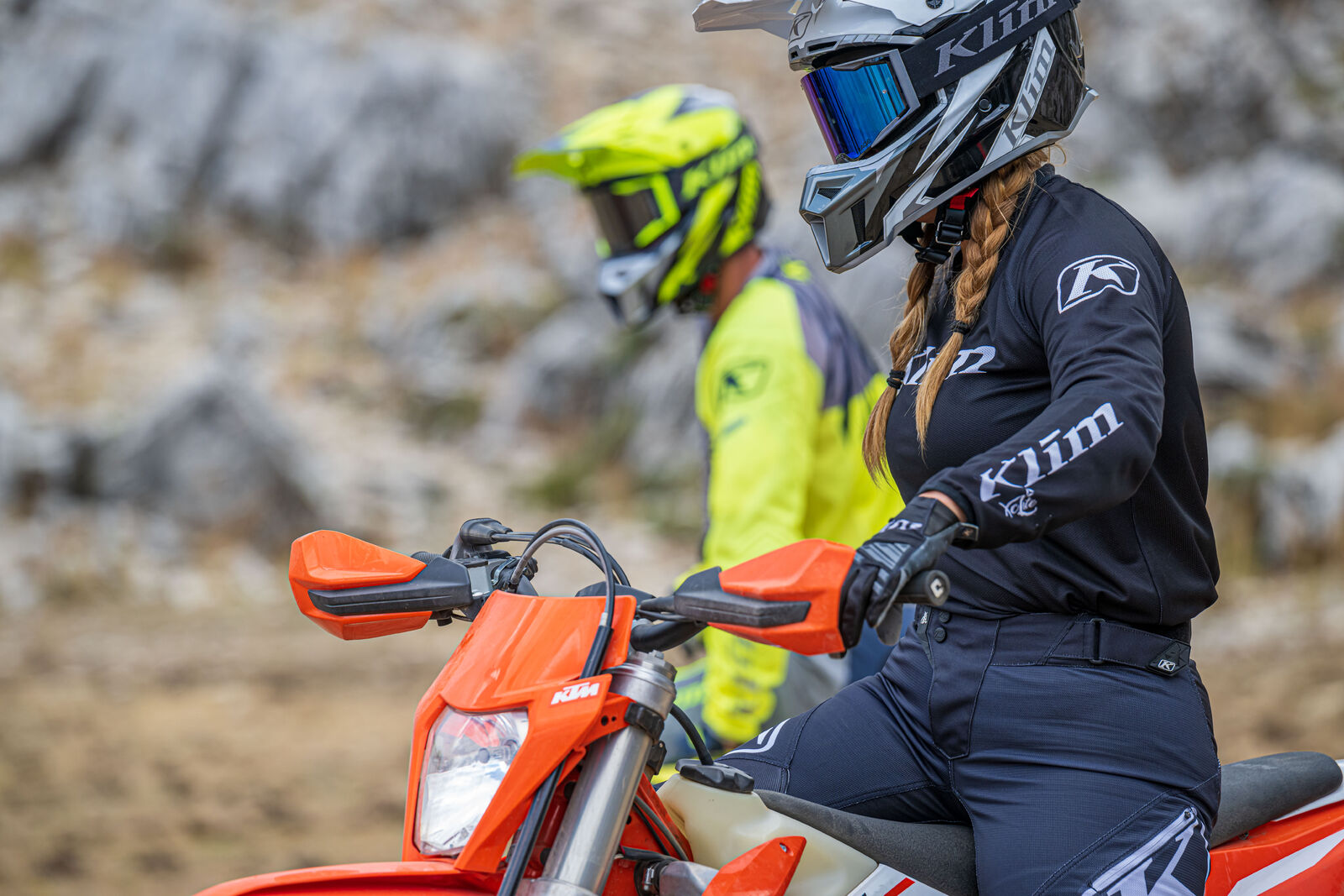 XC Lite Series
The XC Lite series is designed for men and women with, as we said, a focus on ventilation and mobility while riding. KLIM say it is "engineered with the aggressive trail rider and racer in mind", the kind of conditions where airflow is important.
The XC Lite is constructed using moisture-wicking materials and flexible fabrics plus leather overlays and strong fabrics in high wear areas.
Updates for '23 are to the men's, women's and youth XC Lite lines and include new colours for jerseys, pants and gloves.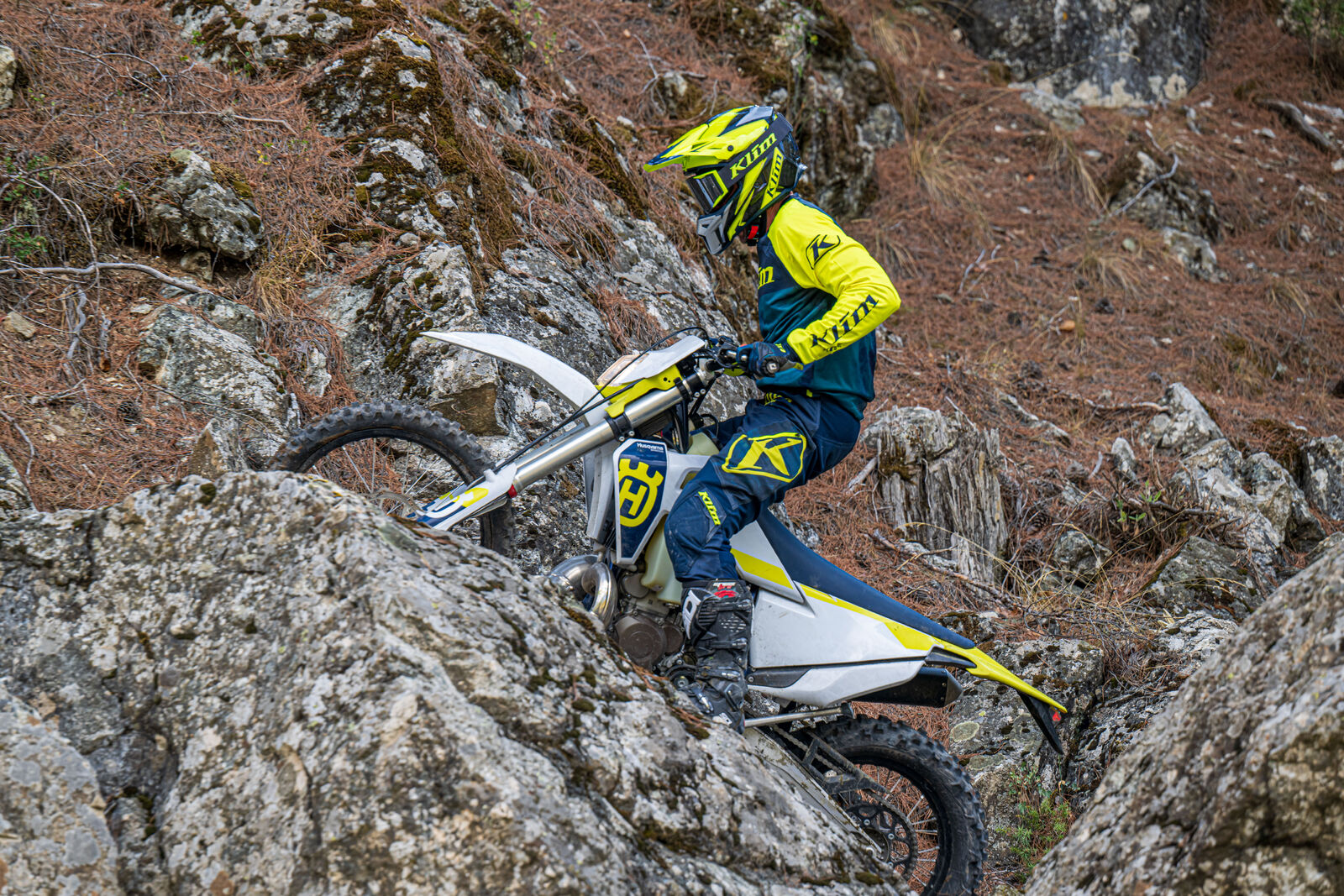 Popular Mojave line
The Mojave series already received a significant update in 2022 with redesigned styling and new highly-durable Karbonite Mesh also found in KLIM's Induction series of street motorcycle gear.
For 2023 they've introduced a pretty sweet solid black full kit (matching pant, jersey, glove) if you're into that sleek look. The Mojave is popular for enduro/off-road and features redesigned Mojave Pro Glove, KLIM's most durable and vented off-road glove they say, now in its third generation, with streamlined palm construction for increased comfort, remapped seams for less bulk and improved e-touch function for those all-important selfies.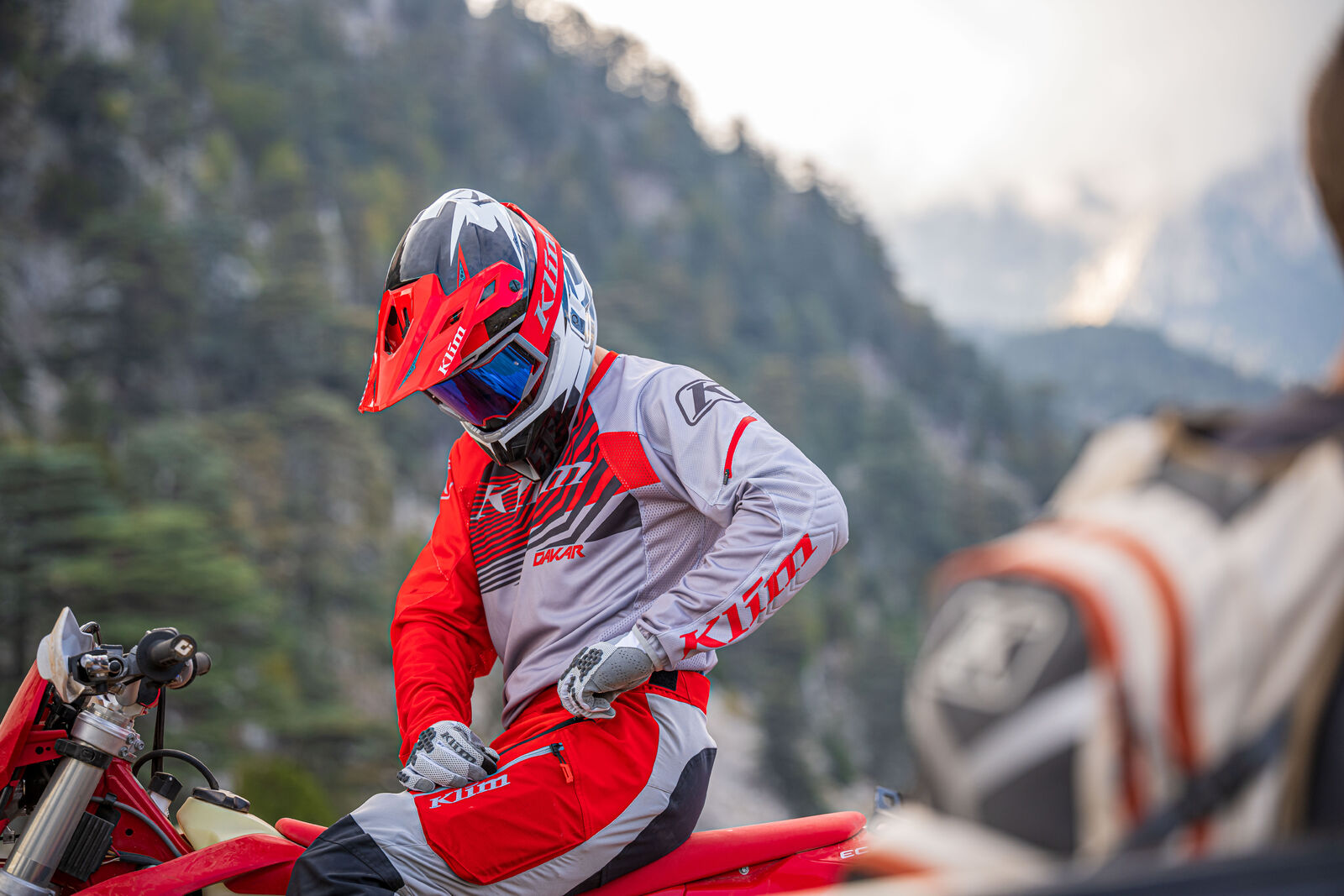 Durable Dakar series
KLIM's Dakar series aims for versatility in a variety of riding conditions and features all-new jersey graphics and colours for '23. The pants feature "massive adjustable vents" and multiple stretch panels, leather overlays and heavy duty 840D Cordura in key areas.
The jerseys balance stretch materials, mesh and durable sleeves. New for 2023 is a red addition to the Dakar Jacket, Glove and In The Boot Pants.
Check KLIM's simple explainer video for the differnt gear lines...
KLIM's support programme
KLIM also proudly tries to help out competitive riders with its Racer Support Program. Off-road racers with at least a year of experience are encouraged to apply for gear support to help ease the financial burden of racing for privateers.
Privateers and amateur racers alike are encouraged to apply for the KLIM Racer Support Program.
More information: www.KLIM.com
To apply for racer support, visit: www.klim.com/racer-support-program