Quick look: SCOTT SXII lock-on grips – "fit and go" off-road grip sets
SCOTT's new SXII Lock On Grips designed to be quick and easy to install, reduce vibrations and be a simple 'fit and go' option for most modern off-road bikes – Enduro21 gets its hands on a set…
SCOTT say their engineers have drawn from decades of experience to create the new SXII Lock-On grips. Using "the latest cutting-edge materials and manufacturing processes to create a grip that offers all the control and comfort you need, whilst also making installation a breeze."
If this sounds like an advert, it's not, we're just telling you what they say first before detailing what we found unboxing and fitting a set.
SCOTT SXII Lock On Grips Technical highlights:
Lock-on clamp on clutch side grip
Vibration reduction
Easy install
Different cam options as standard
SXII diamond rubber grip pattern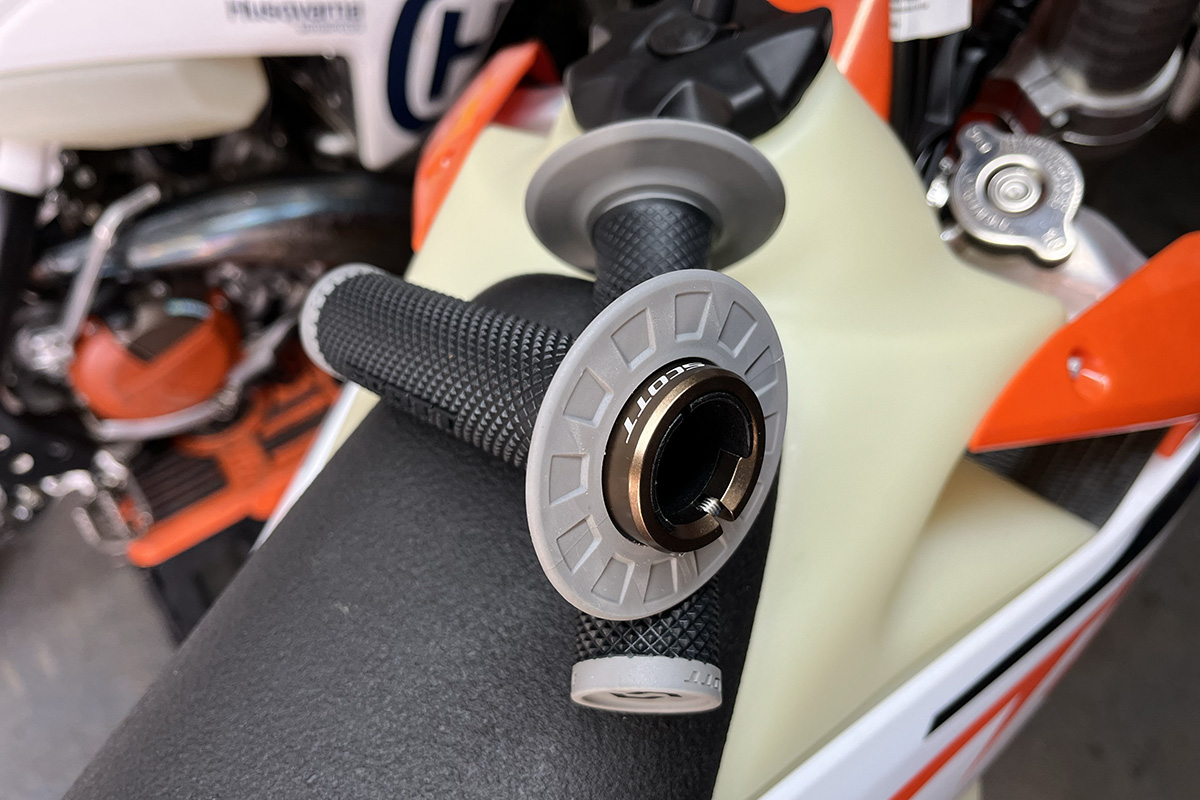 Enduro21 has a couple of sets on test (they come in a range of colours including the orange and grey optins shown) and the first thing you notice is a familiar diamond rubber pattern from previous Scott grip generations stretching back decades.
The big and obvious point to make is the grips are super-easy to install. An alloy clamp on the left grip (clutch side) means it locks on and stays put, literally as the name suggests, and meaning you don't need to use lock wire or glues as you do with conventional grips.
As such that means they are very much a direct replacement for the standard grips on a KTM/GASGAS/Husqvarna but at a competitive price. Check in your country but we're seeing RRPs between 25 and 30 GBP/USD/Euro.
Quick fit
"No need for safety wire or messy grip glue" they say with 24 locking points around the clamp, you can place the grips in the position you prefer. Installation is easy and fast and naturally you can fit them and ride straight away with now waiting for glue to dry.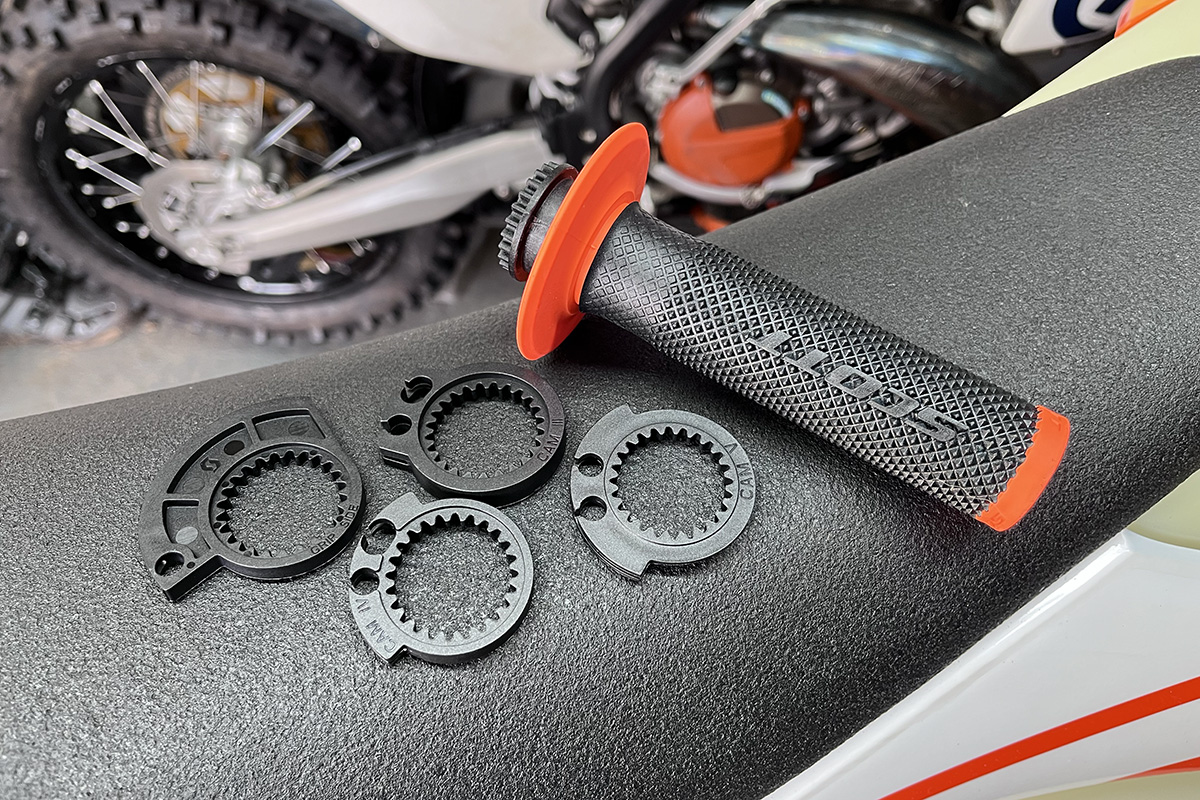 Cam options for different bikes
The Lock On Grips are supplied with multiple cam sets to fit the most common models – see fitment guide below.
The throttle or twist grip side naturally doesn't lock (being located inside the throttle housing) but is equally simple to choose the correct cam pattern for your bike and took us about one minute to install.
Vibration Reduction
"Strategically windowed core" is, Scott says, how they achieve vibration reduction in the grip design. The window is positioned in line with rider hands when in the riding position, and though you can't feel the windowed core on the bars, the soft material fills out the window to reduce vibrations compared to a standard, solid core grip.
Check the video explainer from Scott…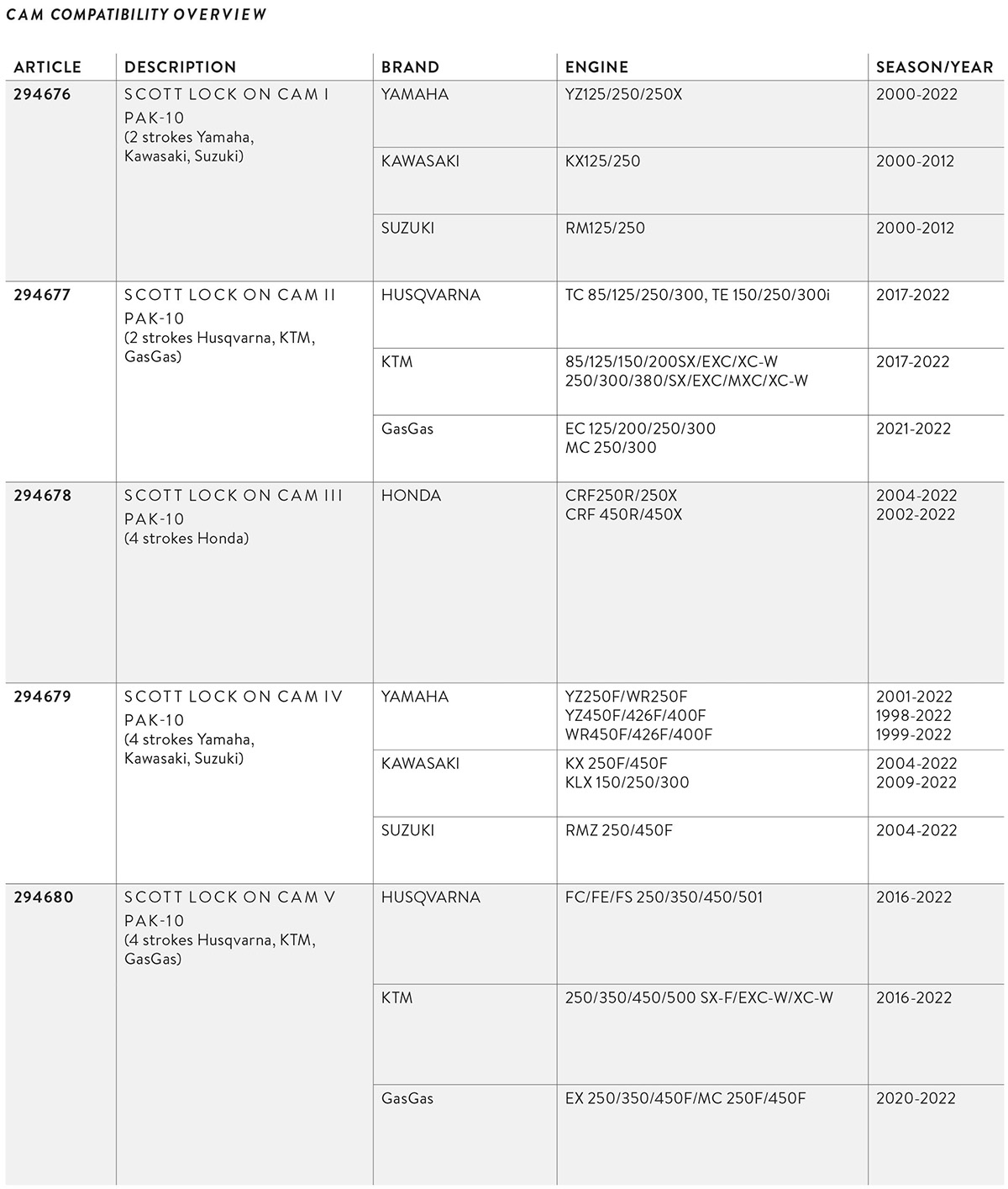 More information: www.scott-sports.com/gb/en/lock-on-grips