Quick look: Full bling (6K) WP Suspension 'Cairoli' fork and shock set
WP Suspension announce Toni Cairoli special edition XACT PRO 8950 shock absorber and XACT PRO 7548 fork set, "handcrafted" with their own carry case and limited to, you guessed it, just 222.
We know some Enduro21 readers like to fit motocross-spec suspension to enduro/off-road (especially XC riders) so figured this piece of exclusivity might be of interest.
With nine world titles and 178 victories to his name, Antonio Cairoli doesn't need and introduction but the WP XACT Pro Components suspension set wearing his name does.
The limited edition set of XACT PRO 8950 shock absorber and the XACT PRO 7548 fork both wearing Toni's signature with laser-cut details, a sleek black finish and a travel case to keep them safe.
They're not cheap at six and a half grand and it goes without saying some people don't spend this much on their bike. But plenty do and if you want the full bling, and bearing in mind suspension upgrades are for many experts the best way of improving any bike, it's not going to get much better than this.
XACT PRO 8950 shock & XACT PRO 7548 fork TC222 Limited Edition technical highlights:
Special edition design with TC222 signature and laser-cut details
All-black finish
Improved performance in all riding situations including feedback, comfort, and response
Fully adjustable compression and rebound damping
More traction and grip of the rear wheel from shock
Pressurised fork system reduces cavitation risk – no damping loss
Extreme longevity due to the use of only high-quality materials
Specially handcrafted with "the highest care"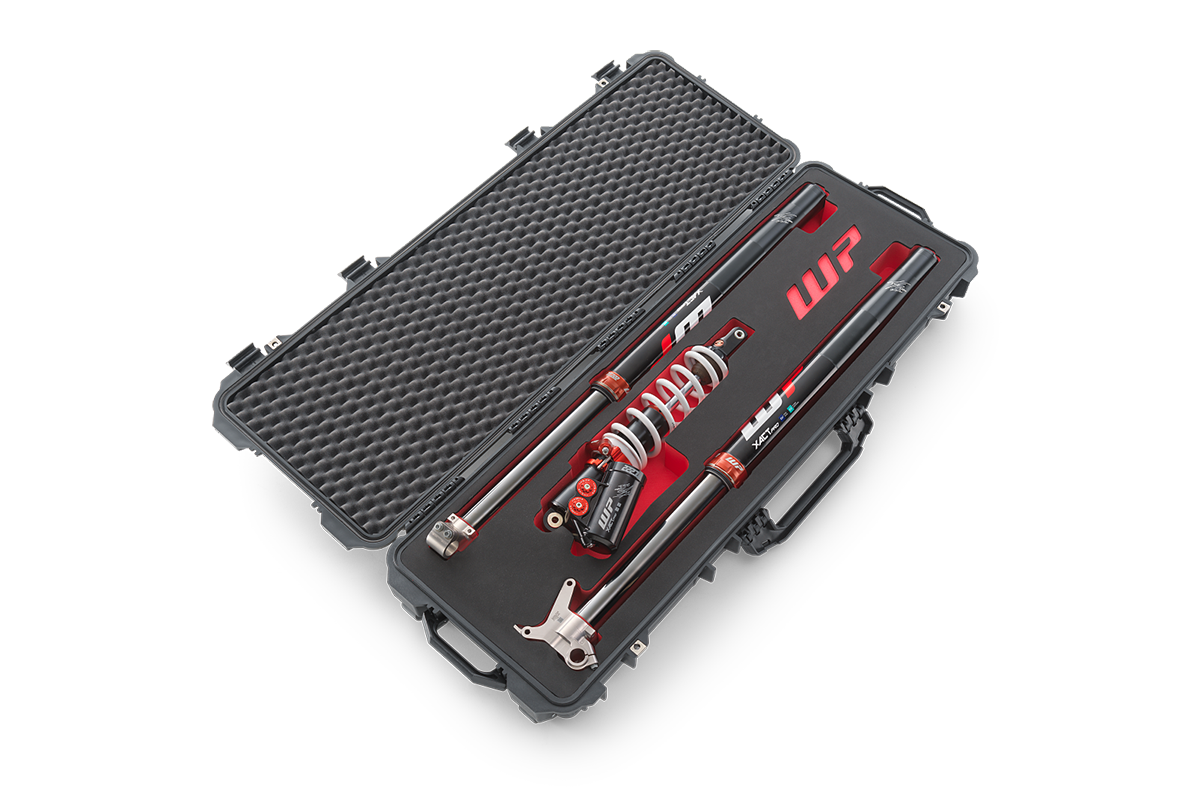 WP travel case features
High-quality hard case with protective foam
Includes wheels and handles for easy transport
Watertight, crushproof and dustproof
This Limited Edition TC222 set will fit most KTM/Husqvarna/GASGAS motorcycles but check your bike (obvs not PDS-type EXC models). WP recommend the below fitment:
KTM
All SX-F/XC-F Fullsize 23-24 (4-stroke)
All SX/XC Fullsize 23-24 (2-stroke)
250 SX-F Factory Edition 22-23
450 SX-F Factory Edition 22-23
Husqvarna
All FX Fullsize 23-24 (4-stroke)
All TX Fullsize 23-24 (2-stroke)
FC 250 Rockstar Edition 22-23
FC 450 Rockstar Edition 22-23
GASGAS
MC 250F/450F Factory Edition 23
UK pricing confirmed as £6322.40 per set – check prices in your country. Available to order now from any WP authorised centre. The part number for the limited edition sets is: A460C199X400220
More information: www.wp-suspension.com