First Look: Leatt's all-new 7.5 Moto Helmet
Leatt have announced a new addition to their helmet range, the 7.5 Moto Helmet arrives with the same technology and impact protection as 8.5 and 9.5 models but for a more "pocket-friendly" price – plus you get a free set of goggles.
Leatt's latest addition to their off-road helmet range brings the brand's high level of brain injury reduction technology found on the more premium models – 360°Turbine Technology, four-density impact foam and high-level ventilation – as the successful 8.5 and 9.5 Moto Helmets but at a competitive price tag of $259.99/£179.99/€249.99.
Leatt 7.5 Moto Helmet in a nutshell:
DOT+NEW 2021 standard ECE 22.06
Injected Polymer shell in three sizes
360° Turbine Technology – Brain injury reduction technology
Four densities of impact foam for reduction of forces to head and brain
Visor with breakaway function to reduce forces to head and neck in a crash
Emergency cheek pad removal
Large ventilation channels to keep your head cool even at lower speeds
X-Static® Inner liner is washable, breathable and has moisture wicking anti-odor fabric
Designed to offer great neck brace mobility
Hydration side port (with optional hands-free kit)
Free Velocity 4.5 goggles Included
Weight: 1.250 ± 50g (2.76lbs)
Protection game is strong
The newest helmet from the South African brand features their in-house developed head and brain injury reduction system, 360° Turbine Technology. Simply put it consists in a number of "turbines" placed under the shell that reduce the rotational acceleration up to a 40% thanks to their movement in a crash scenario. The mentioned turbines also absorb the impact energy to the head and brain by up to 30%, considerably reducing the risk of concussion they say.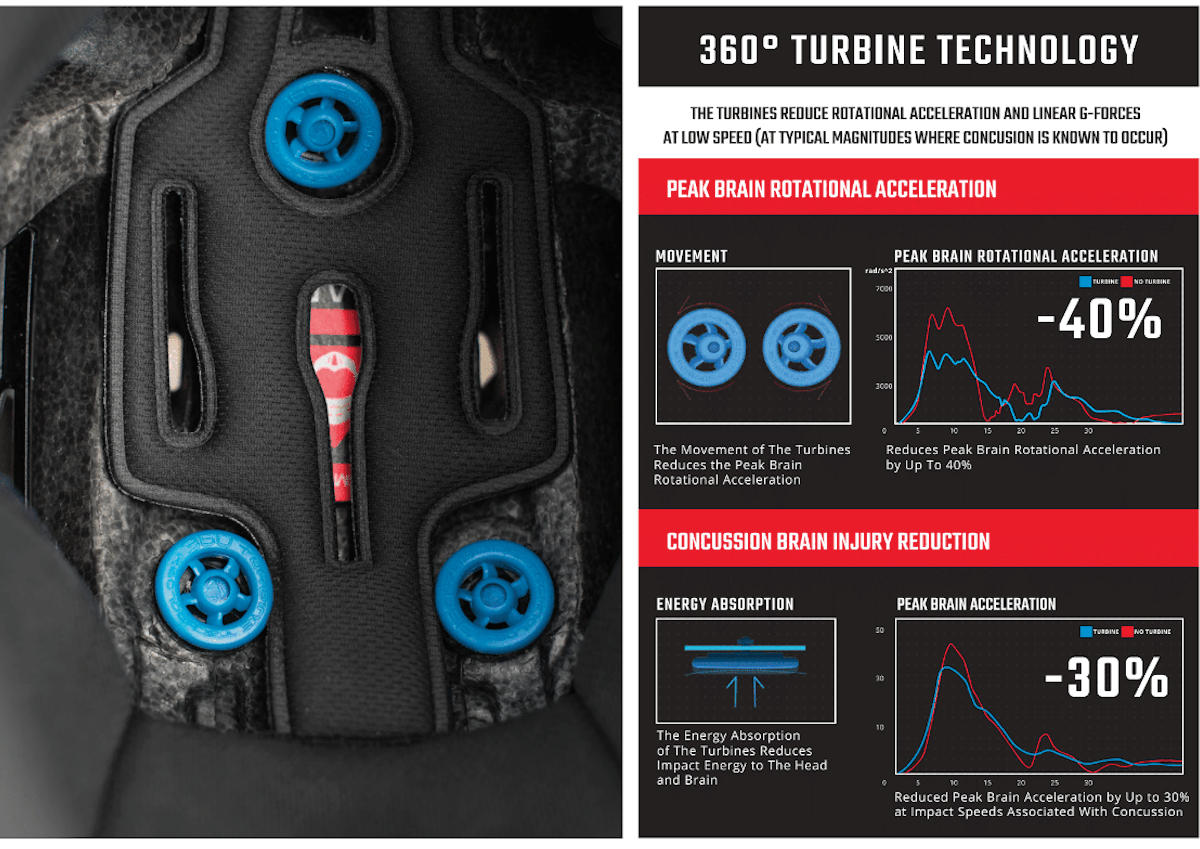 To top all that the helmet has a four-density impact foam to mitigate the forces to the head and brain even further as well as a visor with a breakaway point to reduce the forces to the head and neck. Additionally, it has an emergency cheek pad that can be removed to take the helmet off a rider without causing them any further injuries.
Keeping you cool and comfy
The 7.5 Moto Helmet features the same ventilation system found in the top of the range 8.5 and 9.5 helmets and a washable inner liner made of moisture-wicking and anti-odour fabric that helps in keeping your head cool and dry when the sweating starts.
Running your hydro pack's tube to your helmet is quite common nowadays in enduro and this hasn't gone unnoticed with a hydration side port with an optional hands-free kit for the drink tube.
Colours: Black, Blue, Ice, Pink, Red and White
Price: $259.99/£179.99/€249.99
More information: www.leatt.com