GASGAS announce new eMTB bicycle range
GASGAS has added to their motorcycle line-up with an 11-bike mountain bike range for 2021 – Enduro Cross, Trail Cross, Cross Country and Dual Cross eMTB bicycles heading to dealers across Europe.
GASGAS say they have used their "technical know-how, experience, and passion" to create this new eMTB range. The 11-strong line-up for 2021 features Enduro Cross, Trail Cross, Cross Country and Dual Cross models using "state-of-the-art" Yamaha pedal-assist motors.
Pedal-assist cycling and e-mobility is an area in which a number of motorcycle manufacturers have been branching into in recent years. GASGAS's new model line-up takes quite a step with this many models designed to hit a wide range of riders from serious downhillers, to trail riders and even commuters.
The Japanese manufacturer Yamaha is in fact the originator of pedal-assisted cycling with their drive units tried and trusted across the bicycle market so it should come as no surprise to find them used in this GASGAS range.
The Enduro Cross and Trail Cross models are aimed at the more hardcore end of the eMTB market with the Enduro Cross option specced for downhill riding. The Yamaha motor, long-travel suspension, "slack" geometry and mixed wheel sizes show this one has focus. The Trail Cross is again a full-suspension eMTB but is built to tackle the ups as well as the downs on the trails.
The Cross Country model is the "perfect entry point to eMTB" GASGAS say, and great for building singletrack skills and confidence. The Dual Cross model has the step-through frame design and is capable on both road and mountain trails plus it makes a good commuter option.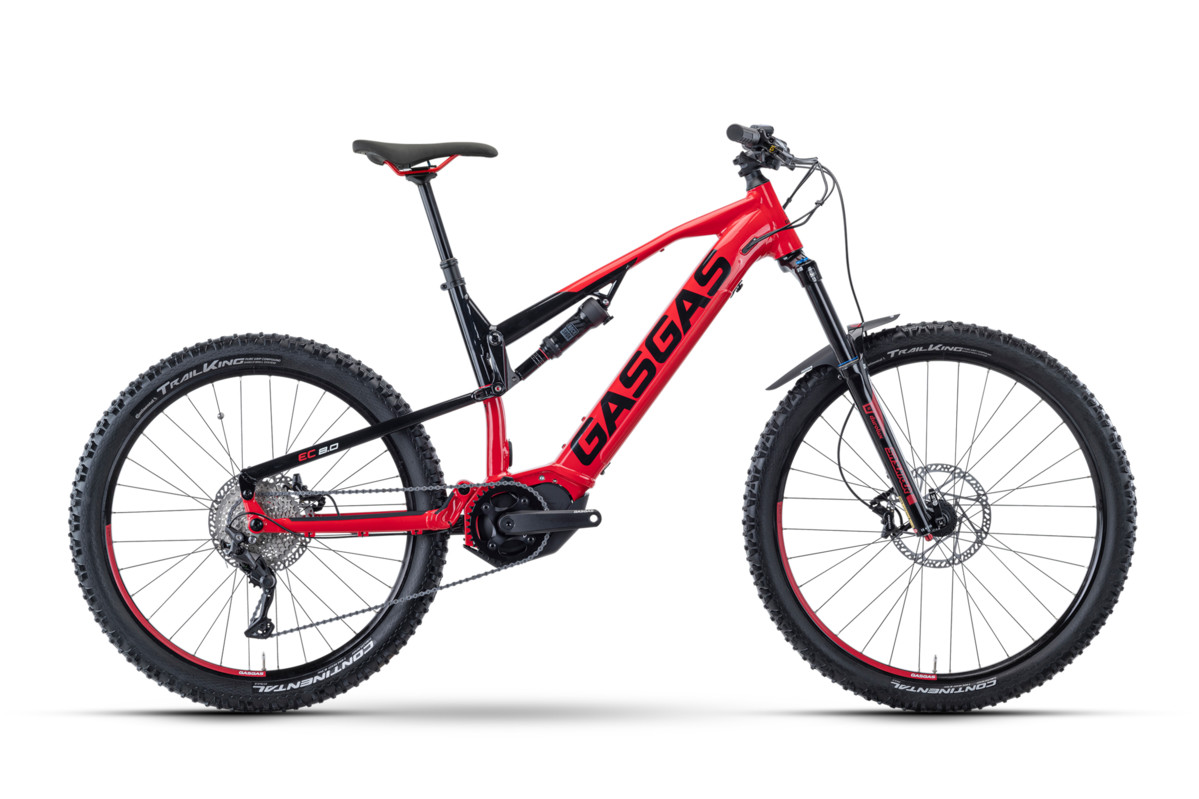 Adrian Guggemos and Kenny Belaey onboard
Helping to grow the visibility of GASGAS Bicycles at the track and on the trails will be GASGAS Motorcycles' factory racers plus pedal supremos Adrian Guggemos and Kenny Belaey.
For model year 2021, GASGAS Bicycles will be available in Germany, Austria, Switzerland, Spain, Portugal, Italy, France, Netherlands, Belgium, with further market expansion into North America already planned for the 2022 models.
Enduro21 has no word yet on prices for the different models.
For more information on the new range of GASGAS Bicycles, contact your local GASGAS dealer: www.gasgas.com