New Enduro Jacket the highlight in Husqvarna's 2021 Clothing Range
An all-new 'Gotland' Enduro Jacket highlights the off-road focus of Husqvarna Motorcycles' 2021 Functional Apparel Collection of enduro and motocross clothing for adults and kids.
The range of products in Husqvarna's riding clothing range continues to be among the most functional and considered, from a rider point of view, of clothing ranges coming out of any manufacturer.
Enduro21 takes a quick look at the new, 2021 Husky riding kit including the stand-out new off-road riding jacket.
Gotland Jacket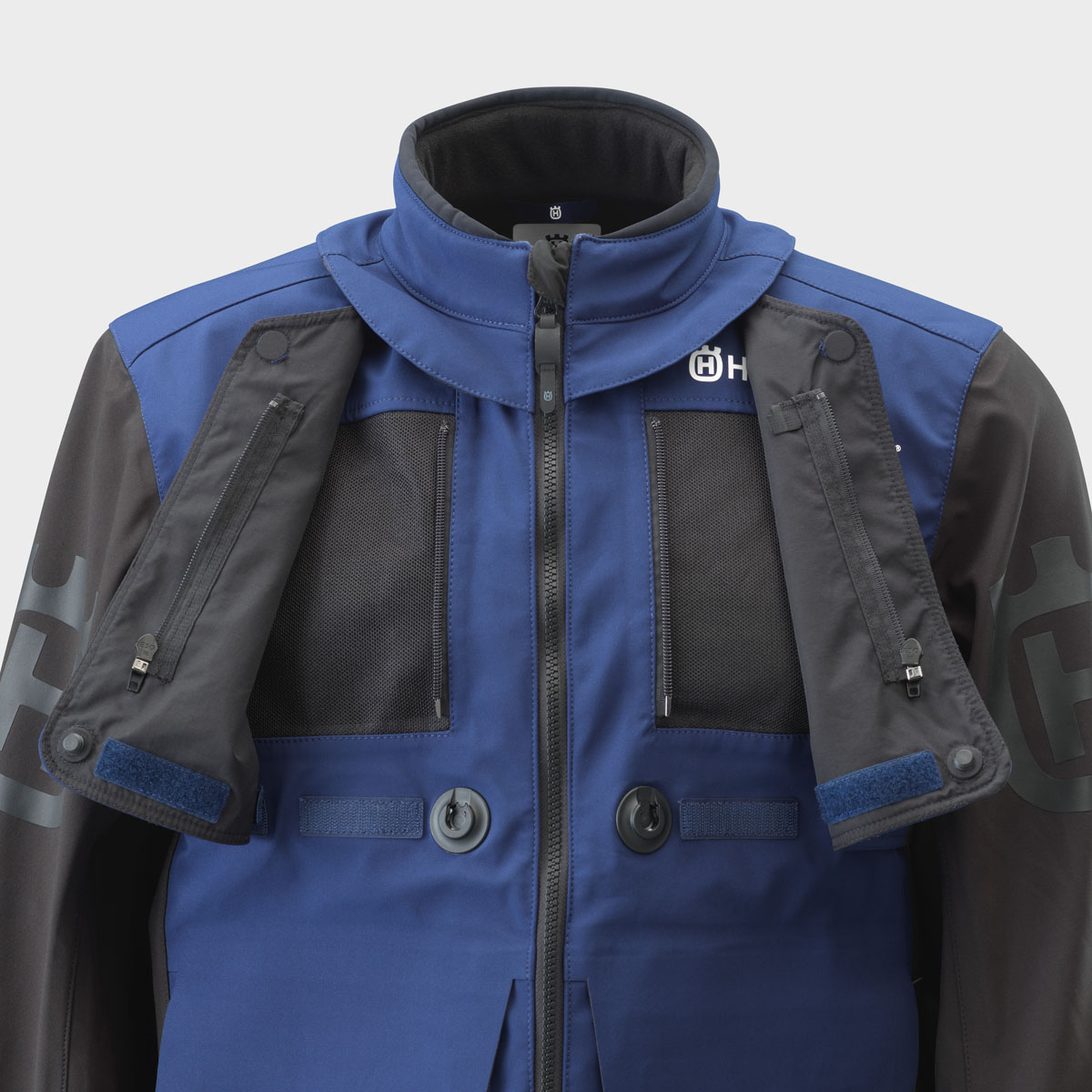 The all-new Gotland Jacket promises to be versatile and packed with features, Husqvarna say. The lightweight, breathable, water-repellent off-road enduro jacket is designed to be multi-season and adaptable to different weather conditions.
In warmer temperatures (or when you get warm) the sleeves can be detached and stowed in its large rear cargo pocket and there's a removable collar. Comprehensive ventilation allocation also lets cool air in and warm air out.
Numerous other pockets inside and out add to the Gotland's usefulness they say with one internal pocket which is 100% waterproof.
Gotland pants and shirt
The Gotland Jacket obviously has Gotland Pants to match which are lightweight, durable and breathable, plus are Cordura-reinforced. They also boast ventilation and feature heatproof and abrasion-resistant leather knee reinforcement.
The Gotland Shirt is "a fresh take" on the familiar riding shirt design say Husqvarna. Light and robust, the modern yet timeless Gotland Shirt is water repellent while remaining breathable.
Gotland Waterproof Gear
Also catching our eyes in the 2021 clothing range are the wet weather jacket and pants – also labelled Gotland Jacket and Pants but distinguished by a 'WP'. Meaning for waterproof of course and they say multilayer, functional membranes keep the elements at bay while a hard-wearing construction still allows easy movement and plenty of ventilation while you ride.
Motocross Gear
If you're more into the short track stuff, the new Railed Gear packs premium motocross style into a range which includes the Moto 9 Flex Railed Helmet by Bell, Racecraft+ Goggles by 100%, Railed pants and shirts in adults and kids sizes.
Off-road boots
The new off-road boots range now caters for a wider range or riders from entry level to professional with the X-3 SRS and Crossfire 3 SRS Boots. They are designed and manufactured exclusively for Husqvarna Motorcycles by market leader SIDI.
The new Functional Apparel Collection 2021 is available now at all authorised Husqvarna Motorcycles dealers. For further details on pricing and availability, refer to your nearest Husqvarna Motorcycles dealer. The availability of individual items may differ from country to country.
More information: www.husqvarna-motorcycles.com