New Metzler Enduro tyres for 2021 – Supersoft option for Extreme Enduro
Metzeler has extended its Enduro and Off-Road tyre range for 2021 with more options for Extreme and closed course riding – new softer and wider front tyres introduced plus a supersoft rear for events like Red Bull Romaniacs.
The established MCE 6 DAYS EXTREME Metzeler range can boast a healthy record across the world of enduro including Enduro World Championship titles with riders like Steve Holcombe, ISDE victories and more recently jumping into the extreme and hard enduro competitions like the Red Bull Romaniacs on them.
Soft and Supersoft front tyres for Extreme Enduro
The new for 2021 90/90-21 SOFT front tyre is an evolution of the HARD tyre compound but with adjustments to damping and stiffness to better suit extreme enduro. Metzeler say the new tyre is, "dedicated to extreme enduro competitions, with marked damping and longitudinal stiffness characteristics suitable for a sustained riding pace as well as for slow passages."
The new 90/100-21 SUPERSOFT front takes a step further and is developed specifically for the more technical extreme enduro events such as Romaniacs.
Three rear tyre options
The new 140/80-18 MEDIUM rear is Metzeler's FIM approved Enduro GP-spec tyre which increasingly includes a wide range of challenging riding conditions (for a tyre manufacturer) including Extreme, Cross and Enduro tests.
The latest 140/80-18 SOFT rear matches the front SOFT and is aimed more towards extreme enduro and features new "damping structure and lateral stiffness."
The 140/80-18 SUPERSOFT rear option meanwhile takes that extra step again and is suited for those gnarly tough extreme enduro events. It "represents the finest evolution of structures and compounds" Metzeler say and add this tyre represents "the only enduro specification with the name SUPERSOFT approved for road use currently on the market." (In North America and Canada NHS marking is applied).
The colours on the tread denote the different options: orange for SOFT specifications and green for SUPERSOFT. Black is the standard 6 days Extreme.
The MCE 6 DAYS EXTREME range available in 2021: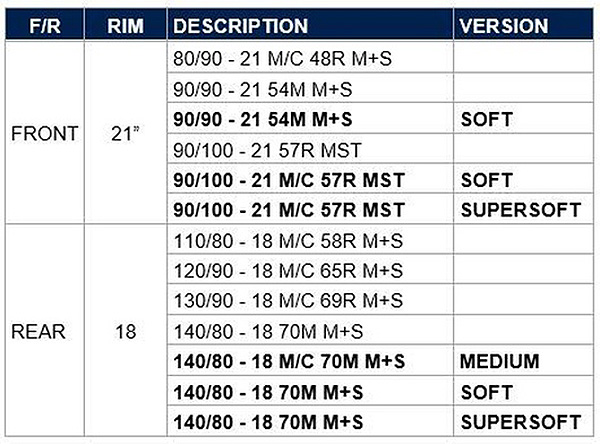 New R model closed course tyres
Metzeler's MC360 is the off-road tyre intended for motocross, supercross and cross-country riding where speeds are higher and different construction strengths are needed. Metzeler say this tyre also holds an adventure record in ascending the highest volcano in the world, Nevado Ojos del Salado (located between Argentina and Chile) establishing three world records.
From May 2021, sizes will also be available in the new R specification for track racing with a new tread and structure compounds. The MC360TM R specification will be available exclusively in NHS (Not for Highway Service) version and in both Mid-Soft and Mid-Hard compounds.
MC360™ is available in the following sizes (new in bold):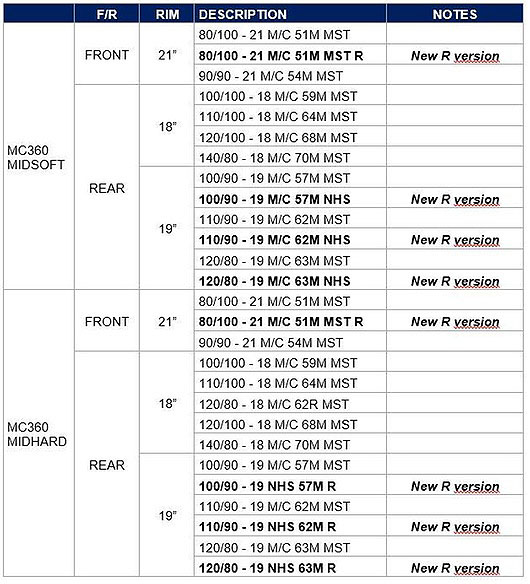 More information including prices in your country: www.metzeler.com