Tested: Leatt GPX 5.5 FlexLock boots
After five months in massively varied riding conditions, Leatt's GPX 5.5 FlexLock off road boots get the Enduro21 tested treatment.

Leatt are well-known for their off road riding and protective equipment and famously their neck braces. But when the South African company entered the complex off road motorcycle boot market they took on a challenge.
This is an area of enduro riding equipment which has wildly different options out there for customers from utter dross boots no better than wellies to pricey, highly developed and super-protective options.
Where then would Leatt sit in this mix? For a start we knew they were doing their homework. We spotted Jonny Walker and Ryan Sipes wearing all-black prototypes well over one year ago now, in fact Leatt say the 5.5 FlexLocks were three years in development.
Walker couldn't say enough positives about his when we asked him in the middle of 2019 – his only complaint was they were making him wear one set for endurance/wear testing reasons when all he wanted a nice shiny new pair to look good in pictures.
Naturally we wanted to get our feet in some ourselves and late in 2019 got this black and white pair. This being Leatt's first ever motorcycle off road boot, we needed to know literally how stood up to the job so waited until we had put the hours on them.
We've had this set for five months and have clocked practice days, races, jet washed them and even went for a dog walk wearing them once. Here's how they faired…
They say: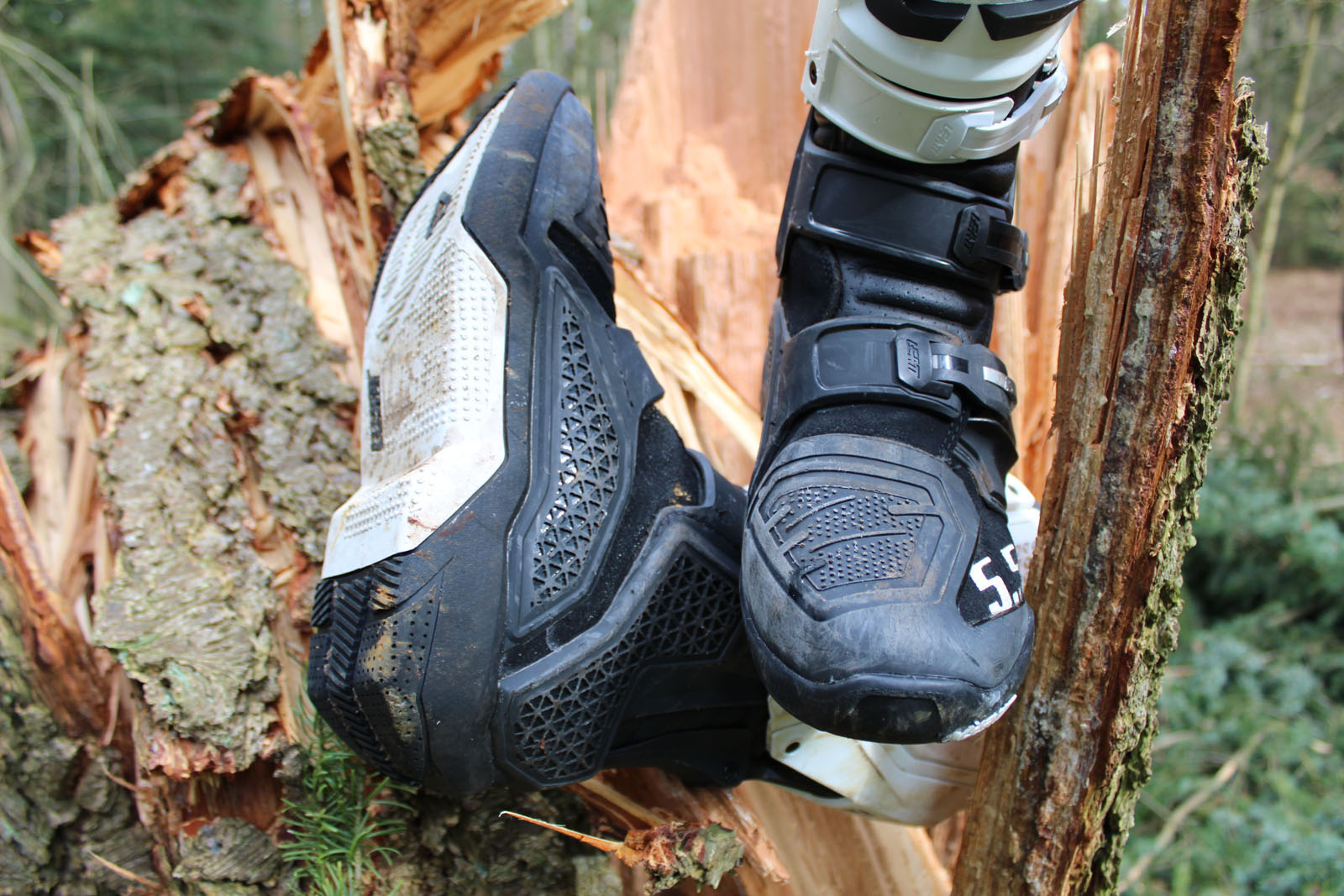 The all new Leatt GPX 5.5 FlexLock boot, a three-year project with long term development and testing using our Pro athletes from all over the world.
The GPX 5.5 boot is a real head-turner when it comes to looks and style, but the design brief was comfort and protection also, and we nailed it first time.
As you slide your foot inside our boot, you instantly feel the plush interior and quality of the materials used, it's like putting your feet inside your favourite shoes or slippers!
Our adjustable FlexLock system reduces forces to the ankle by up to 37% and the knee by up to 35% by locking out the ankle movement when over flexed, giving you that feeling of security.
With great feel of the frame, gear lever and rear brake, these boots instantly feel so good. You must check out our SlideLock Velcro function, it really is ground-breaking in security fastening boot technology.
We say:
From the first try on in the kitchen, these boots are about as comfortable as you will find any motorcycle boots. Honestly it is an over-riding factor about them from first ride in them to the last now five months down the line. Breaking-in time was minimal too.
Impact foam around the ankle, heal grip inside deliver a general cushioned feel with no pressure points after prolonged wearing and longer riding time on the bike. There's also room inside and though I don't have fat feet they are big and wide enough to be cramped inside some other boot types.
I've been particularly conscious of the lower leg and ankle comfort as I'm carrying metal down there which sticks out a bit and is quickly sore in an uncomfortable and too solid boot. But I clocked over four hours in these 5.5s at a recent race (from walking about pre-start to the five lap race) and I took them off at the van feeling good, knackered obviously but my ankle was in good shape.
Protection systems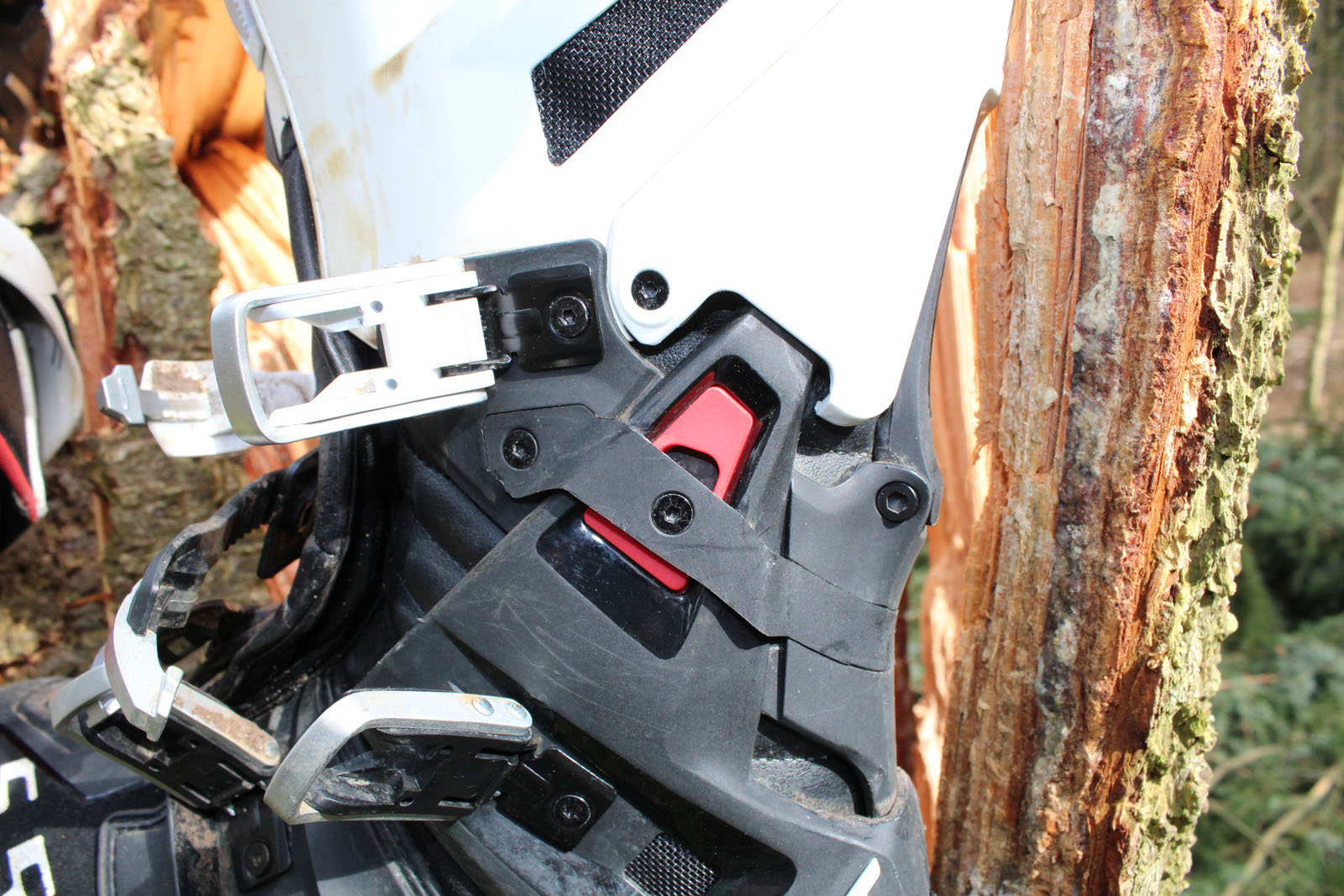 What about that FlexLock system from which the boot gets its name? Leatt claims it reduces the forces absorbed by the ankle up to a 37% and the knee by 35% and I honestly cannot offer any insight into whether that is true or not except to say I've finished some long rides with knackered arms not legs – maybe Leatt could think about making something similar for my arms instead?!
That "LockOut" system (just above the ankle) allows movement to ride but limits the over-extension of the ankle by physically locking out. Movement is rightly limited but the 5.5 boots have enough agility in the ankle area to give some mobility on the pegs which I'm saying is good for enduro.
Too much movement is obviously a bad thing and can lead to ankle injuries, too little however doesn't allow for the natural movement we need in this sport when we're hoofing over logs or constantly changing riding position in a whooped-out wood.
Some boots on the market, the ones more tuned to motocross, are super-solid and you trust their protection systems but they have much less feel. The 5.5 Flexlock boots have a solid and clever exterior framework which provides solid protection against impact and over-extension but they also have plenty of feel and generally a sense of control on the pegs and levers lacking in some others on the market.
Leatt also say the riding platform, the area touching the pegs, is longer and that does seem to mean more freedom to use your feet precise where you want them.
Taking the hits
I must admit all the positive vibes began to get me thinking maybe they lacked some protection but I look at the spec details of Leatt's LockOut system, the steel shank and reinforced sole and I trust them. I've taken some typical hits against tree stumps and rocks and can only say it works. Some of that is undoubtedly down to the interior padding also cushioning my bones from impact.
I tested the heel and ankle exterior armour in a pretty meaningful way by trapping and crushing my foot between the lower frame rail/footpeg mount and a tree stump. The bike came down hard across the lower boot but, happily, I came away with no injury.
Sole grip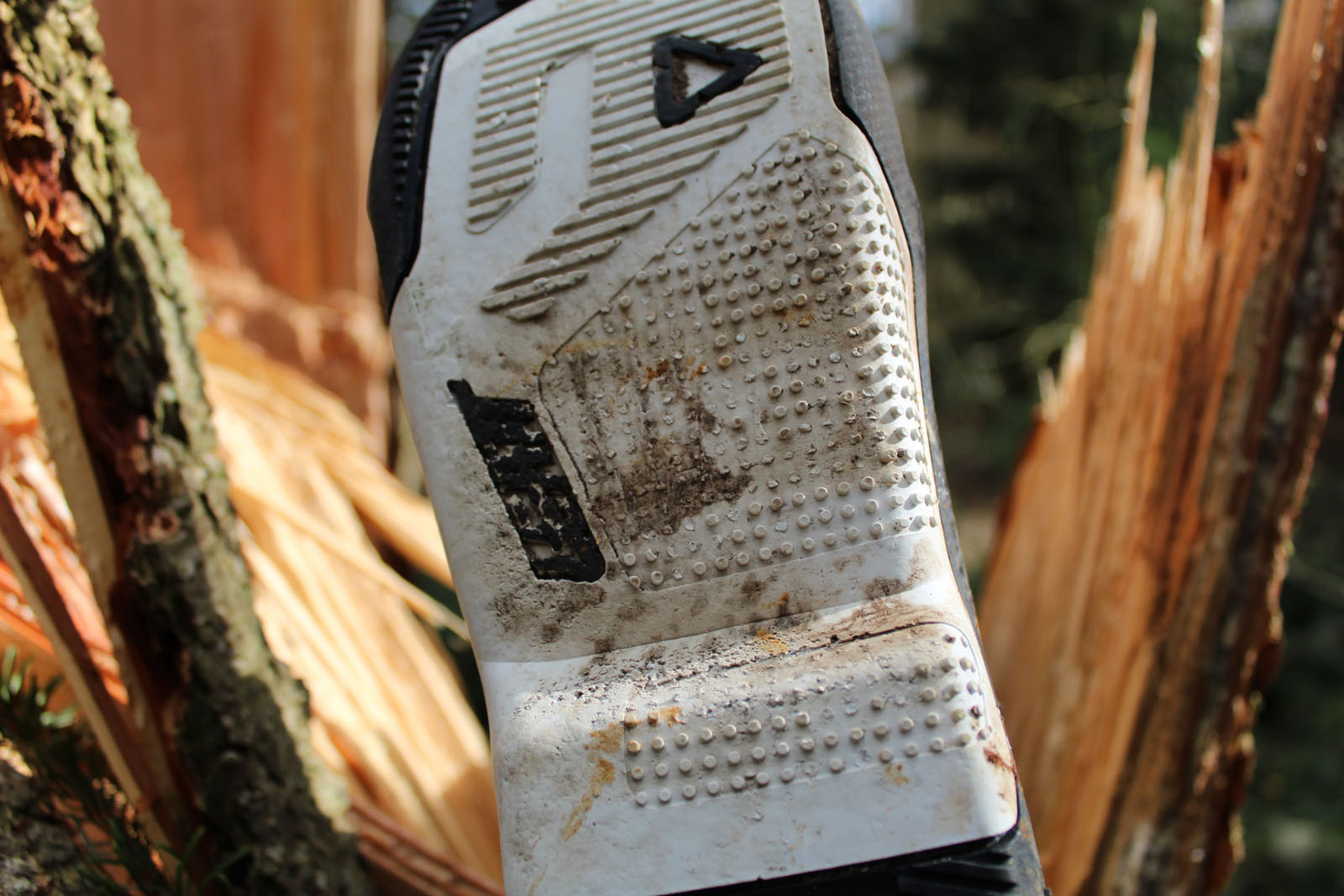 If I have any criticism at all it would be for a touch more grip on the soles. On the pegs and foot levers the feel is great and as good but on the ground, when I'm using my foot in a technical section or extreme conditions, I want a bit of bite and I'd maybe prefer some more. I know the reasons why most boots have smoother soles, most of the time you don't want the bite, just a skim of the surface or it becomes a hazard – maybe two different sole options would be a good idea?
Wear and tear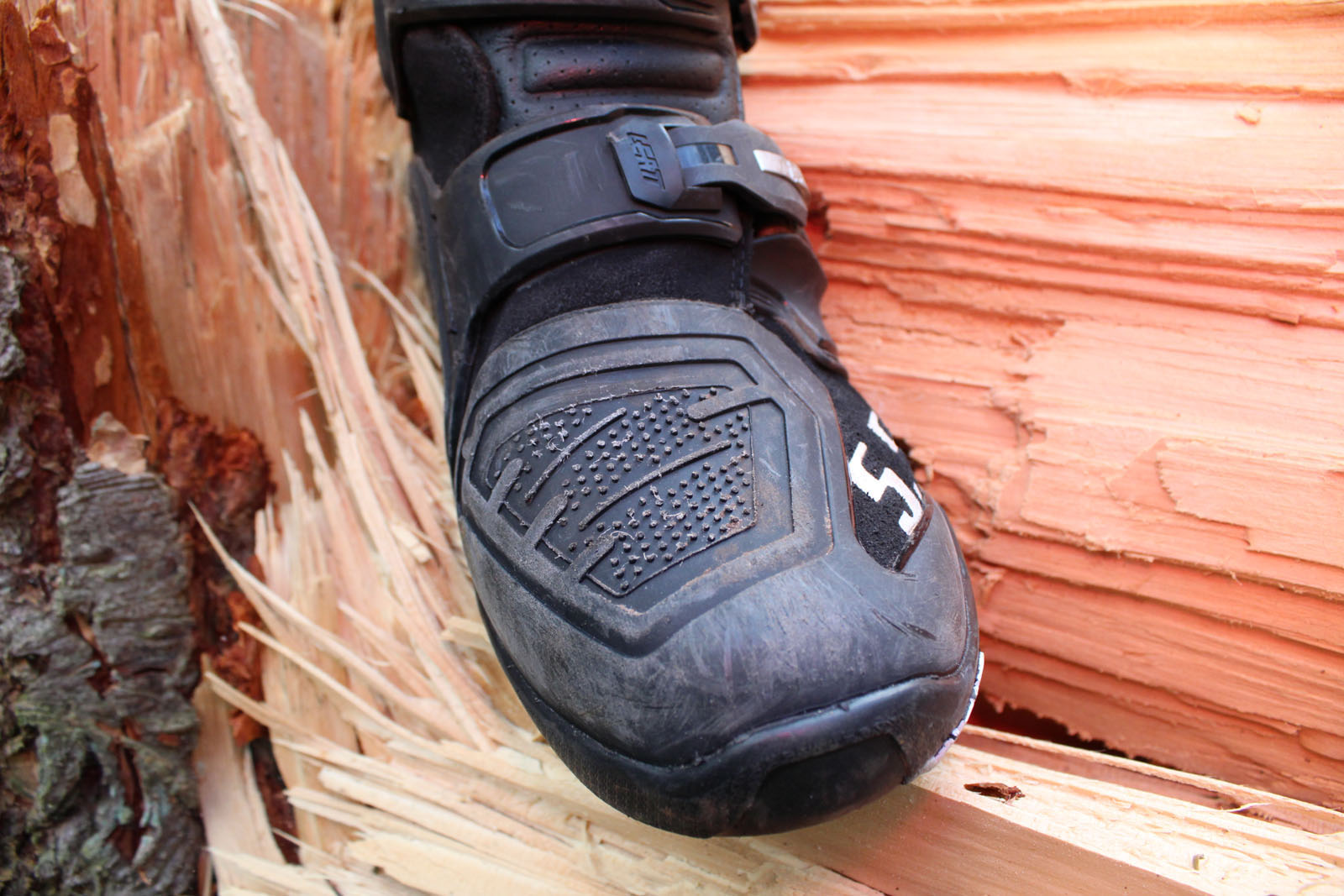 What about wear and tear? I'll continue to test this pair and clock up the hours but so far they still look pretty good. I use Raptor Titanium footpegs which can have a terrible effect on a boot sole but they have handled that constant savagery well.
They're not waterproof but do a pretty good job of keeping the moisture out without being too hot either – although I haven't tested them in baking hot conditions so far.
The buckles are so far solid despite the heavy doses of mud and getting battered by rocks. A neat touch which shows the development process was real world and not just in a design studio somewhere is the little ski ramps in front of the lower buckles that help deflect impact away from the buckles and make them less vulnerable.
All the practical stuff works well. Putting them on is easy with a decent opening of the front flap or gaiter to let you slide your foot inside. It pulls snug around my leg and once on, they fit with my knee braces rather than fight with them for position.
The gear change toe area is probably the scruffiest but I'd expect that after some of the riding conditions they been put through and generally Leatt's 5.5 FlexLock boots are standing up to the test of time with positive vibes.
Tested for: five months
Liked: the overall comfort and positive feel, solid build quality
Colours: Black, black/white, red/blue (Royal)
Sizes: US 7-13, UK 6-12, EU 40.5-48, CM 25.5 -31
Cost: $389.99/£330/€389 (RRP)
Leatt 5.5 Flexlock boots in a nutshell:
Flexlock System with adjustable boot flex and force reduction
LockOut ankle movement: up to 37% reduction of ankle forces and up to 35% reduction of forces to the knee (compared to the market leader/most high-end boots)
Outstanding fit even for wide feet
3D-shaped impact foam over ankles
Low-profile toe box, gear shift friendly shape
Steel shank reinforced and CE certified sole, with DualZone hard construction and extended foot peg area for arch and on the blade riding style
SlideLock cuff system with auto-locking, one-way sliding closure
Flat and grippy (bike) side of the boots for feel
Forged aluminium buckles with over-locking function
Breathable mesh 3D liner and heel grip, anti-slip reinforcement for zero heel lift
CE tested and certified as: prEN 13634: 2017
More information: Leatt.com
Photo Credit: Enduro21