Tested: Motorex's miniature & refillable off-road chain spray
Whether it's out on the trail or part of a race day tool kit, Motorex's miniature and refillable chain spray can is the easily stowed little gem which has become part of the tool kit loaded into a backpack or bumbag at almost every ride.
The best things come in small packages? Well, not always (who wants a half when a pint is available?) but it's certainly true sometimes and this little gem from Motorex is proof. A miniature version of the Swiss oil manufacturer's off-road chain lube in a 56ml can designed to be both portable and refillable.
Enduro21 has been using this mini chain lube can for a couple of years, packing it in the bumbag or backpack on trail rides and putting to good use looking after the chain and sprockets of our own bikes as well as test machines.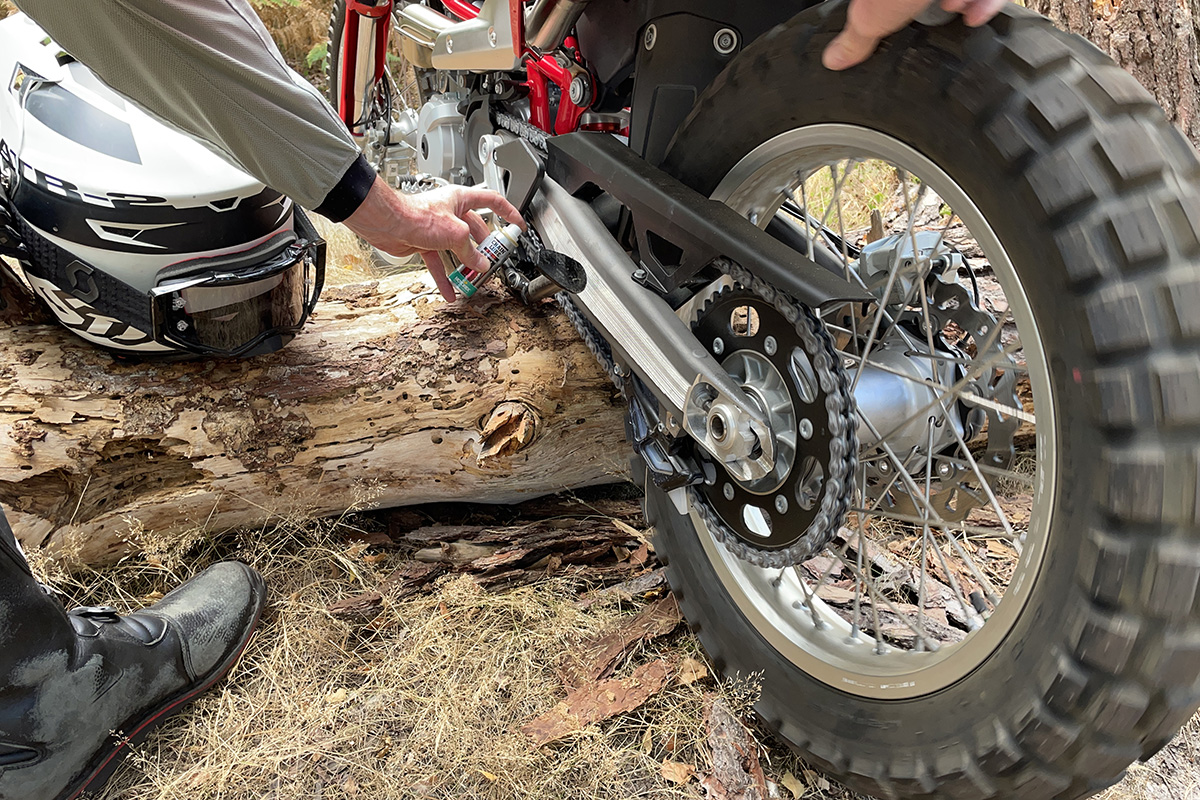 They say:
Fully synthetic wear-reducing chain lubricant specifically formulated for enduro and off-road O-ring and X-ring motorcycle chains. Excellent lubricating properties designed to withstand the high pressure demands of off-road riding and extend the working life of the chain and sprockets.
Motorex 56ml off-road chain lube highlights:
Resists fly-off
Thermally stable
Deep penetration
Water resistant
Reduction in wear and friction
Particularly suitable for cross-country, enduro and off-road riding
We say:
It takes no time at all to just stop and lift the bike on the side stand or park it on a log and spin the back wheel to give the chain a spray. But how many of us do it while we're out riding or racing?
Motorex's 56ml can of chain spray answers that question by making it so much easier – if you care about chain life this is a solution when you're out and about.
It's literally a small thing in our dirt biking lives but, like one of those travel bottles of shampoo you get at airports, it's cheap, takes up hardly any space and adds very little weight.
We've used it at service points in timecard enduros, overnight bike checks on a two-day races, during long, dry and dusty trail rides and basically any number of times we've taken a few minutes to check the bike, top up fuel and so on when you're away from the proper tool kit, van or workshop.
It's not something we'd do on a muddy day, when the chain is caked in crud, but at other times it's become part of the kit we take onboard when we go out riding.
Refill process is easy
That you can also refill this little can of chain spray feels like a small stroke of genius on Motorex's part. The refill process is dead easy: you remove the spray nozzle and align with the exit spout (for want of a better word) of a donor regular sized spray can. Then firmly but accurately push them together – Motorex recommend you do it on a flat surface, but we've done it hand to hand without issue.
* Disclaimer: maybe don't do it this way if you're wearing your best white suit just before heading out to the disco….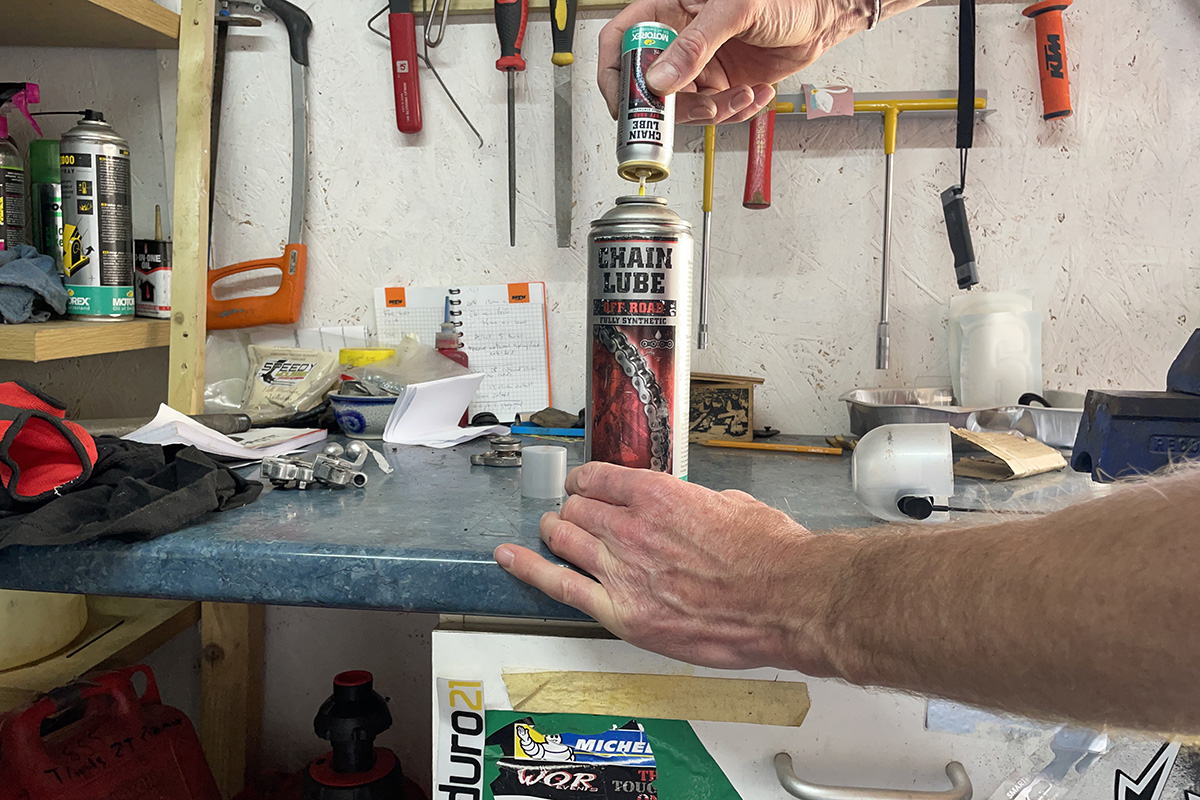 The mini spray can has a two-way valve on the spout so it accepts the spray forced in by the larger can so with the two aligned, hold it there for a couple of seconds and job done. It's that easy.
The cost of the little can is pretty minimal anyway but armed with the ability to refill and re-use it multiple times, it's become a valuable element in the toolkit.
Want to learn more chain care facts? Enduro21 spoke to the experts for the real facts behind how different oils work (or don't) on off-road chains. Read it here: Why off-road bikes need chain lube
More information: www.motorex.com