Tested: Technomousse enduro mousses
Technomousse enduro and off road anti-puncture mousses put to the Enduro21 test.

Italian manufacturer Technomousse will be familiar to any EnduroGP fan. As major sponsors of the series you'll at least have spotted their logo around test start arches and trackside banners.
Behind the marketing what are the actual mousses like? We got hold of a current black enduro compound set from Technomousse (they have motocross, rally and minicross options), fitted them to our long term test mule and put some hours on them in different riding conditions. Here's what we found…
They say: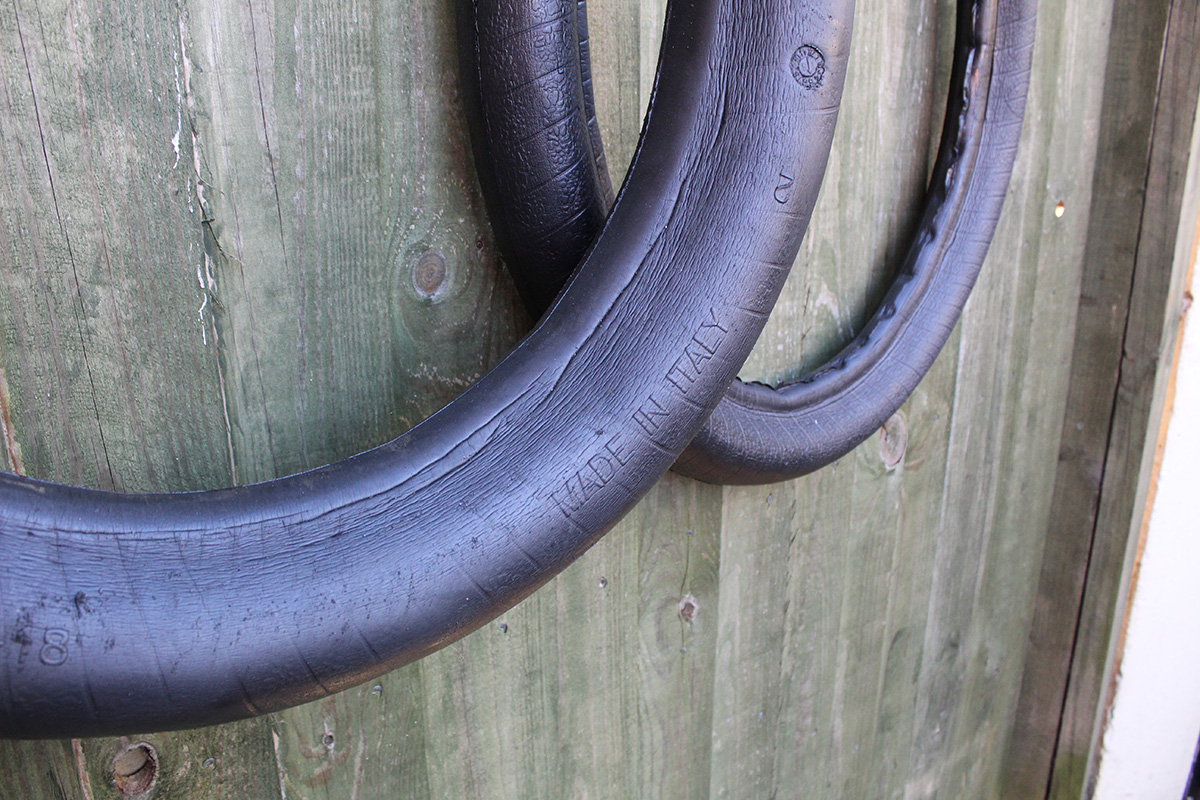 The Technomousse anti-puncture system is developed in collaboration with the best pilots in the enduro discipline. High elasticity means the mousses adapt to any type of tyre and 100% fill the casing.
Technomousse guarantee the best virtual pressure to obtain optimal grip in all types of terrain from muddy to rocky conditions. The mousse reaches the highest levels of elasticity after only a few minutes of use, while at rest it resumes its initial hardness.
Thanks to the production techniques and consistency of the materials, the mousses offer durability, exceptional performance and no risk of breakage.
Technomousse features:
Cut resistant
It doesn't crumble
It has no expiration date
100% made in Italy
We say: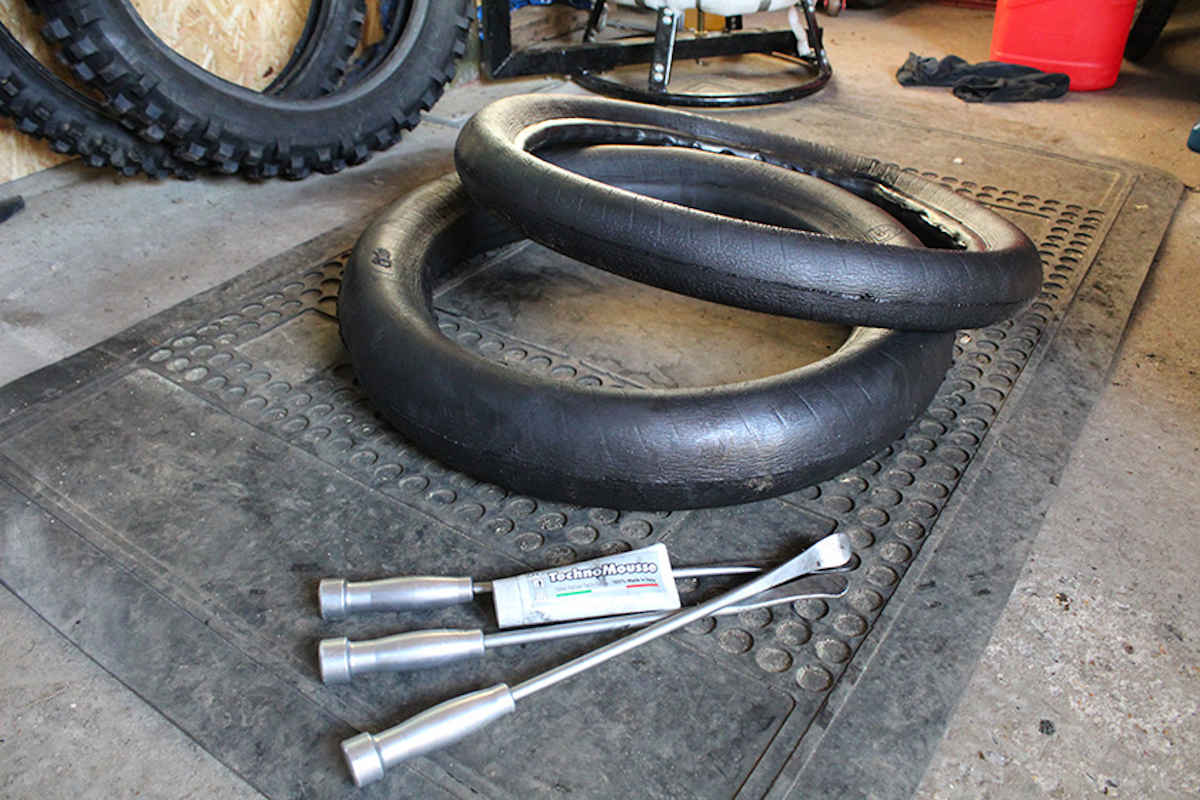 These are a solid feeling mousse when you first take them out the box. They also feel solid on first install which meant they were the kind of mousses which needed a bit more muscle to get inside the tyre, especially the rear but they are deceptive – more on this shortly.
Back to the installation, Technomousse recommend using all the gel tube (contained inside the box) because "using less could cause premature deterioration of the mousse". This much we know of course and it is standard procedure to apply plenty and not scrimp on the lube.
With the wheels in and on the track recommended break-in time from is just 10/15 minutes of use. In fact I took them on a practice day and stacked up around three hours riding split into 20 minute motos. From there I switched them into fresh tyres ahead of a timecard enduro before another Sunday ride at a local practice track.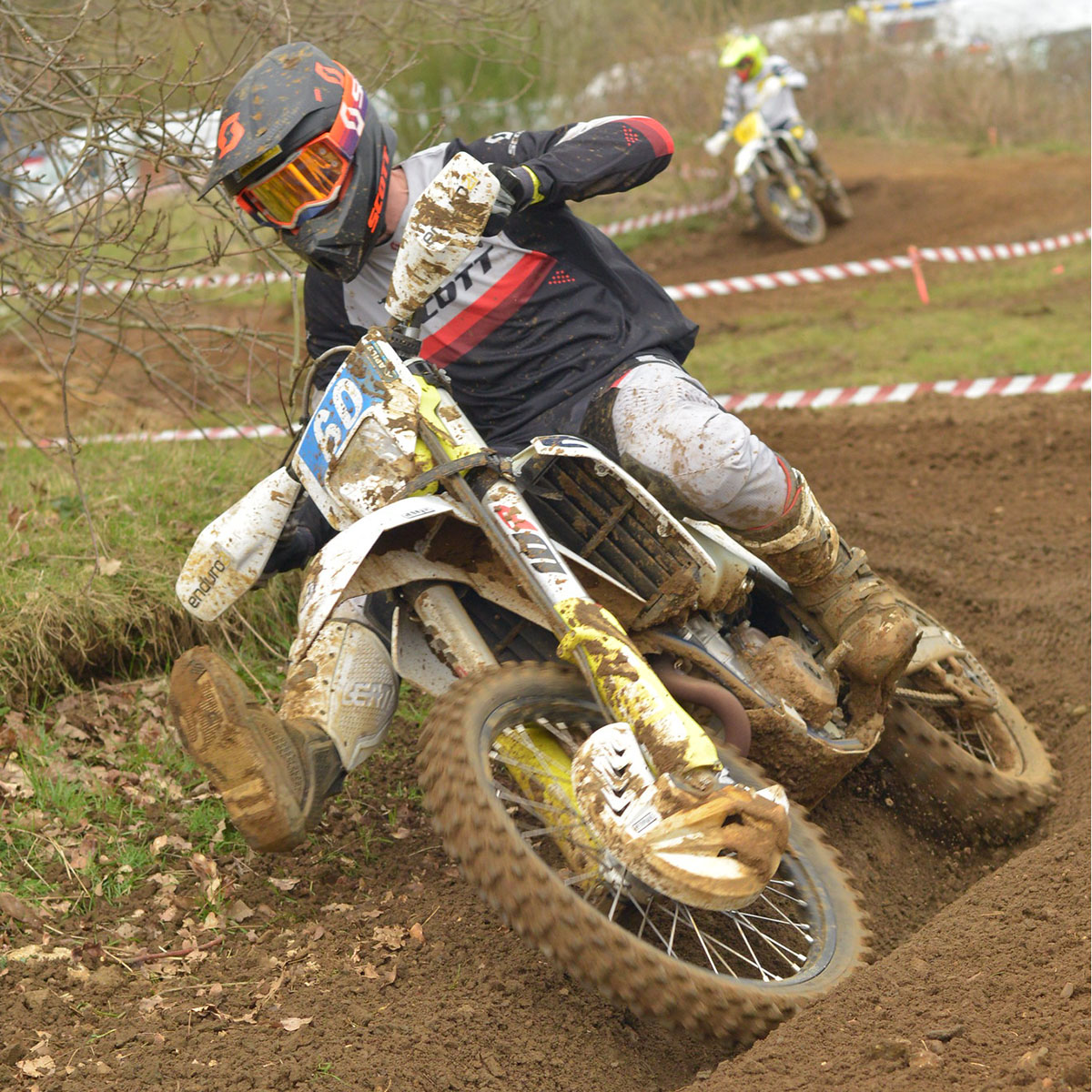 The riding days were in a mix of wet and dry conditions with a largely loamy and sandy soil types. It meant I was feeling the tyres and mousses in sloppy mud as well as hard and at times dusty conditions – there were plenty of chopped and hard edge bumps hitting the mousses too. The practice session I did a couple of weeks after the race also had its share of more solid 'hits' for them to deal with and after all that my feeling is a positive one.
The overall feeling is of an impressively durable mousse when you handle them. It is a bit deceptive because after a short warm-up time they become more pliable and behave differently to how they feel to the hand.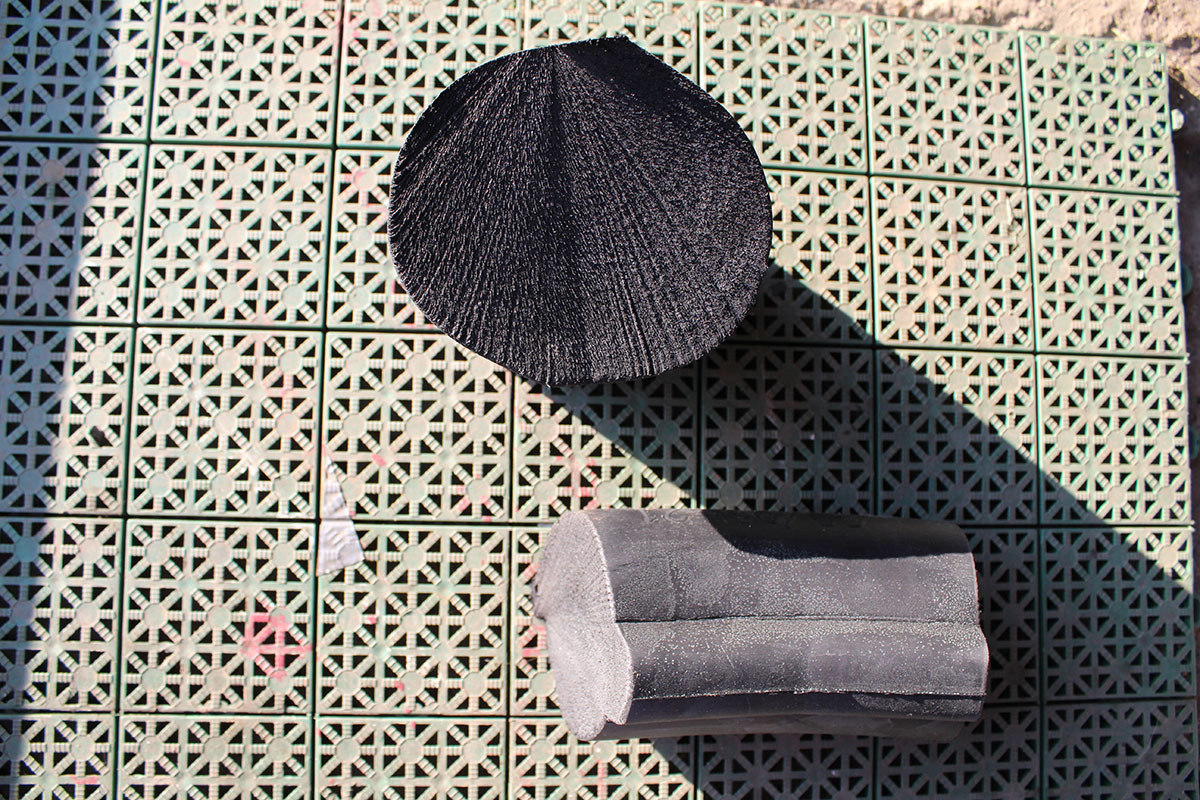 At present Technomousse only have this single compound of mousse. On a scale of soft (extreme enduro) medium and hard, these sit up the more solid end of the market and as such are a mousse which work with the tyre when riding. That means you feel like you're riding with the tread and tyre profile rather than a tyre which squishes and rolls on its carcass. Soft mousses deliberately roll on their back to have their tummies rubbed when you apply load but these stand up more and seem to work with the tyre.
That is not to say they don't have feel. You notice the difference once they're quickly warm and one positive I found was decent grip and feel at lean in the tight corners, accuracy if you like and that gave me confidence. I admit most the riding I did was in rutted corners rather than flat corners so I always had something to push against most often but still I had the impression of feeling the knobblies biting the dirt when riding.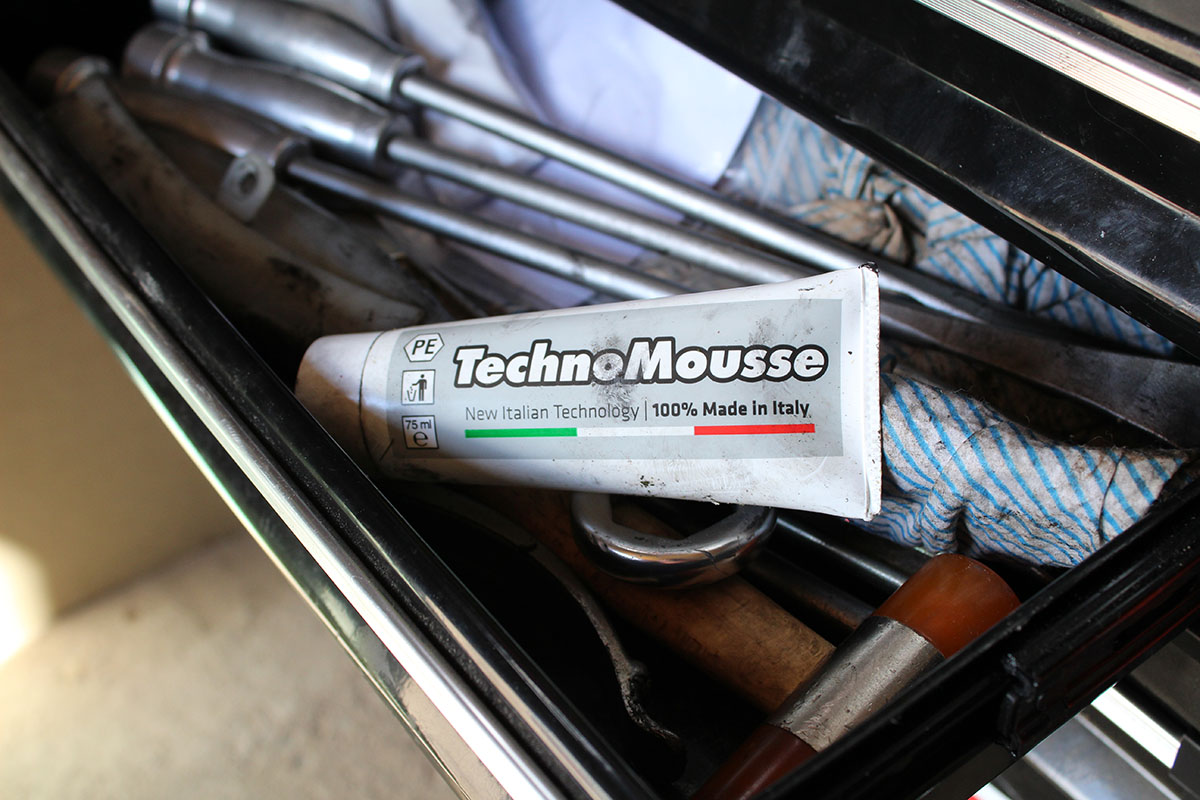 The times you do feel the squish are the times you want it like on angled roots or those single rocks you find in the middle of the trail and whack into despite trying to avoid. They stand up to the sudden hits well and our set have no marks or cuts on them after a pretty tough time.
Taking the tyres off and mousses out for these pictures showed they clearly had proved durable. They'd also assumed the shape of the tyre inside even down to all the markings on the which were imprinted in relief on the mousse. They were feeling pretty much like new I have to say and look good for plenty more riding with some fresh lube. Having "no expiry date" is also a bonus with other mousses on the market which can 'go off' over time if you don't use them.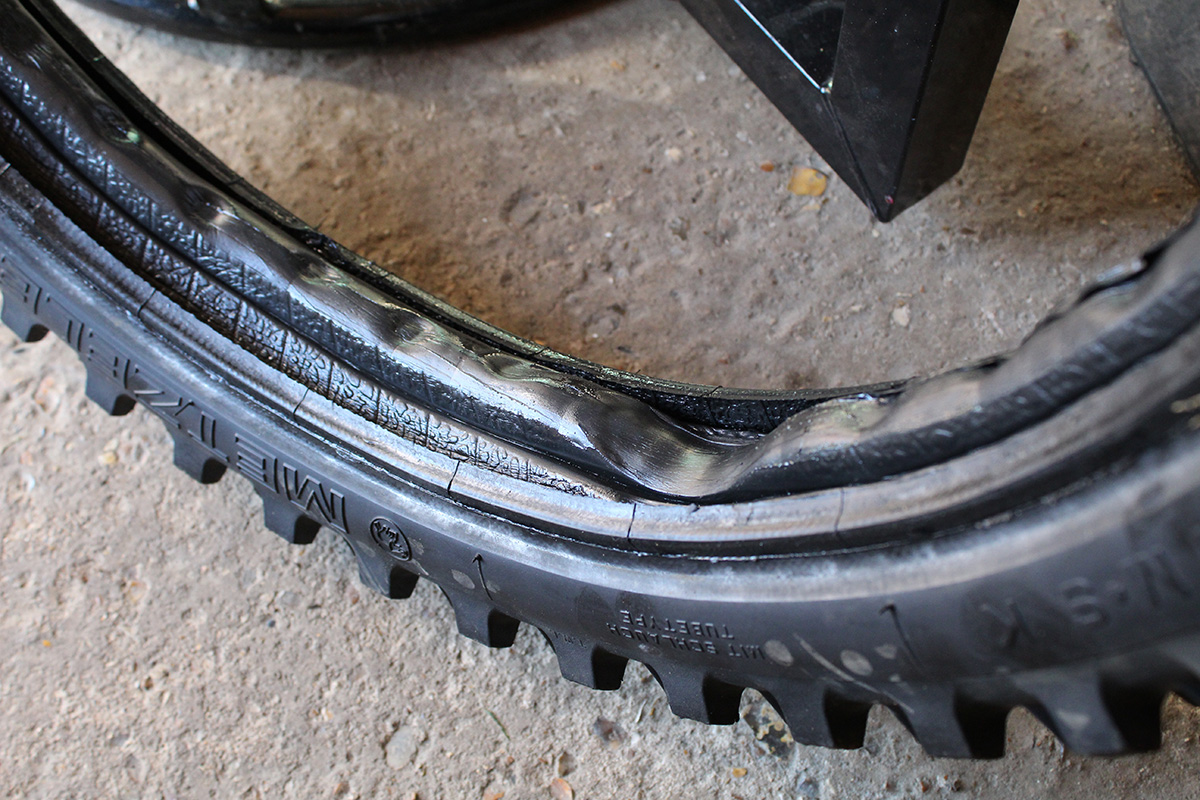 Technomousse say most amateur riders manage to use the mousse for at least 20 to 25 hours, "some have even reached 40 hours" they tell me. It all depends on the rider and where you ride – the hotter the riding conditions the more a mousse gets stressed so higher ambient temperatures and/or higher speeds all affect the life of the product.
These mousses are not approved for public roads by the way: "Use on paved roads causes excessive overheating and consequent premature deterioration" they say as a disclaimer.
Overall that's the biggest positive I had with these mousses, they feel like they worked well with the tyres and the performance was constant in different riding conditions. As mentioned, they're not a 'gummy' mousse so I wouldn't use them for hard enduro but so far they have pretty much all else you might class as enduro.
Hands up, honesty disclaimer: the Covid-19 outbreak and the sudden stop to riding has meant we've put less hours on these mousses than we would have wanted. Around 10 hours I reckon – I'll report back if anything dramatic happens when we've doubled or tripled that (when we can ride again).
Liked:
Durability and feeling like they gel with the tyres
Sizes:
90/90-21 + 80/100-21 front, 140/80-18 + 120/90-18 rear
Cost:
Around $180/£150/£00AUD a pair (prices vary, please search your nearest stockist)
More information: Technomousse.com
Photo Credit: Enduro21 + DizzyChoonz