Worth a look: MotionIQ suspension set-up App
Motion Instruments, the suspension data systems manufacturer, has launched a user-friendly App and kit to help riders understand, analyse and adjust bike suspension set-up trackside using their phone.
California-based suspension data specialists Motion Instruments has a strong record in MTB downhill racing but have now developed a new data analysis system and kit for motorcycles, their original passion they explain, which includes universal fork and shock mount kits and works in conjunction with the MotionIQ app on your phone for trackside analysis.
How it works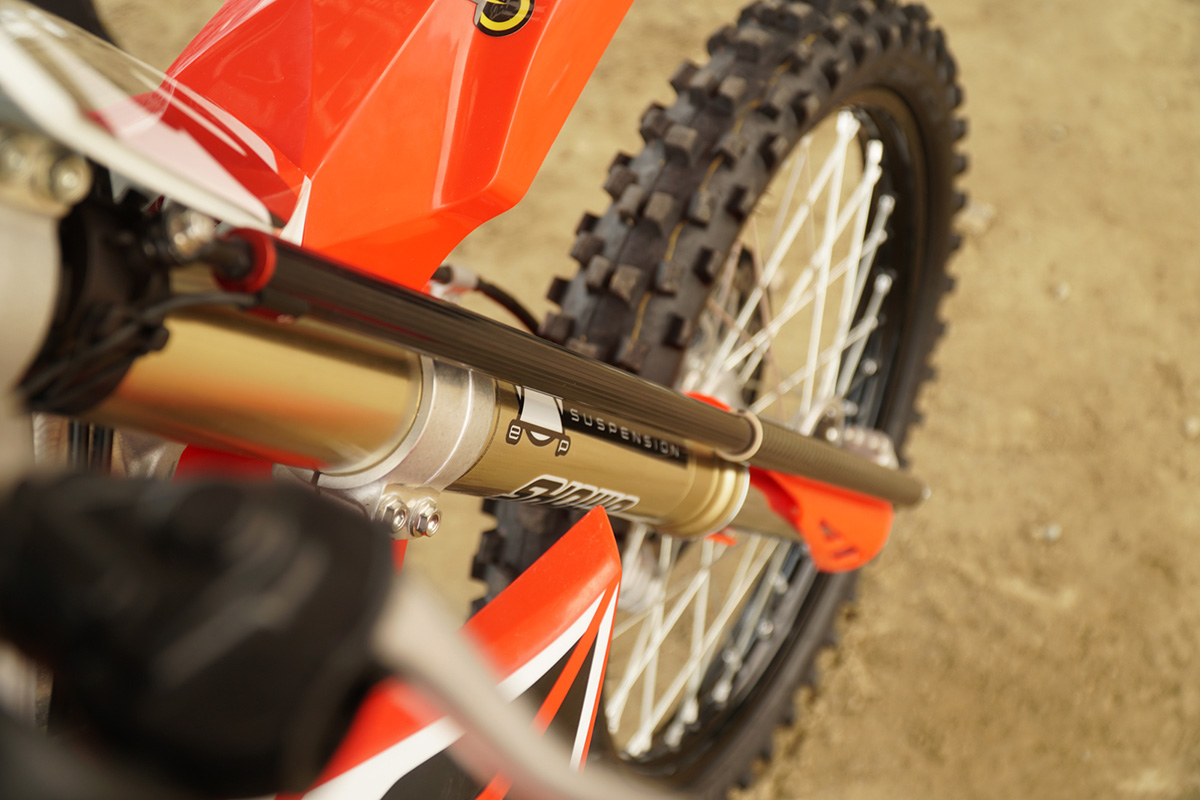 The MotionIQ app records, analyses and displays suspension analytics which equips you with data specific to your bike about suspension travel, geometry and leverage ratio, riding style, and the terrain you are riding. Your data is available immediately, on the trail or track, without any need for internet connectivity and currently, the MotionIQ app works with iPhone and iPad and there are plans for an Android version in the future.
"The science behind bike set-up is now in the palm of every riders' hand and available to everyone, not just suspension companies and elite pros." – Motion Instruments
Motion Instruments say the system provides numerous stand-out features "never seen before in suspension analysis systems" showing how your wheels are interacting with the terrain in conjunction with suspension motion.
"It is the only system that quantifies bike balance, comparing front and rear bike-to-ground interaction for compression and rebound movement," they say, which is a key element to improving handling and stability.
It also provides a complete breakdown of fork and shock data with the information laid out clearly "highlighting virtual o-ring watermarks for specific trail events, position and velocity histograms, and terrain-specific analysis". It also makes it easy to share and save files using your phone.
Four user levels
Motion Instruments offer three MotionIQ app levels – Free, Expert, and Pro – and a special Coach Edition. The free MotionIQ app will deliver unprecedented insights into your fork and shock.
If you want to dig deeper into your specific bike, there is support for most bikes (growing daily) with MotionIQ Expert ($9.99/Month or $99/Year). You'll have the ability to see how your wheels are interacting with the terrain versus just looking at damper speeds.
For riders who want deep insights into bike balance and rich setting comparisons then MotionIQ Pro is available ($29.99/Month or $299/Year).
There is also the Coach Edition, which allows suspension tuners to provide a remote data service and rental program. Each package is affordable and can be purchased on a monthly basis.
Who are Motion Instruments?
Motion Instruments boast a team of senior engineers who enjoy riding motocross and mountain bikes. While developing Motion Instruments and MotionIQ, they've worked with top riders and professional suspension tuners from Pro Circuit and Research Engineering Performance (REP) Suspension.
"We launched Motion Instruments initially in the mountain bike market with huge fanfare and success." Says said Founder Robert Przykucki. "We quickly became the de facto tool in the industry with multiple World Cup downhill teams, bicycle and suspension OEMs, and everyday advanced riders and racers.
"However, our intention when starting the company was always to focus on motorcycles. The development process took a bit longer due to the extreme forces encountered on a motocross bike. After years of development, we are really excited to bring this to market."
With advancements of modern suspension and motorcycle geometry, Motion Instruments say they determined the only way to deliver a perfect fit was through comprehensive data analytics, but it had to be simple and easy to use. The aim is this systems is to help riders better understand the effect of their suspension settings and become more confident in their set-up.
"Coming from factory racing and having previously used other systems, I was drawn to Motion Instruments' system mainly for the simplicity," says Mark Johnson, Owner/Operator of Research Engineering Performance. "I no longer need to have a data engineer by my side to get it operational; it really is plug and play. The best surprise for me was that I no longer need to attend the testing sessions myself, as the system records and transmits remotely to me. Hands down, this is the best tool I have ever used."
Motion Instruments' systems are available at a 25% discount for a limited time during their pre-order sale with intent to ship systems within 6-10 weeks of purchase.
More information: www.motioninstruments.com