Tested: Leatt Velocity 5.5 roll-off goggles
Enduro21 has been testing Leatt's 5.5 Velocity roll-off goggles in the worst of muddy riding conditions, letting back wheel bullets hit them hard and even serving them up some pig crap – here's what we found…
They say:
Leatt goggles are bulletproof, can take impacts like no other and allow you to look ahead without fear of the roost or branches. With the perfect fit and cool looks, they won't break the bank either and meet all the safety standards and high design criteria Leatt set out on the table with all their products.
The permanent anti-fog and bulletproof lens, great design and a 48mm roll-off film are among the many features which make Leatt Velocity goggles a great choice.
We say:
Across a period of 12 months, Enduro21 has tested these Leatt Velocity 5.5 roll-off goggles at races, practice and test days in as wide a range of conditions as possible including most recently a furious three-hour cross-country race where the dirt you can see in these images built up (if you were anywhere near them you could also smell pig crap on them!). They've definitely been through the mill.
Bulletproof lens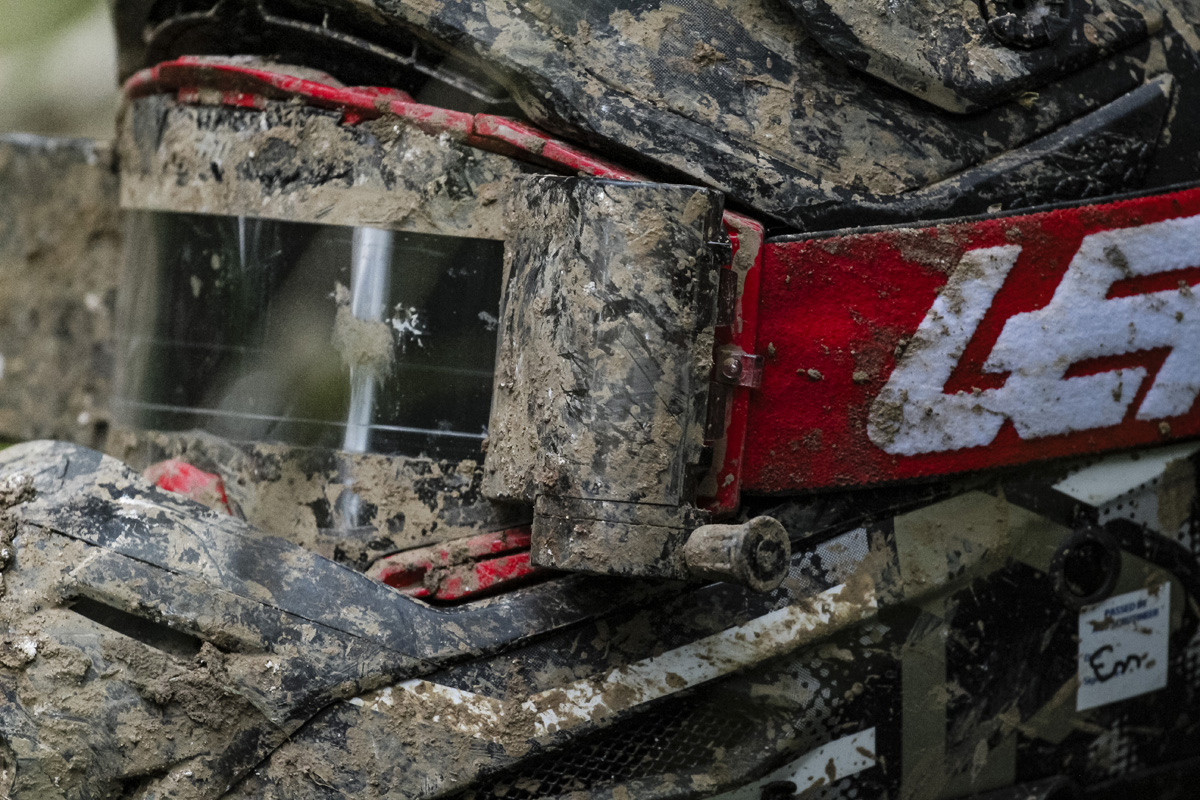 No actual bullets have been shot at anyone's face during testing but anyone who's ridden in certain race conditions will know stones flying off the roost of a rider in front can dish out bad injuries. Fingers and knuckles can be painful enough but a rock in the eye has the potential to be life-changing.
Leatt's bulletproof lens is a reassuring element to their goggles which I'm happy to sit behind, especially on those first laps. These have taken the hits and left no lasting impact except a blink from the inside.
The clear lens in this set has an anti-fog layer (double-glazed if you like) and can be replaced with one from the range for different light transmitting or mirrored lens options.
Clog-free rolling
This is the roll-off version of the standard Velocity 5.5 goggles which comes fitted with the 48mm film roll, a pull mechanism and housing plus some spare rolls of film (replacements are available).
The mechanism itself works with a positive feeling when you pull on the string, clicking as you pull and moving in increments which makes it feels precise as you get rid of the dirt.
One important thing to note is I've had none of that flapping roll-off film trick you see so often and no problems when loading up a new film – it's all pretty straight forward and generally I'd say the (and comes with instructions if you're not sure).
In the muddiest of conditions, the dirt build-up on the surface of the tape roll got wiped nicely as the tape enters the left housing. I mention that because it means the clumps of dirt did not get inside and cause the whole thing to clog up – something I have had happen with other sets of goggles in the past. The dirt built up where the roll-off tape enters on the left side housing so I (as gentle as I could while racing) used a finger to knock the excess away a couple of times to try to keep that area free to operate.
Conditions were bad at that event including a couple of deep water splashes on the opening lap which didn't cause any water to get behind the roll-off film which gains a plus mark from me. They sit on top of tiny thread runners (stretching across in the same direction as the roll) which just lift the roll off the surface and helps avoid scratching of the lens. I was pretty happy about that because this can be a pain once you get water behind the film.
What else is good?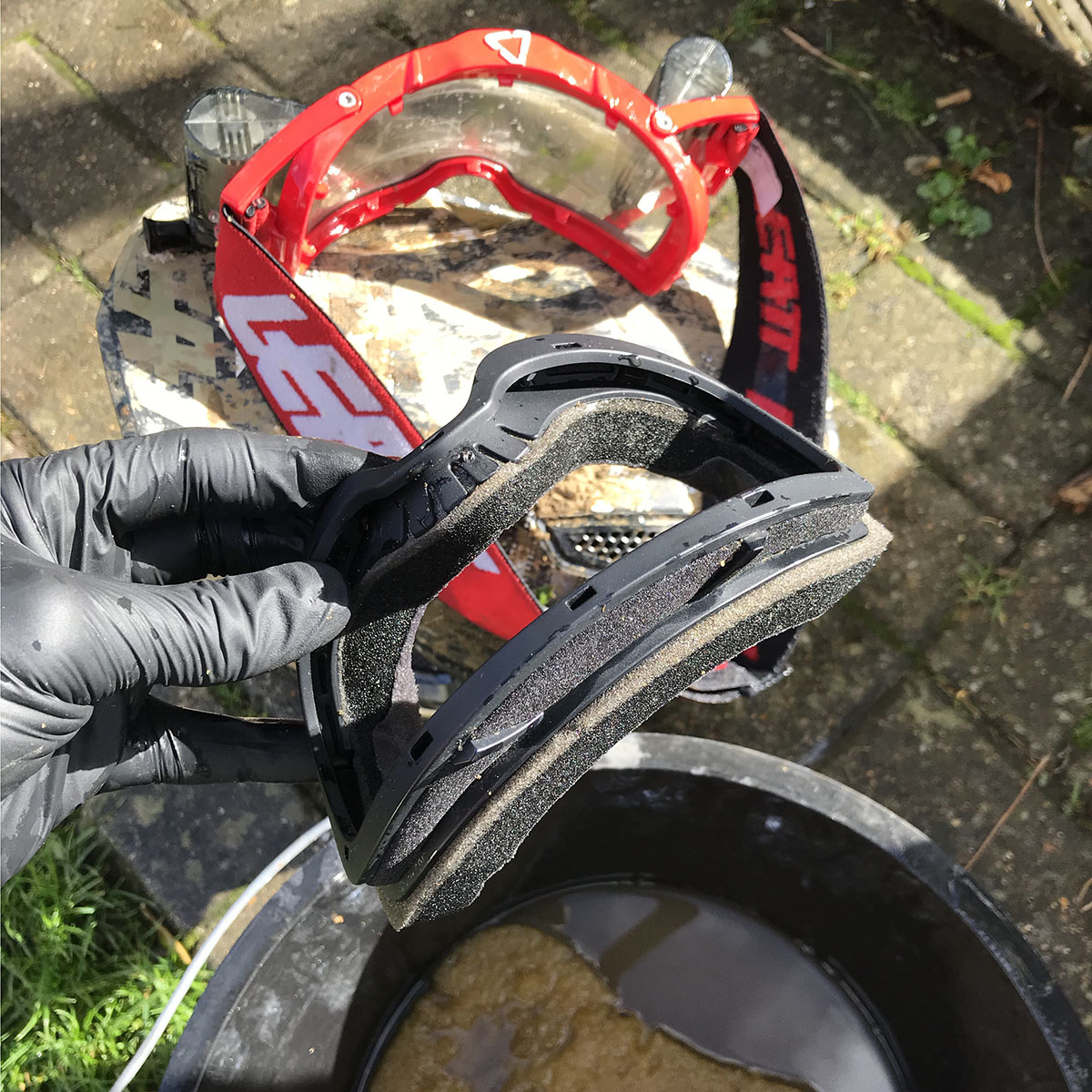 The way the foam backing clicks out of the goggle frame is smart design and makes cleaning really easy – it's a neat and practical part about the Velocity goggle design.
The elasticated goggle strap sits firmly on the helmet without slipping thanks to a finger thick strip of grippy silicone – it's what you expect but worth noting.
I take good care before a race to make sure lenses are clean and prepared so didn't (*and didn't expect) to find any issues with misting up on colder and wet days encountered while testing.
There's a removable nose guard which I took off because it wasn't needed and made getting the goggles into this helmet aperture difficult – it'll depend on which helmet you use whether you need it or not.
Comfort and fit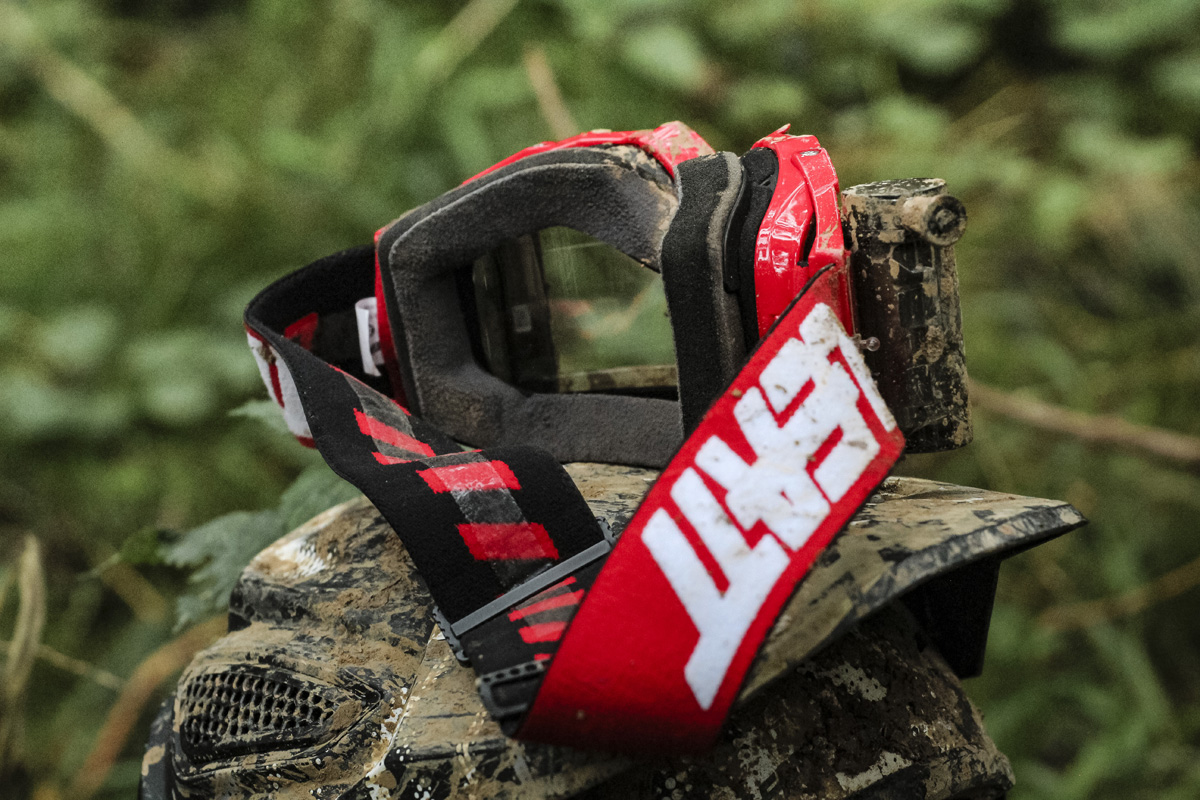 The fit to face is comfortable in different weather, riding conditions and whether you're hot or cold inside the helmet. Leatt's triple-layer, dual-density foam sits on the face comfortably, keeps moisture and sweat away and allows airflow without allowing any air wisping in your eyes (I hate that). Overall that means they simply sit comfortably on the face and didn't intrude on concentration.
I can't honestly say the comfort levels are any different to other sets of goggles from other leading manufacturers on the market right now but in saying that I mean they are every bit a match for the best.
We need your support
If you've enjoyed this article, if you've found it informative, interesting, entertaining even, please support us.
We want to continue doing what we do, to the best of our ability, serving the enduro and off-road community.
Please consider a donation, every little helps…
Thank you.
Cost: £77 (£60 without roll-off)/€70/$79 US check with your nearest dealer
More information: www.Leatt.com
Photo Credit: Enduro21