2021 Italian Enduro: Rnd 6 heads to Fabriano with Ruprecht in charge
Round six of the 2021 Italian 'Absolutes' Enduro Championship heads to Fabriano – home of EnduroGP and Italian races previously – with TM Racing's Wil Ruprecht sitting pretty at the top of the championship with Beta boys Freeman and Holcombe gunning for that win.
The historic town of Fabriano in central Italy, south of San Marino, is no stranger to world-class Enduro having hosted national rounds previously in 2011 and 2014 when the overall victories went to the late Mika Ahola and the Frenchman Johnny Aubert respectively.
When the Enduro World Championship visited the Fabriano in 2016 it was current World Champion Steve Holcombe who took victory and the Beta Racing rider returns to his team's domestic series having recovered from a hand injury that kept him away from round four and five.
That previous weekend in Piediluco saw Brad Freeman back on form and sharing the day wins with championship leader Wil Ruprecht.
Assoluti Championship points heading to Rnd 6: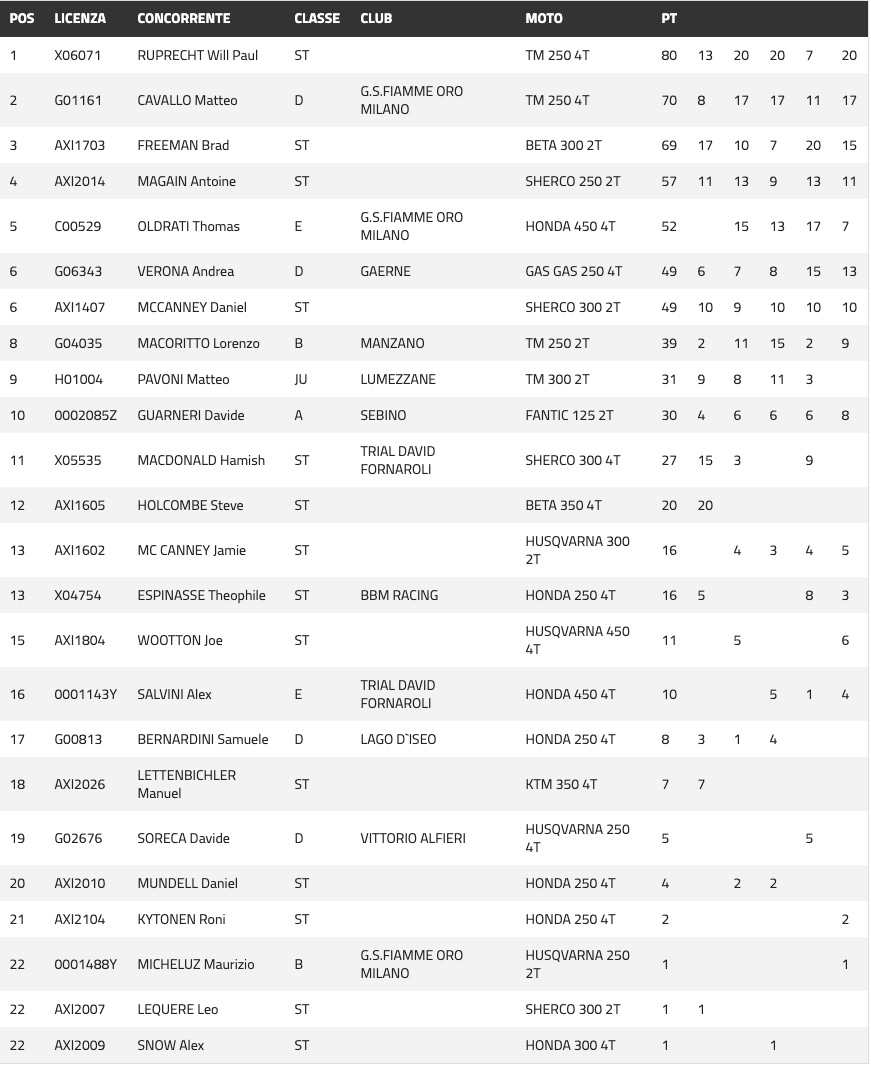 There's a large list of contenders for the "Assoluti" win this weekend alongside Ruprecht, Freeman and Holcombe including the Sherco Factory Team riders Antoine Magain, Daniel McCanney and Hamish Macdonald keeping the Italian massive at bay.
The top 10 at each Italian round is super-competitive with Italians Matteo Cavallo, Andrea Verona, Thomas Oldrati, Alex Salvini, Davide Soreca, Davide Guarneri and Lorenzo Macoritto (to name a few) aiming to bump those in the "foreigner's" class out the way.
Riders will compete a "classic lap" of 54km four times, with three special test each lap. Sunday 16 May will see riders away at 8.30 and head for the Scott Enduro Test, which will be very similar to the World Championship test held in July 2016.
After the Enduro Test, the riders have a check before a long transfer to the Airoh Cross Test, in San Michele, about 10km from the paddock. The Extreme test is the final one each lap and promises to create a few problems with man-made obstacles within it.
Tune in to Italiano Enduro on Facebook for regular content from race day. Enduro21 will also bring you the results and video highlights.