2021 Italian Enduro results & highlights: Wil Ruprecht wins Rnd6 ahead of Holcombe
TM Racing Boano Team's Australian rider Will Ruprecht has won round six of the Italian Enduro Championship in Fabriano ahead of Steve Holcombe in a race which saw Thomas Oldrati crash out and break his collarbone.
The historic Moto Club Artiglio were in charge of an impressive 235 riders in Fabriano for round six of the Italian Absolutes Enduro Championship with a record number of those, 38 in total were in the "foreigners" class with 13 different nations represented.
Italian Absolutes Enduro Championship, round six in a nutshell:
Four laps of three special tests saw the top four places overall dominated by GP title contenders with Ruprecht the now familiar name at the top of the final time sheets – the Aussie has won four of the six days racing in Italy this season.
More impressive still is the company he is keeping. The reigning EnduroGP World Champions from all senior classes were behind Ruprecht this weekend as the 2021 GP season draws ever closer on June 18.
Second place in Fabriano went to Steve Holcombe who returned to action this weekend after missing a couple of rounds due to injury. Holcombe finished 12 seconds back in the finish and took the award for fastest Cross test times combined.
Third and now 16 points adrift and second in the championship was Brad Freeman. Brad had an up and down day by his own admission, posting blinding test times some of the time but "fluctuating" the next.
Andrea Verona was having a storming day and looked sensational on the tests wringing the GASGAS 250 F for all its worth. But a mistake on the day's final test, the Extreme test where he lost around 40 seconds, potentially cost the Italian the overall win and certainly a podium.
Frenchman Theo Espinasse was also having a good day finally gelling with the RedMoto Honda and finished fourth overall, ahead of the best Italian, who was once again, Matteo Cavallo.
With Verona in P6 the two Sherco riders Hamish Macdonald and Danny McCanney duked it out to finish seventh and eighth respectively.
Alex Salvini took the 450 4T class victory but raced without the usual class points leader Thomas Oldrati to contend with. Oldrati joined a healthy list of retirees through crashes (including Jamie McCanney and Jed Etchells) with the RedMoto Honda rider being forced out with a broken collarbone – this just one month away from the start of the GP season.
Ruprecht debriefs his Rnd6:
2021 Italian Enduro Rnd6 results: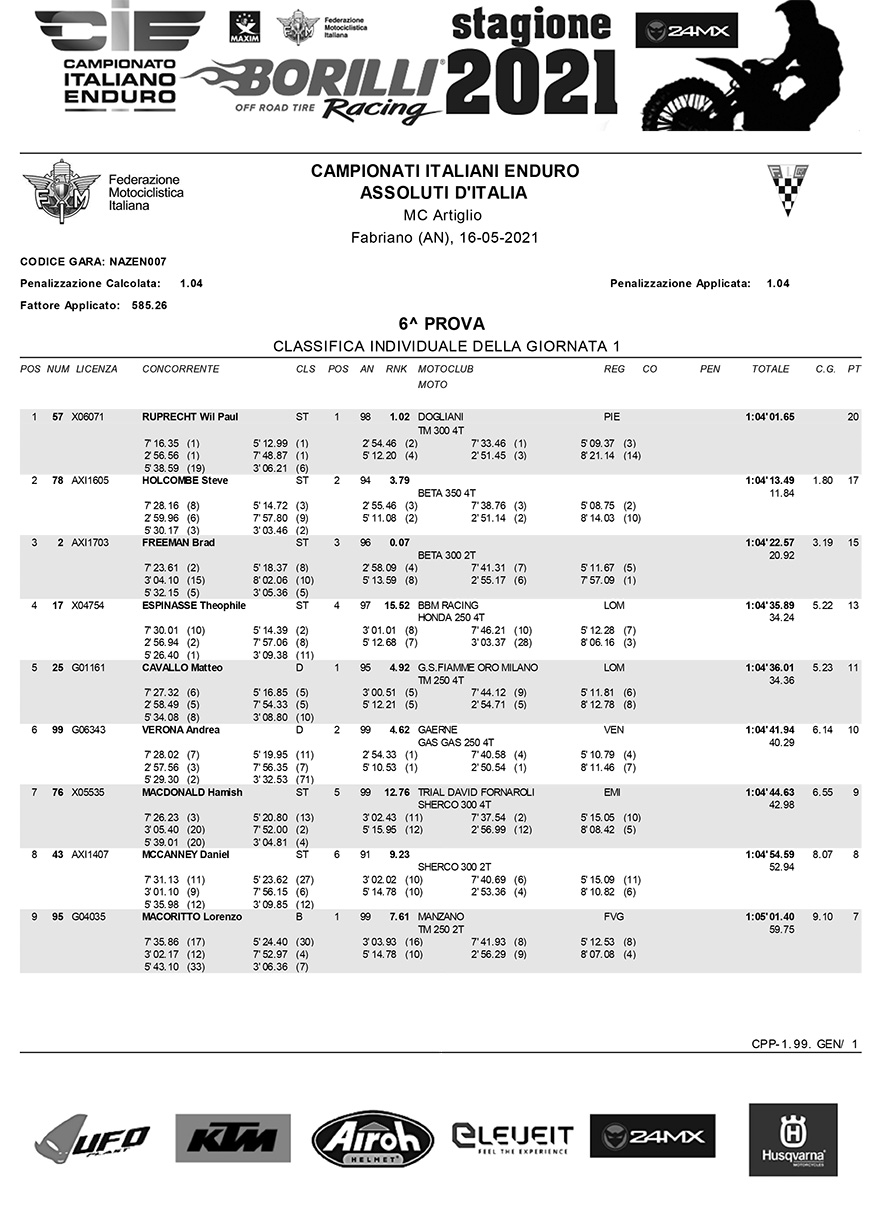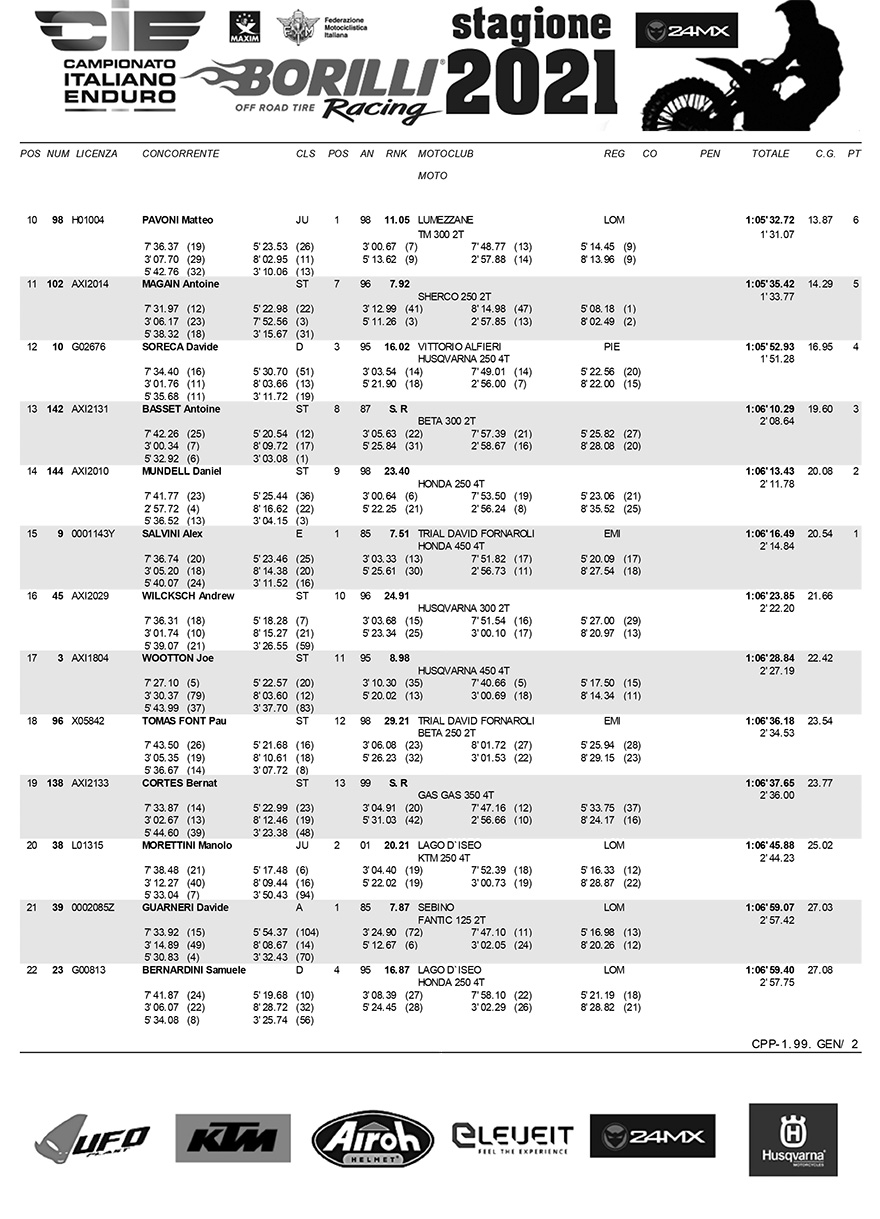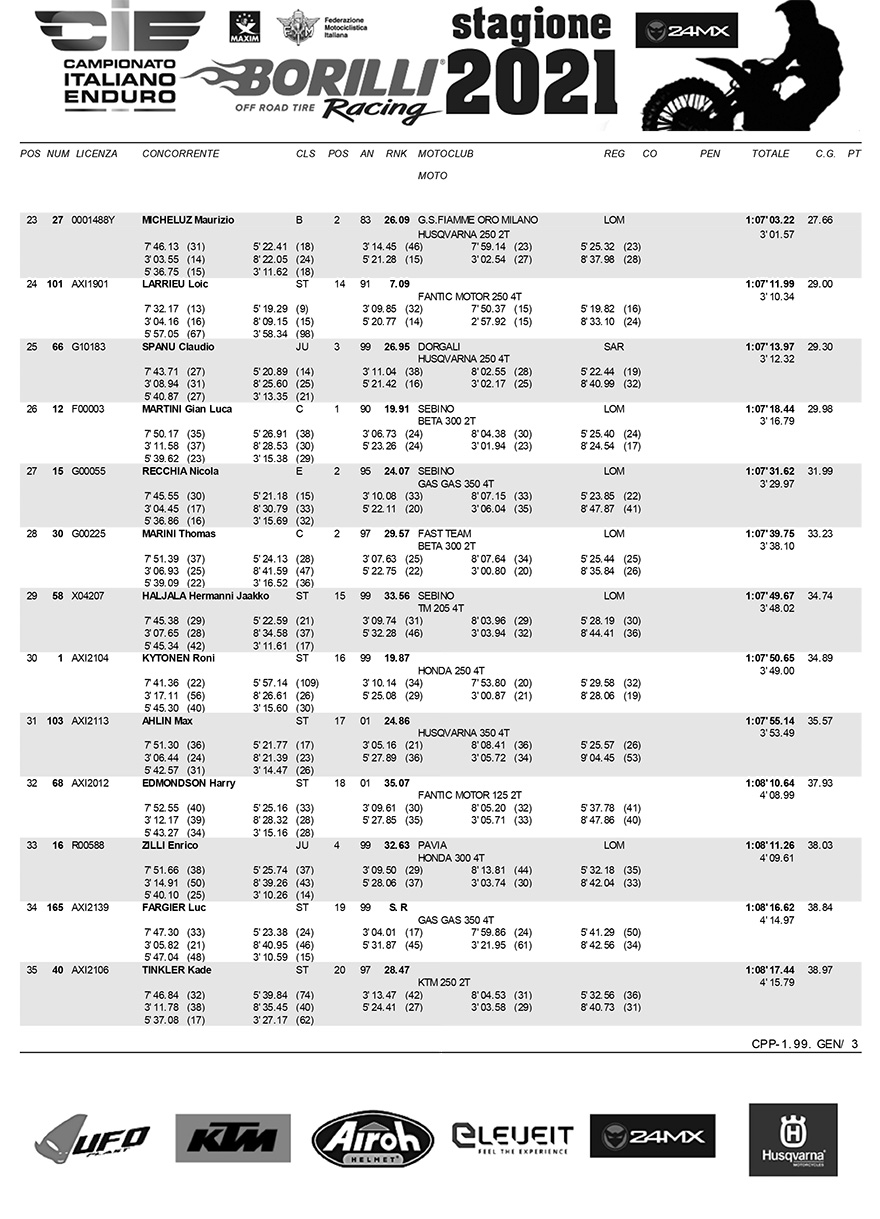 Video highlights from Fabriano:
Photo Credit: Italiano Enduro + Cris Morello + RedMoto Racing