2023 Italian Enduro Championship: Freeman fastest as EnduroGP elite break cover for Rnd1 
Results from the opening round of the 2023 Italian Enduro Championship where a heap of EnduroGP elite riders took to the tests for the first time this season – Brad Freeman hits the ground running with double day victory.
Round one of the 2023 Assoluti (Absolutes) Enduro Championship landed on the Italian Riveira and the town of Andora where riders faced three, 60km laps with four special tests in each. Moving from soft sand in the first Cross test on the beach of Andora before the Extreme, a second Cross Test on grass and finally a 6km Enduro test in hills around the town.
The top 20 on both days is awash with riders getting their first taste of each other's form for the season ahead which includes the opening EGP round in similar conditions on April 1-2.
Andora day 1 in a nutshell:
Fastest out the blocks was Brad Freeman from Andrea Verona and Hamish Macdonald andit was good to see riders like Brad, the world champ Verona, Macdonald and Steve Holcombe showing strongly after what feels like a long winter.
Monday morning press releases from Italy are full of "feeling my way into the season" quotes but these guys were on it. It was good to welcome Macdonald back to the top of the timesheets after such an extended period off through injury last year.
Of the 12 specials on day one, Brad won seven, Verona bagged four and one went to the Sherco man Hamish.
Verona got off to a very strong start from the first lap, imposing his pace in the first three timed tests. By halfway Freeman had gained the upper hand and then launched an attack in the final Enduro test, bettering Andrea by almost 10 seconds, giving him the victory by just six seconds.
It was a jump of 45 seconds back to Macdonald and over a minute to Steve Holcombe and Mikael Persson completing the top five overall.
Assoluti results day 1: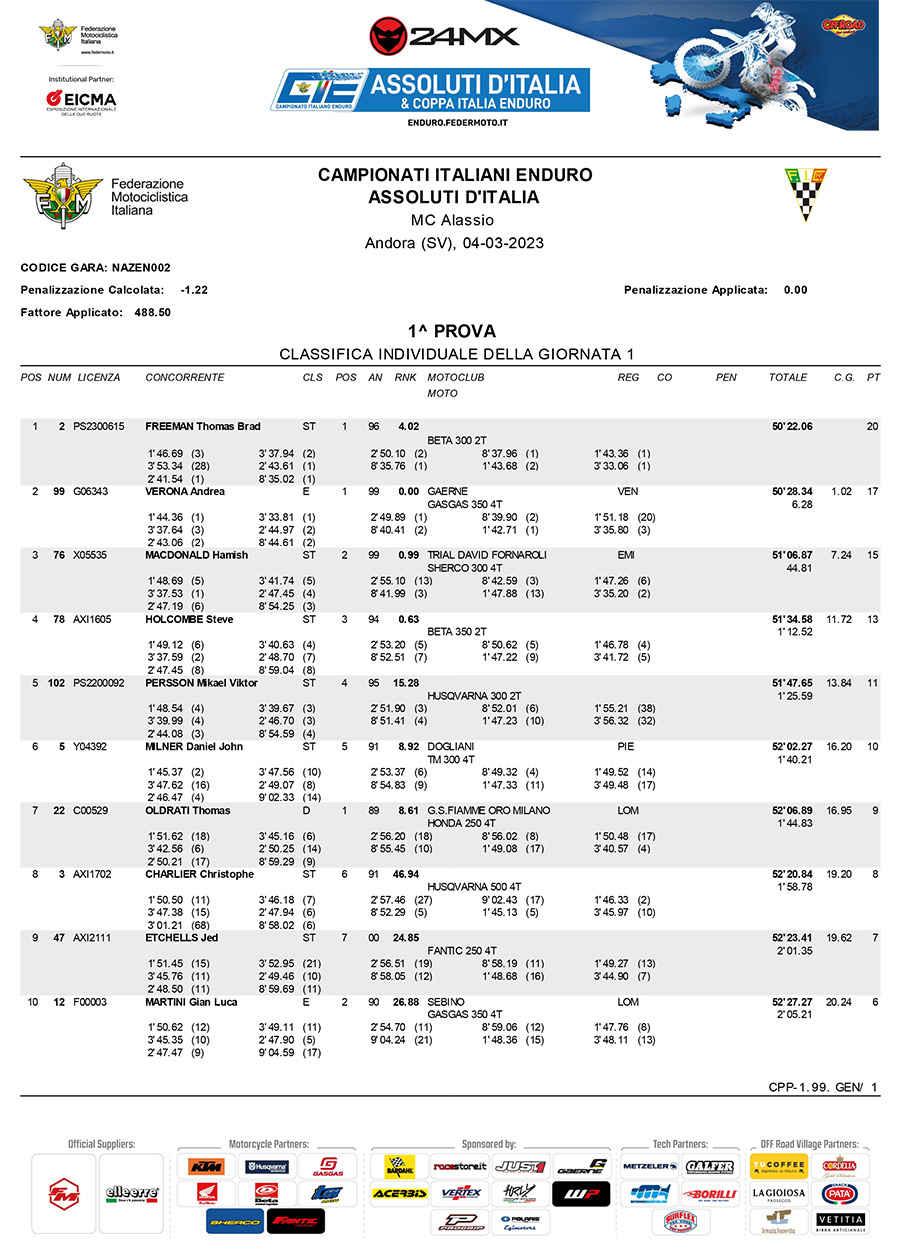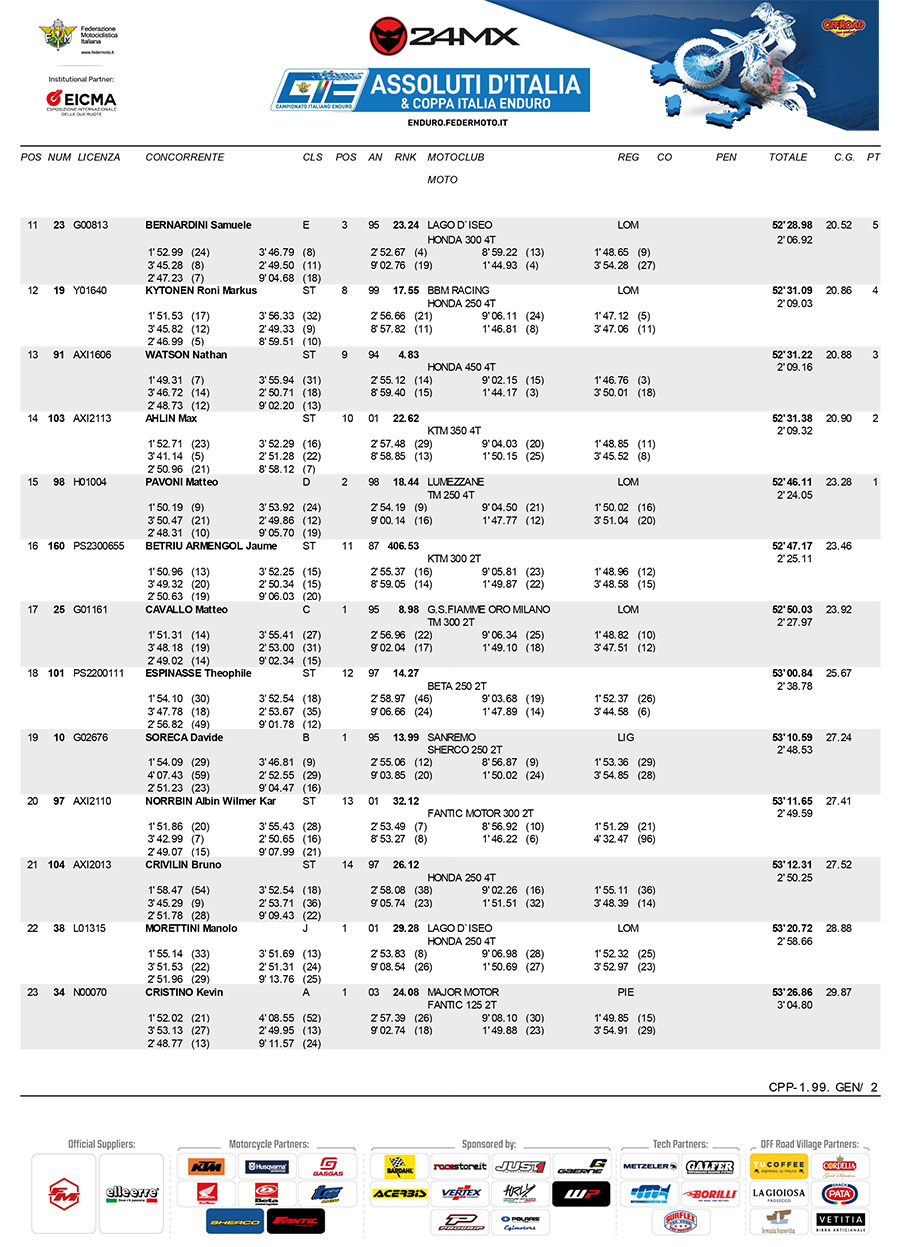 Andora, day two:
If you'd had any doubt about Freeman's fitness and form heading into the 2023 season let the 10 from 12 test wins in Andora on day two stand as evidence.
It was a more convincing win on day two, by 20 seconds with Andrea Verona again second having won just two tests.
It gave Freeman the top step in the overall standings, sharing the podium with Verona again in second and Steve Holcombe who upped his game on day two for third.
Macdoanld dropped to fourth followed home by Nathan Watson heading a Honda trio of Thomas Oldrati and Roni Kytonen ahead of Danile Milner and Jed Etchells.
Assoluti results day 2: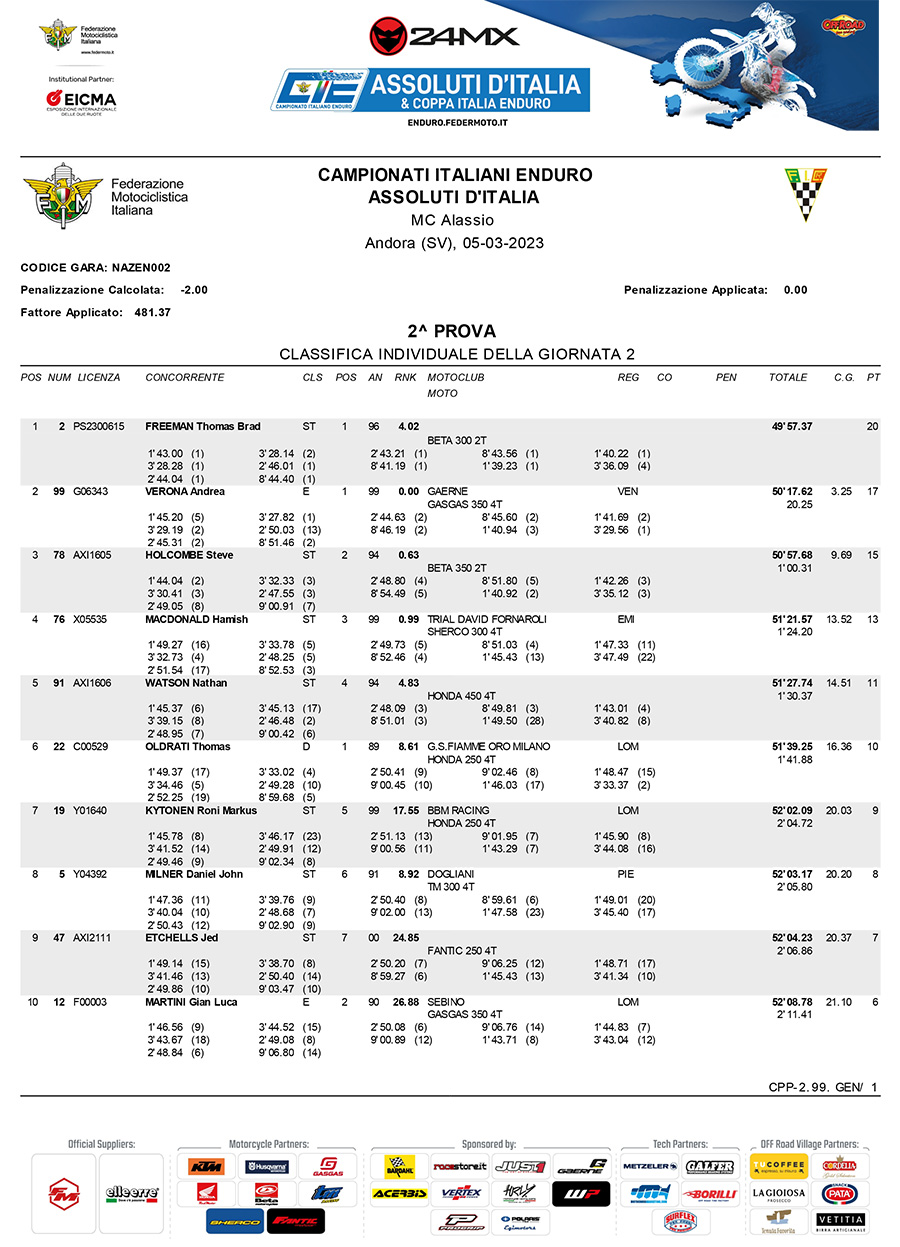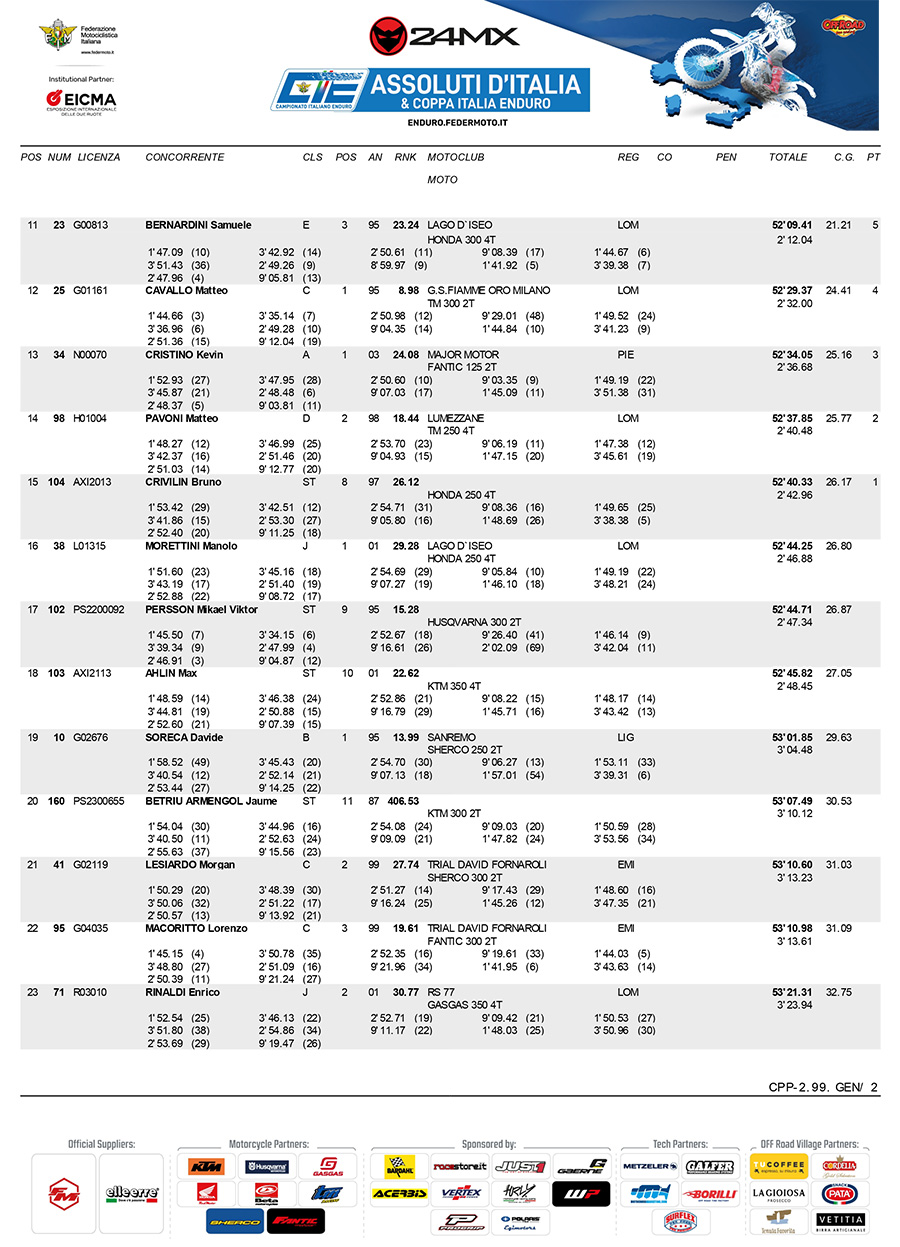 Video highlights from the two days here: 2023 Italian Enduro Rnd1 video highlights
Photo Credit: Cristiano Morello + Off Road Pro Racing