Spanish Enduro: Josep Garcia in charge of round two ahead of Sherco's Pichon and Magain
Spanish Enduro Championship round two results – Josep Garcia dominates once again at the 39th Enduro del Segre ahead of Sherco Racing's Zach Pichon and Antoine Magain across the two days.
2023 Spanish Enduro Round 2 in a nutshell:
The 39th edition of Enduro del Segre saw Josep Garcia began a perfect weekend taking the Supertest held in Oliana on Friday. The Red Bull KTM Factory Racing rider carried that through to two day wins across contrasting conditions ahead of Sherco's Zach Pichon on day one and his Belgiam teammate Antoine Magain on day two.
Garcia went all out in typical style winning Scratch, and in E1, with a 1m17s advantage over the best of the rest, Zach Pichon on day one. The truth is that, as we repeat on many occasions, Josep is at another level in the Spanish national series and while most of his EnduroGP rivals were racing over in Italy this weekend, we can't wait to see how they all match-up at the first GP at the end of the month.
"The Supertest was very SuperEnduro style, I was very sharp and because of my line and I was able to win", said García. "Today [day 1] the truth is that the specials looked very good in the first lap. They allowed you to find your lines and play within the time trial, but already in the second and third laps they were very mixed up and there was no defined line".
After rain on Saturday afternoon, day two brought different test conditions but the same result with García taking the win despite a spectacular crash in the enduro test. That makes it four Scratch and E1 day wins from four in the national championship so far this season.
"Today was a different situation, yesterday it rained and the special stages on the first lap were very slippery". Garcia said. "You had to have a lot of feel on the gas and find the right line."
"I was able to open a good margin and in the second lap I was going very well, but in the long special I had a pretty ugly crash two or three minutes after starting, the only one of the weekend, and it was quite strong. I was able to win the special, but afterwards I tried to concentrate and push until the end and that's what I did. I went out to give everything but [use] my head because we have the World Championship in two weeks."
Zach Pichon seems to have put his wrist injury behind him after stepping up to second Scratch and the E2 win on day one. The enduro test was the Achilles heel for the Sherco rider though, "It's been a good day and I'm happy with my second position", said the Frenchman. "I set good times in extreme and cross, but the enduro test choked me. I made mistakes on every lap and I couldn't find a good feeling with the rear wheel. Even so, I was able to be second and take the victory in E2".
The fight of the weekend came on day two for the podium positions between Pichon, Antoine Magain and Sergio Navarro finishing the day separated by less than 10 seconds.
It was a different Sherco rider who took it on day two though as Belgian Magain claimed runner-up behind Garcia, and the victory in E3.
Sergio Navarro replaced his brother on the scratch podium from a day earlier to seal third place and Pichon had to settle for fourth scratch on day two, but was P1 in E2 ahead of Cristóbal Guerrero and Alejandro Navarro.
After a mistake in Superpole, Jaume Betriu looked good on Saturday on the WP Eric Auge 300 TBI KTM but a fall shortly after starting the day two left him below par and only seventh scratch and second in E3 ahead by Leo Le Quere, ninth scratch.
Marc Sans "had a hard time getting a feeling for the mud" on the Johannsson MPE Yamaha and despite recovering some time in the second and third laps he had to settle for eighth position scratch.
In the Women's category the weekend saw new teammates and lately training partners on the Rieju Factory team, Mireia Badia and Rosie Rowett. A gap of just five seconds on day one and 19 on day two went in favour of the reigning champion Badia but riding in the dust (down the order) for the British rider cost her – Women's EnduroGP this season is going to be a good one!
Spanish Enduro Round 2 scratch results (day 1):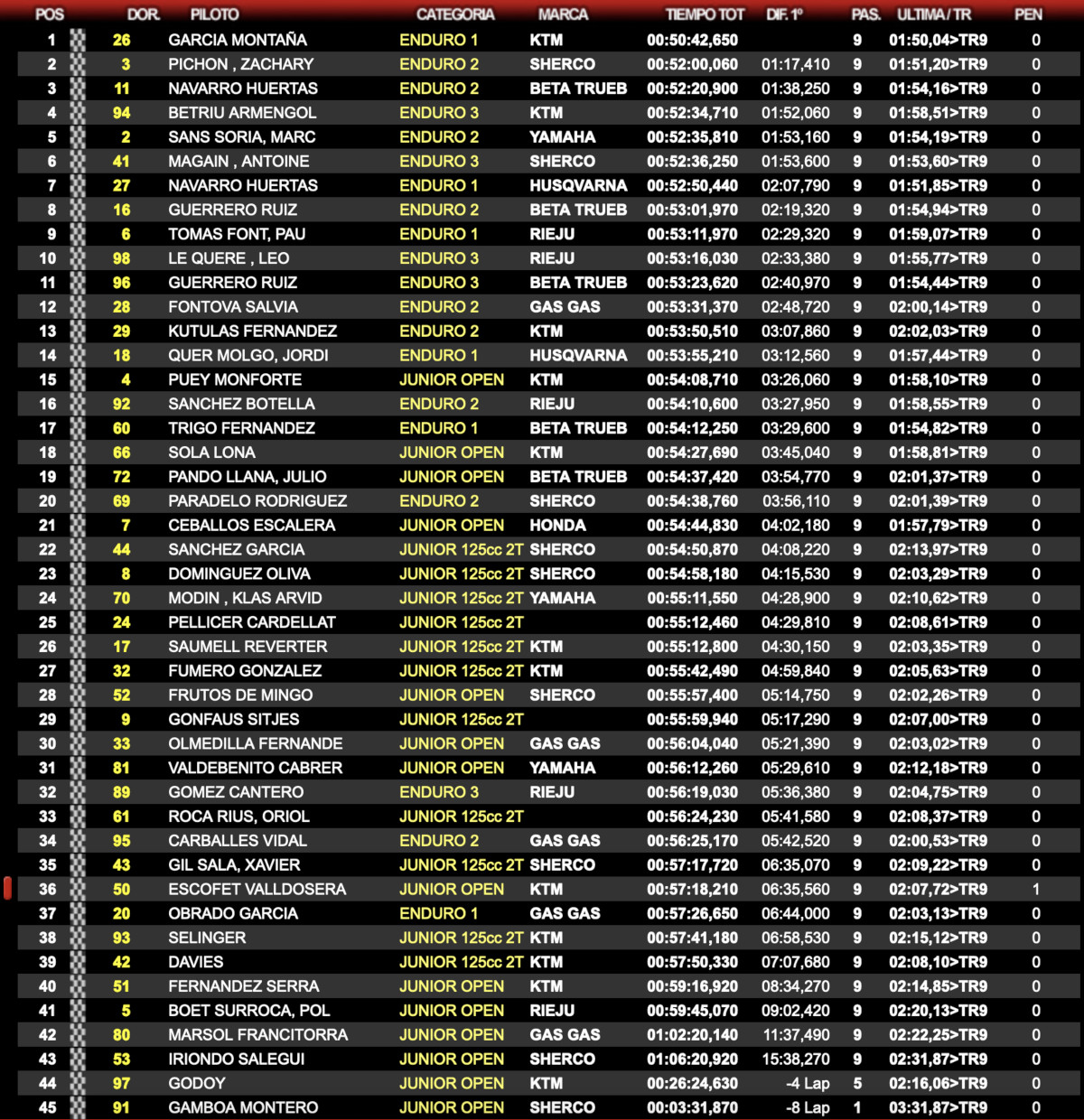 Spanish Enduro Round 2 scratch results (day 2):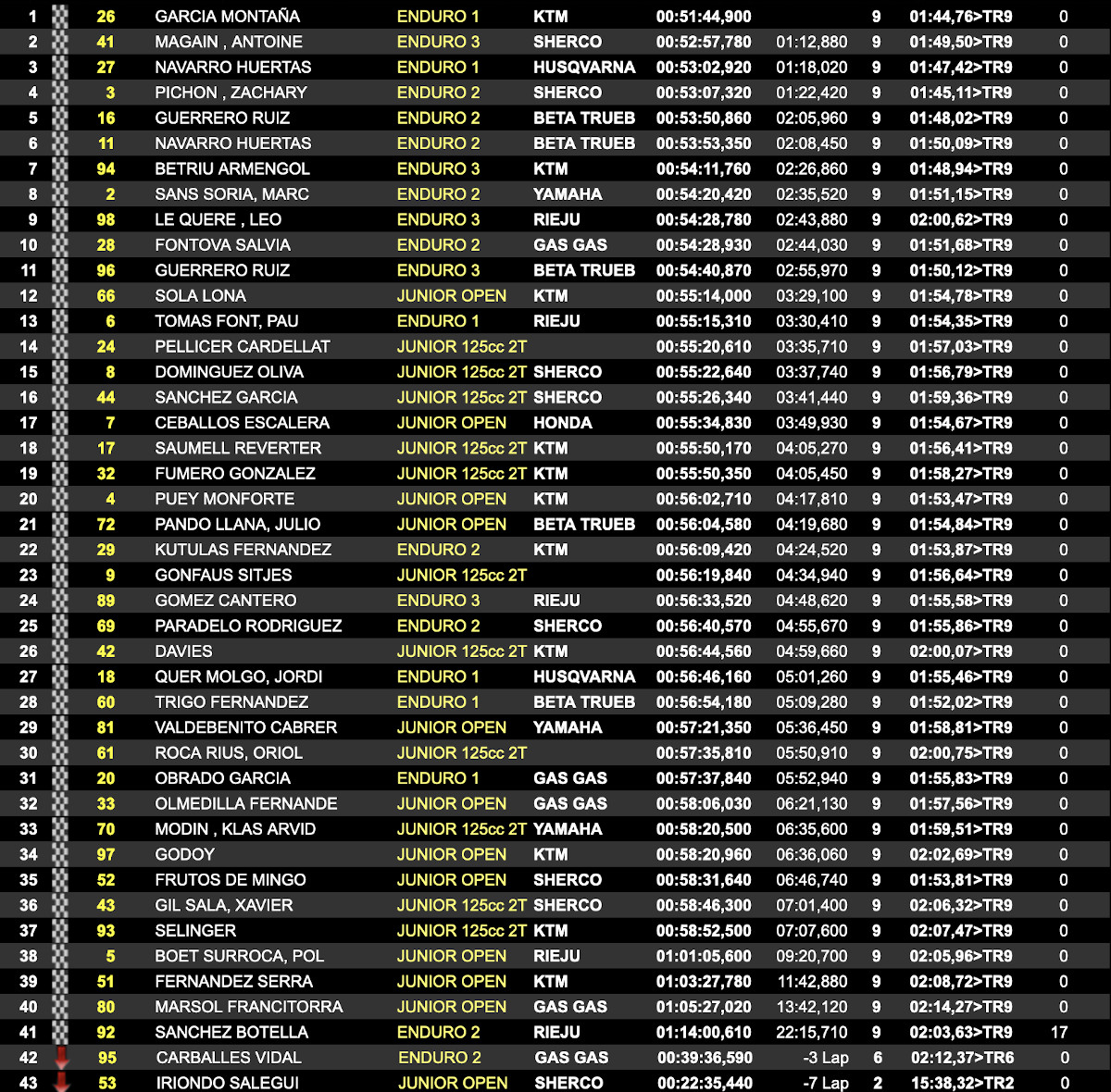 Photo Credit: Future7Media | Nicki Martinez