Italian Enduro: Steve Holcombe wins by 0.22 from Andrea Verona at Rnd5
Super-competitive racing at round five of the 2023 Italian Enduro Championship saw Steve Holcombe take the narrowest of victories, finishing just 0.22 seconds ahead of Andrea Verona at round five in San Martino.
In a race which proved uncertain who would win until the last special test, Steve Holcombe, Andrea Verona, Brad Freeman, Thomas Oldrati and Will Ruprecht all put on a display, counterpunching the results sheets across a total of 16 specials on a course directed by Italian legend Mario Rinaldi.
The race was a wet and slippery one, with changing conditions which proved difficult to master and easy to make mistakes with many leading riders hitting the deck at some point.
In the end Holcombe took the Beta Factory RR 300 to his first victory of the 2023, in fact his first in a while as the British rider stages a comeback to fitness and form this season.
Enough said with the commentary on this one…
Second by the narrowest of margins was Andrea Verona on the GASGAS Factory Racing 350, taking the 450 class honours. Third overall on the "Assoluti" podium in his familiar Fiamme Oro (Italian Police colours) was Thomas Oldrati putting his Honda RedMoto ahead of Brad Freeman after a typically storming ride in the conditions.
Say what? Podium riders catch-up...
Steve Holcombe: "I'm happy with my race, it's a shame I crashed twice and lost precious time. In the end I still won and I'm happy. The test conditions required precision and I managed that across the test so I'm happy."
Andrea Verona: "In the extreme tests I wasn't able to set good times and I think they are the ones that took away my victory, because then both in the Cross and in the Enduro I was really fast. Now we work for the World Cup in Spain."
Thomas Oldrati: "I'm happy with my performance. In these slippery conditions and in Enduro races I always ride at my best. This results is a good one and gives me confidence for the GP in Spain."
Despite finishing fourth, Brad Freeman continues to lead the Italian Assoluti series points after taking three wins already this season. He sits on 90 with Verona second on 88 and Holcombe on a numerically appropriate 78. Three rounds remain.
Class round-up:
Kevin Cristino (Fantic) took the fifth consecutive success in the 125, relegating to second position Pietro Scardina (Fantic) and Manuel Verzeroli (KTM).
Deny Philippaerts (TM) won the 250 2T class in the final test ahead of and Carlo Minot (KTM) and Davide Soreca (Sherco) third.
Morgan Lesiardo (Sherco) took a very good win in the 300 class ahead of last weekend's European round day one winner Lorenzo Macoritto (Fantic) with Matteo Cavallo (TM) third.
Thomas Oldrati (Honda) excelled in the 250 4t, the third overall ahead of Matteo Pavoni (TM) and Rudy Moroni (Honda) third.
Andrea Verona (GASGAS) wins the 450 class for the fifth time this season. Samuele Bernardini (Honda) got the better of Gianluca Martini (GASGAS) to complete that podium.
Manolo Morettini (Honda) took his fifth win of the season in the Junior in front of Enrico Rinaldi and Lorenzo Bernini (both GASGAS).
Steve Holcombe (Beta Factory) imposed himself on teammate Brad Freeman and won the class reserved for foreign riders. Hamish Macdonald (Sherco) closed the podium.
Round six of the '23 Italian Championship is on June 18 in Città della, Pieve.
Italian Enduro round 5 results: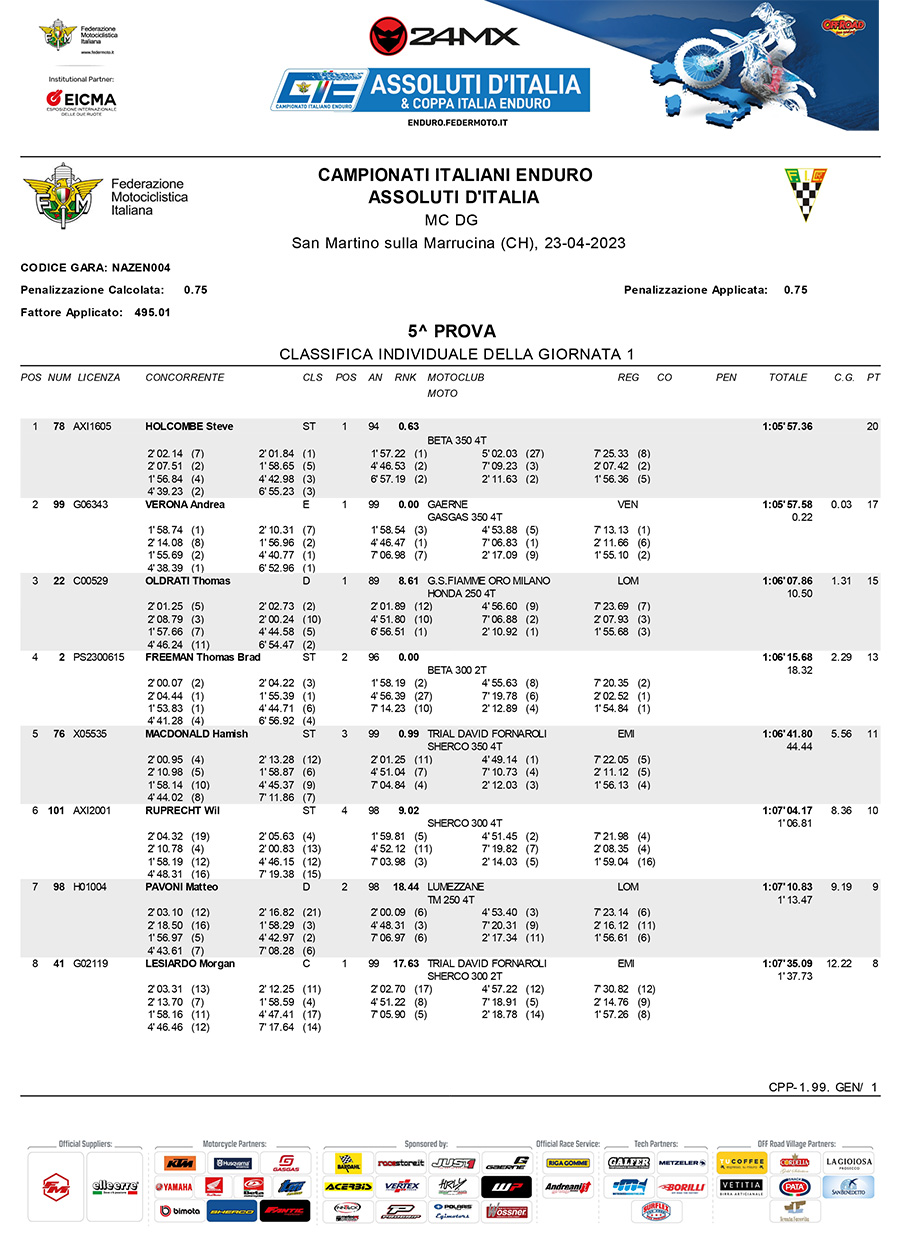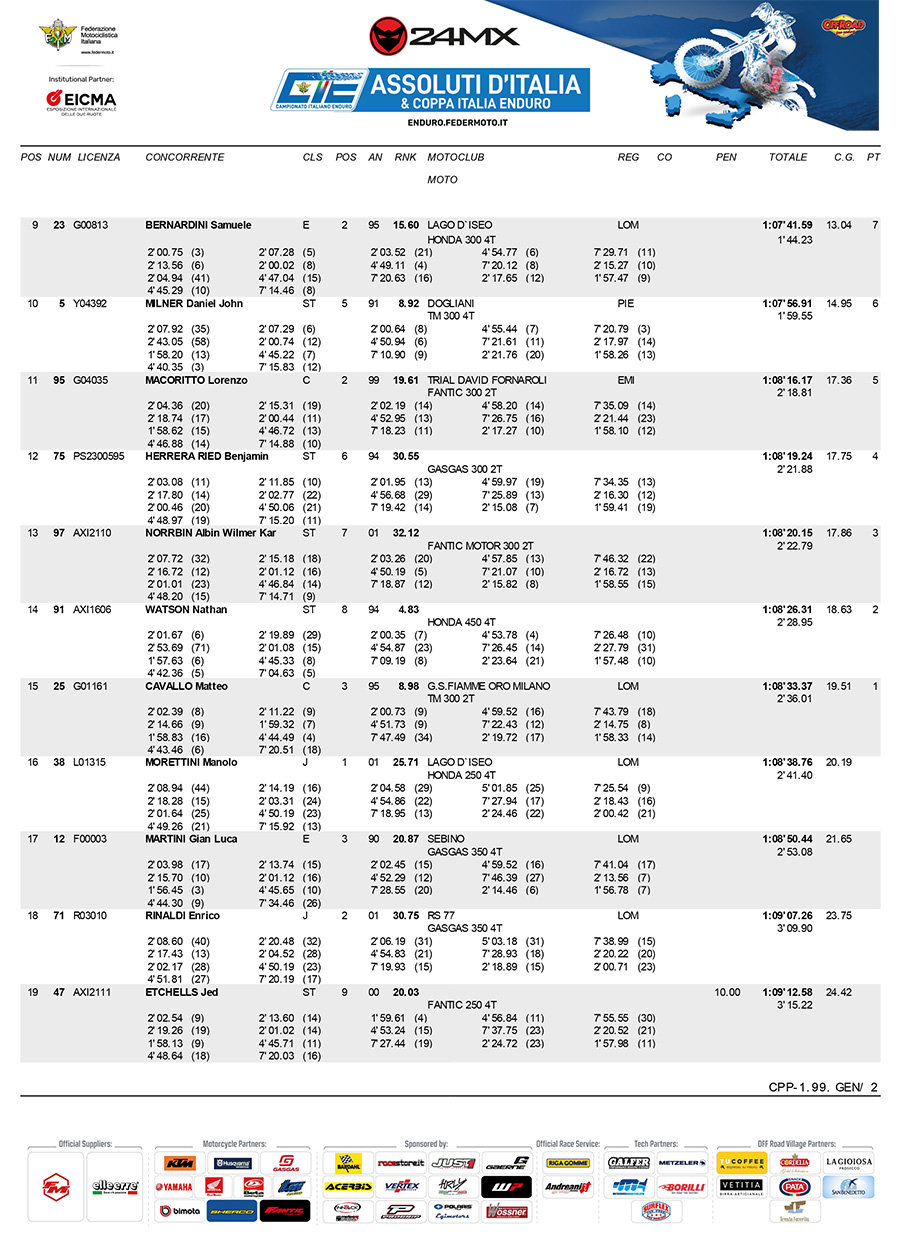 Photo Credit: Off Road Pro Racing