2023 Italian Enduro: Back-to-back wins and championship lead for Steve Holcombe
Beta Factory Enduro team's Steve Holcombe took his second Assoluti Italian Enduro Championship victory of the season at round six in Città della Pieve, Umbria – Brad Freeman crashes out.
The Motoclub Castello della Pieve laid down a pretty intense, 56 kilometre figure of eight course for riders at this sixth day's racing of the season. The series is supported by a long list of world championship riders and traditionally acts as both a prestigious series for the manufacturers and teams but also great race training for all.
Racing kicked off on the Saturday with the Extreme test doubling up as the Super Test, EnduroGP-style. Divided into three special tests repeated four times, the 12 special tests included a fast 4.5km Cross Test on hard ground and with a lot of elevation changes, the Extreme Test with artificial obstacles, a lot of gravel and hard-pack, and at the end of the lap a 6km Enduro Test again on hard terrain with some rock sections.
Although the Beta factory rider saw test wins go to rivals Hamish Macdonald, Nathan Watson and Andrea Verona, it was super-consistent performance that brought a 12.71s winning margin for Steve Holcombe.
Steve was fastest in five of the tests, second in a further three to bag a result which follows recent form we have seen this season in the EnduroGP World Championship. The difference this weekend is he didn't have either Josep Garcia or Brad Freeman for company at the top of the timing sheets and looked a little more like he was in cruise-mode.
Josep Garcia is recovering from his Swedish GP injuries and also hasn't raced the Italian series traditionally but it was a different story for Holcombe's Beta teammate Brad Freeman who dramatically went out after crashing in the Saturday evening Super Test.
Freeman suffered a "severe head contusion" and was immediately transferred to the nearest hospital for emergency checks. Fortunately, serious injuries have been ruled out his team say, and Brad is expected to return to training asap for the Slovakian GP in two weeks. Get well soon Brad.
The win for Holcombe is his second on the bounce in the Italian domestic series – a championship contested by many world championship teams and riders because so many of them are based in Italy. With Freeman a non-starter, Holcombe takes over the lead of the Assolutti (Absolute) championship standings on 98 points. Second on 95, this weekend could have been a chance for Andrea Verona to take the lead but despite being fastest in the Super Test, the reigning champ dropped to ninth overall in this close contest after too many mistakes on Sunday.
Less than a second separates the podium
The fight for the podium was intense between Hamish Macdonald, Matteo Cavallo and Nathan Watson. The trio finished less than a second apart with Sherco's Macdonald clocking 59.30 in total, Cavallo putting the TM on the podium 0.2 behind and Watson bring the Honda Redmoto home just over half a second further back.
Finally making a bit of progress in the results at least, Wil Ruprecht completed the top five on the Sherco ahead of Thomas Oldrati, Daniel Milner, Albin Norrbin, Verona and Jed Etchells. In total that was six manufacturers in the top 10.
Italian Enduro Championship Rnd6 results: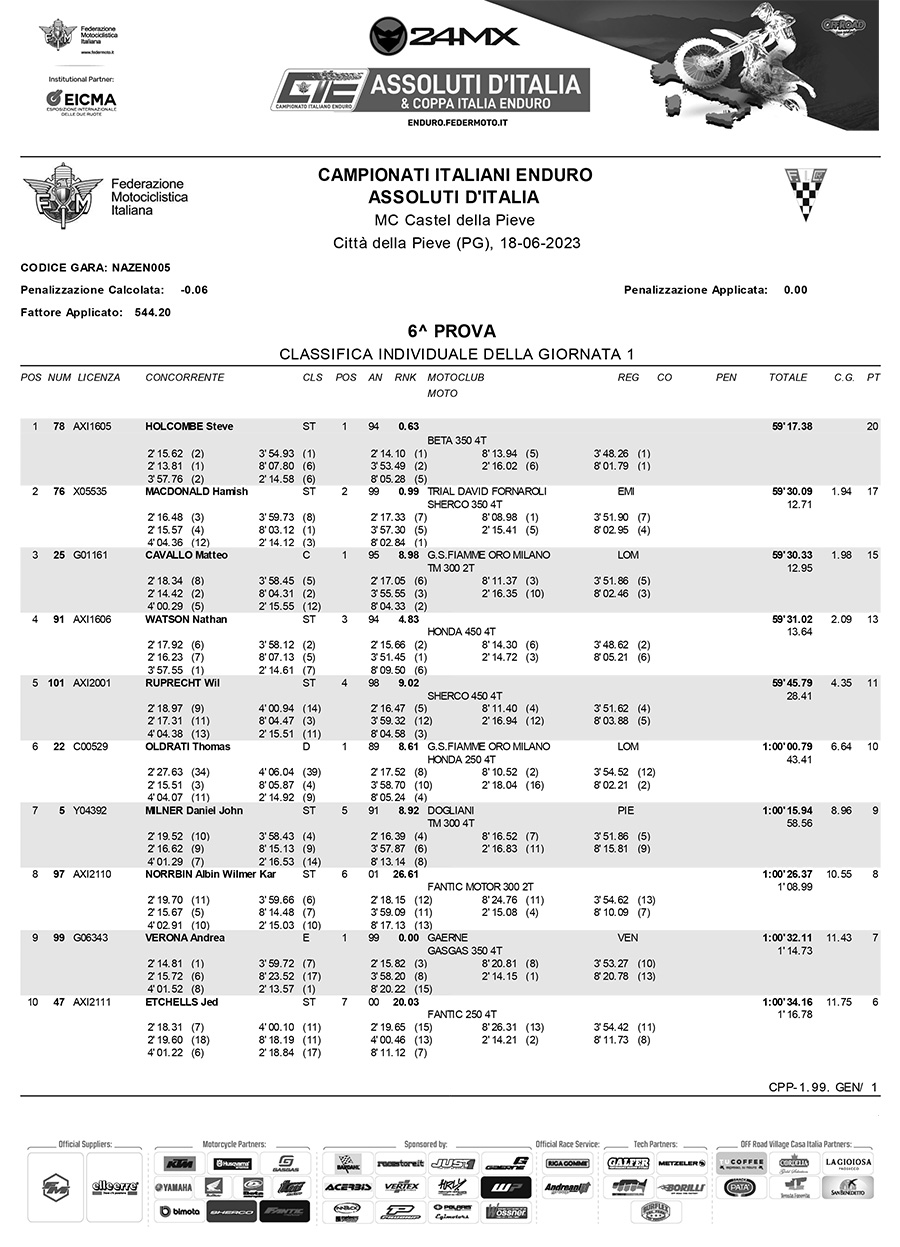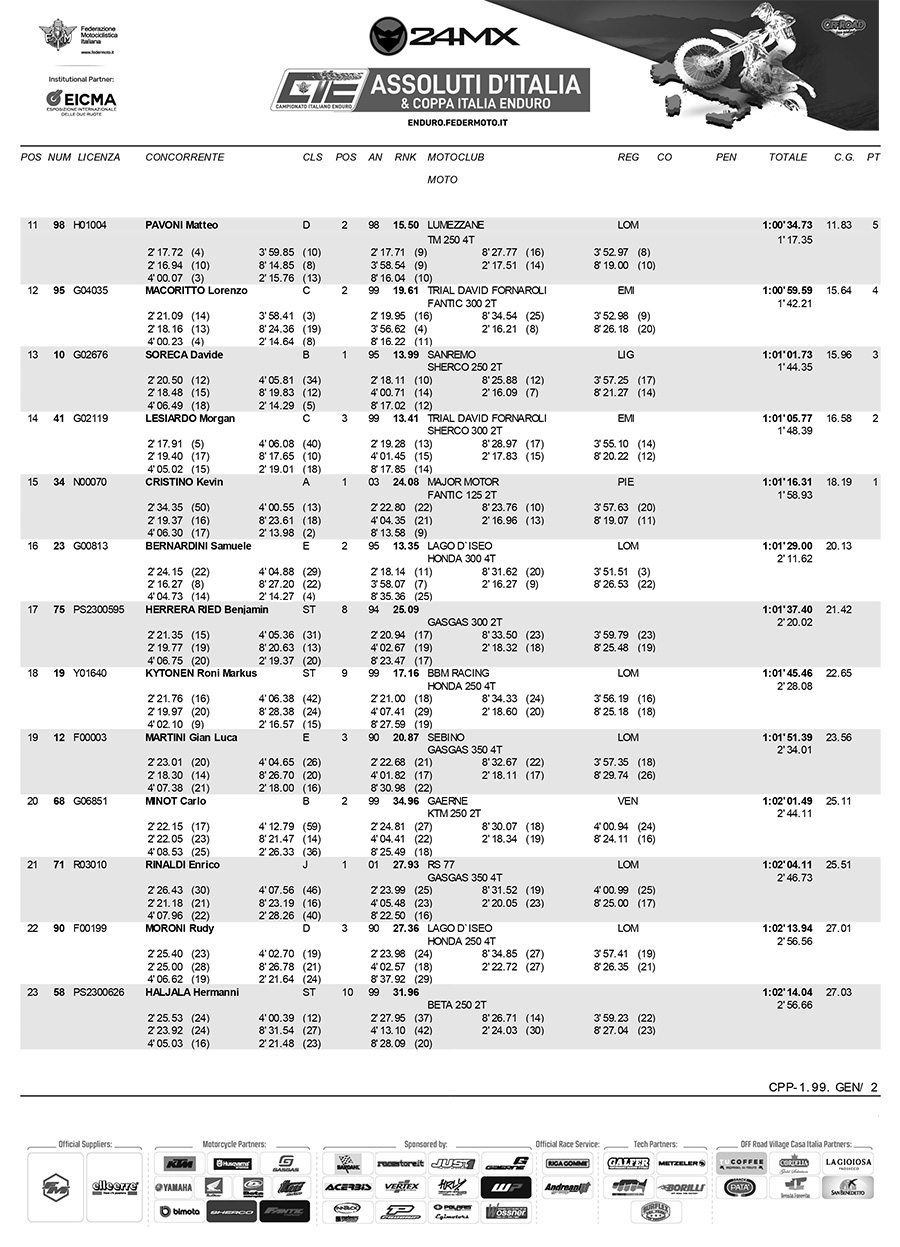 Photo Credit: Cristiano Morello + Off Road Pro