2023 Spanish Enduro: New KTM, same winning result for Josep Garcia at opening rounds
Results from the opening Spanish Enduro Championship round of the 2023 season in Santiago de Compostela where Josep Garcia took a convincing double scratch win ahead of Marc Sans and Sergio Navarro trading podium places over the two days.
2023 Spanish Enduro, rounds 1+2, Santiago de Compostela in a nutshell:
Sunny conditions in Galicia greeted the all-star cast of the Spanish national series which kicked off in the Veronica Boquete stadium for its first race weekend of the Spanish Enduro Championship.
Riders faced four laps of a route identical to last year, although drier than what we are used to finding in Galicia it still had the typical roots, stones and holes that characterize the hard terrain.
The competition started yesterday with the Supertest where Josep Garcia began in typical style with the fastest time ahead of Zach Pichon and Marc Sans.
Days one and two in Santiago showed Garcia in superb form at the head of the timesheets increasing his advantage with each special to finish first in Scratch and E1 in his debut in competition with the KTM 250 EXC-F 2024. "First day of competition with the new bike and it went very well", admitted Garcia. "On the first lap, with the special stages untouched, the truth is I hadn't had the opportunity to train in this setting yet before coming here and it went great. I think we still have things to improve, but it's been very interesting to be here with the new bike."
Josep went on to win the scratch one day two by more than a minute despite taking the chance to try different settings on the 250 which he has only been riding for a month."We made some small changes to the suspension that have helped me to be more confident and not to make the mistakes I made yesterday. I feel very good both with the bike and physically, I haven't had any crashes all day. We are going in the right direction."
Second position on day one, in Scratch and E1, went to Sergio Navarro who had a very good start to the series despite 'deflating' a bit on the fourth lap. He kept Junior World Champion Zach Pichon at bay by just 0.3s."I am super happy," said Navarro. "I haven't been able to test the race bike much and it's very different from the training bike. After spending a lot of time in the training area and yesterday in the Supertest, I have changed a lot on the bike. I set the best time in one special and, in the others, I was very close to Josep and Zach. I knew that Josep would win, but the fact of having him in the same category makes me push harder and that will be great for me in the World Championship."
Second scratch on day two, and the first in E2, was Marc Sans showing he is comfortable on the 2023 Yamaha YZ450F from his new team, Johansson MPE. A stock motocross bike that they just 'toughened up' with a light kit and an 18" wheel."It was the first race with this new team and this new bike, with almost no preparation and with a standard bike." Explained Sans. "Yesterday I was second in E2 and four scratch times and today I was able to finish second in Scratch and first in E2 with a level of riders world class. I'm leaving with a very good feeling, so now we have to continue working to improve even more."
Zach Pichon had to settle for third on both days, although he took the E2 win on day one – despite racing a 250 2T, the National rules aren't the same as EnduroGP, and riders 18+ who race a motorcycle greater than 175cc 2T are part of E2."It's been a very good day and I'm happy with the win in E2, even though I'm a bit frustrated that I narrowly missed second place in the scratch," said Pichon. "I've been injured for a month this winter so to be back at this pace is amazing."
Leo Le Quere closed the top five scratch on day one and with it first position in E3 giving Rieju their first senior category victory in the Spanish series. "I didn't start the day very well, I lacked feeling in the first special", admitted Le Quere. "Then I composed myself to gain lost time and I managed to win in E3 and be fifth in Scratch. I am happy with my result this weekend and I want to thank Rieju for the trust he has placed in me."
Day two saw Jaume Betriu complete the top five scratch and take the victory in E3 on his debut with the 2024 KTM 300 EXC TBI. "I'm happy with the new bike, although I still lack rhythm, which is something I already knew", Betriu admitted. "I wanted to push a lot from the beginning and I had some mistakes that didn't allow me to ride as smoothly as I like. But I'm happy with how the first race went. We'll take things step by step, since we've only had this bike for a month."
In Juniors, Alejandro Ceballos took victory ahead of Julio Pando and Alex Puey on both days while Mireia Badia once again showed she has no rival in the Women's class winning by five minutes ahead of Maria San Miguel.
Results day 1 Santiago de Compostela – Scratch: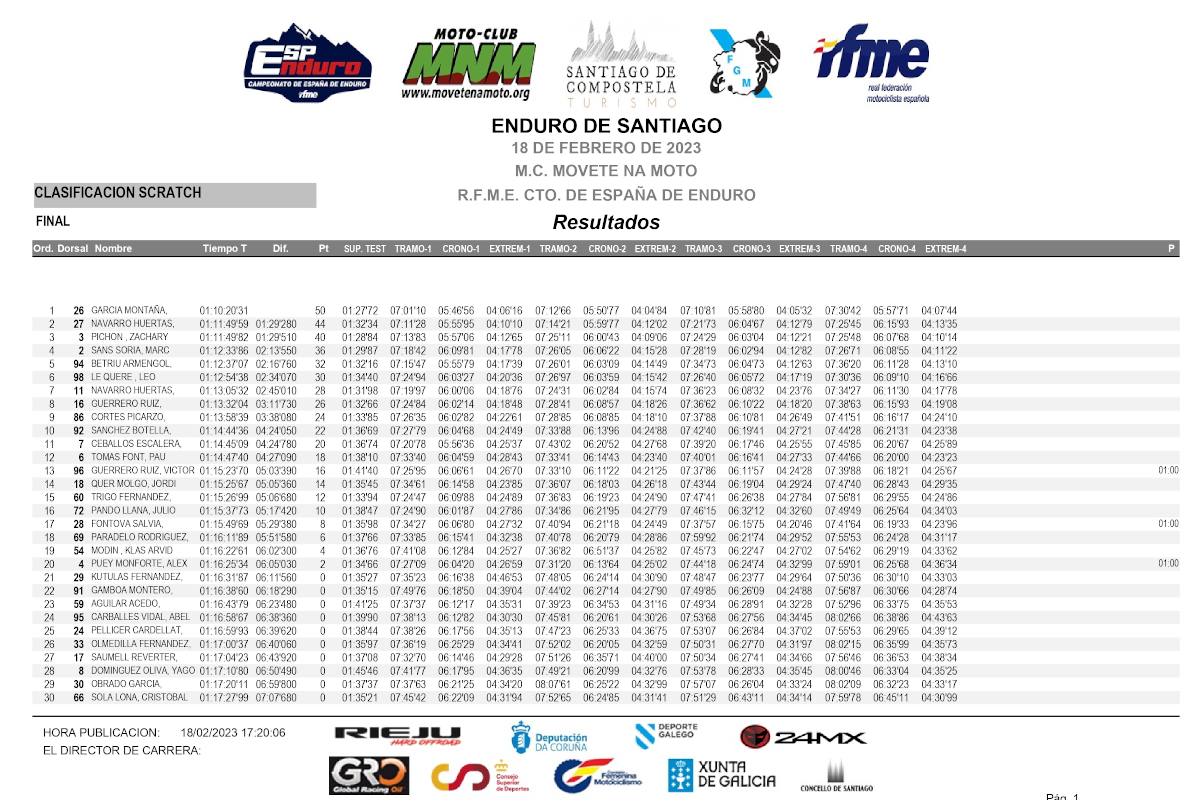 Results day 2 Santiago de Compostela – Scratch: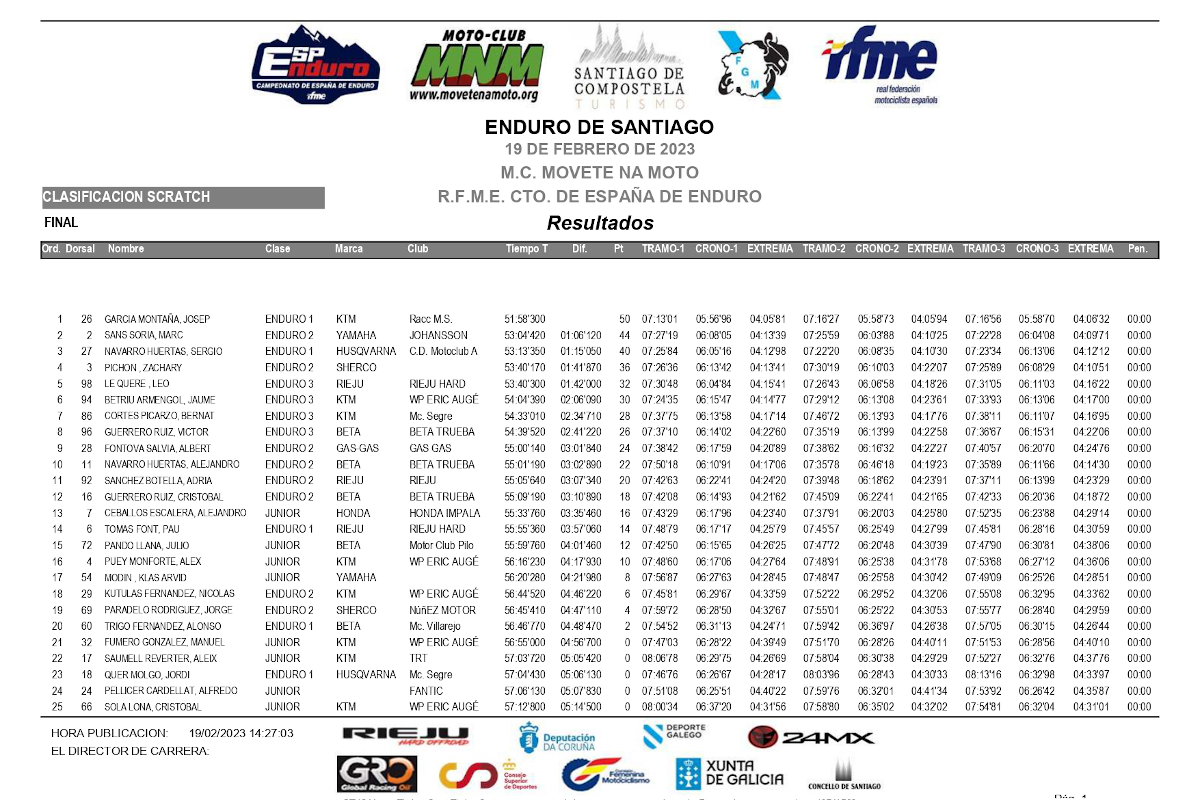 Photo Credit: Future7Media | Nicki Martinez